A rich, classic cheesecake is topped with a creamy, tangy sour cream layer. Add in a chocolate cookie crust and your favorite cheesecake toppings and this Sour Cream Cheesecake equals the perfect dessert!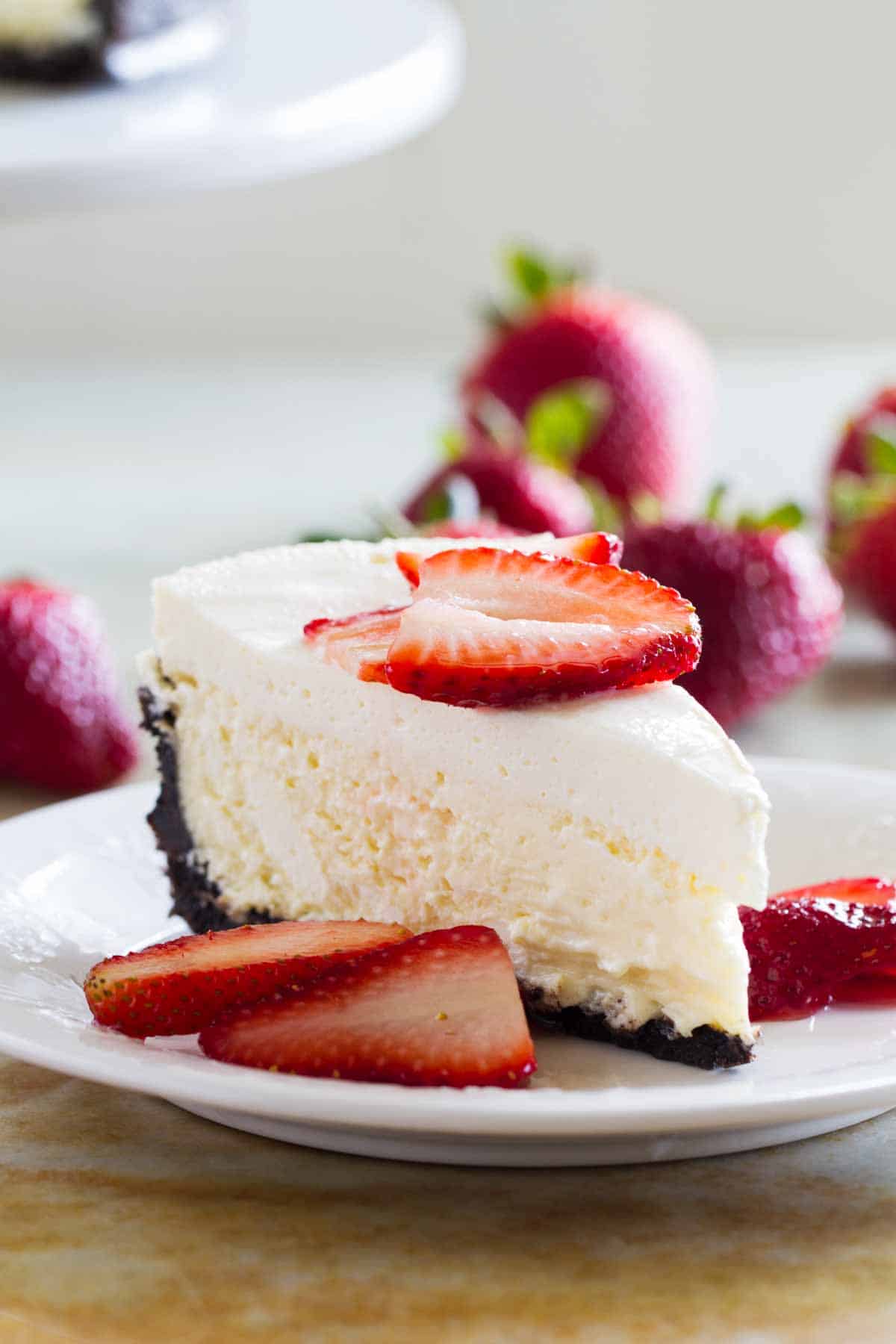 Originally posted July 18, 2007 – This post was first posted almost 10 years ago, but the fact still remains true that my husband and I are cheesecake fans. And this Sour Cream Cheesecake remains one of my favorite cheesecake recipes. This is the perfect no frills cheesecake. And everyone needs the perfect cheesecake in their recipe binder!
The original post from 2007 follows:
It was my husband's birthday on Saturday. He is not a big birthday person – he hates to have any sort of a fuss on his birthday. Plus, he had to work that night, so I think it made him even less happy about a birthday. I still wanted to make him a cake to eat on Sunday, but I didn't know what to make. He is not a big frosting lover. I remember when we were dating and it was his birthday, I had my sister make a cake for him since I was working all day, and I was also living in her basement at the time without a kitchen of my own. She made what my family often had for dessert, a white cake with chocolate frosting. Growing up, that was always the cake that was sure to please every member of the family. I took Josh out to dinner that night, and then back to have cake. It was then that I learned of his dislike of frosting. I later learned that the cake that was made was probably his least favorite kind of cake!! Oh well, no birthday cake for him that year, but I'm sure my nieces and nephew enjoyed it!!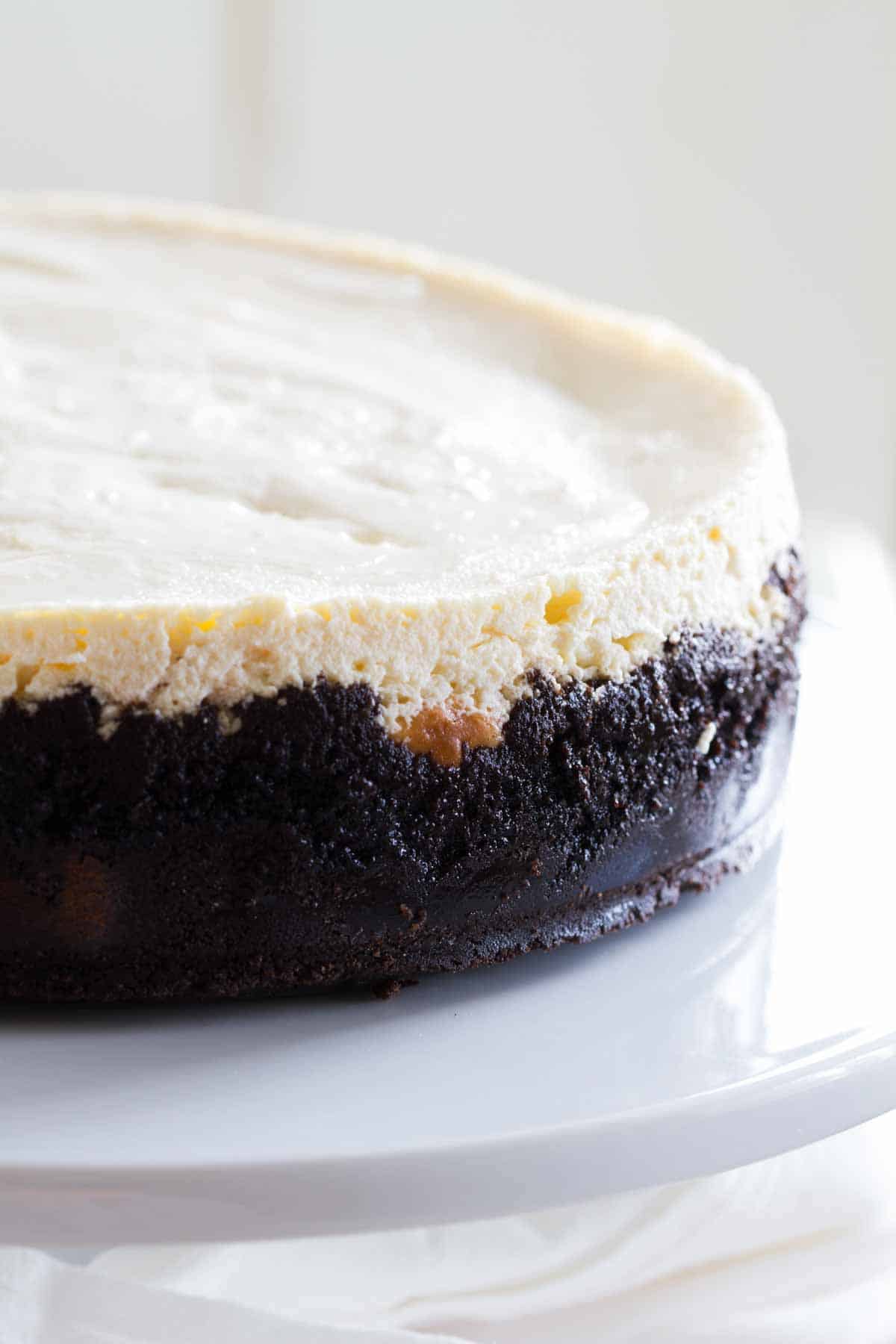 So about a week before Josh's birthday this year, I started asking him what kind of cake he wanted. I knew to steer away from anything with frosting, (although he did love the Perfect Party Cake that I made and ate several pieces!) but that didn't leave much to choose from. He suggested a Better than Anything cake, but that wasn't special enough for a birthday in my eyes. So I decided to go for a cheesecake.
Both my husband and I are huge cheesecake lovers. And although I have made quite a few recipes that are really good, I am always on the lookout for the perfect cheesecake recipe. I remembered trying this recipe years and years ago and liking it, but I didn't really remember it so I decided to go for it again. I actually made this recipe a few months ago for a co-workers birthday. It was good, but did not end up pretty at all. Strange thing about this recipe – it says to bake the main cheesecake portion for only 20 minutes. I have never seen a cheesecake that only bakes for 20 minutes!! Usually it is 45 minutes to an hour. I did end up baking it a little longer but decided to trust the recipe. When I sliced into it at work the next day, it was not as firm as I like my cheesecake, but not overly runny. It just didn't stay together all that well, so I decided to wait and post about it once I had a chance to modify a few things. I increased the cooking time to 50 minutes this time around and changed the crust up a bit. (I realized while typing this up that the original recipe calls for it to be baked in a pie pan, not a springform pan. I'm guessing that is why the original recipe only bakes for 20 minutes.)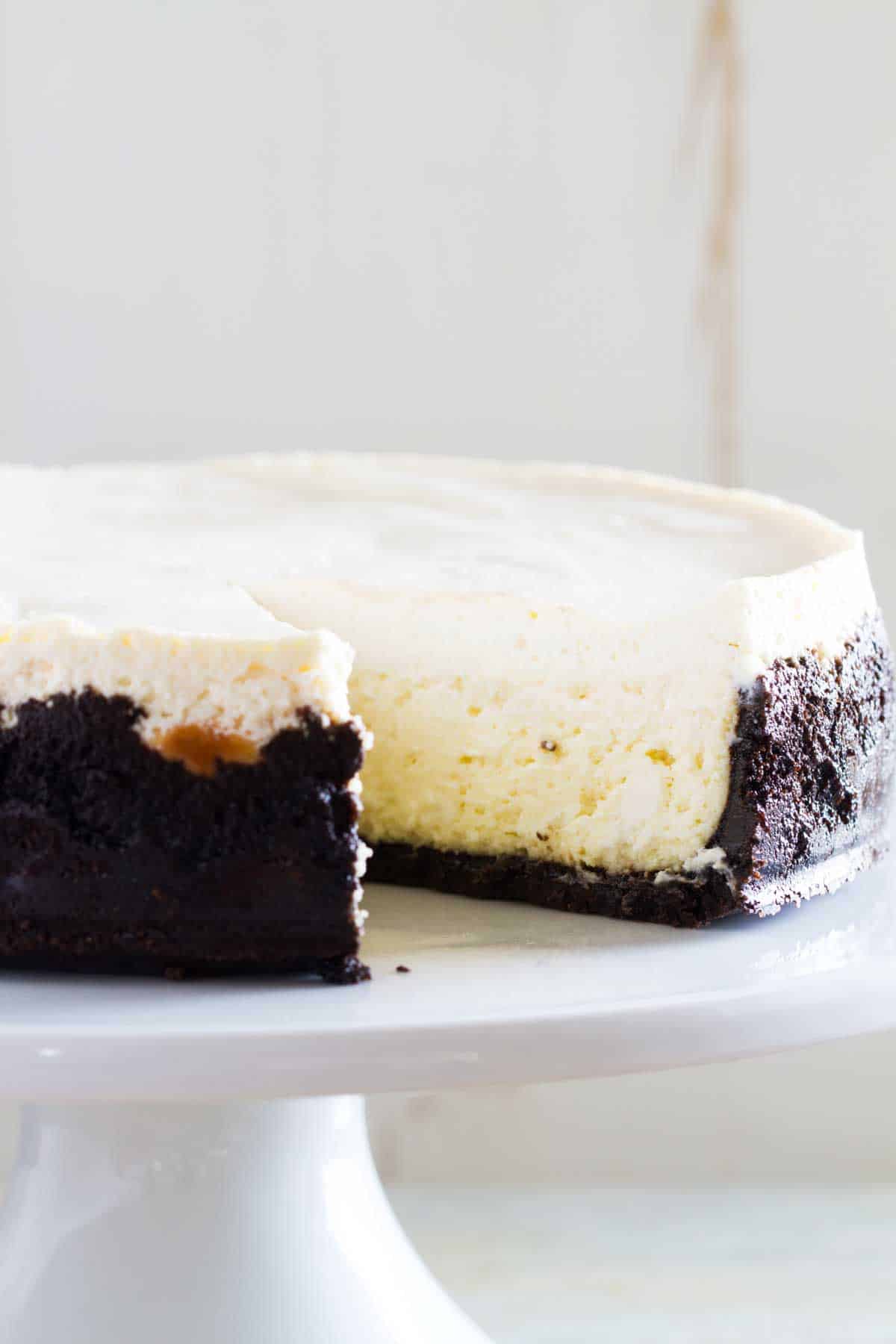 This Sour Cream Cheesecake was wonderful. I know some people like their cheesecake light and fluffy, and some like it dense and heavy. This is a happy medium. It is super creamy and there is a sour cream layer on top that adds wonderfully to the richness of the cake. I wanted to do a chocolate cookie crust, which was a delicious addition. We ate our cheesecake with diced strawberries and it was perfect.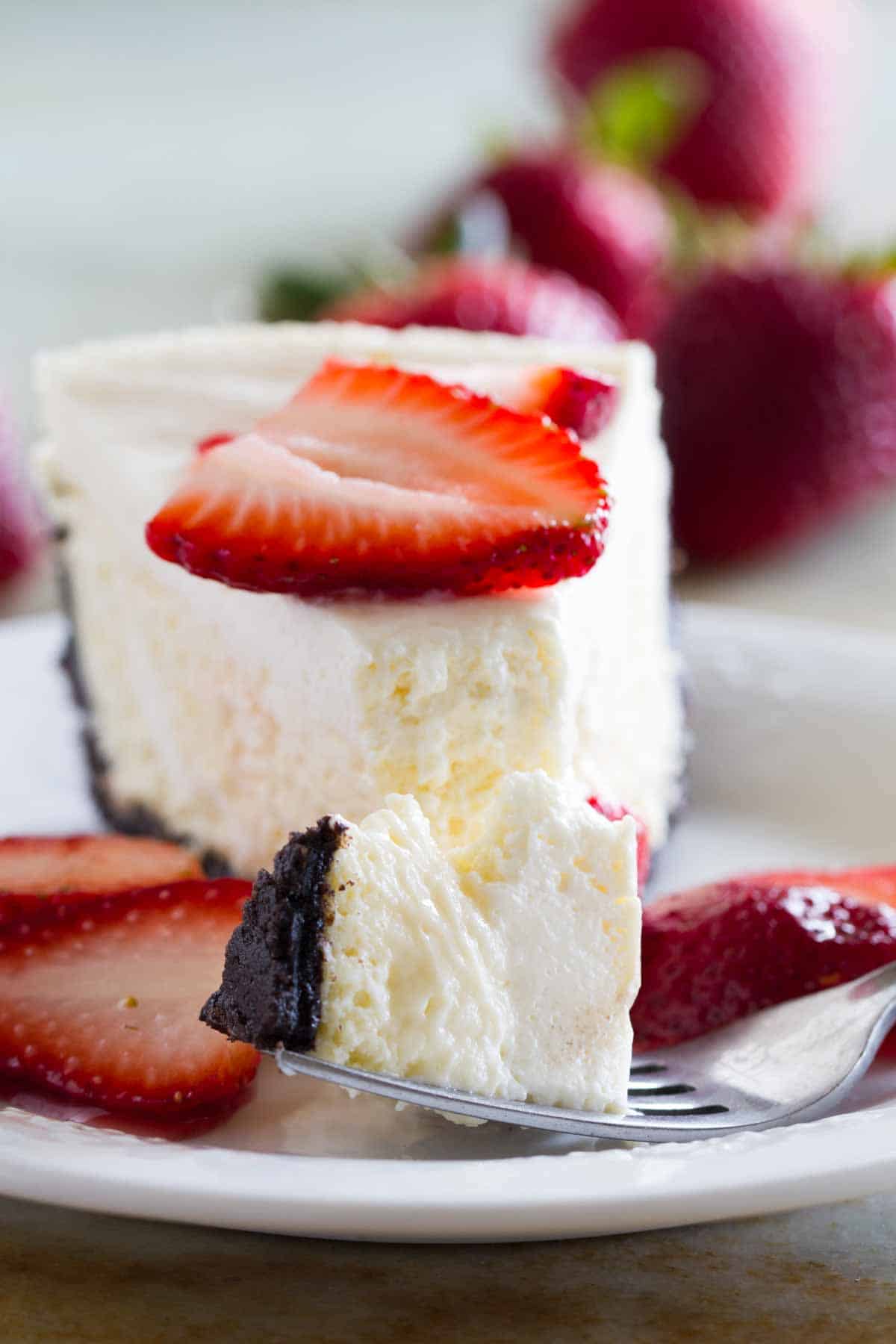 Looking for more cheesecake recipes? Chocolate lovers go crazy for this No-Bake Nutella Cheesecake. This Snickers Cheesecake is big and delicious. And this Reeses Peanut Butter Cheesecake is a reader favorite!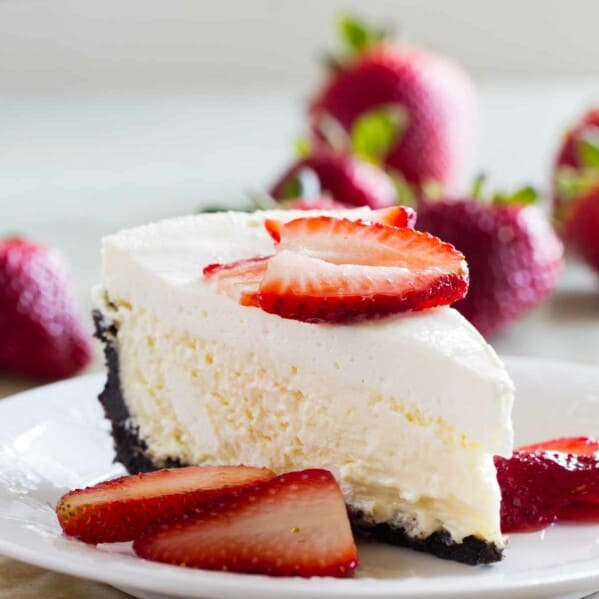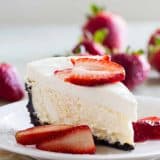 Sour Cream Cheesecake
---
Author:
Prep Time: 20 minutes
Cook Time: 55 minutes
Total Time: 7 hours 30 minutes
Yield: 12 servings 1x
Category: Dessert
Method: Baked
Cuisine: American
Description
A rich, classic cheesecake is topped with a creamy, tangy sour cream layer.  Add in a chocolate cookie crust and your favorite cheesecake toppings and this Sour Cream Cheesecake equals the perfect dessert!
---
Scale
Ingredients
Crust:
2 cups chocolate sandwich cookies (Oreos) – about 24 cookies
4 tablespoons butter, melted
2 tablespoons brown sugar
Cheesecake:
3 (8 oz each) packages cream cheese, softened
1 cup sugar
3 eggs
3/4 teaspoon vanilla extract
Sour Cream Top:
2 cups sour cream
3 tablespoons sugar
1/2 teaspoon vanilla extract
---
Instructions
Preheat the oven to 350ºF. 
Place the chocolate cookies in a food processor and process until they are fine crumbs.  Add the melted butter and brown sugar and pulse a few times to combine.  Pour into the bottom of a 9-inch springform pan.  Use a measuring cup to press the crust into the bottom and 1-inch up the sides of the pan.
Place the pan on a baking sheet and place in the oven.  Bake for 10 minutes.  Remove from the oven and allow to cool slightly.
In the bowl of a mixer, beat the cream cheese until smooth.  Gradually beat in the sugar, scraping the bowl as needed.  Add the eggs, one by one, beating after each addition.  Add the vanilla and stir to combine.
Pour the cheesecake mixture into the crust.  Return to the oven** and bake until the cheesecake is set around the edges and slightly wobbly in the center, about 50 minutes. 
While the cheesecake is baking, make the sour cream topping. In a bowl, beat the sour cream.  Gradually add the sugar, then the vanilla.
Remove the cheesecake from the oven and increase the oven temperature to 500ºF.  Spread the sour cream topping over the cheesecake, then return to the oven and bake for an additional 5 minutes.  Turn off the oven and open the oven door slightly.  Allow the cheesecake to come to room temperature, then cover and refrigerate until cooled through.
Serve topped with your favorite cheesecake toppings.
Recipe Notes:
**I typically like to bake my cheesecakes in a water bath, but they are notorious for leaking.  I will sometimes place a dish of hot or boiling water on the rack below the cheesecake, but in my experience, this is not a fool proof way to keep your cheesecake from cracking.  But most cheesecakes can be covered by a topping, so a little cracking isn't a huge problem.
adapted from Lion House Desserts
Keywords: sour cream cheesecake