A rich, classic cheesecake is topped with a creamy, tangy sour cream layer. Add in a chocolate cookie crust and your favorite cheesecake toppings and this Sour Cream Cheesecake equals the perfect dessert!
Are you a cheesecake lover? After you've tried this Sour Cream Cheesecake, you also need to try this Dulce de Leche Cheesecake or this No Bake Cheesecake.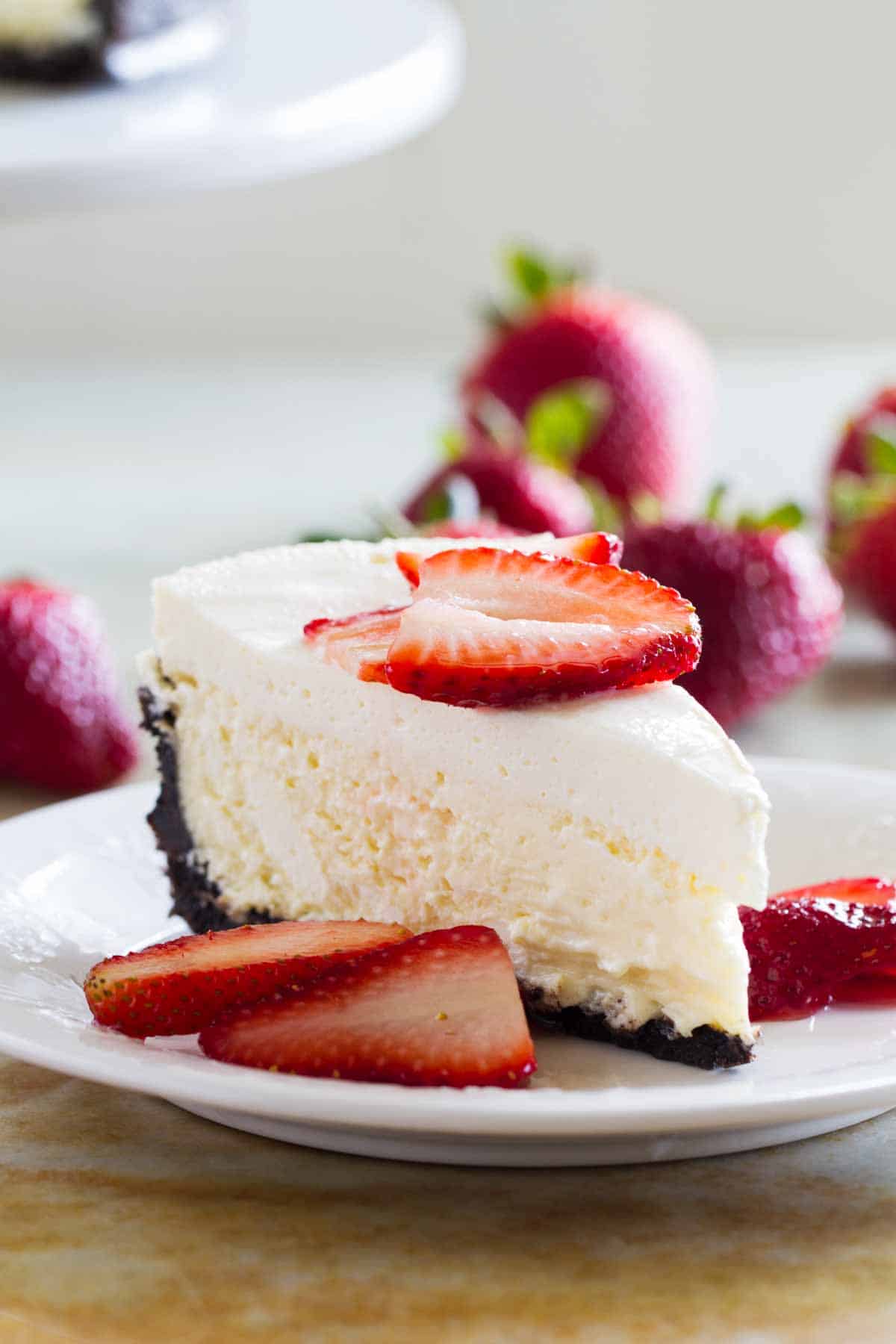 We are true cheesecake fans. And this Sour Cream Cheesecake remains one of my favorite cheesecake recipes. This is the perfect no frills cheesecake. And everyone needs the perfect cheesecake in their recipe binder!
I know some people like their cheesecake light and fluffy, and some like it dense and heavy. This is a happy medium. It is super creamy and there is a sour cream layer on top that adds wonderfully to the richness of the cake.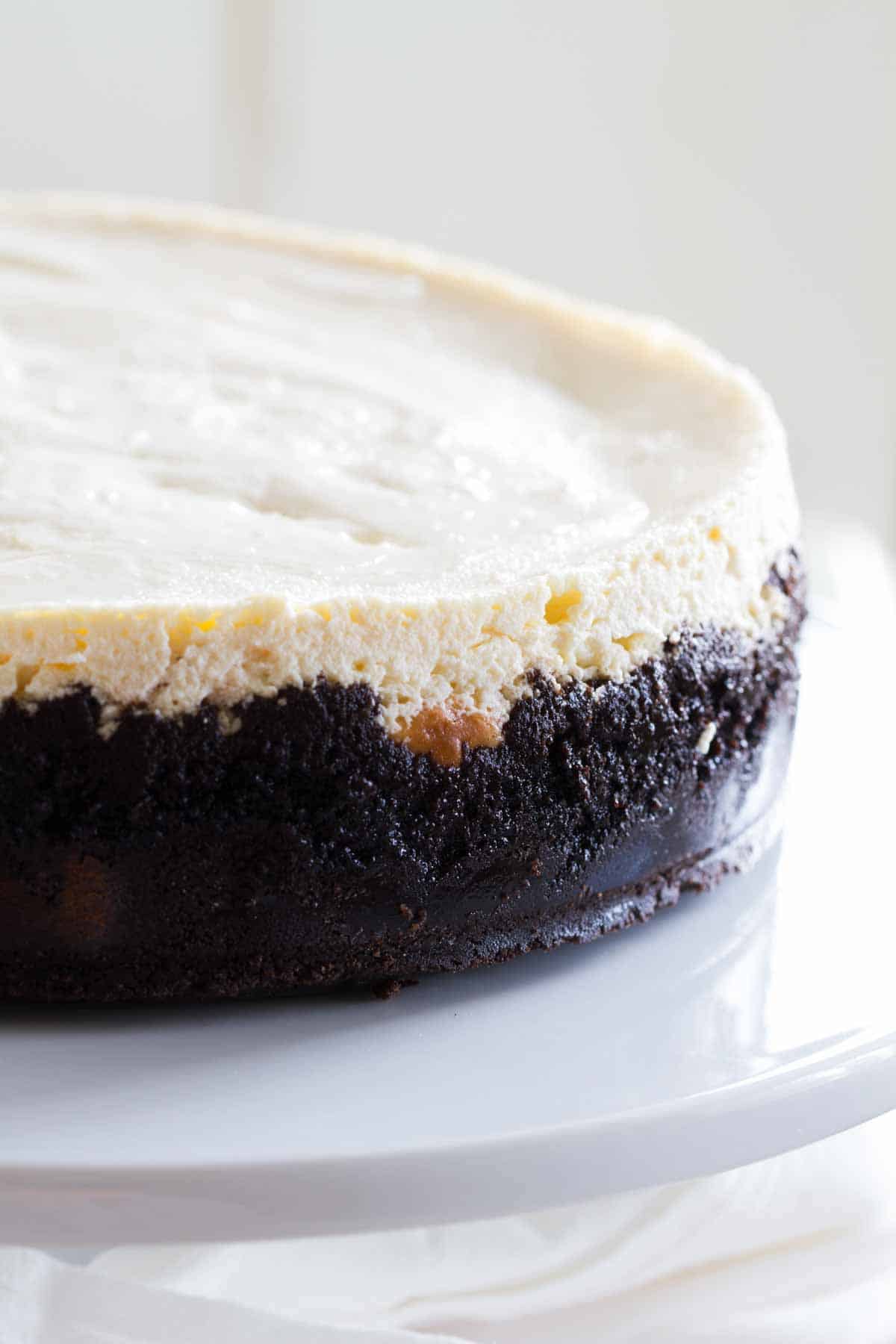 Ingredients:
Chocolate Sandwich Cookies: I use Oreos for the crust. There is no need to remove the cream – just process them whole.
Butter: You can use salted or unsalted butter.
Brown Sugar: I love the brown sugar in this crust – it gives it a more unique flavor.
Cream Cheese: I have only ever made this with full fat cream cheese. You'll want to make sure it is at room temperature.
Sugar: You will need regular granulated sugar for both the cheesecake and the sour cream layer.
Eggs: Make sure your eggs are at room temperature for the best results.
Vanilla: A good vanilla extract will make a difference here, so make sure you are using pure vanilla extract.
Sour Cream: The sour cream does not make the cheesecake taste sour – it just adds another layer of richness. In fact, if you didn't know it was a sour cream layer, you'd probably never guess it!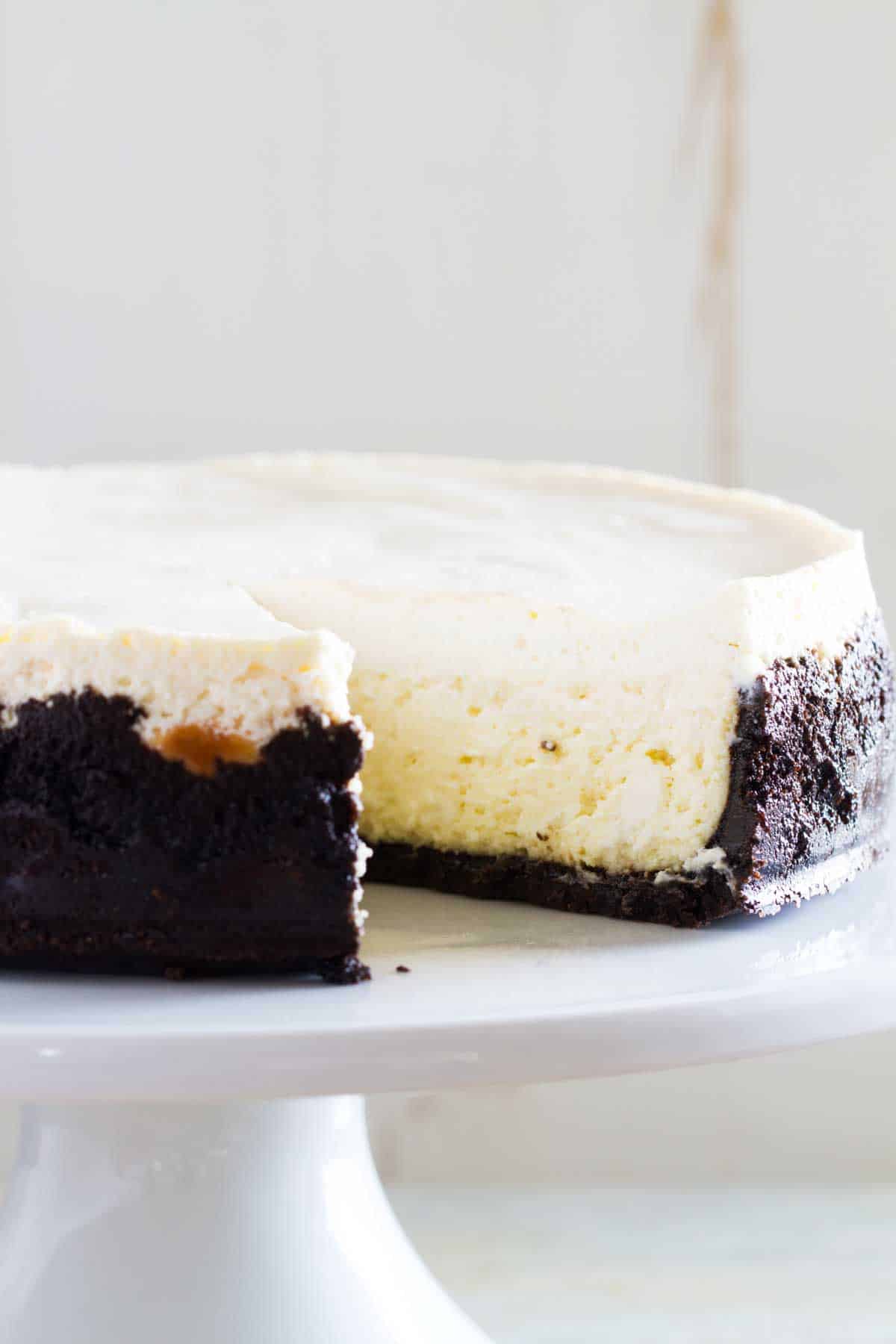 Tips and Tricks
I opted to do a chocolate cookie crust, which was a delicious addition, but if you want a more traditional graham cracker crust, that would work as well.
We ate our cheesecake with diced strawberries and it was perfect. You could also drizzle it with chocolate syrup, strawberry syrup, or salted caramel.
Most cheesecakes are best cooked in a water bath. And while I'm a fan, I know that they are notorious for leaking. You can bake this without a water bath, but you may have a cracked cheesecake. The sour cream layer may cover that up, though. Another trick (if you're trying to avoid a water bath) is to place a dish of boiling water on the rack under the cheesecake in the oven.
Make sure the cheesecake is fully chilled before cutting it and serving it.
Keep all leftovers covered in the refrigerator.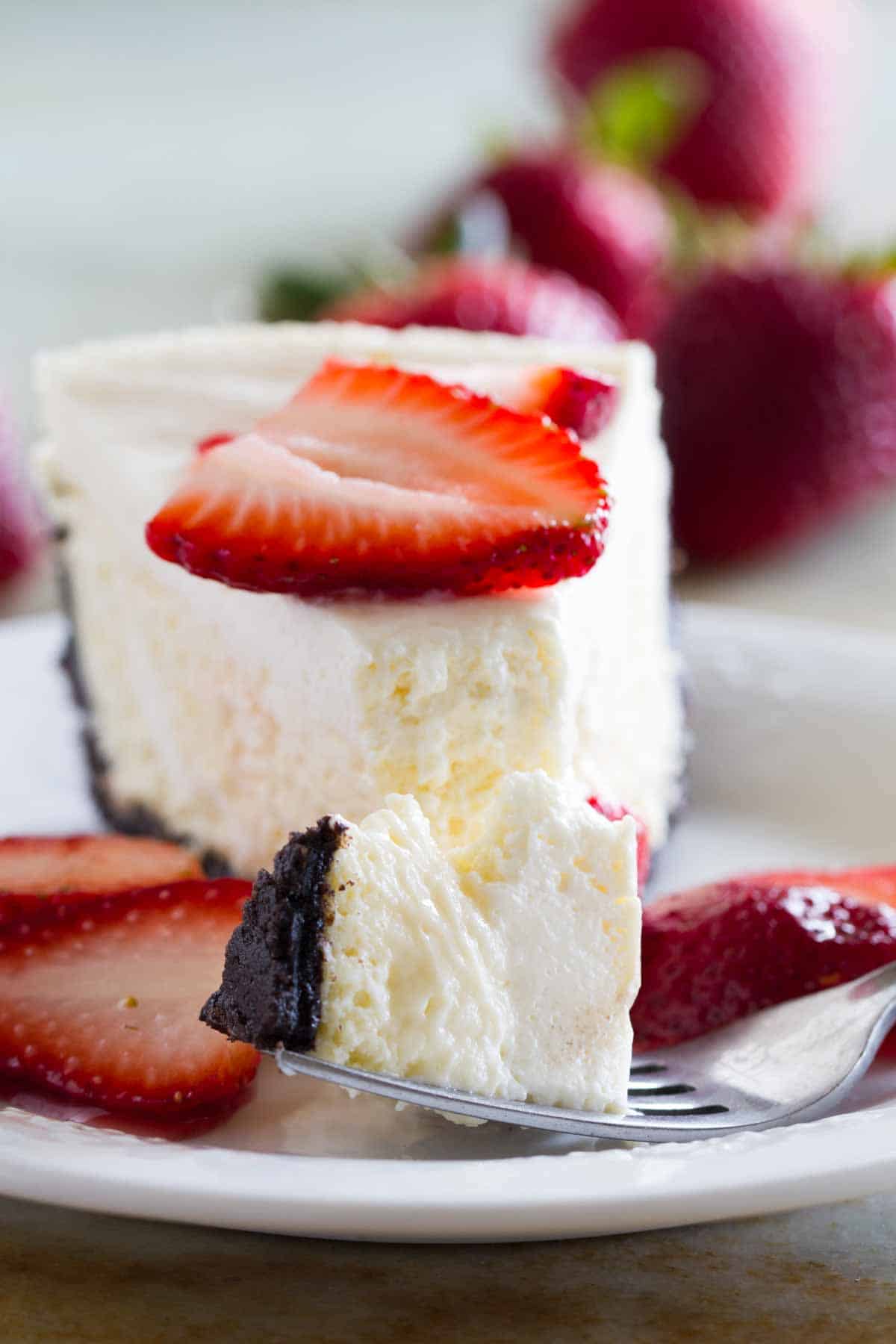 More Cheesecake Recipes
Chocolate lovers go crazy for this No-Bake Nutella Cheesecake.
This Snickers Cheesecake is big and delicious.
And this Reeses Peanut Butter Cheesecake is a reader favorite!
This Carrot Cake Cheesecake is a hybrid cake/cheesecake combo.
If you love lemon, this Lemon Cheesecake will blow you away!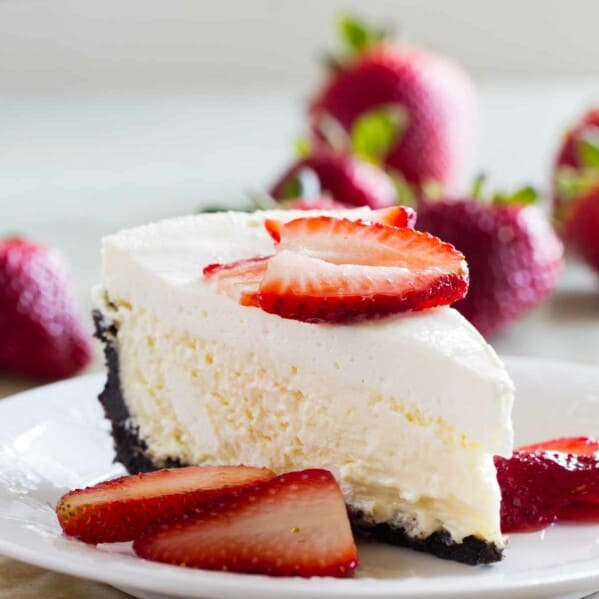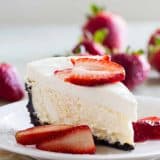 Sour Cream Cheesecake
---
Author:
Prep Time: 20 minutes
Cook Time: 55 minutes
Total Time: 7 hours 30 minutes
Yield: 12 servings 1x
Category: Dessert
Method: Baked
Cuisine: American
Description
A rich, classic cheesecake is topped with a creamy, tangy sour cream layer.  Add in a chocolate cookie crust and your favorite cheesecake toppings and this Sour Cream Cheesecake equals the perfect dessert!
---
Scale
Ingredients
Crust:
2 cups chocolate sandwich cookies (Oreos) – about 24 cookies
4 tablespoons butter, melted
2 tablespoons brown sugar
Cheesecake:
3 (8 oz each) packages cream cheese, softened
1 cup sugar
3 eggs
3/4 teaspoon vanilla extract
Sour Cream Top:
2 cups sour cream
3 tablespoons sugar
1/2 teaspoon vanilla extract
---
Instructions
Preheat the oven to 350ºF. 
Place the chocolate cookies in a food processor and process until they are fine crumbs.  Add the melted butter and brown sugar and pulse a few times to combine.  Pour into the bottom of a 9-inch springform pan.  Use a measuring cup to press the crust into the bottom and 1-inch up the sides of the pan.
Place the pan on a baking sheet and place in the oven.  Bake for 10 minutes.  Remove from the oven and allow to cool slightly.
In the bowl of a mixer, beat the cream cheese until smooth.  Gradually beat in the sugar, scraping the bowl as needed.  Add the eggs, one by one, beating after each addition.  Add the vanilla and stir to combine.
Pour the cheesecake mixture into the crust.  Return to the oven** and bake until the cheesecake is set around the edges and slightly wobbly in the center, about 50 minutes. 
While the cheesecake is baking, make the sour cream topping. In a bowl, beat the sour cream.  Gradually add the sugar, then the vanilla.
Remove the cheesecake from the oven and increase the oven temperature to 500ºF.  Spread the sour cream topping over the cheesecake, then return to the oven and bake for an additional 5 minutes.  Turn off the oven and open the oven door slightly.  Allow the cheesecake to come to room temperature, then cover and refrigerate until cooled through.
Serve topped with your favorite cheesecake toppings.
Recipe Notes:
**I typically like to bake my cheesecakes in a water bath, but they are notorious for leaking.  I will sometimes place a dish of hot or boiling water on the rack below the cheesecake, but in my experience, this is not a fool proof way to keep your cheesecake from cracking.  But most cheesecakes can be covered by a topping, so a little cracking isn't a huge problem.
adapted from Lion House Desserts
Keywords: sour cream cheesecake