Creamy white chocolate cheesecake has macadamia nuts throughout, with a homemade caramel sauce poured over the top.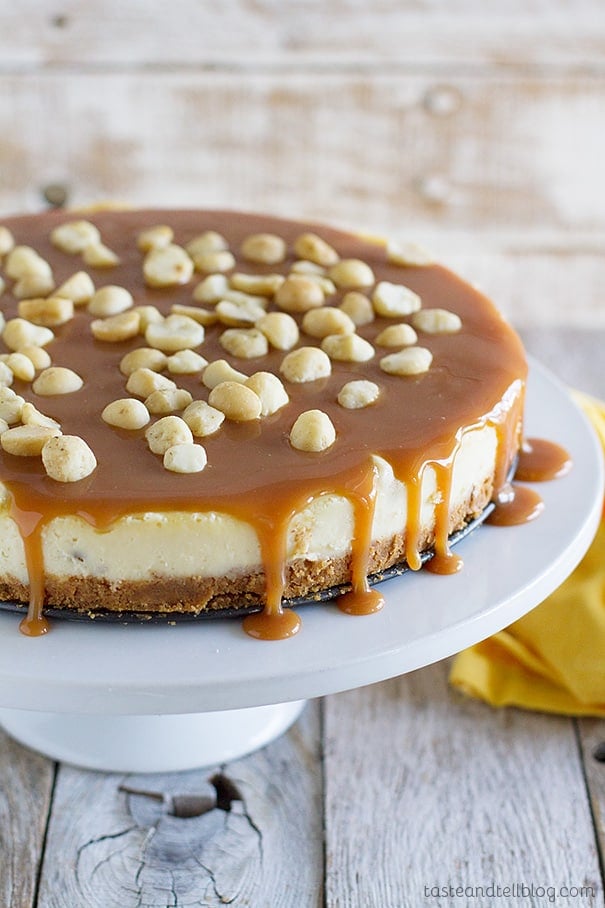 Let's talk cheesecake. It is my favorite subject, after all.
I love finding out what someone will choose as their "last" meal. You know – if you were able to choose the last meal before you die, what would it be? Honestly, for the meal, it would totally depend on my mood. Maybe a big steak. Or tacos. Or a fat, juicy hamburger. But dessert? It would be cheesecake. No doubt about it. (But I might throw in a box of donuts for good measure.) 🙂
I love cheesecake. So today is probably one of my favorite days of the year. A whole day dedicated to cheesecake. Yep – today is National Cheesecake Day. A day dedicated to my favorite cream cheese laden dessert? You can definitely count me in. (PS – check out the links at the bottom of the post for all of the other bloggers participating with awesome cheesecake creations!)
I love making cheesecake, as well. Some of my favorite recipes here on Taste and Tell are cheesecake recipes. So when Roxana from Roxana's Home Baking sent out the call for food bloggers to unite in their love of cheesecake, I just knew that I had to answer that call.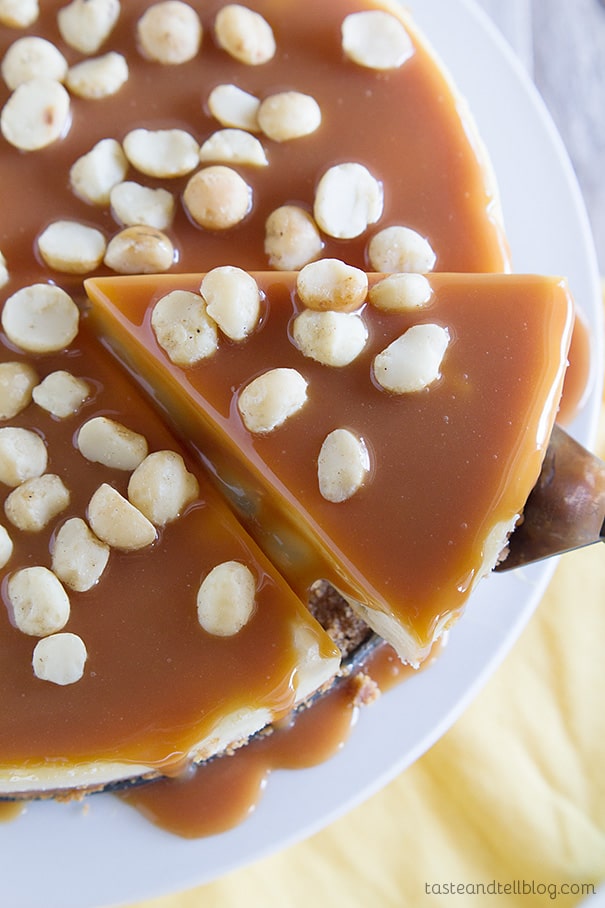 The pressure was on. I had to create something that could stand up to my Reese's Peanut Butter Cheesecake. Or my Lemon Cheesecake. And if you've tried either of those recipes, you'll know that the competition is stiff.
But this white chocolate cheesecake here today? I totally think it lived up to the competition.
When I sat down to brainstorm cheesecake flavor ideas, this was the one that stood out to me. I adore macadamia nuts, and I knew that I would love anything that is covered in caramel. What I ended up with totally blew my expectations out of the water. The cheesecake had the perfect texture, and was dense enough to hold the macadamia nuts up so that they didn't all sink to the bottom, but it was still super creamy and rich. The caramel sauce is slightly salty, which complements the saltiness of the nuts as well.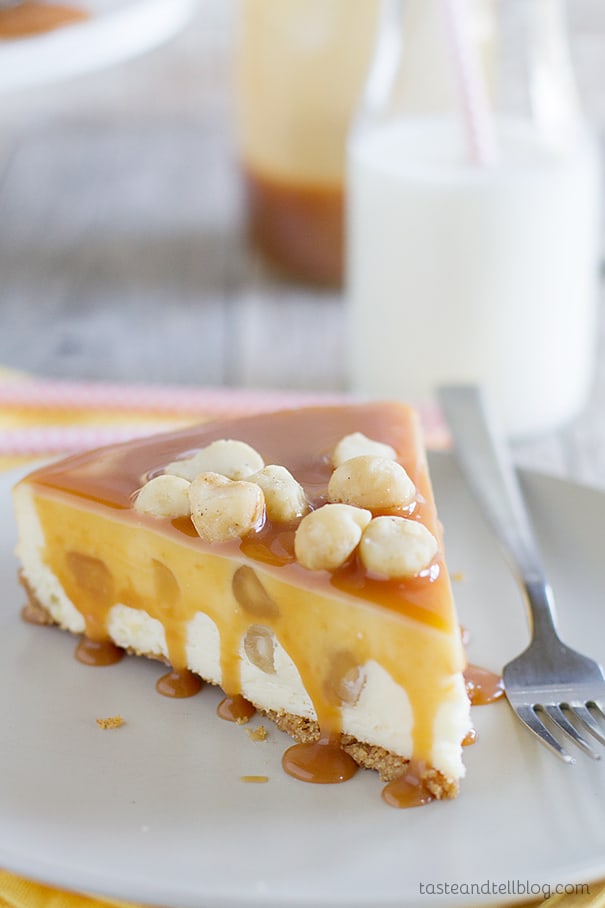 A few hints for when you make this white chocolate cheesecake. And this goes for pretty much every cheesecake.
1 – The foil wrapped springform pan. I always wrap my pan in foil. Actually, I usually triple wrap it. This is not a cheap cheesecake, and it would be a shame to have water leak into your pan and ruin the whole thing. Wrap it, and wrap it tight.
2 – Thoroughly scrape the bowl of your mixer. I always seem to have a bunch of cream cheese at the very bottom of my mixer bowl that doesn't like to mix in, so I have to make sure it is all incorporated.
3 – The water bath. I like to use a water bath when I make cheesecake for a few reasons. First, it helps to keep your cheesecake from cracking. I rarely have a cheesecake crack, and I credit it to the water bath and leaving the cheesecake in the oven to gradually cool down. The water bath also helps the cheesecake to cook evenly.
4 – Cooling the cheesecake. Like I mentioned before, I leave the cheesecake in the oven to cool. Once it is set on the edges with just a little bit of jiggle in the center, I turn off the oven and then prop the door open with a kitchen towel or pot holder. Then I leave the cheesecake there until it is almost to room temperature, then cover and refrigerate until completely chilled.
This White Chocolate Cheesecake with Macadamia Nuts and Caramel is a cheesecake that is sure to please!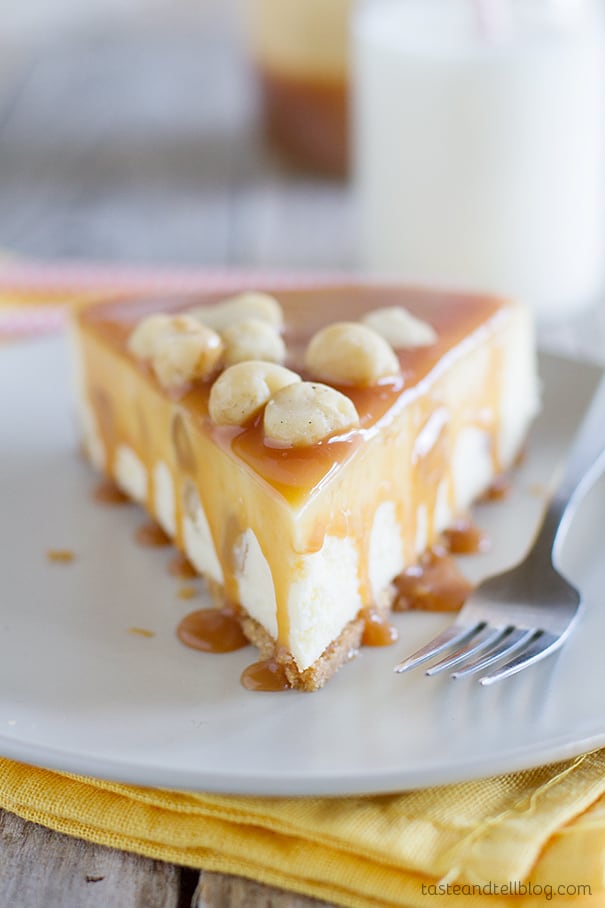 Like what you see here? Make sure you are following Taste and Tell for more great recipes and ideas!!

Facebook ** Pinterest ** Twitter ** Instagram ** Google+
or you can subscribe to my newsletter or Feedly or Bloglovin


White Chocolate Cheesecake with Macadamia Nuts and Caramel
Creamy white chocolate cheesecake has macadamia nuts throughout, with a homemade caramel sauce poured over the top.
Ingredients
Crust:
1 cup cinnamon graham cracker crumbs (about 1 sleeve of crackers)
2 tablespoons white sugar
4 tablespoons butter, melted
Cheesecake:
11 oz white chocolate chips
½ cup half and half
3 (8 oz) packages cream cheese, softened
½ cup sugar
3 eggs, at room temperature
1 teaspoon vanilla extract
1 cup roughly chopped macadamia nuts, plus more for topping if desired
Caramel:
¼ cup water
1 cup sugar
¾ cup heavy cream
3½ tablespoons butter, cut into 12 cubes
½ teaspoon salt
Instructions
Preheat the oven to 325F.
In a bowl, mix together the graham cracker crumbs and sugar. Add the butter and stir until all of the crumbs are moistened. Press into the bottom of a 9-inch springform pan and about half an inch up the sides. Bake in the oven until lightly browned, 10-12 minutes. Remove and let cool.
In a double boiler, or in a bowl placed over a pot of simmering water, combine the white chocolate and half and half. Cook, stirring frequently, until the chocolate is completely melted and smooth. Set aside.
Take the springform pan with the crust and wrap it tightly in foil, completely covering the bottom and the sides. I usually triple wrap mine. You don't want any water to be able to leak into the pan.
In the bowl of a stand mixer, beat the cream cheese until it is smooth. Add the sugar and mix to combine. Add in the eggs, one at a time, mixing and scraping the bowl in between additions. Add in the chocolate mixture and the vanilla mixture and mix just until combined. (Make sure you scrape the bottom of the mixer with a spatula to make sure all of the ingredients are combined. I always find some of the cream cheese sticks in the bottom of my mixer bowl.) Stir in the 1 cup of macadamia nuts. Pour the mixture into the crust.
Place the pan in a larger pan or roasting pan and place it in the oven. Fill the outside pan with about 1 inch of hot or boiling water. Bake the cheesecake until the outside is mostly set and the middle just barely jiggles when you shake the pan, about 1 hour. Turn off the heat and prop the oven door open with a pot holder or kitchen towel. Let the cheesecake cool completely in the oven, then remove, cover and refrigerate until chilled thoroughly.
To make the caramel, pour the water into a heavy saucepan. Pour the sugar in the middle of the pan, making sure not to coat the sides of the pan with the sugar. Turn on the heat to medium-low and cook, not stirring, until the mixture turns an amber color. Turn off the heat and add the cream. It will spit and sputter, so you will want to stand back. The mixture may seize, but take a whisk and stir vigorously until it is smooth. Start adding in the butter, 1-2 cubes at a time, letting the butter melt about halfway before adding more butter. Once all the butter has been incorporated, stir in the salt. Transfer the caramel to a glass jar and refrigerate until it thickens and cools completely.
To serve the cheesecake, run a knife around the outside of the pan. Carefully remove the outer edge of the springform pan, and place the cheesecake on a serving plate. You can either pour the caramel on the whole cheesecake and garnish with additional macadamia nuts, or add the caramel to individual slices. (You may end up with a little bit of extra caramel. But it tastes great on top of ice cream!)
Store the cheesecake covered in the refrigerator.
Other Favorite Cheesecakes: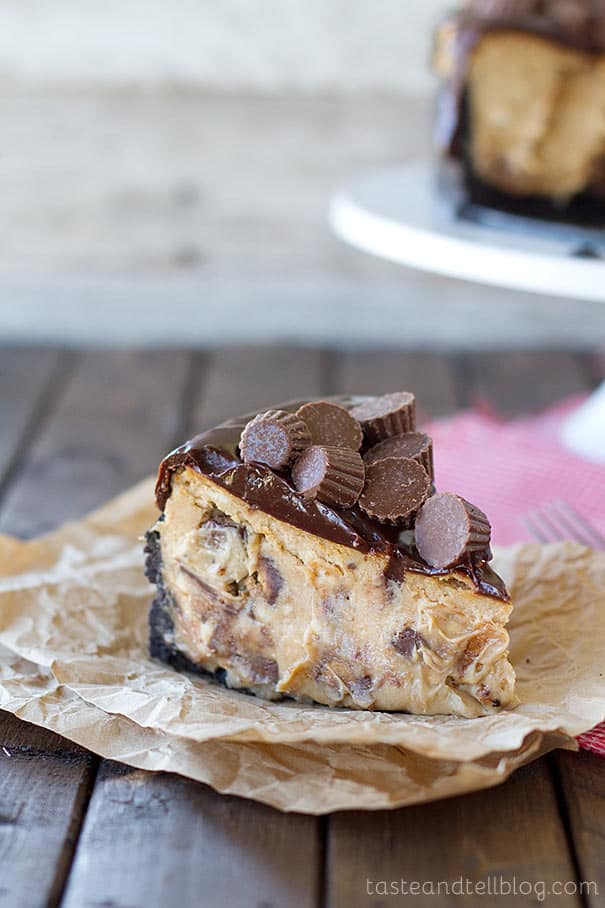 Reese's Peanut Butter Cheesecake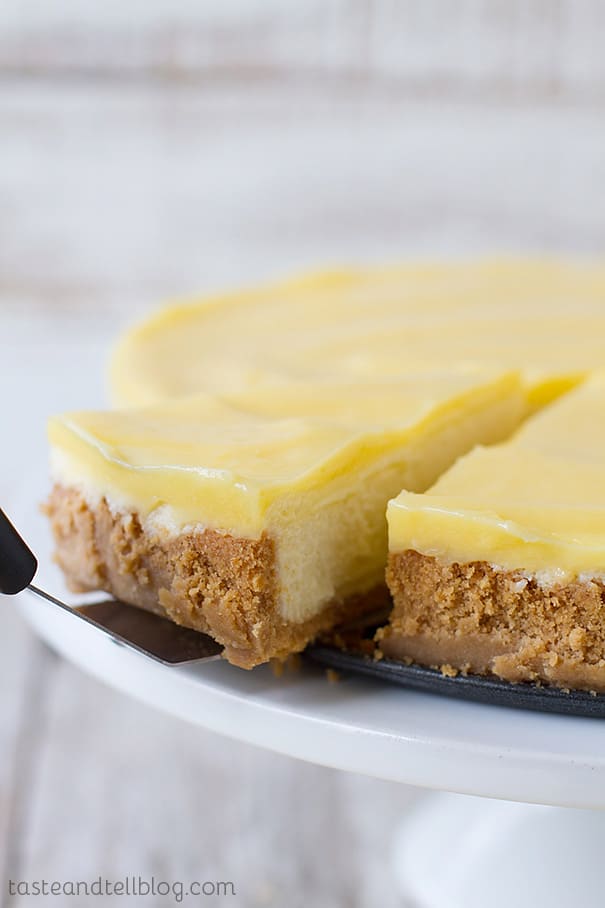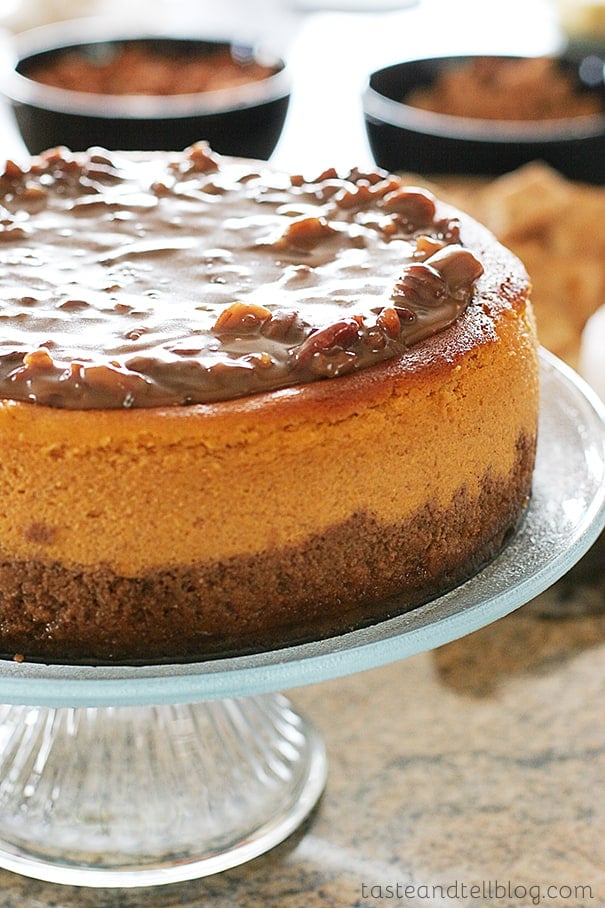 Larger-Than-Life Praline Cheesecake
And make sure you check out all of these other cheesecake posts celebrating National Cheesecake Day!
Pear cheesecake with gingersnap crust from Roxana's Home Baking
Strawberry Chocolate Ganache Cheesecake Bars from A Kitchen Addiction
No-Bake Peanut Butter Cheesecake from Crunchy Creamy Sweet
Frozen Peanut Butter Cheesecake with Nutter Butter Crust from Crazy for Crust
Caramel Overload Cheesecake Bars from Crumbs and Chaos
Blackberry Goat Cheese Cheesecake from Baking a Moment
Healthier Peanut Butter Cheesecake Brownie Bars from Texanerin Baking
White Chocolate Raspberry Swirl Cheesecake from Will Cook For Smiles
Coconut Cheesecake with Macadamia Crust from All Day I Dream About Food
Lemon Cheesecake from Shugary Sweets
No Bake Peanut Butter Cheesecake from Dinners, Dishes, and Desserts
Oreo Cheesecake (vegan) from Namely Marly
Blueberry Ricotta Cream Cheesecake from Hungry Couple
Lemon Ginger Panna Cotta Cheesecake with Blueberry Sauce from Girl Versus Dough
Mini Mascarpone Cheesecakes with Strawberry Balsamic Topping from Boulder Locavore
S'mores Cheesecake from The Gunny Sack
Raspberry Cheesecake with Oreo Crust from Hip Foodie Mom
Black Raspberry Cheesecake Milkshake from Blahnik Baker
No Bake Oatmeal Chocolate Chip Cookie Dough Cheesecake from White Lights on Wednesday
Blackberry Cheesecake Popsicles from The Girl In The Little Red Kitchen
Chocolate Nutella Cheesecake Cake from gotta get baked
White Chocolate Frangelico Cheesecake from That Skinny Chick Can Bake
Cherry and Pistachio No Bake Cheesecake with Animal Cracker Crust from Cravings of a Lunatic
Triple Brigadeiro Cheesecake Tart from From Brazil To You
White Chocolate Cheesecake with Macadamia Nuts and Caramel from Taste and Tell
Snickers Cheesecake from Life, Love and Sugar
Cherry Cheesecake Brownies from Inside BruCrew Life
Lilikoi Cheesecake with Macadamia Nut Shortbread Crust from Dieter's Downfall
Strawberry Cheesecake Pots from Barbara Bakes
Mom's Cheesecake from Magnolia Days
Very Berry Cheesecake with Chocolate Oreo Crust from JavaCupcake
Vanilla Bean Cheesecake from Wine & Glue
New York Style Cheesecake from URBAN BAKES
Rainbow Cheesecake from In Katrina's Kitchen
Chocolate Cheesecake w/ Whisky Toffee Shards from girlichef
No Bake Coconut Lime Cheesecake Bars from Beyond Frosting
Lemon Blueberry Cheesecake Bars from Cooking In Stilettos
Ricotta Cheesecake from French Press
Peanut Butter Cheesecake with Nutella Ganache Topping from The Redhead Baker
Chocolate-Covered Strawberry Cheesecake from Savvy Eats
Caramel Macchiato Cheesecake from Wishes and Dishes
Key Lime Pie Cheesecake from Love and Confections
Apricot-Swirl Cheesecake from Take A Bite Out of Boca
Hawaiian Mini Cheesecakes from Pint Sized Baker
Butter Pecan Caramel No-Bake Mini Cheesecakes from Simply Southern Baking
Pumpkin Cheesecake from Lady Behind The Curtain
Mini cheesecakes with a toasted coconut crust (gluten free) from Quarter Life (Crisis) Cuisine
No Bake Blackberry Cheesecake from You Made That?
Mini No Bake Lime Cheesecakes from Miss in the Kitchen
No-Bake Limoncello Cheesecake from Cake Duchess
No-Bake Berry Cheesecake from Food Lust People Love
Key Lime Trifles from Hoosier Homemade
Hawaiian Chantilly Layer Cheesecake from Wallflour Girl
No Bake Cookies and Cream Cheesecake Bars from Garnish with Lemon
Mango Cheesecake (vegan) from Jessiker Bakes
Salted Caramel Apple Cheesecake from Jane's Adventures in Dinner
Chocolate Peanut Butter Cheesecake Bars from Chez CateyLou
Oreo Ripple Cheesecake from Overtime Cook
No Bake Dulce de Leche Cheesecake with Caramelized Peaches from The Food Charlatan
Chocolate Caramel Cheesecake Ice Cream from Chocolate Moosey
Sugar Cookie Cheesecake from Munchkin Munchies
Caramel cheesecake martini from Happy Food, Healthy Life
Frozen PB&C Cheesecake from Noshing With The Nolands
Chocolate Brownie Cheesecake Cookies from Lemons for Lulu