The best of both worlds – this Carrot Cake Cheesecake has two layers of carrot cake with a layer of cinnamon cheesecake sandwiched in-between. Perfect for any carrot cake lover or cheesecake lover!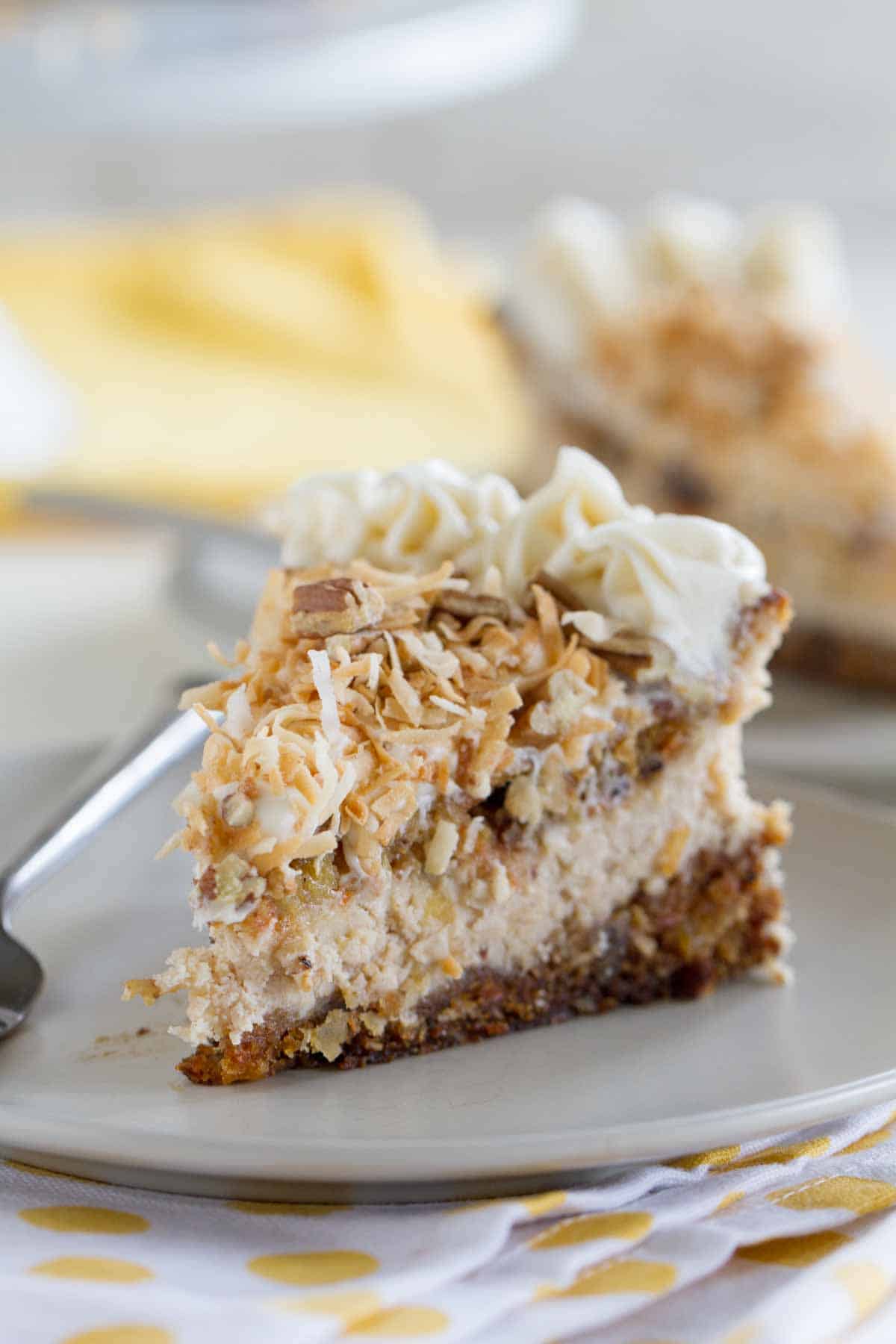 I think we all have that thing. You know – the one thing that you are never able to pass up. That one thing that, if left all alone in a room with it, you would devour it in its entirety. For some people, it might be chocolate chip cookies. Or a bag of chips. Or fancy chocolate bars.
Me? I have 2. Doughnuts. And Cheesecake.

This is why I am especially excited to be sharing today's cookbook review – The Cheesecake Bible by George Geary. I have hit the motherload of cheesecakes, and I'm loving every minute.
I've actually had this book for a couple of months now, and have drooled over the recipes more than once. If you are a cheesecake lover, you will definitely be in heaven with this book.
The book has 200 recipes – including mostly sweet cheesecakes, but also some savory appetizer cheesecakes. Included in the recipe count are recipes for toppings and sauces, but the majority of the recipes, by far, are full-on, wonderful cheesecakes.
While you have some basic recipes, like the Blue-Ribbon Cheesecake or the New York Style Cheesecake, there is also a very large variety of different, creative cheesecakes. You get everything from chocolate cheesecakes to fruit filled cheesecakes, no-bake cheesecakes, and even a whole chapter on small cheesecakes and bars.
Cheesecake heaven, I tell ya.
Here are the details:
Number of Photos: few. If there is one downfall, it's that there aren't a ton of photos. Only 32 of them, to be exact. There are 4 groupings of photos, so the whole book is not done in full color. I think the variety of cheesecakes makes up for the lack of photos, though.
Difficulty Level of Recipes: Medium. I think one misconception about cheesecake is that it's difficult to make. I think it's quite the opposite, actually. Time consuming – yes, but I think they are actually easier to make than a layer cake. That being said, though, it is still baking, which I think warrants the medium label.
Availability of Ingredients: easy. The majority of the ingredients are easy baking ingredients that can be found at any grocery store.
Other recipes I want to try:
White Chocolate Creme Brulee Cheesecake
Chocolate Cookie Cheesecake
Black Forest Cheesecake
Peach Melba Cheesecake
Maui Tropical Cheesecake
Pina Colada Cheesecake
Citrus Bliss Cheesecake
Pistachio Cheesecake
Blackberry Mini Cheesecakes
Buy The Cheesecake Bible on Amazon.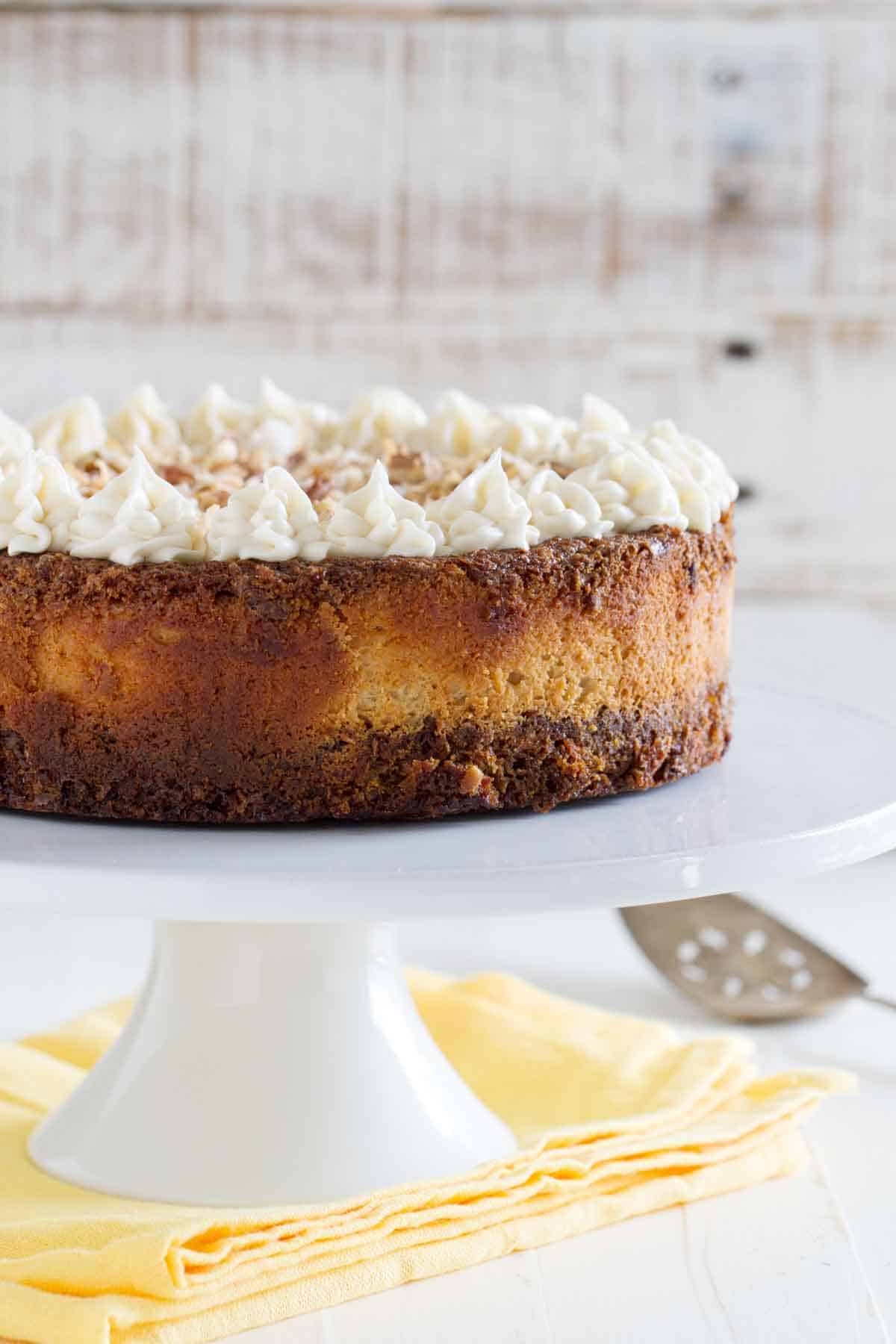 And now the cheesecake. Oh, the cheesecake. I seriously did have a hard time deciding where to start, but this Carrot Cake Cheesecake stood out to me as a perfect cake to make in preparation for Easter. (Why is it that carrot cake = Easter, anyway??)
I am not a stranger to the cake/cheesecake hybrid, but I've only done it where you make the cake layers and the cheesecake layer separately, (like this Red Velvet Cheesecake Cake), and then assemble them all together. This cheesecake is a little bit different, and a little bit easier, as you bake them all in the same pan.
You make both the cake batter and the cheesecake batter, and start by par-baking the bottom cake layer. Load the cheesecake layer on top, and top with the remaining cake batter, then bake until cooked through. Once the Carrot Cake Cheesecake has cooled completely, you frost it with some cream cheese frosting, and top it all off with some toasted coconut and pecans. Sounds pretty dreamy, right??
Dreamy, it was. So dreamy, in fact, that after I cut into it, I immediately went to my neighborhood Facebook page and offered up half of the cheesecake so that I wouldn't eat the whole thing myself. Because we all know I totally would.
This recipe does call for a 9″ springform pan. It seems to me like a 10″ pan is a more popular size, but luckily, I have both. But I did read an Amazon review that said they successfully made this cheesecake in a 10″ pan. But I have only tested it in the 9″.
I love that you get two desserts in one with this Carrot Cake Cheesecake. And I'm betting that if you make this dessert for your Easter guests, they will think you are a rockstar. At least I would. 😉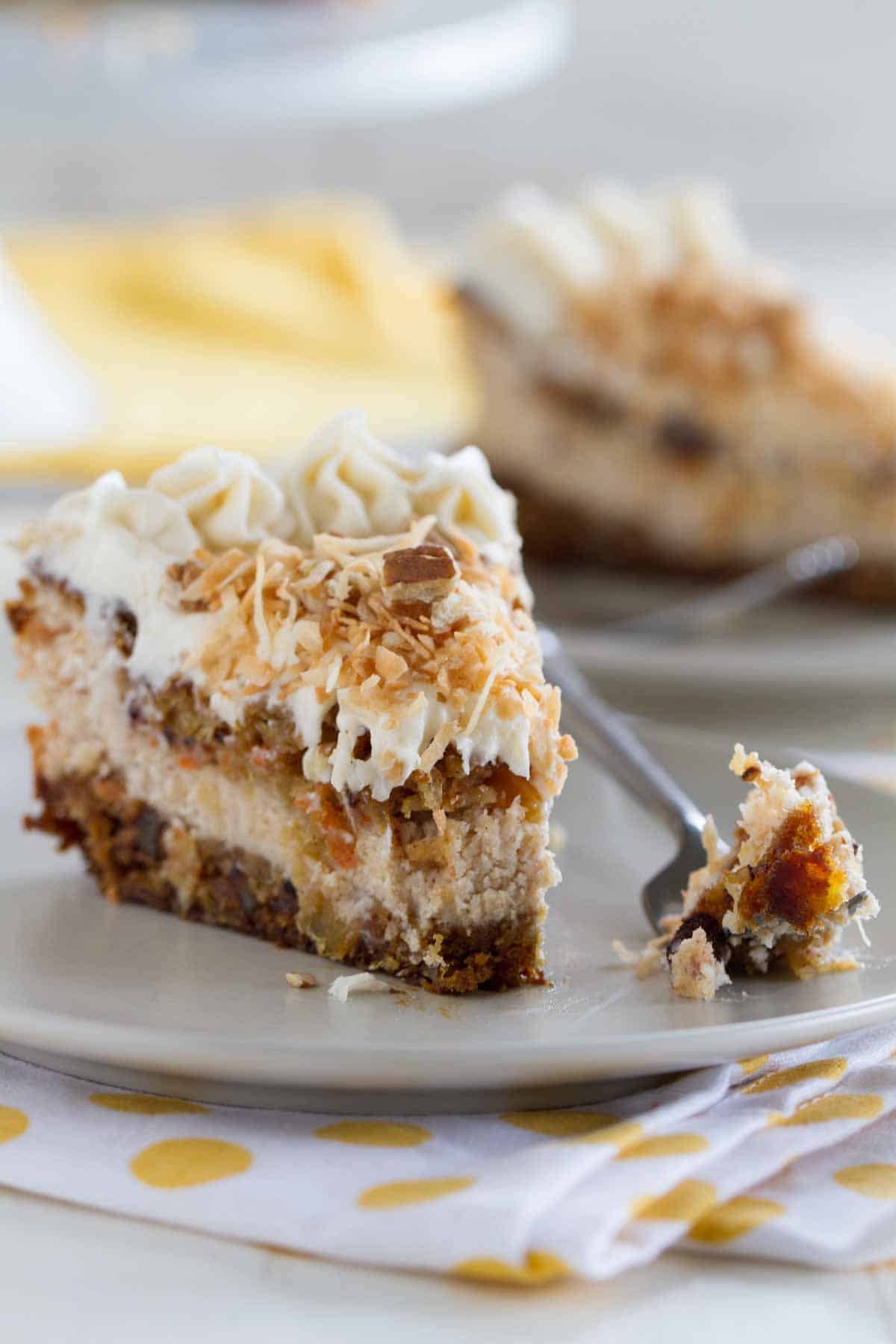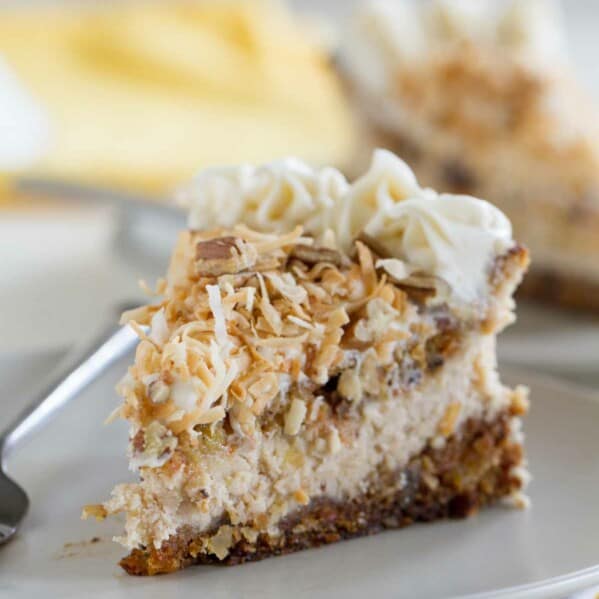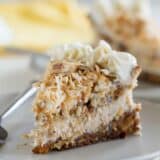 Carrot Cake Cheesecake
---
Author:
Prep Time: 25 mins
Cook Time: 1 hour 20 mins
Total Time: 1 hour 45 mins
Yield: 10-12 servings 1x
Category: Dessert
Method: Baked
Cuisine: American
Description
The best of both worlds – this Carrot Cake Cheesecake has two layers of carrot cake with a layer of cinnamon cheesecake sandwiched in-between. Perfect for any carrot cake lover or cheesecake lover!
---
Scale
Ingredients
Cheesecake Batter
2 packages (8 oz each) cream cheese, softened
3/4 cup sugar
1 tablespoon all-purpose flour
2 eggs
1 teaspoon vanilla extract
1 teaspoon cinnamon
Carrot Cake Batter
1 1/4 cups all-purpose flour
1 1/4 teaspoons baking soda
1/4 teaspoon cinnamon
1/4 teaspoon salt
1/8 teaspoon freshly grated nutmeg
1 1/4 cups sugar
2 eggs
1/3 cup vegetable oil
1 teaspoon vanilla extract
1/2 cup well-drained crushed pineapple
1/2 cup sweetened coconut
1/2 cup pecans, toasted and chopped
1 cup shredded carrots
Icing
4 oz cream cheese, softened
2 teaspoons unsalted butter, softened
1 teaspoon vanilla extract
2 1/2 cups powdered sugar
For Topping
toasted coconut
toasted, chopped pecans
---
Instructions
Preheat the oven to 350ºF. Grease a 9" springform pan and set aside. (If your springform pan is likely to leak, wrap the outside of the pan in foil.)
In a mixer with the paddle attachment, beat the cream cheese, sugar and flour on medium speed until smooth, about 3 minutes. Scrape down the sides and add the eggs, one at a time, scraping down the sides of the bowl after each addition. Beat in the vanilla and cinnamon. Transfer the batter to a bowl and set aside.
Combine the flour, baking soda, cinnamon, salt and nutmeg in a bowl and whisk to combine.
Using the same mixer bowl that you used for the cheesecake batter, (no need to wash it)combine the sugar, eggs, oil and vanilla and beat to combine. Add in the pineapple, coconut and pecans and beat for 1 minute. Gently stir in the flour mixture. Stir in the carrots.
Divide the carrot cake batter in half and pour one half in the bottom of the prepared springform pan. Bake the cake just until the batter is set (it will not be cooked through), 18-20 minutes.
Remove the pan from the oven and drop the cheesecake batter over the top by large spoonfuls. Use an offset spatula to spread the batter over the top of the cake. Drop the remaining carrot cake batter over the cheesecake batter by large spoonfuls. It's ok if some of the cheesecake batter pokes through.
Bake until a tester inserted in the cake portion comes out clean, 55-60 minutes. If the top of the cake starts to get too brown, cover with a piece of foil that has been sprayed with nonstick cooking spray. (The cake will come to the top of the pan and the cake will stick to the foil if it is not sprayed.)
Let the pan cool for 2 hours, then cover the top with plastic wrap and refrigerate for at least 6 hours.
Run a knife around the outside of the cake, then release the springform pan.
In a medium bowl, beat the cream cheese and butter together until light and fluffy, about 4 minutes. Add the vanilla and beat to combine. Add in the powdered sugar, 1/2 cup at a time, then beat until light, about 3 more minutes. If the icing is too stiff, add a small amount of cream or milk to thin it out a bit. Frost the top of the cake with half of the icing, then use the remaining icing to pipe around the edges of the top of the cake. Fill the center with toasted coconut and toasted pecans.
Serve immediately. Store any leftovers covered in the refrigerator.
Recipe Notes:
Total time does not include cooling time.
Recipe slightly adapted from The Cheesecake Bible.
Keywords: carrot cake cheesecake