Sweet and tangy, this Instant Pot Key Lime Cheesecake is the perfect dessert for tart lime lovers. It is rich, creamy, and super easy because it's made in the pressure cooker!
You can't go wrong with key lime – like with this Key Lime Pie or these Key Lime Pie Baked Donuts!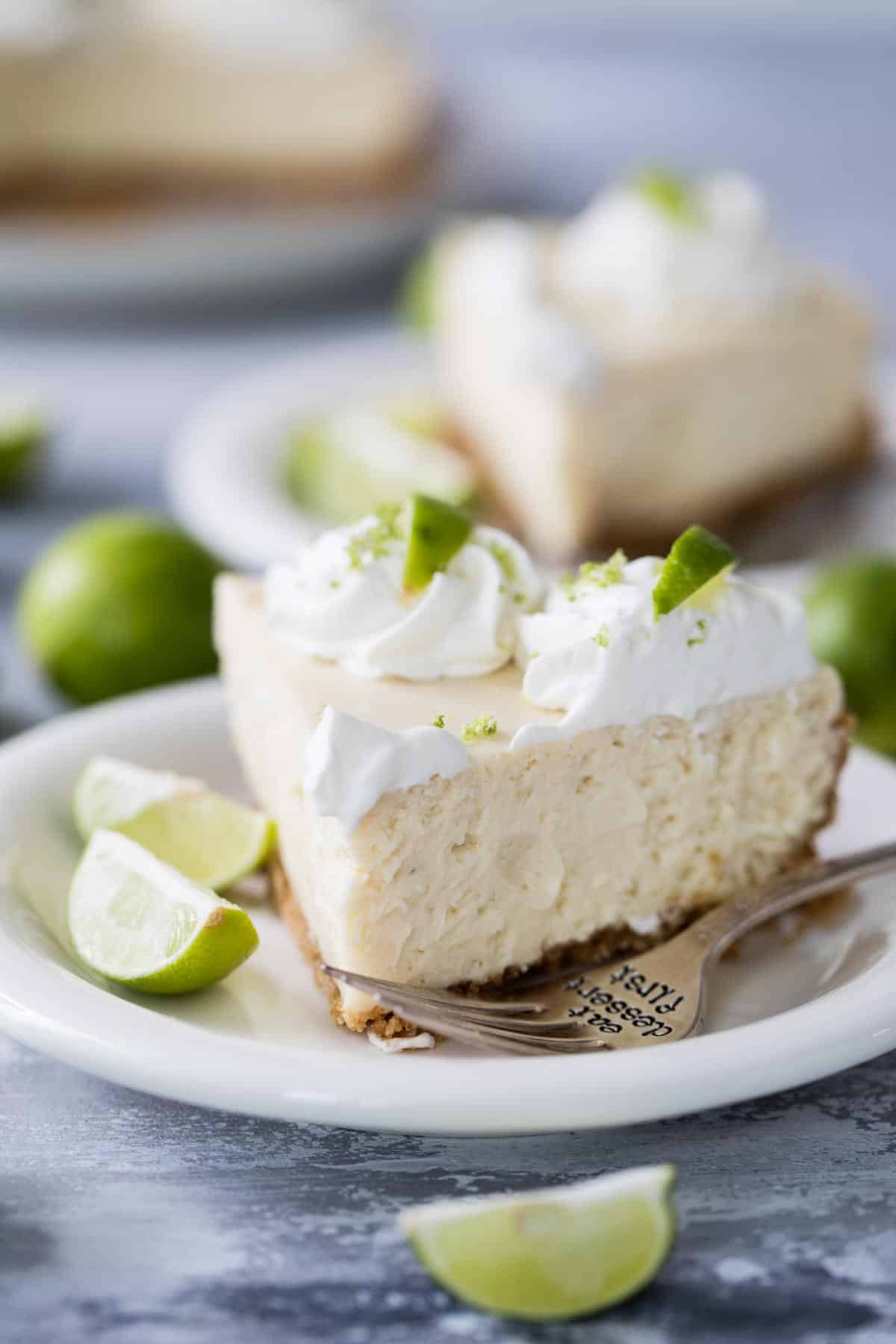 Instant Pot Key Lime Cheesecake
Oh, cheesecake – how I love you. Seriously, though – cheesecake is easily one of my favorite desserts. Right behind pie and donuts. I have no self control around it, so don't put a slice in front of me and expect me not to eat it. I also have a weakness for anything citrus. So of course I would fall madly in love with this Key Lime Cheesecake. It's rich and smooth and tart and tangy and all of the things you would expect from a Key Lime Cheesecake.
This was my first time making a cheesecake in the Instant Pot. And I am officially a convert. It was a lot faster than cooking in the oven. And the consistency and texture of the cheesecake was just perfect. I was afraid of the size at first, because a 7 inch cheesecake seemed pretty small, but I ended up totally in love with the size. It is perfect for a smaller family (like mine) so we weren't tempted with this huge cheesecake staring back at us from the refrigerator. I really did love everything about this recipe!
Instantly Sweet by Barbara Schieving and Marci Buttars
This Instant Pot Key Lime Cheesecake comes from the newly released cookbook Instantly Sweet by Barbara Schieving and Marci Buttars. If you are an Instant Pot fan, or a dessert fan, this cookbook is for you. Filled with 75 recipes – this cookbook is all you need to make your pressure cooker dessert dreams come true. Everything from cakes to cheesecakes to pie and more – you will find all kinds of dessert recipes in this book. I knew you could make a great dessert in the pressure cooker, but I had no idea there was this much!
Some of the recipes I have on my list to try are the Brown Sugar Banana Nut Bread, the Dulce de Leche Lava Cakes, the German Chocolate Cake and the Coconut Custard Pie. Really, though – there are so many great recipes in this book and I can't wait to make even more!
You can get your own copy of this cookbook on Amazon or at your local book store.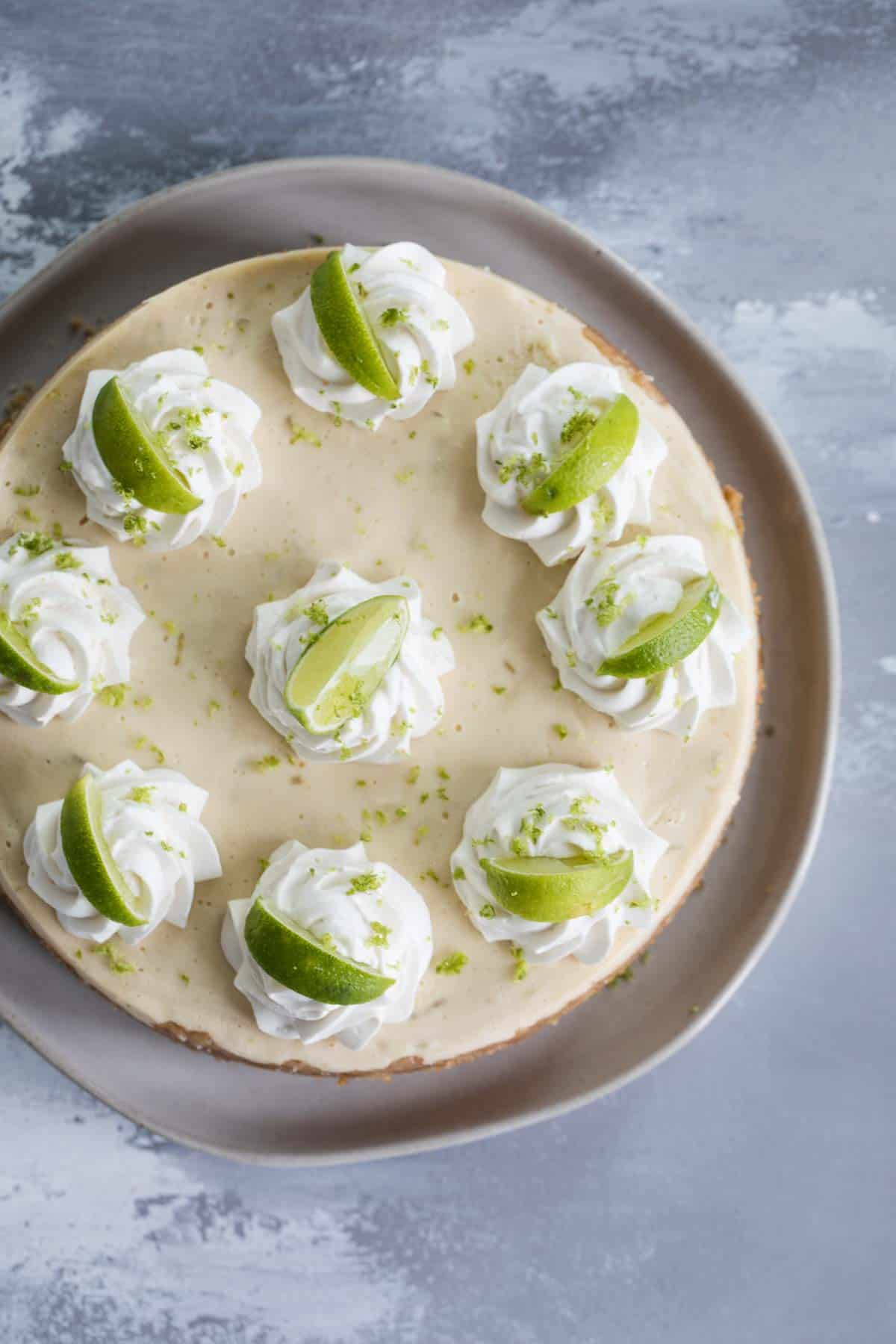 Tips for Making Instant Pot Cheesecake
I think that making a cheesecake in the pressure cooker is actually a lot easier than making one in the oven!
Make sure that your ingredients are all room temperature to ensure that you end up with a smooth cheesecake.
Don't let the crust go up too far on the sides. If the crust is exposed, water from the pressure cooker can get into the crust which will make it gummy and not so great. So make sure the sides are no more than an inch up the sides of the pan.
Once you have added the egg, make sure you don't overmix the batter – only mix until it is combined.
You will need a sling to get your cheesecake in and out of the pressure cooker. You can purchase one, or you can make one out of foil. Just fold a 26×4-inch piece of foil and use it to lower the cheesecake into the pot and to get it out. My trivet has handles, but it is still easier to use a foil sling.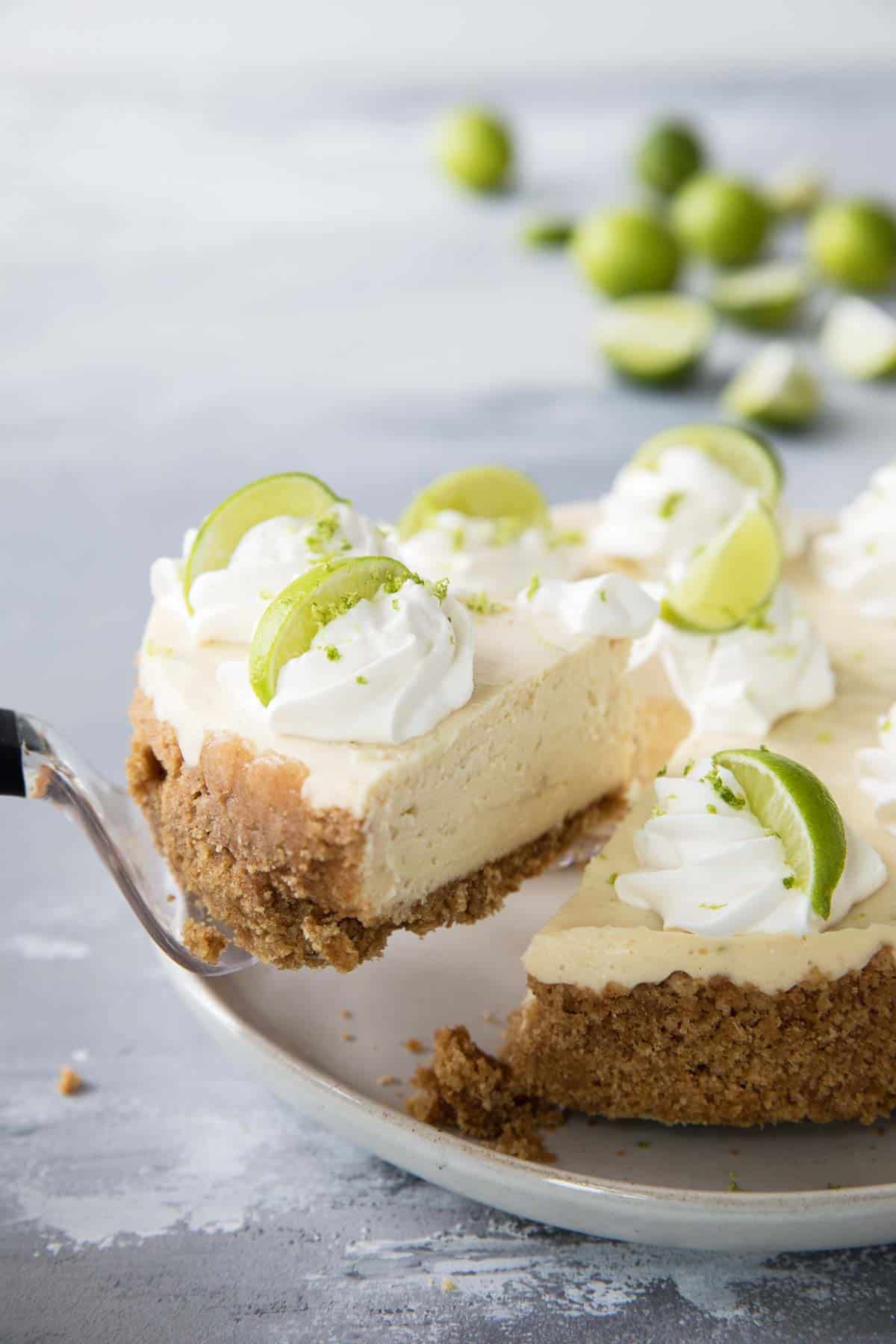 What Can be Substituted for Key Lime Juice
So, do you really need key limes for this cheesecake recipe? Well, key limes are more acidic and often have a more concentrated flavor than Persian limes. But… they are harder to come by, more expensive, and let's face it – a lot more work to juice. If you don't want to mess with key limes for this cheesecake recipe, the authors of this book recommend substituting in 3 tablespoons of freshly squeezed lime juice and 2 tablespoons of freshly squeezed lemon juice.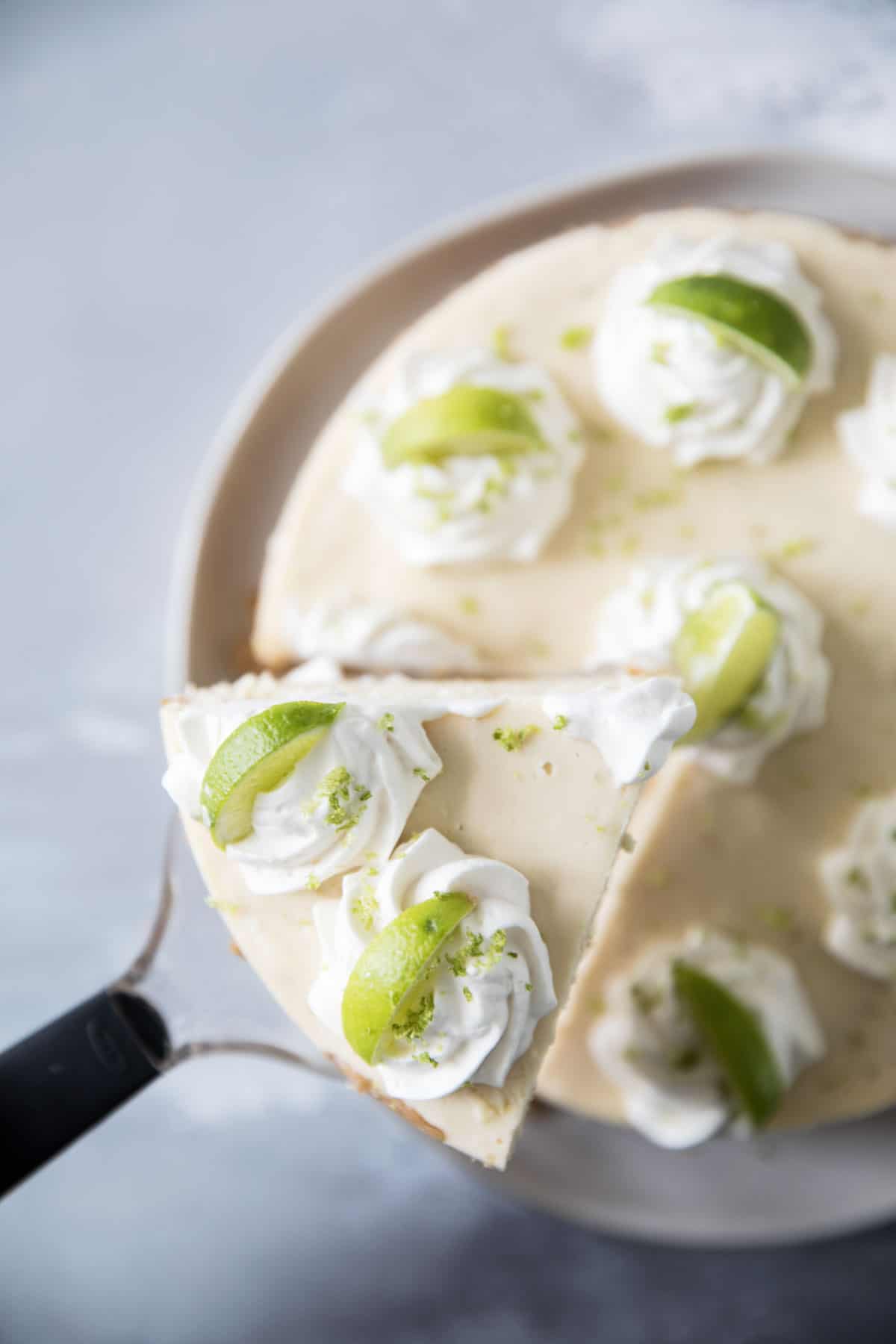 What do you need to make an Instant Pot Cheesecake?
As much as I hate telling you that you need a special pan to make this Instant Pot cheesecake, you really do need a special pan. I went to my local big box store to try to find a 7 inch springform pan, but did not have any luck and had to order on online. And even though it looks like you can fit an 8-inch pan (which is a size I already had), you cannot because of the closure. But after this cheesecake, I know I'll get lots of use from this pan, and really, it was pretty affordable.
You'll obviously also need a pressure cooker. I use this Instant Pot. It came with a trivet which you will need to put the cheesecake on.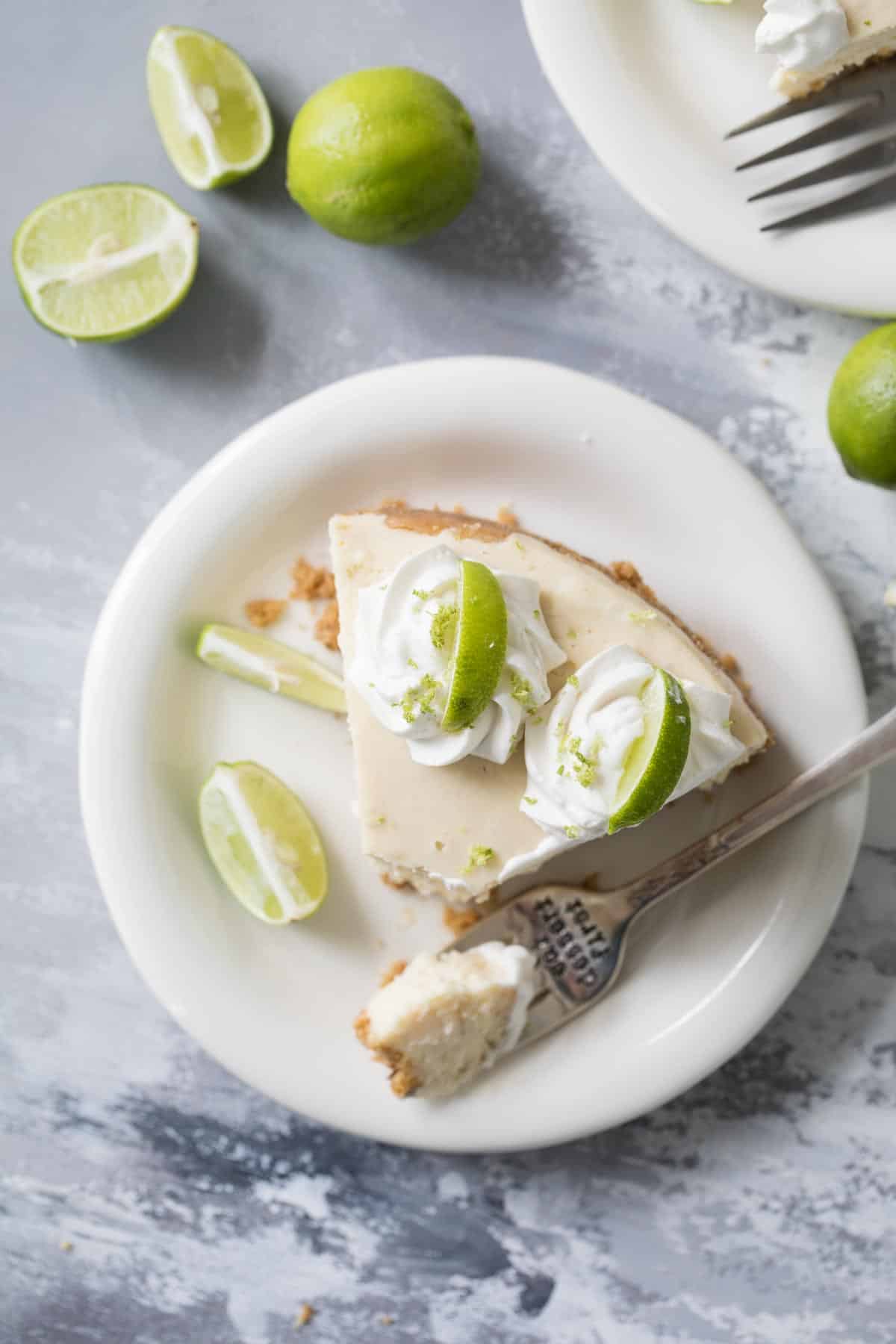 More Instant Pot Recipes You Must Make
Garlic Paprika Instant Pot Chicken Thighs
Instant Pot Barbacoa Beef
Instant Pot Chipotle Shredded Beef
Pressure Cooker Fudgy Brownies
Pressure Cooker Cashew Chicken
Pressure Cooker Honey Garlic Chicken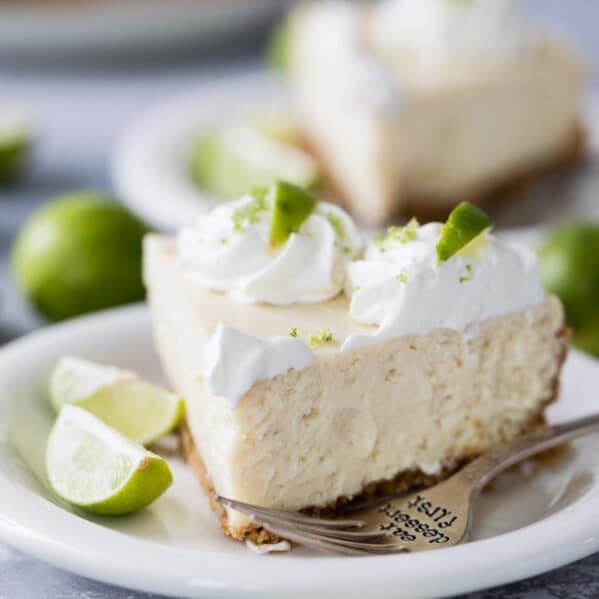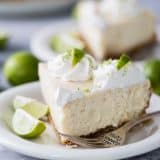 Instant Pot Key Lime Cheesecake
---
Author:
Prep Time: 25 mins
Cook Time: 25 mins
Total Time: 6 hours
Yield: 8 servings 1x
Category: Dessert
Method: Instant Pot
Cuisine: American
Description
Sweet and tangy, this Instant Pot Key Lime Cheesecake is the perfect dessert for tart lime lovers. It is rich, creamy, and super easy because it's made in the pressure cooker!
---
Scale
Ingredients
1 cup graham cracker crumbs (from about 8 whole crackers)
3 tablespoons unsalted butter, melted
1 tablespoon sugar
1 8-oz package cream cheese, softened
1 can (14 oz) sweetened condensed milk
1/3 cup freshly squeezed key lime juice
1 large egg
1 tablespoon grated key lime zest
1/2 cup heavy whipping cream
2 tablespoons powdered sugar
1/2 teaspoon vanilla extract
---
Instructions
Coat a 7-inch springform pan with nonstick cooking spray.
In a small bowl, mix together the graham cracker crumbs, melted butter and sugar. Press the crumbs into the springform pan and about 1 inch up the sides. Freeze the crust for 10 minutes.
In another bowl, beat the cream cheese until it is smooth. Slowly beat in the sweetened condensed milk, then the lime juice, then the egg and lime zest. Don't overmix. Pour the batter into the frozen crust.
Pour 1 cup of water into the bottom of the instant pot and place a trivet in the bottom. Carefully lower the pan into the Instant Pot. Lock the lid in placed turn the pressure release valve to the sealed position. Select high pressure for 25 minutes.
When the time ends, let the pressure cooker release naturally for 10 minutes, then do a quick pressure release. When the valve drops, carefully remove the lid. Check the temperature of the cheesecake with an instant read thermometer to ensure that the cheesecake has reached 150ºF. If needed, re-lock the lid and cook on high pressure for an additional 5 minutes, followed by another 10 minute natural release.
Use a sling to transfer the cheesecake to a wire rack to cool. Use the edges of a paper towel to blot up any water that may have collected on the top or edges of the cheesecake.
Once cool, cover the cheesecake with plastic wrap and transfer it to the refrigerator to chill for at least 4 hours, but preferably overnight.
When ready to serve, make the vanilla whipped cream: in a bowl, beat the cream until it starts to thicken. Add the powdered sugar and the vanilla and continue to beat until stiff peaks form.
Serve the cheesecake topped with the whipped cream.
Recipe Notes:
recipe from Instantly Sweet
Nutrition information provided as an estimate only. Various brands and products can change the counts.
Nutrition
Serving Size: 1/8 of cheesecake
Calories: 479
Sugar: 44 g
Sodium: 274 mg
Fat: 27 g
Saturated Fat: 16 g
Unsaturated Fat: 9 g
Trans Fat: 0 g
Carbohydrates: 52 g
Fiber: 1 g
Protein: 9 g
Cholesterol: 110 mg