Ok, I'm not going to wax poetic again about how much I love breakfast. Because we all know that I do. But do you want to know a secret?
I rarely eat all of these delicious breakfast foods for breakfast.
In a perfect world, I'd get up and make an elaborate meal every morning to start our days off right. But the truth of the matter is that I have 3 children that all wake up practically screaming "breakfast!" And while in my pre-kids days I was totally a morning person, I've turned into a night person (that is mostly when I work), so mornings are a little rough for me. Which is a nice way of saying that I'm pretty lazy first thing in the morning.
But enter Blueberry Muffin Waffles. All of the deliciousness of blueberry muffins, but done way faster because you don't have to wait for anything to bake. Technically, you do have to wait for these to cook, but it's way faster than waiting for a batch of muffins to bake. And you can always feed them to the kids as they come off of the waffle iron. If your kids are anything like my kids, they will eat them up as fast as you can make them!!
Do you want another bonus for this recipe? They are delicious on their own. While I admit that we sweetened them up even more by serving them with syrup, you could totally use these as a breakfast on the go. And although I've only tried them with blueberries, I'm guessing that any berry would work out well.
I don't know about you, but these waffles could turn me back into a morning person!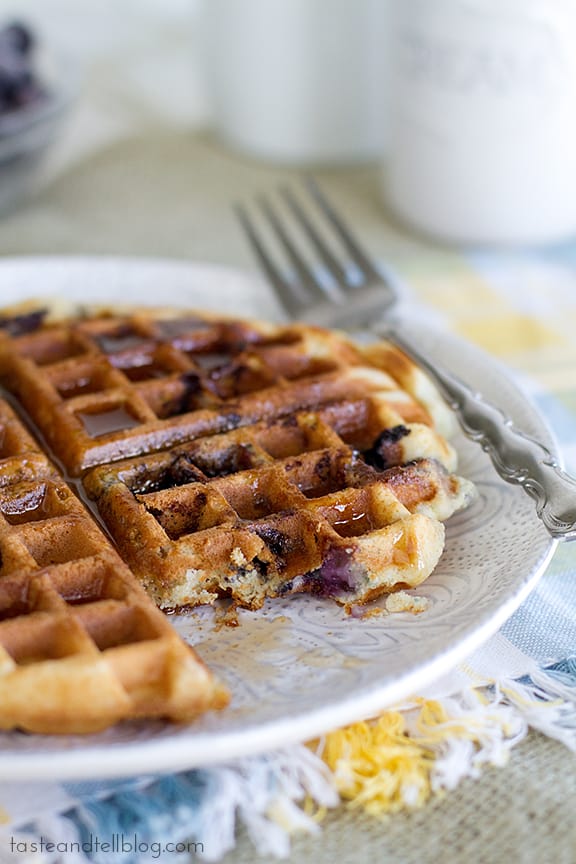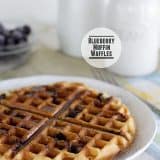 Blueberry Muffin Waffles
---
Prep Time: 10 minutes
Cook Time: 10 minutes
Total Time: 20 minutes
Yield: 4 servings 1x
Description
Blueberry muffins served in waffle form! Drizzle with a bit of maple syrup to take it up even another level.
---
Scale
Ingredients
1 1/2 cups flour
3/4 cup sugar
1/2 teaspoon salt
2 teaspoons baking powder
1/3 cup vegetable oil
1 egg
2/3 cup milk
1 cup blueberries (I used frozen)
Melted butter, for the waffle iron
---
Instructions
In a bowl, combine the flour, sugar, salt and baking powder. Make a well in the center of the mixture and add the egg, milk and oil. Stir just to combine. Gently stir in the blueberries. (If using frozen blueberries, do no thaw first.)
Heat a waffle iron. Brush with melted butter and ladle batter onto the iron. Cook according to the waffle maker directions.