Bursting with blueberry flavor, these tender Blueberry Waffles are a breakfast the whole family loves. They are fast, easy, and the perfect way to make any morning feel special.
Love blueberries for breakfast? Also try this Blueberry Banana Bread with Coconut or these Blueberry Cream Cheese Pastries.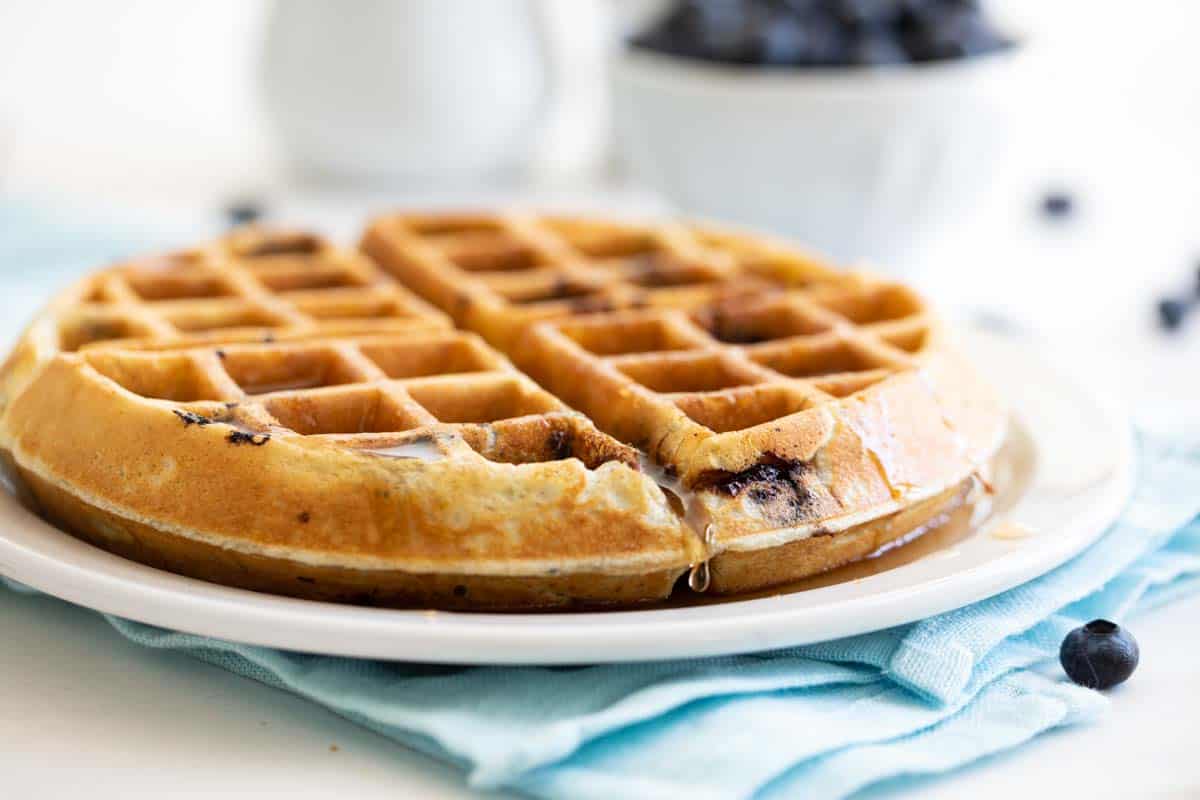 When it comes to breakfast, we are a pancake and waffle family. My kids basically beg for them every morning. We love my pancake recipe and I really do think my regular waffles are The Best Waffle Recipe.
But sometimes, you need to branch out just a little bit.
And I'm guessing you won't hear any complaints if it's with these Blueberry Waffles!
So this recipe is pretty similar to my regular waffle recipe, but with a couple changes.
First – more sugar. These waffles are quite a bit sweeter than my plain waffles, but they just weren't quite right without the extra sugar.
Second, I don't separate the egg whites and yolks. That trick works beautifully for regular waffles, but I feel like you need a less airy-ness when the blueberries are added. If you like a lighter waffle, though, feel free to use that trick!
Third – the blueberries, of course!
Ingredients
Flour: I use all purpose flour. Feel free to experiment with other flours, if desired.
Sugar: Like I mentioned above, I use more sugar in this recipe than in my regular waffle recipe. You should be able to successfully cut back on the sugar if you want to make them less sweet.
Baking Powder: The baking powder is what helps the waffles to get nice and fluffy.
Salt: The salt balances the flavors.
Cinnamon: The waffles don't taste like cinnamon, but this gives them a nice warm flavor in the background.
Milk: I use 2% milk, but you could probably use a non-dairy milk, like almond milk or oat milk.
Vegetable Oil: I like to use vegetable oil because it is neutral in flavor, but feel free to use another oil you like. If you want to sub in butter, use melted butter.
Eggs: I use large eggs.
Vanilla: I like to use pure vanilla extract.
Almond Extract: The almond extract really compliments the blueberry. If you don't have almond extract or don't want to use it, just leave it out or use a little more vanilla.
Blueberries: You can use either fresh or frozen blueberries for this recipe.
How to Make Blueberry Waffles
Dry Ingredients – combine all of your dry ingredients and whisk them together.
Wet Ingredients – in a separate bowl, whisk all of your wet ingredients together.
Combine – stir it all together – the dry ingredients need to be fully incorporated, but don't over mix!
Let it Sit – Let the batter sit while the waffle iron heats up.
Blueberries – gently fold in the blueberries.
Bake – Cook the batter up in your waffle iron.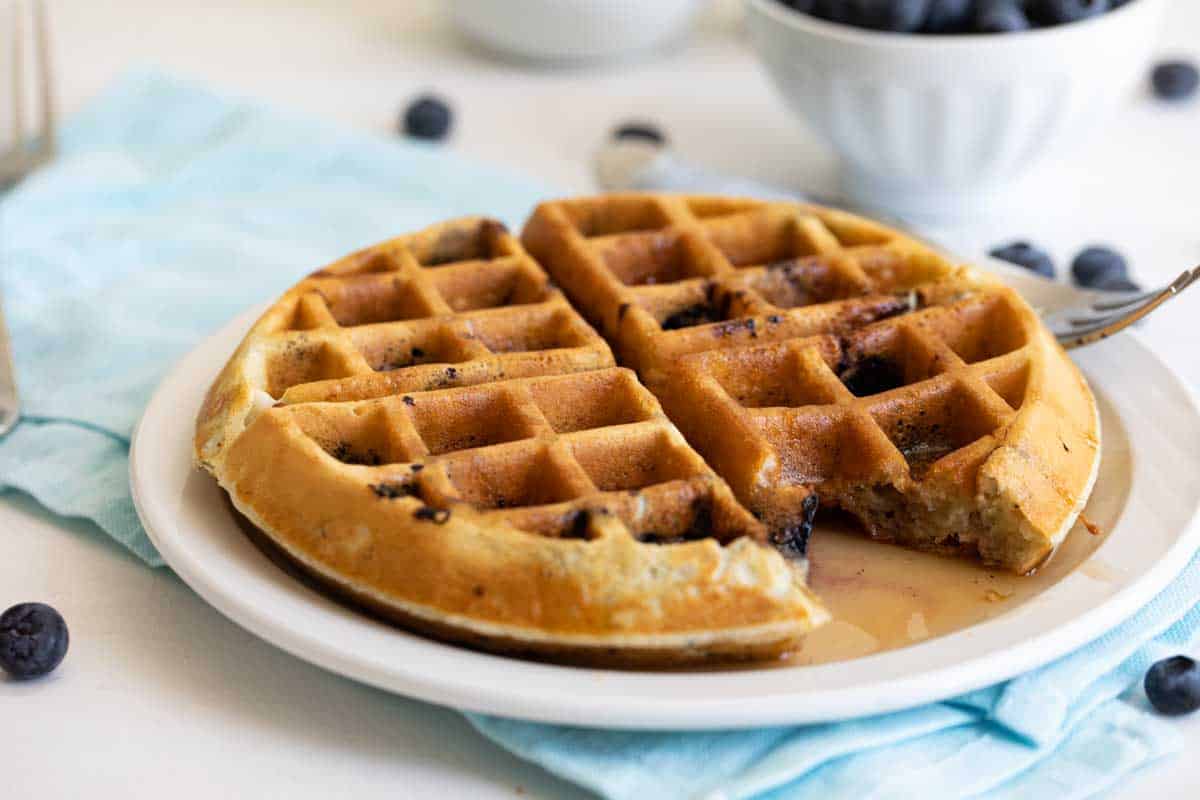 Tips and Tricks
I like to mix my wet ingredients in a large liquid measuring cup to cut back on dishes. Just measure the milk and oil first, then add the remaining wet ingredients.
You can use fresh or frozen blueberries. If using frozen, don't add them until right before you start cooking the waffles as they tend to clump together once they are in the batter.
Also if you are using frozen blueberries – I like to spread them out a bit once the batter is on the waffle iron to avoid big clumps. This doesn't seem to happen as much with fresh blueberries as it does with frozen.
I like to let my batter sit (without the blueberries) for 5-10 minutes to give the baking powder a little extra activating time.
Make sure you grease your waffle iron well. The blueberries can become sticky and messy when they are hot, and you don't want the waffles to stick.
These will probably be messier on your waffle iron than regular waffles, so I just like to wipe mine down when it's still warm, but not hot.
These are sweet enough to eat on their own, but my family likes a bit of maple syrup or buttermilk syrup. And sometimes whipped cream. 🙂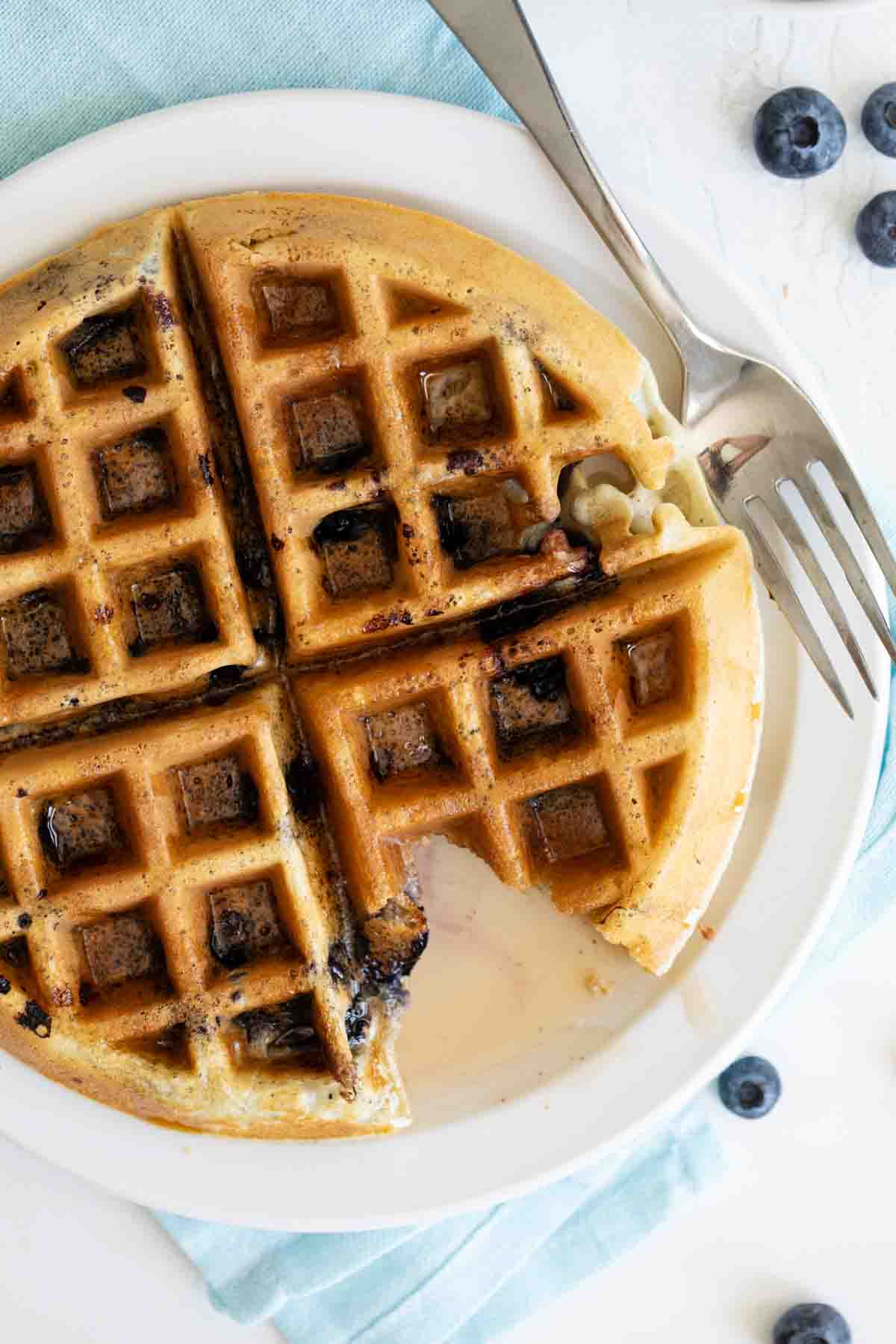 More Waffle Recipes
Liege Waffles
Banana Waffles
Chocolate Waffles
Red Velvet Waffles
Strawberry Shortcake Dessert Waffles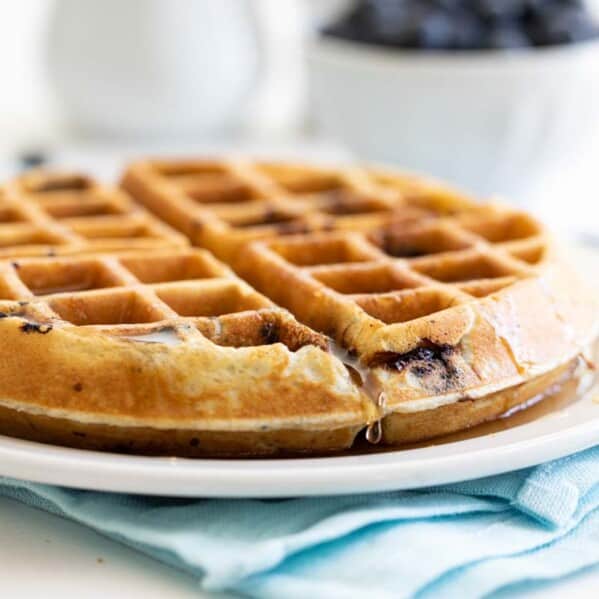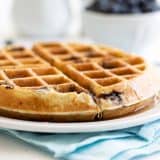 Blueberry Waffles
---
Author:
Prep Time: 10 minutes
Cook Time: 10 minutes
Total Time: 20 minutes
Yield: 4 servings 1x
Category: Breakfast
Method: Waffle Iron
Cuisine: American
Description
Bursting with blueberry flavor, these tender Blueberry Waffles are a breakfast the whole family loves. They are fast, easy, and the perfect way to make any morning feel special.
---
Scale
Ingredients
2 cups all-purpose flour
1/4 cup granulated sugar
1 tablespoon baking powder
1/4 teaspoon salt
1/4 teaspoon cinnamon
1 3/4 cups milk
1/4 cup vegetable oil
2 large eggs
1 teaspoon vanilla
1 teaspoon almond extract
1 to 1 1/2 cups fresh or frozen blueberries
---
Instructions
In a large bowl, whisk together the flour, sugar, baking powder, salt, and cinnamon.
In another bowl, or in a large liquid measuring cup, combine the milk, vegetable oil, eggs, vanilla extract and almond extract. Whisk until the eggs are broken up and the mixture is combined.
Pour the liquid ingredients into the dry ingredients. Whisk together. Do not over-mix – the batter should still have some small lumps but all big lumps should be whisked out.
Let the mixture sit while you preheat your waffle iron.
When the waffle iron is hot, stir the blueberries into the batter.
Cook the batter according to the waffle maker instructions, being careful to evenly distribute the blueberries through the waffles.
Recipe Notes:
Nutrition information provided is an estimate only. Various brands and products can change the counts. Any nutritional information should be used as a general guideline.
Nutrition
Serving Size: 1/4 of recipe
Calories: 507
Sugar: 13 g
Sodium: 597 mg
Fat: 20 g
Saturated Fat: 4 g
Unsaturated Fat: 13 g
Trans Fat: 0 g
Carbohydrates: 70 g
Fiber: 3 g
Protein: 13 g
Cholesterol: 101 mg
Keywords: blueberry waffles