**Don't Miss the Giveaway Below!**
Ok, I'm not going to wax poetic again about how much I love breakfast. Because we all know that I do. But do you want to know a secret?
I rarely eat all of these delicious breakfast foods for breakfast.
In a perfect world, I'd get up and make an elaborate meal every morning to start our days off right. But the truth of the matter is that I have 3 children that all wake up practically screaming "breakfast!" And while in my pre-kids days I was totally a morning person, I've turned into a night person (that is mostly when I work), so mornings are a little rough for me. Which is a nice way of saying that I'm pretty lazy first thing in the morning.
But enter Blueberry Muffin Waffles. All of the deliciousness of blueberry muffins, but done way faster because you don't have to wait for anything to bake. Technically, you do have to wait for these to cook, but it's way faster than waiting for a batch of muffins to bake. And you can always feed them to the kids as they come off of the waffle iron. If your kids are anything like my kids, they will eat them up as fast as you can make them!!
Do you want another bonus for this recipe? They are delicious on their own. While I admit that we sweetened them up even more by serving them with syrup, you could totally use these as a breakfast on the go. And although I've only tried them with blueberries, I'm guessing that any berry would work out well.
I don't know about you, but these waffles could turn me back into a morning person!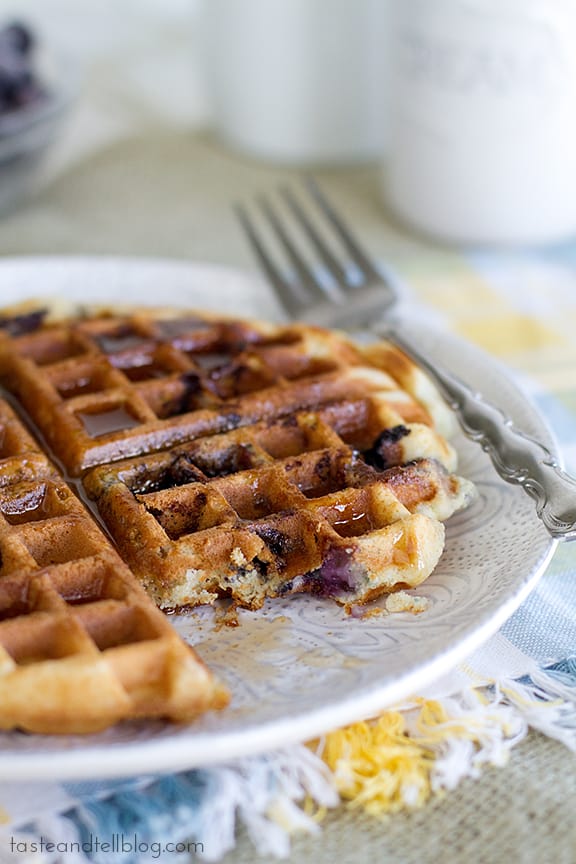 Blueberry Muffin Waffles
Blueberry muffins served in waffle form! Drizzle with a bit of maple syrup to take it up even another level.
Ingredients
1½ cups flour
¾ cup sugar
½ teaspoon salt
2 teaspoons baking powder
⅓ cup vegetable oil
1 egg
⅔ cup milk
1 cup blueberries (I used frozen)
Melted butter, for the waffle iron
Instructions
In a bowl, combine the flour, sugar, salt and baking powder. Make a well in the center of the mixture and add the egg, milk and oil. Stir just to combine. Gently stir in the blueberries. (If using frozen blueberries, do no thaw first.)
Heat a waffle iron. Brush with melted butter and ladle batter onto the iron. Cook according to the waffle maker directions.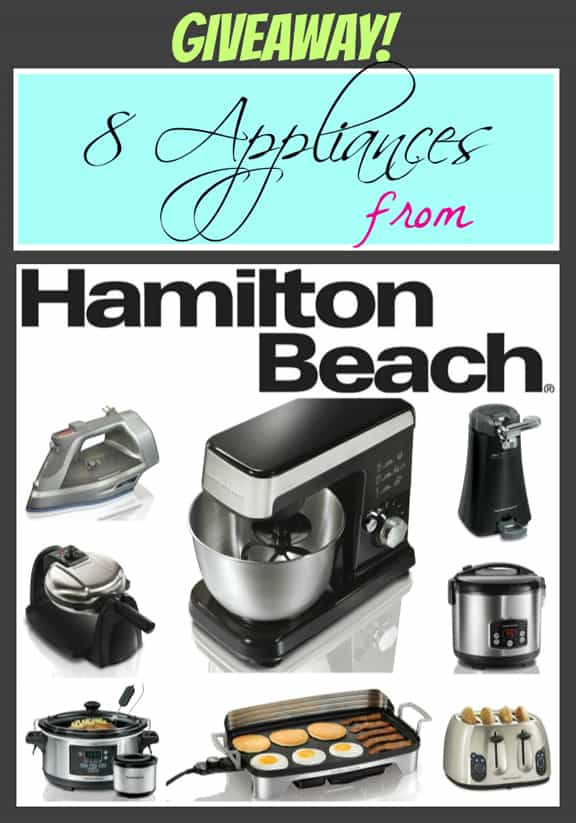 It's day 3 of our 5 Days of Giveaways, so if you missed days one (
Magimix Food Processor-$400
), and two (
Vacation for 4 to Deer Valley Resort-$4,000
)make sure you hurry and enter those too.
Today's giveaway is a great one and let me tell you, it is sooooo nice having a house full of all new appliances. I always say we should have wedding receptions every 8-10 years so we can get all new stuff, well now one lucky winner can feel that way all over again!!
*Not everything in the giveaway is in the picture below. There are a few things missing. Please refer to the picture above.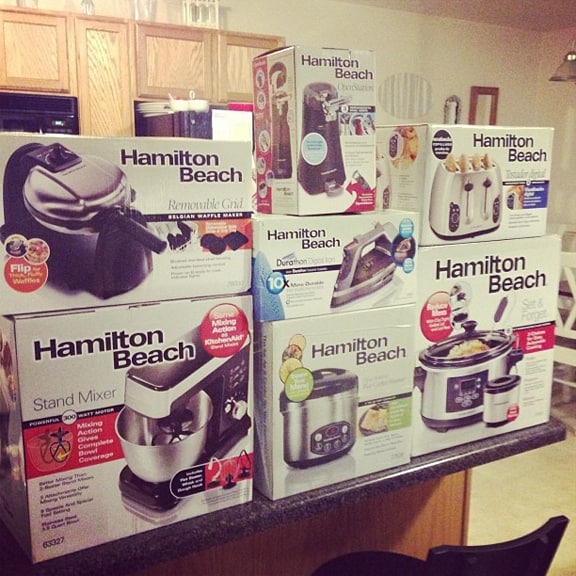 What better way to celebrate a birthday than to provide all new appliances for a reader?! Hamilton Beach has graciously provided this entire list of products for one winner and we hope that you will enjoy them as much as we have!
Hamilton Beach Appliances Motherload-$500+
Standing Mixer: This powerful baby is perfect for all of your kitchen needs. Whip up fluffy home made whipped cream, tender bread, gooey brownies or anything else your heart desires without breaking your arm from stirring. 300 watt motor makes it easy to keep up with cooking for crowds too. Plus you've got all of your major attachments like whisk, beater, and dough hook!
Rice Cooker/Steamer: A good rice cooker is essential in our house. Whether it's quinoa, brown rice, coconut rice, pasta, or steamed veggies this appliance has got ya covered. 4-20 Cup capacity, digital, and even a delay start feature!
Slow Cooker: A programmable slow cooker with probe for checking your meat and a 2 cup food warmer! We love that this slow cooker can have a timer set, it's digital, easy to clean and keeps an even temperature and correct temp while cooking.
Electric Griddle: No more taking an hour to cook pancakes on your little skillet, you can now plug in an electric griddle that goes from 200-400 degrees, has a backsplash, drip tray and is completely submersible once you remove the cord.
Can Opener Station: This is not just a can opener, you can open jars with the no slip jar grip, open mate that can slice through hard to open plastic packages, a cap opener and more. Click the link to see all of the extras that this can opener secretly carries.
Digital 4 Slice Toaster: Finally, a toaster with more than two slots and digital buttons that make it easy to get perfectly golden toast.
Waffle Maker: Not your typical waffle maker that you got for you wedding, this waffle maker takes breakfast to a whole new level. Belgian Waffles turn out big and fluffy with this turning handle appliance, plus clean up is a breeze with removable griddle plates. BOOYAH!!
Digital Iron: Ok, this isn't cooking, but who ever wants to have to buy a new iron? Plus, I hate trying to wrap the cord so this one is retractable, and it steams up to 40% more than the leading competitor. Plus, much more if you click the link to read through.