Kolaches Recipe – A recipe for a peach filled pastry topped with a streusel topping.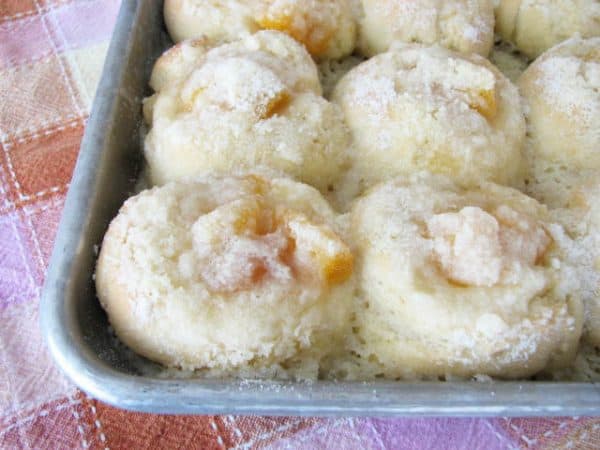 Since my cookbook of the month posts for the month were thrown off a bit by the past week of Rachael Ray, you'll be getting 2 recipes this week from this month's cookbook of the month – The Pastry Queen.
When I received my copy of this book, I looked through it eagerly. And my first choice was not an easy one. My husband is usually the breakfast maker at our house, but this past weekend, he made breakfast on Saturday and let me make breakfast on Sunday. So immediately went to the breakfast section of this cookbook. It's filled with tasty sounding treats, like Apple-Smoked Bacon and Cheddar Scones (I really need to make these soon!!) and Whole Lemon Muffins. But one recipe caught my attention because I had never heard of it before – Kolaches. Not only did the recipe sound great and the picture make them look very good, but there are many different versions offered – many different ways to change up the recipe. Like poppy seed kolaches or egg kolaches. I settled on the peach-filled version, as I have a ton a homemade peach jam that I need to get through.
First of all, let me say that I'm pretty sure I did something wrong on this recipe, but even then, they still tasted like the perfect breakfast treat! I halved the recipe, as the full recipe says that it makes 16 to 18 buns. I still ended up with 19 or 20! I think I made them too small. Plus, mine didn't rise. I'm guessing I did something wrong while halving the recipe. I'm sure any of you out there that half recipes often know what I am talking about – you get sidetracked and somehow end up adding a full amount of one of the ingredients. Also, I think I was really afraid of overworking the dough, but probably didn't mix it together well enough. They did rise some after going into the oven, but the final product was not light and airy like I was expecting. But then again, since I've never had a kolache, maybe they turned out like they are supposed to!
While I halved the recipe, I still did the full amount of streusel topping – just because I love streusel topping so much! You can kind of tell I overdid it in the photos – some of the topping ended up between the buns, melting on the tray. But I had no problem peeling it off and just eating it!
The next version I want to try of these is the egg-filled version – Rebecca Rather says that it's kind of like her version of an Egg McMuffin!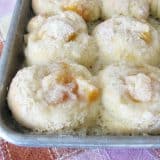 Peach Filled Kolaches
---
Author:
Yield: 16-18 buns 1x
Description
Kolaches Recipe – A recipe for a peach filled pastry topped with a streusel topping.
---
Scale
Ingredients
Dough
2 cups milk
1 (1/4 ounce) package active dry yeast
1/2 cup lukewarm water (110F to 115F)
1/2 cup unsalted water
2 large eggs
2 teaspoons salt
8 1/2 cups all purpose flour
Peach Filling
2 cups pitted, chopped peaches
1 cup good quality peach jam
Streusel Topping
1/2 cup all purpose flour
1/2 cup sugar
3 tablespoons chilled butter, cut into small pieces
---
Instructions
For the Dough: Warm the milk in a medium saucepan set over medium heat. Heat just until it starts to steam and a skin is formed – do not simmer or boil. Take off the heat and allow to cool slightly – to about 110F – 115F.
Dissolve the yeast in the water. Let it sit until it is foamy.
Melt the butter in the microwave. Let it cool for 5 minutes.
In a large bowl, whisk together the sugar, eggs, salt and melted butter. Add the cooled milk and the yeast mixture. Add in the flour, 2 cups at a time, making sure not to overwork the dough. Keep adding flour until it is fully incorporated. The dough should be sticky, moist and light.
Transfer the dough to a lightly greased bowl. Cover with plastic wrap and set in a draft-free place and allow to rise until doubled, 1 to 2 hours. Punch down the dough, recover, and refrigerate the dough for at least 4 hours or overnight.
Preheat the oven to 375F. Grease a 12×17 inch baking sheet. With lightly oiled fingers, shape dough into balls – about 2 1/2 inches in diameter. Arrange the balls on the baking sheet – 3 across and 6 down.
Mix together the peaches and peach jam.
Use your thumb to make and indentation in each ball. Fill each indentation with the peach mixture. Cover the tray with a clean tea towel and allow to rise until doubled, about 1 hour.
Meanwhile, to make the topping, use your hands, a food processor or a pastry cutter to mix the topping ingredients until crumbly. Scatter the topping over the kolaches right before they go into the oven.
Bake the kolaches until lightly browned – about 25 to 30 minutes.
Cool the kolaches for at least 20 minutes. Serve warm or at room temperature.