These Blueberry Cream Cheese Pastries have puff pastry that is topped with sweetened cream cheese and a blueberry mixture for a perfectly decadent breakfast treat.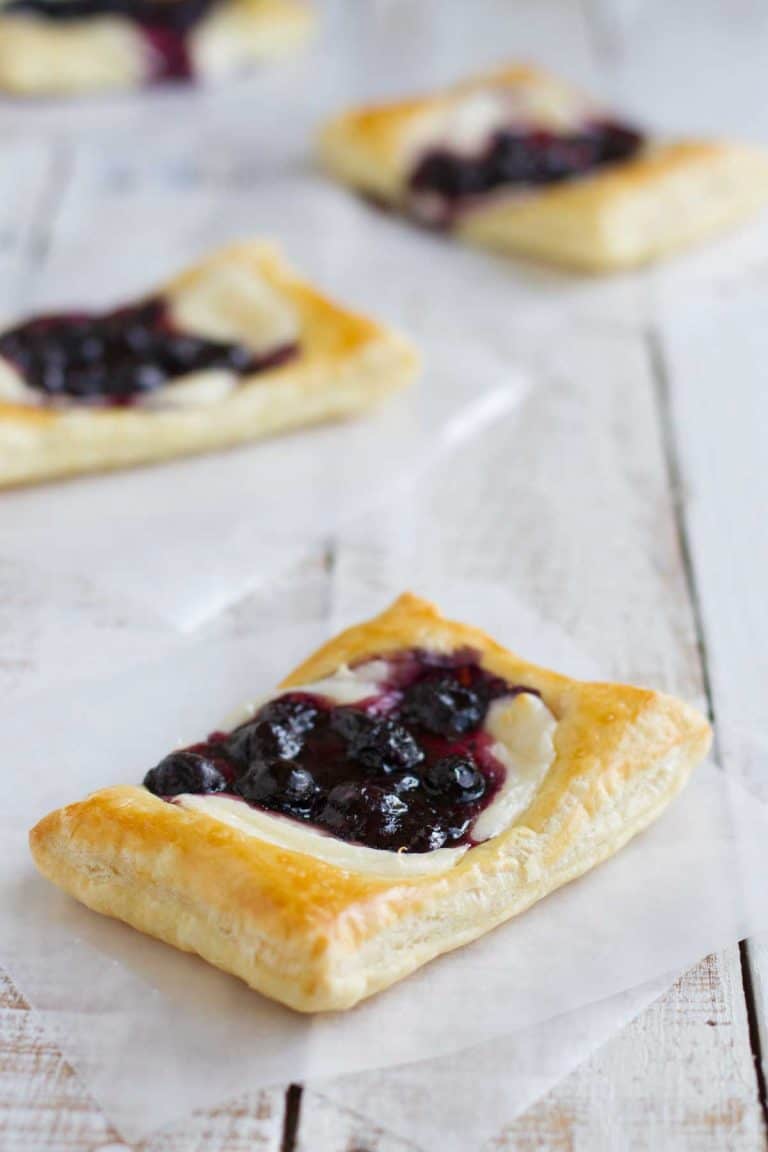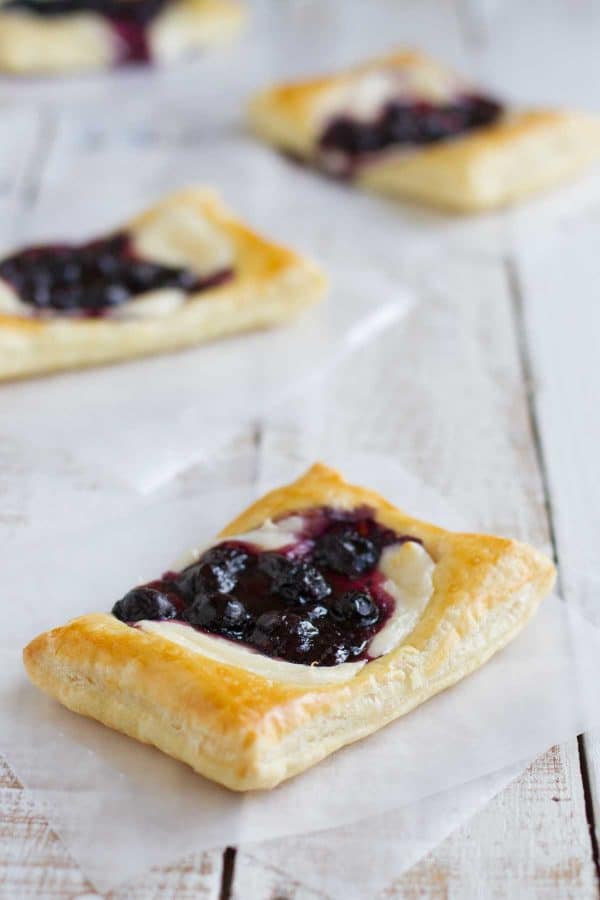 It's funny how we change through different parts of our lives.
When I was younger, I was a total early bird. I took early morning classes in high school. I liked to go to bed by 9pm. It was no big deal – that's just how life was.
When I first moved away from home, that started to change. First time away from home = a whole new social life. Late nights with friends, late nights with roommates, late nights having lots of fun. But somehow, through all of that, I still remained an morning person. I'd get up at 5am to work out. I worked jobs where I had to be in at 7am. Late nights, early mornings. I guess that's just the college way.


HOW TO MAKE BLUEBERRY CREAM CHEESE PASTRIES: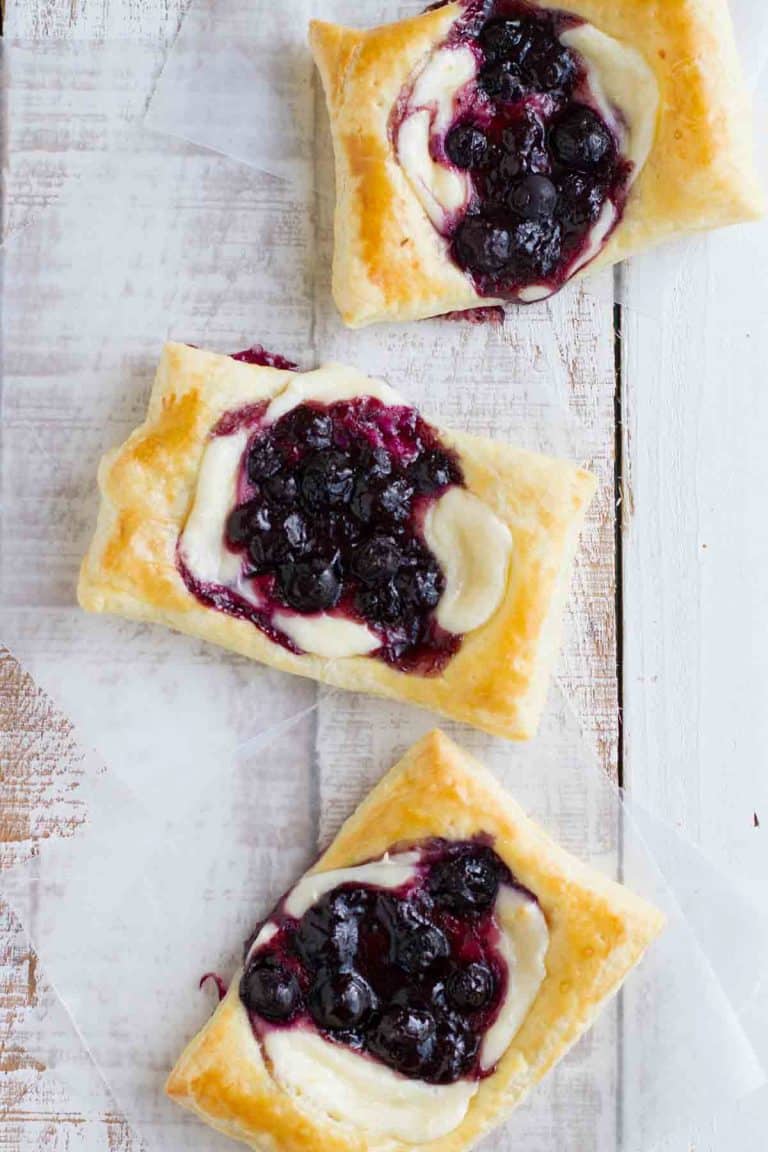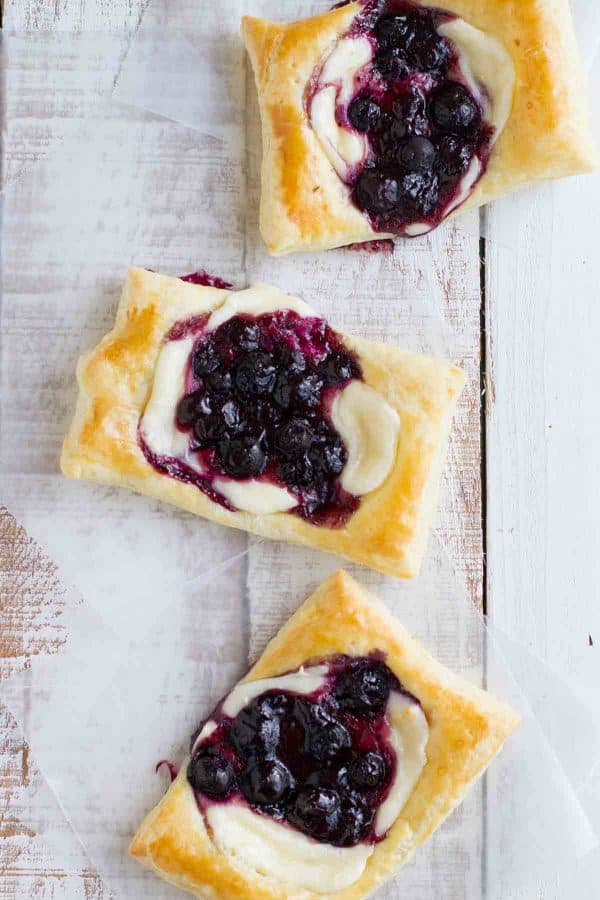 Today? I am so not a morning person. I wish I could get up bright eyed and cheery. I wish I had the self discipline to wake up before the kids and work out or get some work done. But these days, my kids are my alarm clock. And I'm not going to lie – sometimes I have a hard time dragging myself out of bed even after the kids are up and have waken me up.
I know that there are different factors that play into this. The fact that I stay up too late is probably the biggest. But man, I really feel like it's just age.
Not being a morning person, I really struggle with breakfast most days. Really struggle. I hate to admit it, but we do cereal a lot. My kids are also impatient, and want to eat the minute they wake up, but really, I just don't have it in me most mornings.
But a few weeks ago, I got a bee in my bonnet. I wanted to start making breakfast. No more cereal – and I was determined to do it.
I was good for a whole week. I made breakfast every day. Muffins and pancakes and eggs and oatmeal. It was a good week, but unfortunately it only lasted that one week. But now that I know I can do it, I know I need to get my act together and continue it!!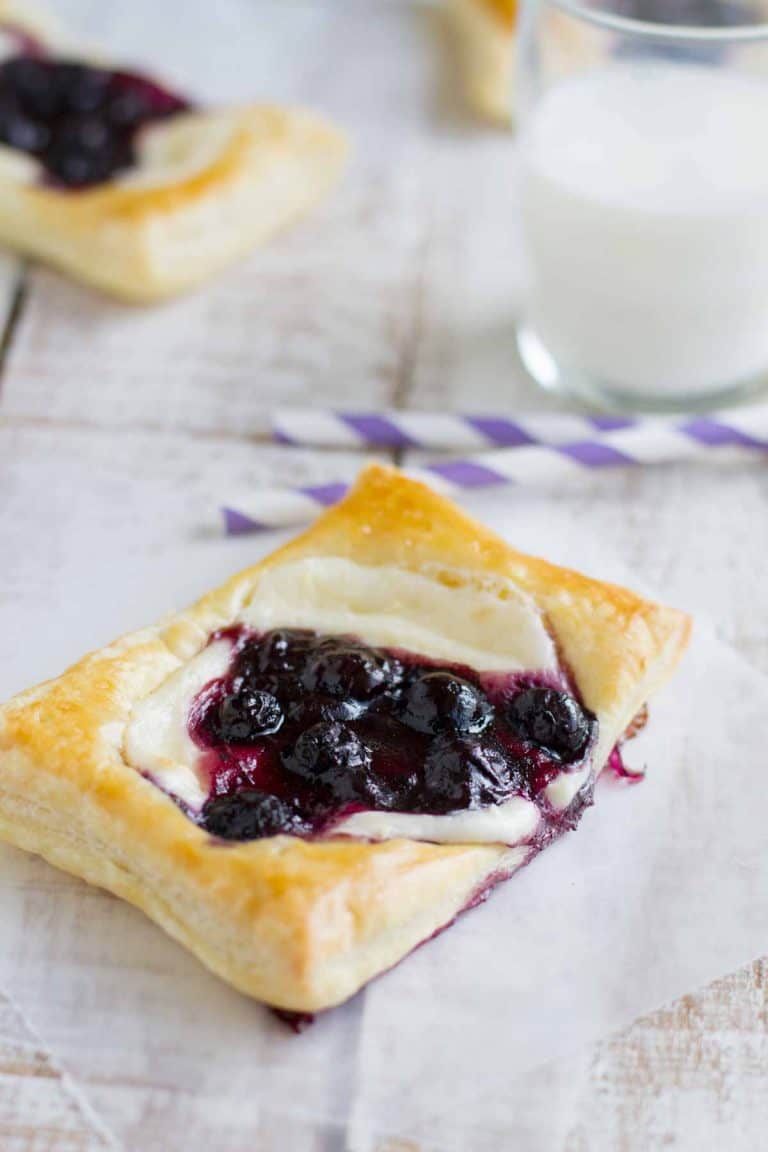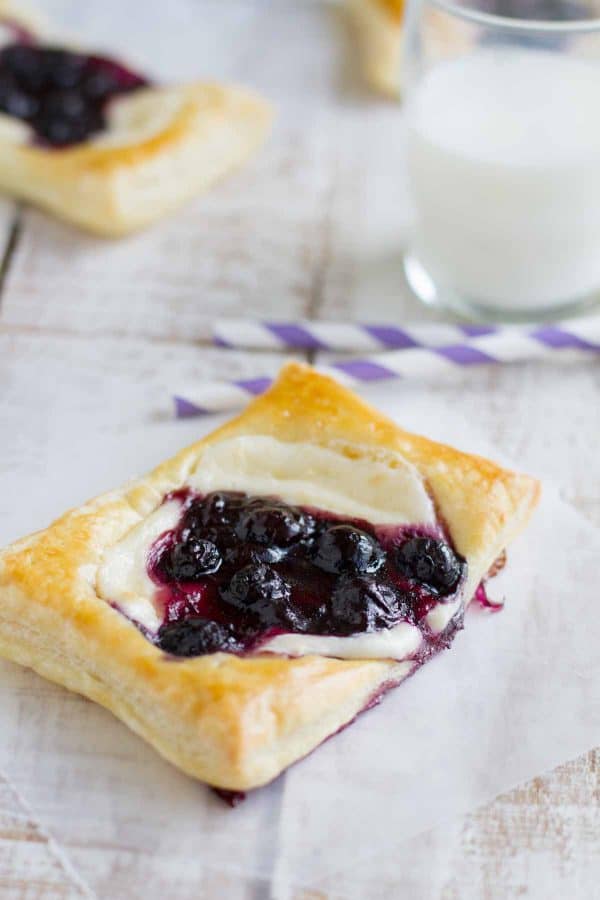 Part of that week of breakfasts were these pastries. I'm not gonna lie – these are probably not any better for you than a bowl of cereal, but it's the thought and the fact that I was making my kids breakfast. Showing that extra effort. And there's nothing wrong with a special treat for breakfast every once in awhile, right??
These are super easy to make – starting with prepared puff pastry. I'm always a sucker for a good breakfast pastry, and regardless of how easy these are, they were better than many I've bought before.
Are you good at making breakfast, or is it a quick and easy meal for you?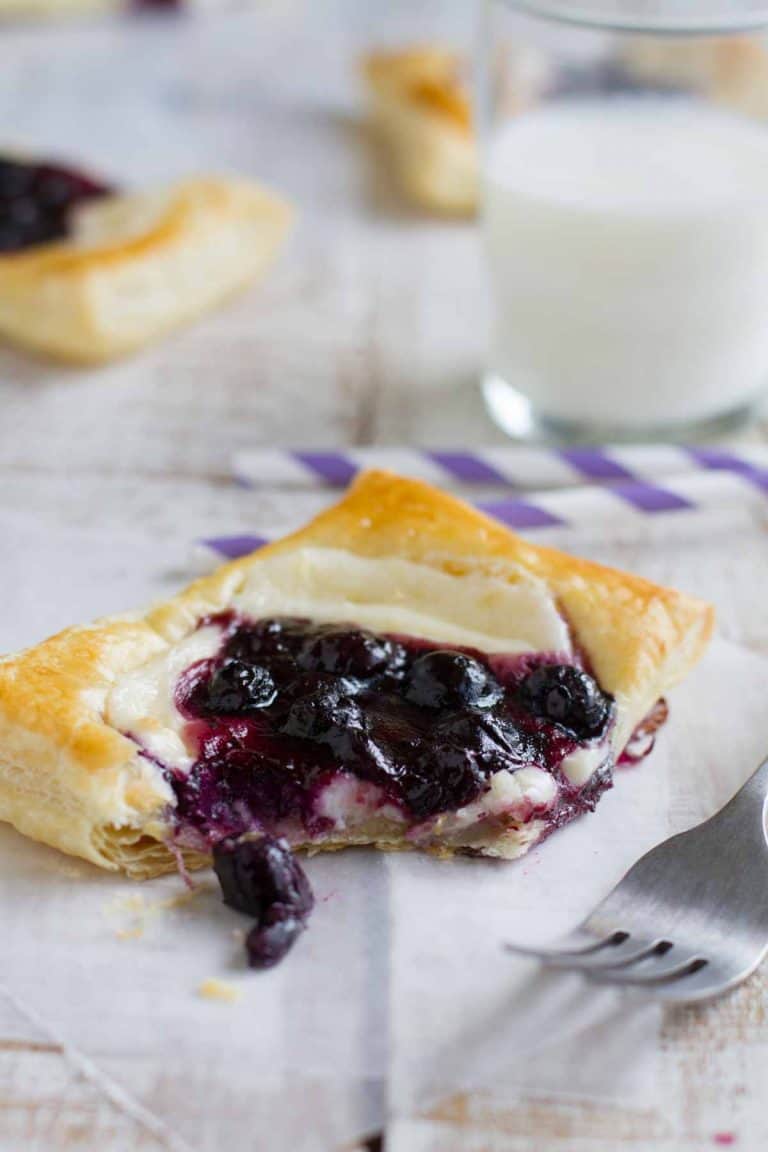 Looking for more special breakfast treats?
Baked Coconut Donuts
Puffed French Toast and Buttermilk Caramel Syrup
Cinnamon Biscuits
Or check out these breakfast recipes from around the web:
Easy Braided Cherry Cheese Danish from Center Cut Cook
Cream Cheese Filled Crumb Muffins from Lauren's Latest
The Best Glazed Mixed Berry Scones from Averie Cooks
Like what you see here? Make sure you are following Taste and Tell for more great recipes and ideas!!

Facebook ** Pinterest ** Twitter ** Instagram ** Google+
or you can subscribe to my newsletter or Feedly or Bloglovin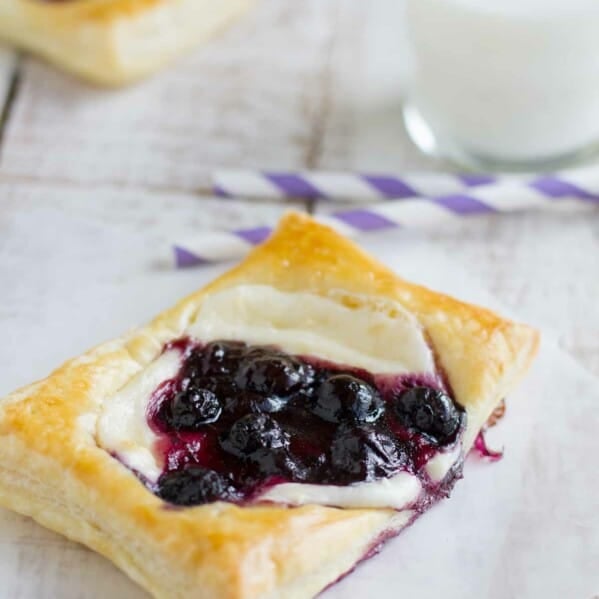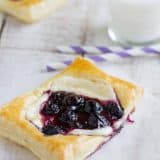 Blueberry Cream Cheese Pastries
---
Prep Time: 20 minutes
Cook Time: 15 minutes
Total Time: 35 minutes
Yield: 12 servings 1x
Category: Breakfast
Description
These Blueberry Cream Cheese Pastries have puff pastry that is topped with sweetened cream cheese and a blueberry mixture for a perfectly decadent breakfast treat.
---
Scale
Ingredients
1 package (8 oz) cream cheese, softened
1/3 cup sugar
1 teaspoon lemon juice
1 teaspoon vanilla
1 cup frozen blueberries
1/2 cup blueberry preserves
1 package (17.3 oz) frozen puff pastry sheets (2 sheets), thawed
1 egg
1 tablespoon water
---
Instructions
Preheat the oven to 400F. Line 2 baking sheets with parchment paper.
In a small bowl, beat the cream cheese until smooth. Add the sugar, lemon juice and vanilla and beat until combined. In another small bowl, combine the blueberries and the blueberry preserves.
Lightly flour a work surface and roll out each of the sheets of puff pastry to about a 10-inch square. Cut each piece into 6 rectangles, (12 rectangles total), about 5"x3 1/2" each. Transfer the rectangles to the prepared baking sheets.
Using a fork, prick the centers of the rectangles of puff pastry, leaving a 1/2" border unpriced around the edges. Mix together the egg and the water and brush over each of the rectangles.
Take a spoonful of the cream cheese mixture and place it in the center of each rectangle of puff pastry, distributing equally among the pieces. Spread over the rectangle, leaving a 1/2" border. Top each with a spoonful of the blueberry mixture, spreading it evenly over the cream cheese layer.
Bake the pastries for 15-18 minutes, or until the pastry is golden brown. Transfer to wire racks to cool completely.
Nutrition
Serving Size: 1 pastry
Calories: 295
Sugar: 16 g
Sodium: 220 mg
Fat: 17 g
Saturated Fat: 9 g
Unsaturated Fat: 2 g
Trans Fat: 0 g
Carbohydrates: 33 g
Fiber: 1 g
Protein: 5 g
Cholesterol: 37 mg
SHOP THIS POST:
Don't miss a thing! Follow me on Pinterest to see what I'm pinning!