Sticky, sweet and soft, these Sticky Buns are filled with cinnamon and brown sugar flavor. And the sticky caramel makes these finger licking good!
If you are a sticky bun lover, you probably love Monkey Bread as well! Or try these Raspberry Caramel Sticky Buns for something a little different (yet delicious!) Or try out any of my other sweet rolls recipes.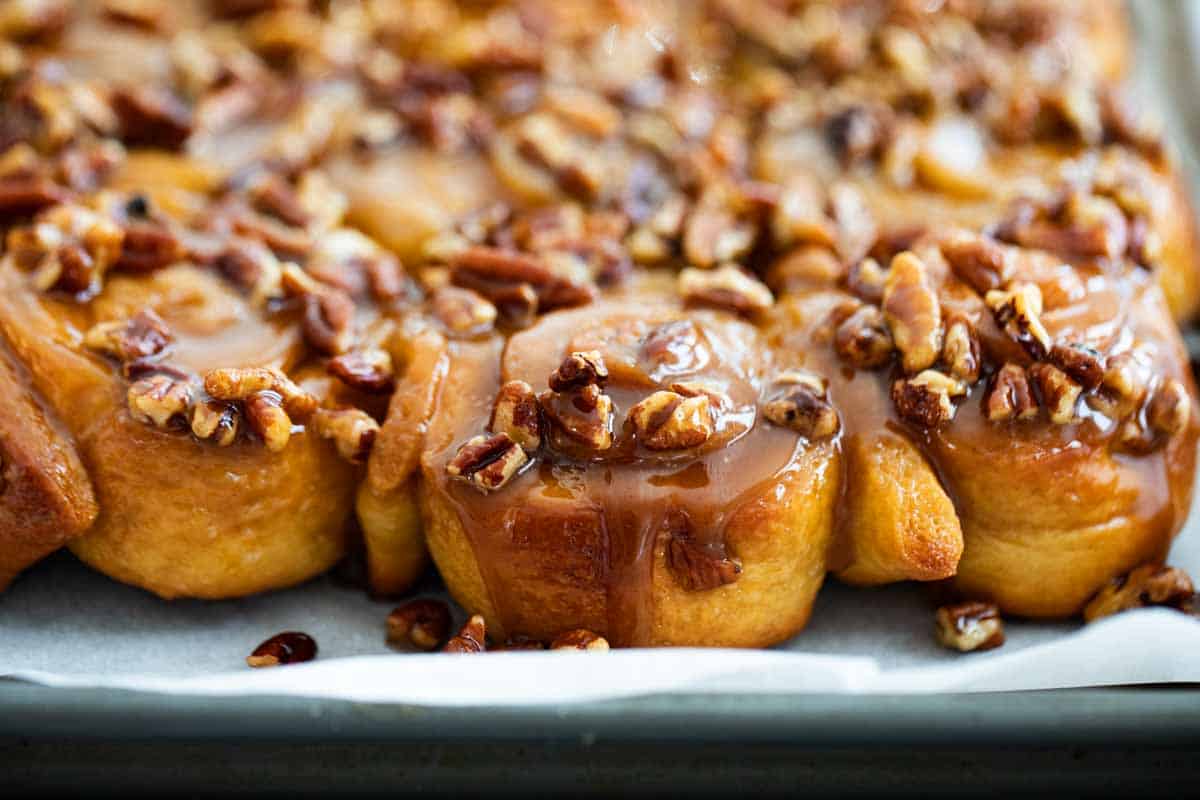 Sticky, sweet, and warm from the oven.
This right here, is my idea of happiness.
Give me any sort of yeasted baked good, and I'll be happy. But combine that with cinnamon and caramel? I'll gladly eat my weight in them.
And I pretty much did. After testing these Sticky Buns for days, I thought I'd be happy to never see another sticky bun again. Until I woke up the next morning wanting more!!
The Difference Between Sticky Buns and Cinnamon Rolls
While I love both, there are a few differences between Sticky Buns and Cinnamon Rolls.
Cinnamon rolls are made from a yeasted dough that is filled with butter, cinnamon and sugar, and then rolled. That roll is cut into pieces, and those pieces are baked. Then usually topped with some sort of glaze or frosting. (I prefer a cream cheese frosting.)
Sticky Buns are similar – starting with a yeasted dough, filled with cinnamon and sugar. But these buns are placed on top of a mix of butter and sugar that, once baked, becomes a thick, sweet caramel. Traditional sticky buns will also have nuts in with that caramel mixture. Once baked, the pan is turned upside down, so that the caramel on the bottom becomes a sticky, sweet, caramel topping on top of the rolls.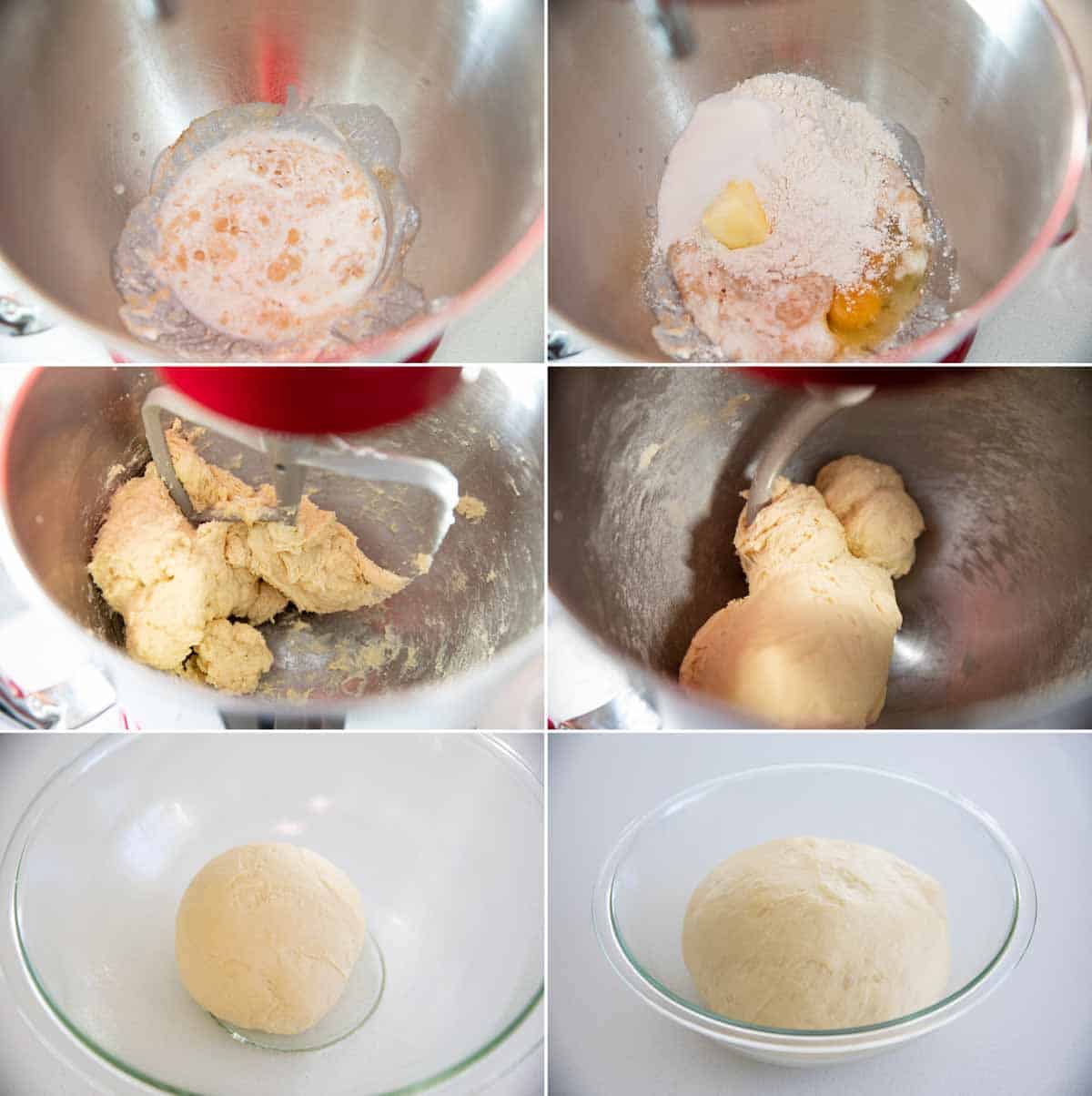 How to Make Them
There are a few steps to making sticky buns at home. I'll break it down below.
MAKE THE DOUGH: Start by combining yeast and warmed buttermilk. To this mixture, you'll add eggs, some of your flour, butter, sugar and salt. Start mixing this together, adding more flour as needed to make a soft dough. Knead the dough until smooth, and then place it in a large bowl to rise.
Let it rise until doubled.

MAKE THE CARAMEL: When the dough is almost done rising, you'll make the caramel by combining butter, brown sugar, white sugar and salt. Once that's combined, mix in corn syrup. Mix this until it is light and fluffy.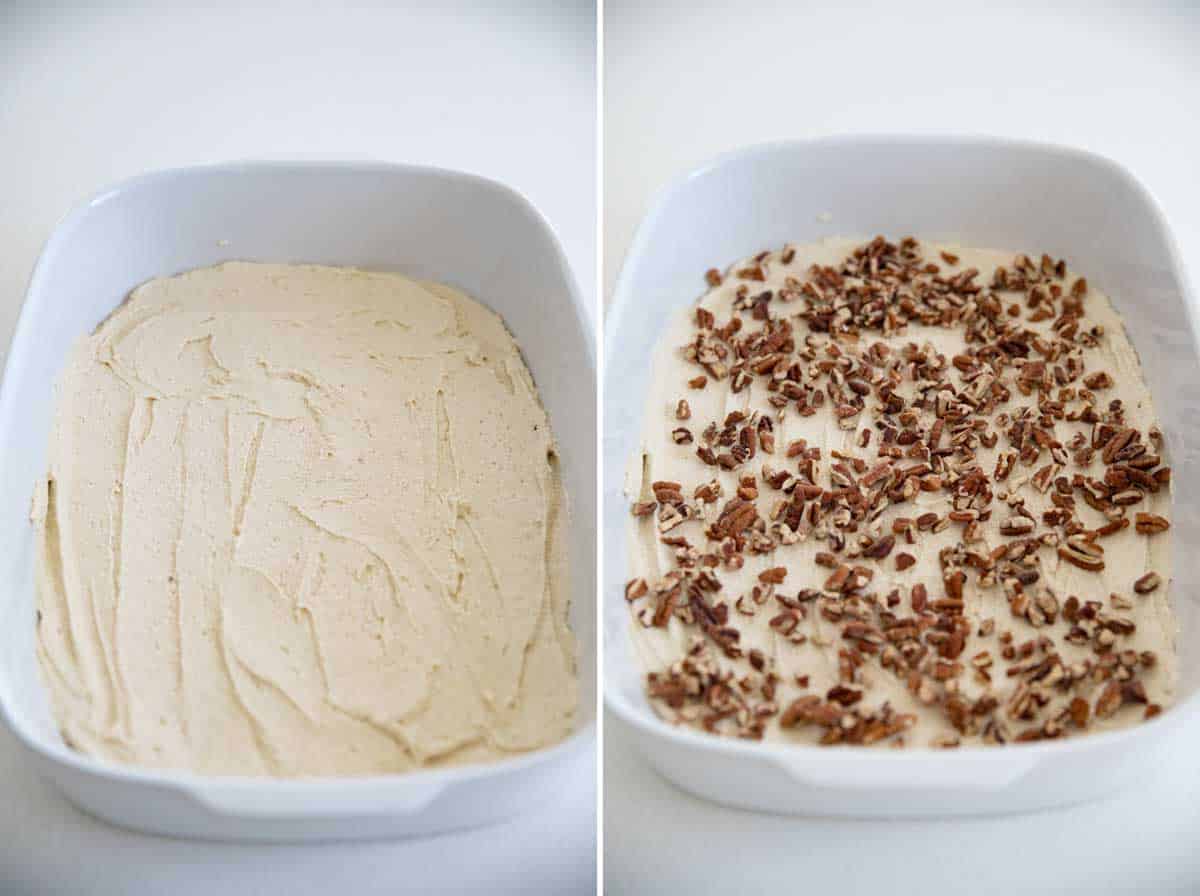 Spread the caramel in a baking dish, then top this with the pecans.

MAKE THE BUNS: Roll the dough out into a large rectangle. Spread the softened butter on top, then sprinkle on the sugar and cinnamon. Roll the dough, and cut it into 12 equal pieces.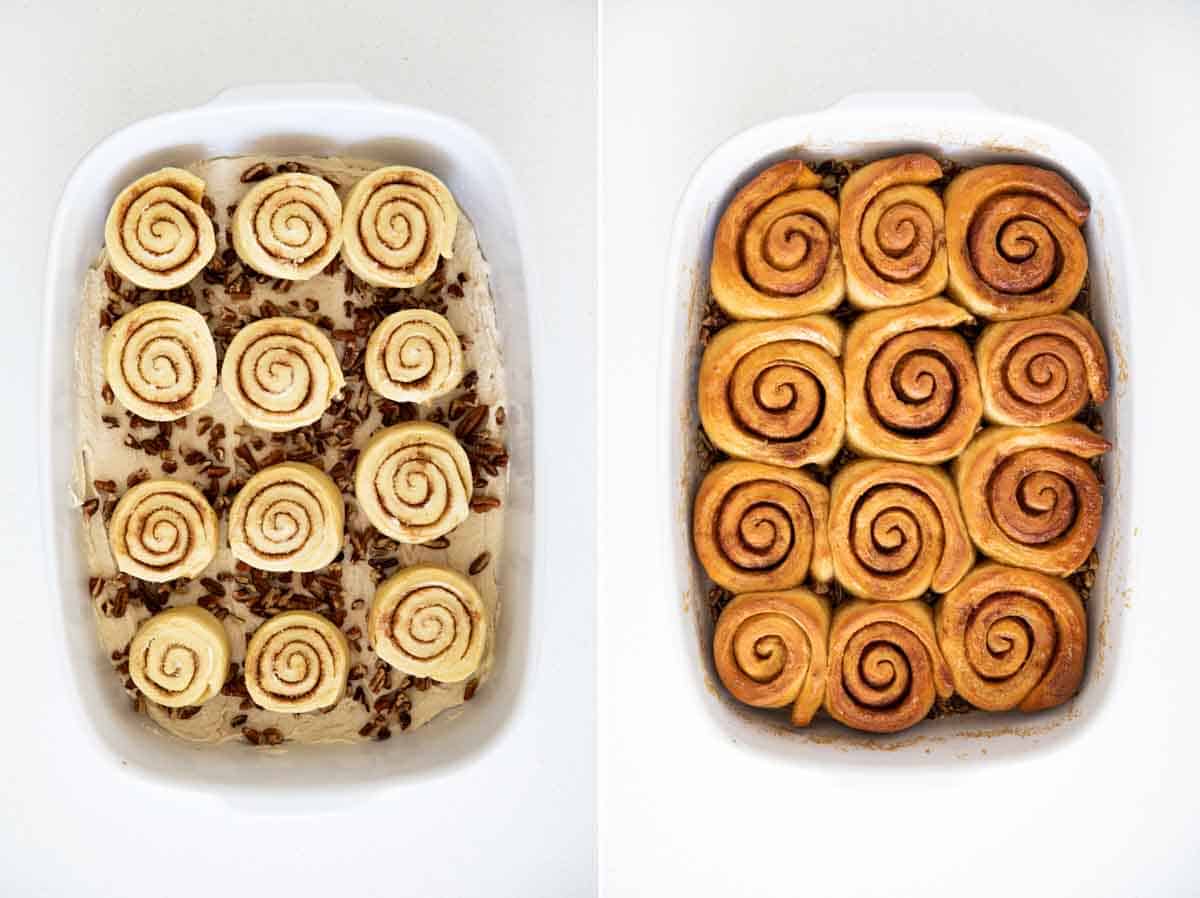 BAKE THE BUNS: Place the buns over the caramel/pecan mixture. Let them rise slightly again, then bake until the buns are cooked through and the caramel is dark and sticky.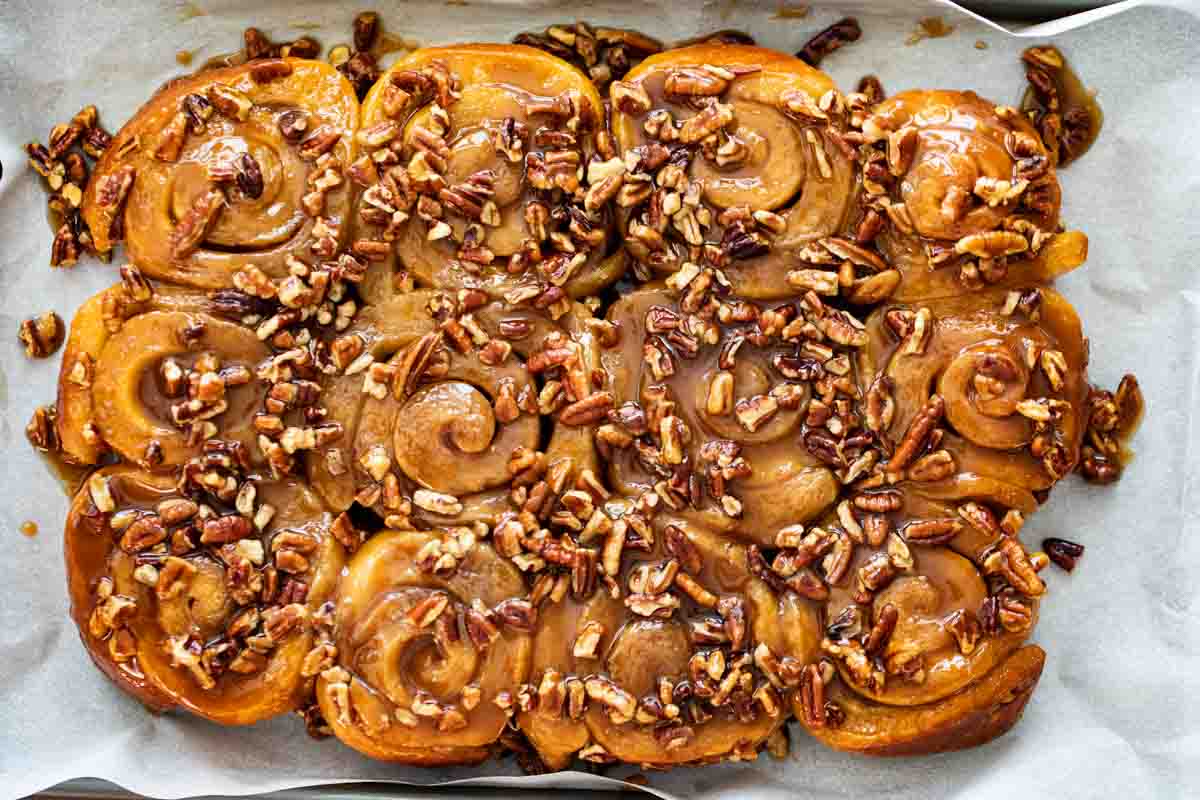 SERVE: Once baked, let the buns sit for 5-10 minutes, then turn them out onto a baking sheet or platter. Take any caramel that is still in the pan and spread it on top of the buns.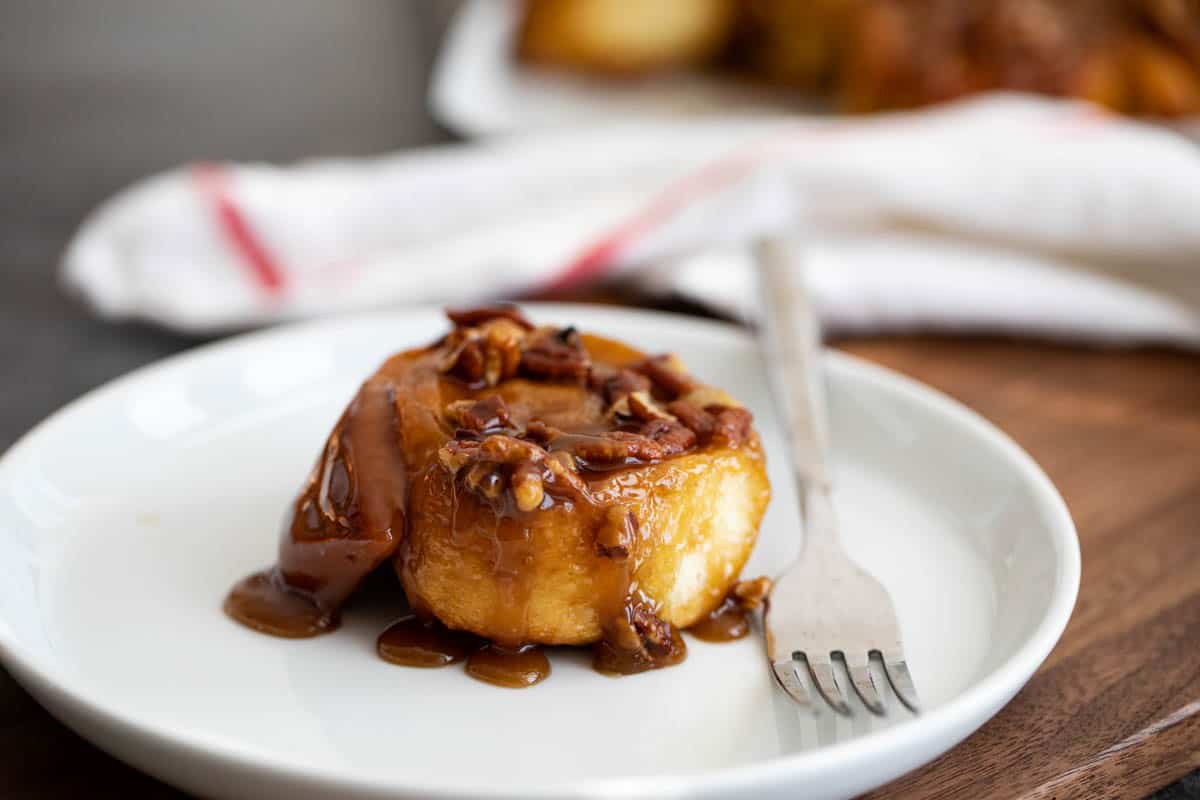 Tips and Tricks
My number one tip when making any sort of yeasted dough is that less is more. Always add the flour slowly – too much flour equals a dense final product.
If you don't have a high sided baking dish (and maybe even if you do!) I suggest placing your baking dish on a baking sheet. This way, if any caramel bubbles over the sides of your dish, it won't end up in the bottom of your oven.
If you don't like nuts, you can leave the pecans off. But I always feel like they aren't really sticky buns without the pecans!
These buns are best served when they are hot out of the oven. Leftovers can be covered and kept at room temperature, but they are definitely best when they are fresh. I suggest putting any leftovers in the microwave for a few seconds to reheat before serving.
Make Them Ahead
You can easily make these sticky buns ahead of time!
Follow the instructions up until the second rise. Cover and refrigerate the baking dish at this point. The next day, you can take the dish out of the refrigerator 2-3 hours before baking, then bake as indicated in the recipe.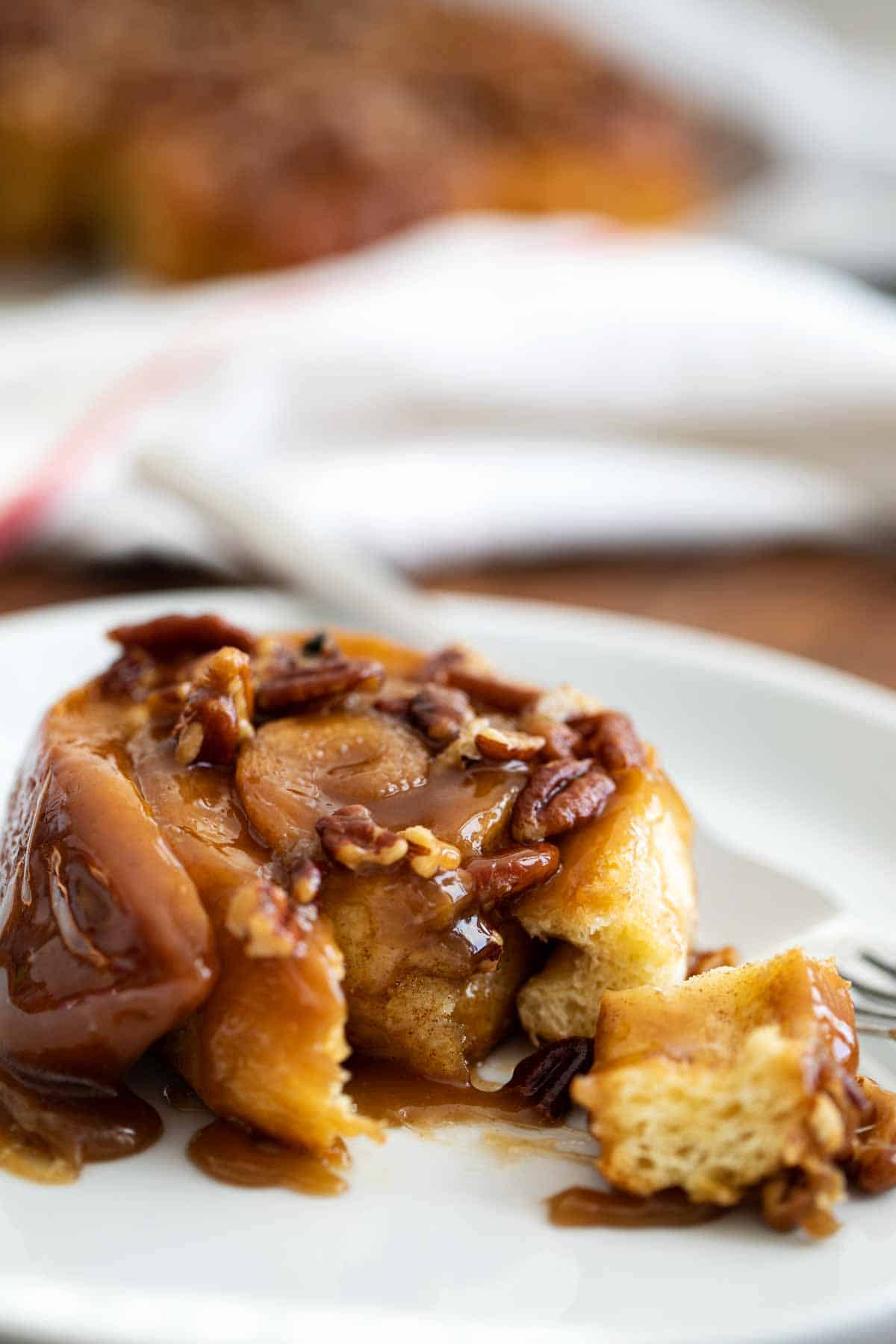 More Special Breakfast Recipes
Overnight French Toast Casserole – this one is probably my favorite of the overnight breakfast casseroles here on Taste and Tell!
Pumpkin Cinnamon Rolls – who says pumpkin is only good in the fall? These are seriously so good that I'll gladly eat them year round.
Sour Cream Coffee Cake – soft and cinnamon-y – this is coffee cake perfection.
Banana Oat Bread – a little more on the healthy side – because all things in moderation!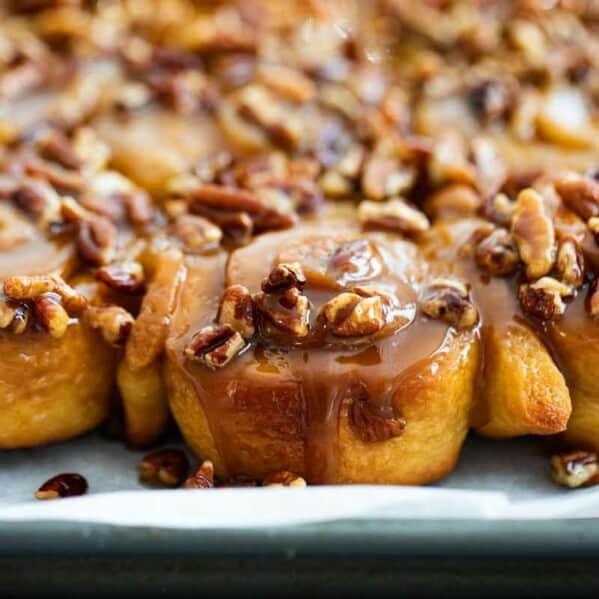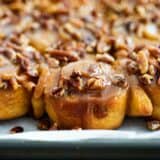 Sticky Buns
---
Author:
Prep Time: 30 minutes
Cook Time: 40 minutes
Total Time: 3 hours
Yield: 12 servings 1x
Category: Breakfast
Method: Baked
Cuisine: American
Description
Sticky, sweet and soft, these Sticky Buns are filled with cinnamon and brown sugar flavor. And the sticky caramel makes these finger licking good!
---
Scale
Ingredients
Dough:
3/4 cup buttermilk
1 (.25 oz) package active dry yeast
2 eggs
3 cups flour, divided
2 tablespoons butter, softened
2 tablespoons sugar
1/2 teaspoon salt
Caramel:
3/4 cup butter
1/2 cup brown sugar
1/4 cup granulated sugar
1/4 teaspoon salt
1/4 cup corn syrup
1 cup pecan halves, roughly chopped
Filling:
4 tablespoons softened butter
1/2 cup brown sugar
1 teaspoon cinnamon
---
Instructions
Warm the buttermilk in the microwave or on the stovetop, just until it is warm to the touch, about 105º to 115ºF. Place the buttermilk in a large bowl, or the bowl of a stand mixer. Add the yeast and lightly stir. Let it stand until the yeast is bubbling, about 10 minutes.
Add the eggs, 1 1/2 cups of the flour, softened butter, sugar and salt to the bowl with the yeast. Mix on low until combined. Continue adding flour, 1/4 cup at a time, until the dough comes together. It will still be slightly sticky. (You may not need to add all of the flour.)  Change to the dough hook and knead for about 5 minutes, or turn onto a floured surface and knead by hand until soft and elastic, about 8 minutes.
Place the dough in an oiled bowl and cover. Let rise until doubled.
When the dough is almost doubled, make the caramel glaze.
In the bowl of a stand mixer, or with a hand mixer, combine the butter, both sugars, and the salt. Beat until light, about 2 minutes. Add the corn syrup and continue to beat until light and fluffy, about 5 minutes.
Spread the caramel mixture on the bottom of a 9×13-inch baking dish (preferably with tall sides). Sprinkle the pecans evenly over the caramel.
Once the dough has doubled, punch it down and pour out onto a clean counter that has been sprinkled with flour.
Roll the dough into a 18×12 inch rectangle. Spread the softened butter over the top, then sprinkle with the 1/2 cup of brown sugar and 1 teaspoon of cinnamon. Roll the dough, starting on the wide side. Cut the roll into 12 equal slices.
Place 12 slices of dough in the pan. Place the pan on a baking sheet to catch any caramel overflow. (Especially if your baking dish does not have high sides.) Cover the dish and let the rolls rise for 15-20 minutes.
Preheat the oven to 350ºF.
Bake the rolls for about 35-40 minutes, until golden brown and cooked through. I like to cover them about 20 minutes through so that they don't get too dark. The caramel should turn a dark amber and be bubbling hot.
Remove from the oven and let them sit for 5 minutes, then turn out onto a platter to serve.
Recipe Notes:
Nutrition information provided as an estimate only. Various brands and products can change the counts. Any nutritional information should be used as a general guide.
Nutrition
Serving Size: 1 roll
Calories: 465
Sugar: 27 g
Sodium: 186 mg
Fat: 26 g
Saturated Fat: 12 g
Unsaturated Fat: 6 g
Trans Fat: 0 g
Carbohydrates: 54 g
Fiber: 2 g
Protein: 6 g
Cholesterol: 77 mg
Keywords: Sticky buns, rolls, breakfast, brunch, sticky rolls, baking, pecans, cinnamon, caramel