I can't believe this is already my third month of being a Daring Baker – and what a fun ride it has been! I have made two treats, both that I had never attempted before – this month's challenge was not as foreign to me, but it was still just as fun!!
I have mentioned before that I rarely make the same recipe twice. But cinnamon rolls are an exception. I was given a recipe from a friend years ago that makes excellent cinnamon rolls that always get lots of compliments. I haven't made the recipe for about 2 years, as my husband always reminds me that I have not made them since at least before we got married. So when I saw that the challenge was cinnamon rolls and sticky buns, I was very happy, and quite relieved, especially after the disaster I had with last month's challenge.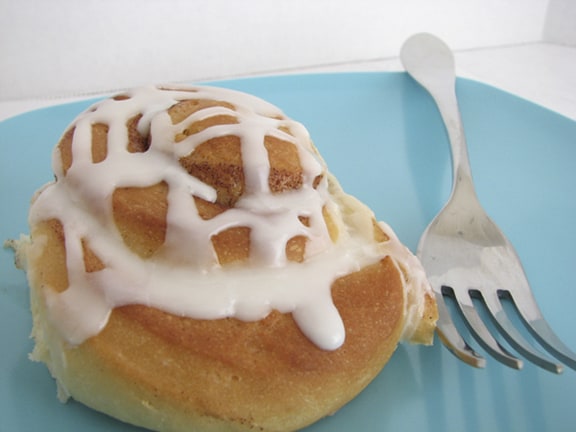 We were allowed to make cinnamon rolls or sticky buns (both come from the same base recipe) so I decided to make the full recipe and do some sticky buns and some cinnamon rolls. I'm not necessarily scared of yeast, but I do know that working with yeast requires a bit more practice than just throwing something together for dinner. This dough was a dream to work with. It is so soft, just to feel it in your hands, you know that it is going to produce something great!! I made the dough and rolled it out – I am horrible with rolling things out! I can never get it to roll into the exact shape I want, so of course when I went to roll the dough, the ends end up a bit mis-shapen, but they still taste good!! We were allowed to use what spices we wanted, but I just used a cinnamon-sugar mixture that I keep in my cupboard for snickerdoodles, toast, etc. I'm not exactly sure on what the ratios of cinnamon to sugar that are in my mixture, but it worked! After rolling the rolls, I cut them into individual rolls. I made the caramel mixture for the sticky buns and put it in the bottom of a round cake pan. I put 7 of the rolls in the pan to make sticky buns, and put the rest of the rolls on a parchment covered baking sheet to turn into regular cinnamon rolls. After the second rise, I was a little worried because they rose so much and the sticky buns seemed a bit cramped in their little pan. But into the oven they went. About half way through the baking time, I smelled something that did not smell good. I ran to the oven, only to see that the caramel was dripping out of the sticky buns into a nice mess on the bottom of my oven. Uh oh – I probably cut the rolls too big, therefore there was not enough room for them in the pan, causing the caramel to be pushed out of the pan. I put another pan in the oven to catch the falling caramel, prayed for the best, and continued baking.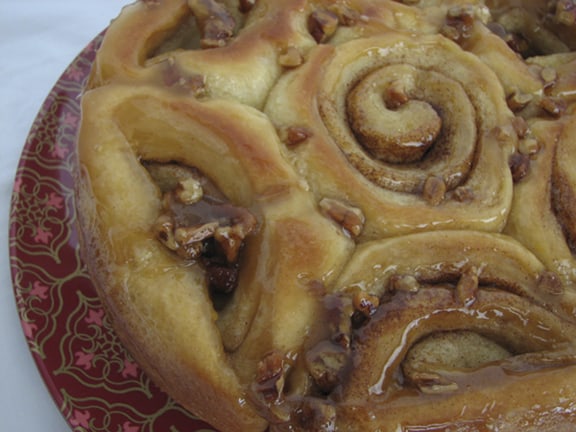 Both the cinnamon rolls and sticky buns were beautiful coming out of the oven. When I flipped the sticky buns out of their pan, there wasn't much caramel left – which I was a little disappointed about, but it was expected after what I saw come out of the pan in the oven. I made a half recipe of the icing for the cinnamon rolls. I asked my husband what flavor of extract he wanted in the icing (we could choose lemon or orange) and he chose orange. I think this was the perfect choice, as I loved the taste of the frosting. It was quite sweet, so just a little goes a long way. (I still really love the fluffy icing that they have on the cinnamon rolls at Cinnabon – if anyone has a good copy-cat recipe for that, I would love to hear it!!)
Of the two, I think I would have to say that I like the cinnamon rolls the best, although it's probably just because I lost most of the "sticky" for my sticky buns. The recipe makes quite a bit, so after I saved a sticky bun and cinnamon roll each for my husband and I, I took the rest to work. They were gone within 5 minutes of my putting them on the table – which I think is a record!! This is a great recipe to work with. I am thinking that I need to make my old recipe again soon and compare the two – a cinnamon roll face off!!
Pros
The dough is very easy to work with – even if you are yeast-phobic.
The same base recipe can make two wonderful treats
They taste divine!!

Cons

They made a mess of my oven – and it wasn't easy to clean out!
Hmmmm, I don't think I can even think of any other cons!!

Please check out all of the other wonderful creations at the Daring Bakers Blogroll. And for the recipe, you can check it out at the site of the hostess for this month – Marce at Pip in the City.