Breakfast while camping doesn't have to be complicated – this Campfire Cinnamon Blueberry Bread Recipe is proof of that! Reminiscent of a baked French toast, your mornings in the woods will be delicious!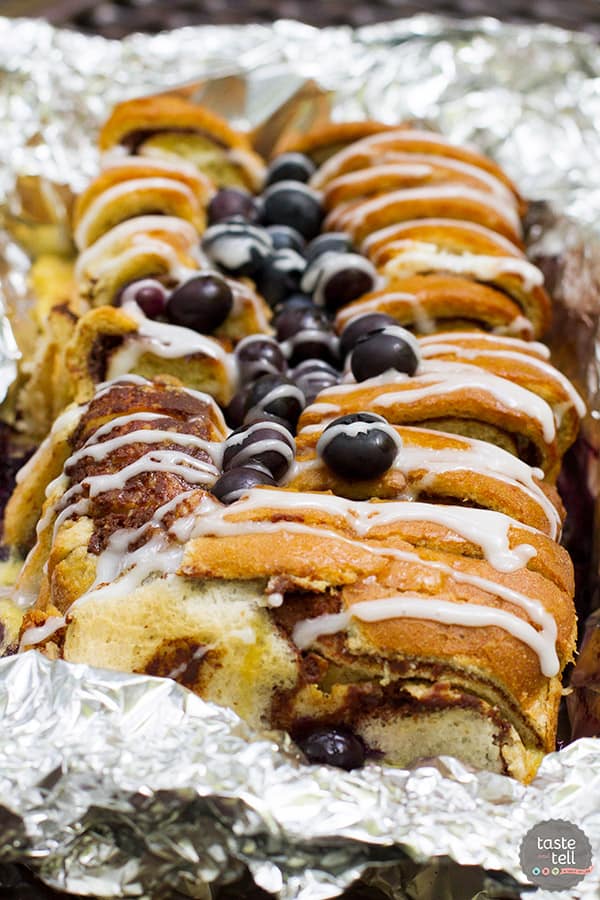 You know that phrase "mother knows best"? I have a story for you, proving just how true this statement is.
Back in high school, a couple of friends and I wanted to go camping. My parents were always very trusting and let me make a lot of my own decisions. My mom would always tell me if she thought that something I wanted to do was a bad idea, but she typically let me make the final call. Well, for this particular camping trip, she told me that she didn't think it was a good idea. But being a high school kid who thought I knew better than my mom, I decided to go camping anyway.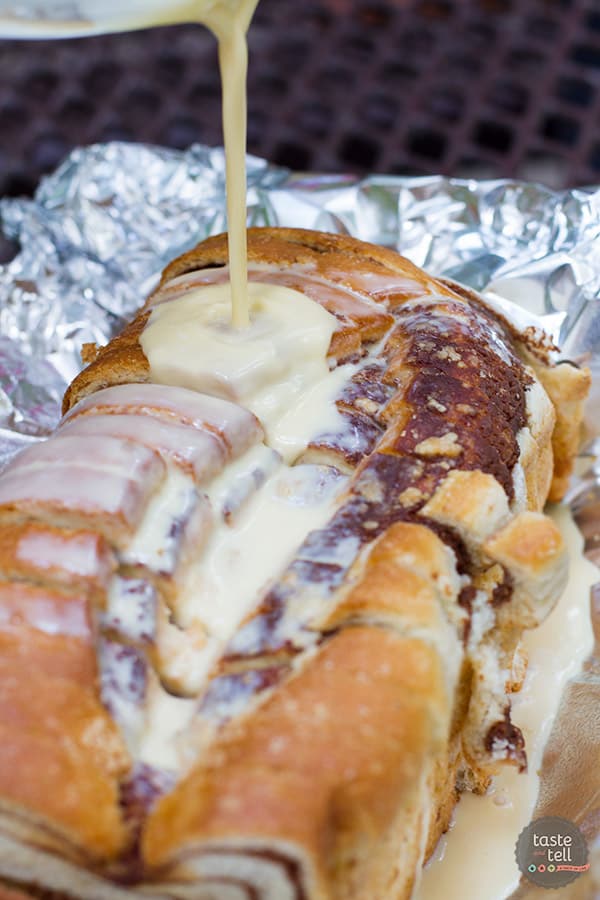 Well, my mom must have truly been ispired, because that camping trip was doomed from the beginning. We drove up in my friends car, and ended up getting the car high centered on a path up in the mountains. We managed to work the car free, and chose a camping spot. But then we went to make a fire. We didn't bring any wood with us, but when we went to gather wood, it was all wet. And nothing would burn. My friend had a telephone book in her car, and we tore that apart to burn, hoping to get a fire going, but it never happened. It was cold, we had no fire, and it ended up raining on us.
Needless to say, I learned my lesson well, and always listened to my mom after that.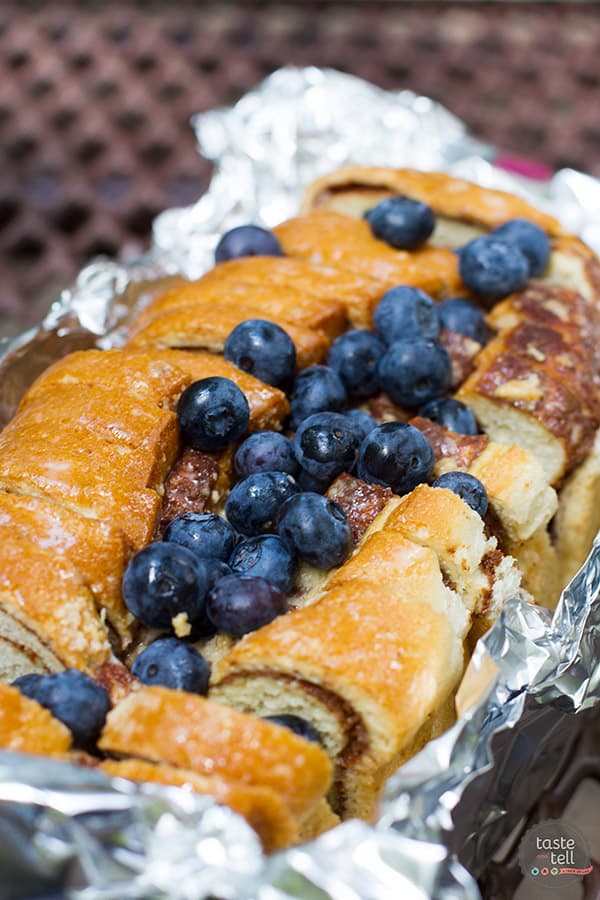 Although that trip was a bust, it did not ruin my love of camping. We haven't made it out yet this year (still) but we have managed to drive up the canyon a few times and cook dinner over the fire.
Well, last week, I wanted to go up and test one more recipe to bring to you all this summer – this Campfire Cinnamon Blueberry Bread Recipe. But the day we went to go up, my husband was sick. I did consider just making this on the grill or in the oven, but I needed to make sure it would work over a campfire. So I decided to just go by myself with the kids. It's not very far, and the kids were in desperate need of an outing outside of the house.
So I packed up, and we all jumped in the car.
All was well until I went to start the campfire, and I realized that I never start the fires. My husband always does it. My mind thought back to that dreadful camping trip in high school and I had a mini panic attack, wondering how I was going to get my fire to actually cook the recipe. But I took a deep breath and got to work.
I will admit that I was a little worried for a bit, because there was a little bit of wind and I was afraid it was going to blow out my fire before it really got going, but you guys – I did it. I built that fire, and it was a great fire. The kids roasted marshmallows, I made this delicious Campfire Cinnamon Blueberry Bread Recipe, and the fire was hot and perfect. I will not refrain from saying that I was proud of myself. 🙂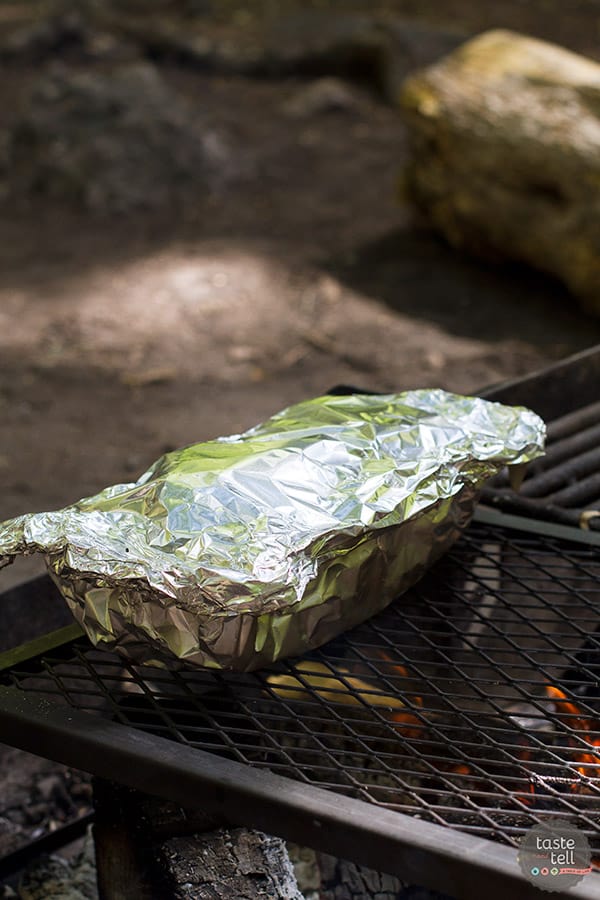 We totally didn't eat this for breakfast, (since we weren't even technically camping), but this Campfire Cinnamon Blueberry Bread Recipe would make a perfect camping breakfast. It's pretty easy, and it tastes great. If you are a fan of baked French toast, you'll love this recipe. It starts with a loaf of cinnamon bread. I just used a loaf of cinnamon swirl bread from my grocery store's bakery, but you could use cinnamon raisin bread, as well. I mixed up the eggs, milk, cream, maple syrup and vanilla and put it in a bowl with a lid before we left the house. That way, I just had to pour it over the bread when we needed to.
I think the biggest tip I can give is to make sure you separate the slices of bread slightly and make sure the egg mixture gets in-between each slice of bread. And make sure you tuck the blueberries down in there as well. Some of the egg mixture will accumulate at the bottom, but if you make sure you pour the mixture between the slices, it definitely helps. You'll also want to make sure you have a knife, because you'll need to slice the bread again (especially at the bottom) after it cooks. We didn't have a knife with us, and we ended up just pulling it apart with our hands. Which worked, but it wasn't very pretty, which is why there aren't any photos of the bread out of the foil. 🙂 I used a campfire grill like this one to put over my fire.
Serve up the slices with a sprinkling of powdered sugar or a drizzle of maple syrup, and you have a great camping recipe. I know I want to go camping before it gets cold just so I can make this again!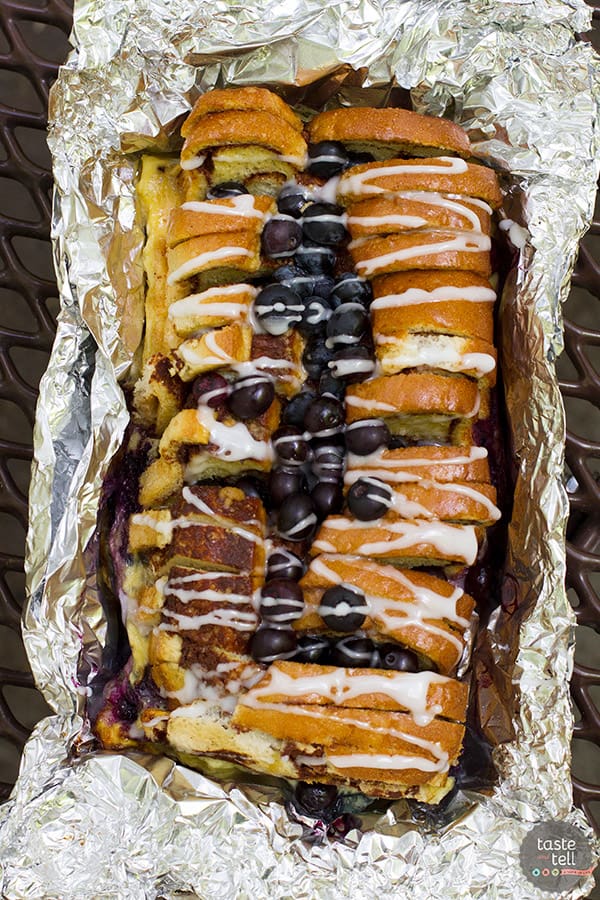 Like what you see here? Make sure you are following Taste and Tell for more recipes and ideas!
Facebook | Pinterest | Instagram | Twitter | Google+ | Weekly Newsletter | Feedly | Bloglovin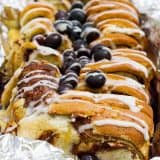 Campfire Cinnamon Blueberry Bread Recipe
---
Author:
Prep Time: 20 mins
Cook Time: 30 mins
Total Time: 50 mins
Yield: 6-8 servings 1x
Description
Breakfast while camping doesn't have to be complicated – this Campfire Cinnamon Blueberry Bread Recipe is proof of that! Reminiscent of a baked French toast, your mornings in the woods will be delicious!
---
Scale
Ingredients
1 loaf (1 lb) sliced cinnamon bread
6 large eggs
1/2 cup milk
1/2 cup heavy cream
2 tablespoons pure maple syrup
1 teaspoon vanilla extract
2 cups fresh blueberries, divided
1 cup powdered sugar
1–2 tablespoons heavy cream
powdered sugar or maple syrup, for serving
---
Instructions
Prepare a campfire and let it burn down to coals.
Lay 2 large sheets of heavy duty foil on top of each other. Spray with nonstick cooking spray. Place the loaf of cinnamon bread in the center of the foil, and fold the edges up around the bread, forming a sort of bowl. Spread the pieces of bread apart.
In a bowl, lightly beat the eggs. Beat in the milk, cream, maple syrup and vanilla. Pour the mixture over the top of the bread, making sure the mixture goes in-between each of the pieces. Sprinkle one cup of the blueberries over the bread and press most of them between the slices. Use another sheet of foil to cover the top of the bread, and crimp the edges to seal.
Place the bread on a grate over the hot coals. Grill until the egg is cooked through, about 30 minutes, rotating the bread to avoid hot spots.
Remove from the heat and allow to stand (still in the foil) for 10 minutes.
Combine the powdered sugar with the 1 tablespoon of the cream in a ziplock bag. Add more cream as needed to make a glaze. Cut the corner off the corner of the bag and drizzle the glaze over the top of the bread.
Serve sprinkled with the remaining blueberries and powdered sugar or maple syrup.
Recipe Notes:
Make sure you bring a knife along, as the bottoms of the pieces will stick together because of the egg mixture.
adapted from Taste of Home Summer 2016
SHOP THIS POST!
More Camping Recipes: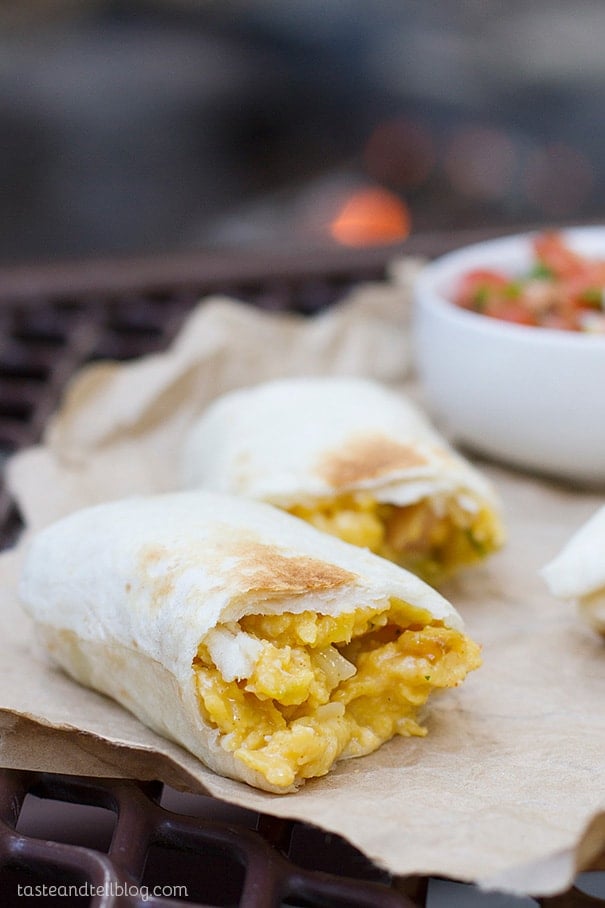 Breakfast Burritos Campfire Style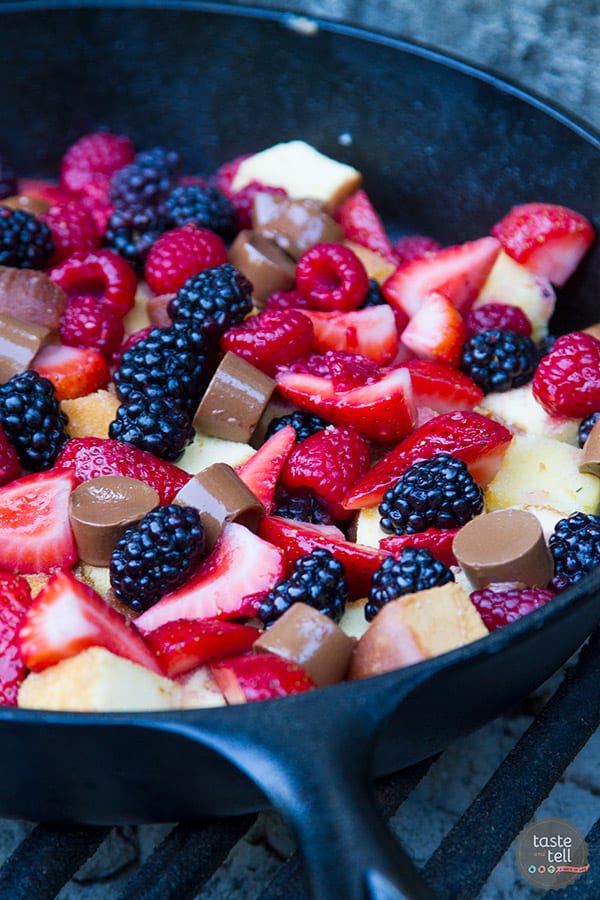 Pound Cake and Berry Campfire Skillet Dessert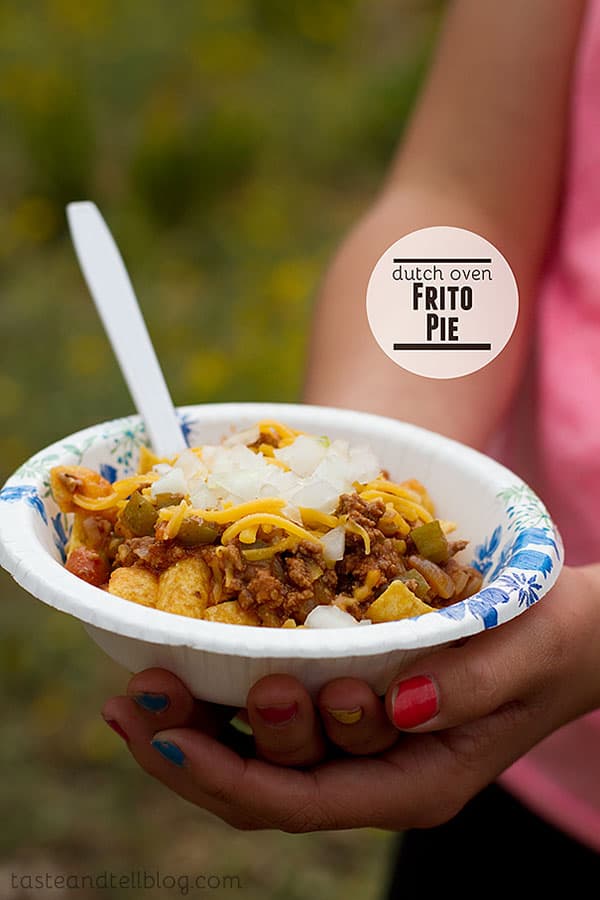 Around the Web:
Campfire Pizza Nachos from Cooking with Janica
Grilled Chicken Fajita Foil Packet Meal from Real Housemoms
Philly Cheesesteak Tin Foil Dinners from High Heels and Grills
Don't miss a thing! Follow me on Pinterest to see what I'm pinning!
Visit Taste and Tell's profile on Pinterest.