You can't beat a classic, and this Monkey Bread is made from scratch and oh, so good!! Don't skip the cinnamon glaze – you'll be licking it from your fingers!
Sometimes you need a sweet baked treat for breakfast, an this monkey bread delivers! For something easier, try these Cinnamon Biscuits, or for a slow cooker version, try this Salted Caramel Slow Cooker Monkey Bread.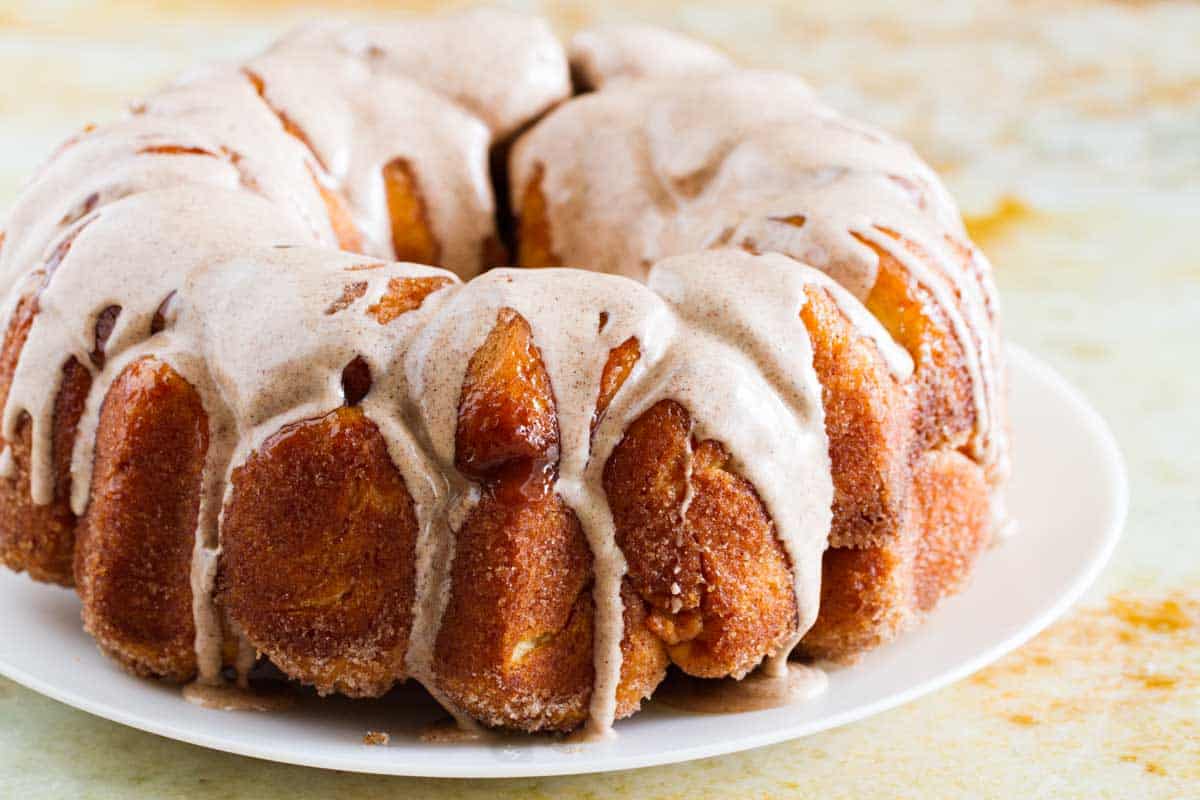 I love going back to the basics. I have a few basic recipes here on Taste and Tell – pie crust, pizza dough, chocolate chip cookies.  But I think I often get caught up in what a lot of bloggers get caught up in – trying to do something totally different or never seen before.  When the truth of the matter is that what most people want, what most people need, are basic recipes that they can share with their friends and family.
So here I am, getting back to basics – with this Monkey Bread Recipe with a cinnamon glaze that will make you want to lick your fingers. It is one of those childhood recipes that we all love!
What is Monkey Bread?
Strange name for a delicious food, right? Also called pull apart bread, this delicious treat gets its name from the way that it is eaten. It consists of pillowy balls of dough that are covered in buttery cinnamon sugar, all placed in a pan and baked. The end result comes out looking like one "loaf", but to eat it, you pull one ball out at a time. Like a monkey picking at its food. And the taste? Kind of like the gooey middle part of a cinnamon roll. The best part, right?
I have made several versions of this at home over the years, but this one is my go-to recipe. It was exactly what you in a basic, beginner's recipe. No crazy ingredients or crazy techniques. Just basics – straightforward and easy. And the addition of a cinnamon glaze takes this recipe over the top!
My little family of 5 managed to scarf down about 3/4 of this Monkey Bread in less than an hour once it came out of the oven. And the rest of it didn't last that much longer. This is truly the best pull apart bread recipe, and will be my go-to from here on out.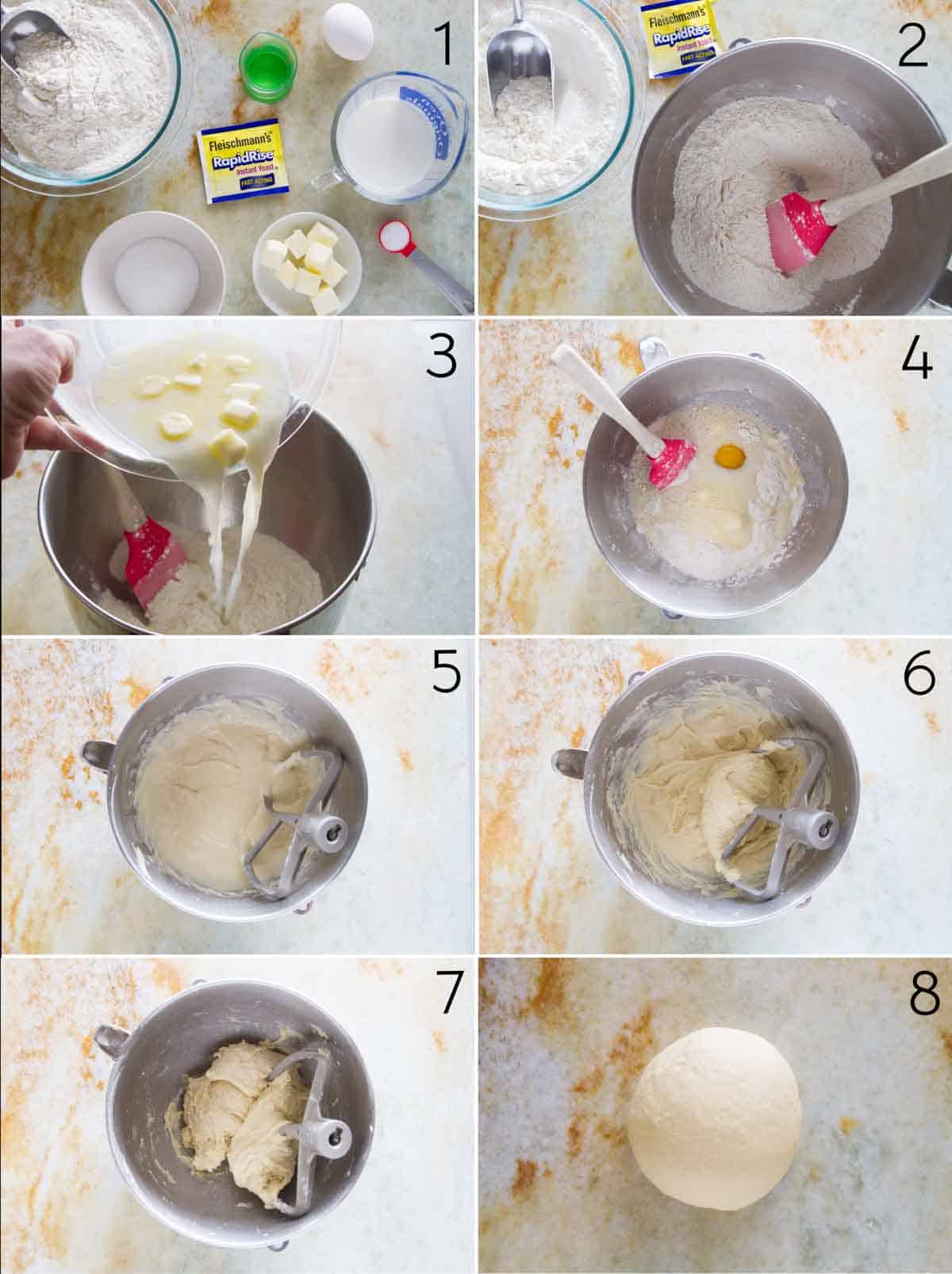 How to Make Monkey Bread
Since we're doing basics, I thought I'd completely walk you through it to show you just how each step should look.
All you need are basic ingredients: flour, sugar, yeast, salt, milk, water, butter and an egg. I use rapid rise yeast not only because it speeds the process along a little bit. You only need one rise instead of two.
Mix together the dry ingredients – 2 cups of the flour, sugar, yeast and salt. I make this in my stand mixer, but if you don't have a stand mixer, you can do this by hand. It will just take a lot more muscle power. 🙂
The milk, water and butter all go into a microwave safe bowl to get warmed up. You want this very warm, but not hot – somewhere between 120º and 130ºF. The butter won't melt all the way, so don't heat it up so much that the butter is completely melted. Pour this into the dry ingredients.
Don't forget to add the egg!
This all goes on the mixer to mix for 2 minutes. You'll want to scrape down the sides of the bowl at least once during this time.
Add another cup of flour, and beat an additional 2 minutes. It will start to come together, but will still be quite sticky.
Now you'll start adding in just enough flour so that the dough can be pulled away from the sides of the mixer.
Turn the dough out onto a floured surface and knead it until it is smooth and elastic. You can also do this with the dough hook on your mixer, but I actually enjoy kneading the dough so I always turn it out. At this point, you'll want to cover the dough with a towel to let it rest for 10 minutes.

Now the fun part! Cut the dough into 36 pieces (I use a bench scraper to cut it) and roll them into balls. Combine cinnamon and sugar in one bowl, and melt some butter in another bowl.
Each of the pieces get dipped in the butter, then rolled in the cinnamon sugar mixture. Then into a prepared pan they go!!
Once they are all in, pour any remaining butter and cinnamon sugar over the top, then cover and allow the dough to rest until it has doubled.
When it has doubled, it should go almost to the top of the pan. Then you bake it!

Like I mentioned, I added on this cinnamon glaze and couldn't have been happier with the decision. You'll want to add the glaze while the bread is still warm.

Frequently Asked Questions

Do you have to make monkey bread in a bundt pan?

No! This can easily be made in a different pan. You could use 2 loaf pans, or even a 9×13 baking dish. Just be aware that the cook time will be different if you use a different pan.

How do you make monkey bread with canned dough?

You can, but trust me when I say that homemade is so much better! I know that many people also use frozen rolls, but really, this recipe is not super difficult, and the final results are worth it. If using canned dough, you'll need 3 12-oz tubes of biscuits. If using frozen rolls, you will let them thaw until they are pliable but still cold, then cut them in half. You'll need 18-24 rolls.

How long does it last?

This recipe is best served the same day. If you do have leftovers, they can be stored, covered, at room temperature for a day or 3-4 days in the refrigerator.

Can you make monkey bread the day before?

There are a few things that you can do if you want to do some of the steps ahead of time. You can bake the monkey bread, and leave it in the pan. When you are ready to serve, gently reheat it in the oven, (I would try 250ºF for about 10 minutes), and then add the glaze when it comes out.

If you want to have freshly baked monkey bread, you can make the recipe through step 3, then cover the dough and refrigerate it. On the day off, remove the dough from the refrigerator and let it come to room temperature for 1-2 hours before continuing with the recipe.

Can I add nuts?

Yes! Pecans are especially good in this recipe. My favorite way is to add about 1 cup of toasted, chopped nuts as you are adding in the balls of dough. That way, the nuts are all throughout the bread.

More Cinnamon Recipes to Go Crazy Over

Cinnamon Muffins
Pumpkin Cinnamon Rolls
Chocolate Cinnamon Bread
Cinnamon Roll Sheet Cake
Apple Cinnamon Muffins

Monkey Bread Recipe (From Scratch!)

---

Author:
Prep Time: 35 minutes
Cook Time: 30 minutes
Total Time: 120 minutes
Yield: 10 servings 1x
Category: Breakfast
Method: Bake
Cuisine: American

Description

You can't beat a classic, and this Monkey Bread Recipe is made from scratch and oh, so good!! Don't skip the cinnamon glaze – you'll be licking it from your fingers!

---

Scale

Ingredients

Bread:

3 1/4– 3 3/4 cups all-purpose flour
1/4 cup sugar
1 packet (2 1/4 teaspoon or 1/4 oz) rapid rise yeast
1 teaspoon salt
3/4 cup milk
1/4 cup water
1/4 cup butter, cut into cubes
1 egg

Filling:

1 cup sugar
1 tablespoon cinnamon
1/2 cup butter, melted

Glaze:

1 cup powdered sugar
2 teaspoons cinnamon
5–6 tablespoons heavy whipping cream

---

Instructions

Combine 2 cups of the flour, the sugar, dry yeast and salt in the bowl of a stand mixer and stir to combine.  Combine the milk, water and butter in a microwave safe bowl and microwave on high in 15 second increments until it is very warm, but not hot, 120º to 130ºF.  The butter will not melt completely.   Add the liquid to the bowl with the flour mixture along with the egg.
Beat the mixture for 2 minutes on medium speed, scraping the sides of the bowl as needed.  Add one more cup of the flour, and beat for an additional 2 minutes on high speed.  Add just enough of the flour to the dough so that it will form into a ball.
Lightly flour a surface and knead the dough until it is smooth and elastic, 6-8 minutes.  The dough should spring back when lightly touched with 2 fingers.  Cover the dough with a towel and let it rise for 10 minutes.
While the dough is resting, combine the cinnamon and sugar for the filling.
Spray a fluted tube pan (bundt pan) generously with cooking spray.
Cut the dough into 36 pieces and roll into balls.  Dip each of the pieces in the butter, then roll in the cinnamon/sugar mixture. Place in the prepared pan.  Drizzle any remaining butter and cinnamon/sugar over the rolls.  Cover the pan with a towel and let rise until doubled, about 45 minutes.
Preheat the oven to 375º.  Bake for 25-30 minutes, or until the rolls are golden brown.  Cool for 5 minutes in the pan, then invert onto a serving platter.
For the glaze, combine the powdered sugar and cinnamon in a small bowl.  Add the cream 1 tablespoon at a time until you reach your desired consistency.  Drizzle the glaze over the warm bread.

Recipe Notes:

Adapted from Fleishmann's® breadworld.com

Nutrition information provided as an estimate only. Various brands and products can change the counts. Any nutritional information should only be used as a general guideline.

Nutrition

Serving Size: 1/10 of recipe
Calories: 456
Sugar: 39 g
Sodium: 255 mg
Fat: 18 g
Saturated Fat: 11 g
Unsaturated Fat: 6 g
Trans Fat: 0 g
Carbohydrates: 69 g
Fiber: 2 g
Protein: 5 g
Cholesterol: 68 mg

Keywords: monkey bread recipe