Simply the best, these Carrot Cake Cupcakes are filled with lots of carrots and coconut and are topped with a smooth and creamy cream cheese frosting.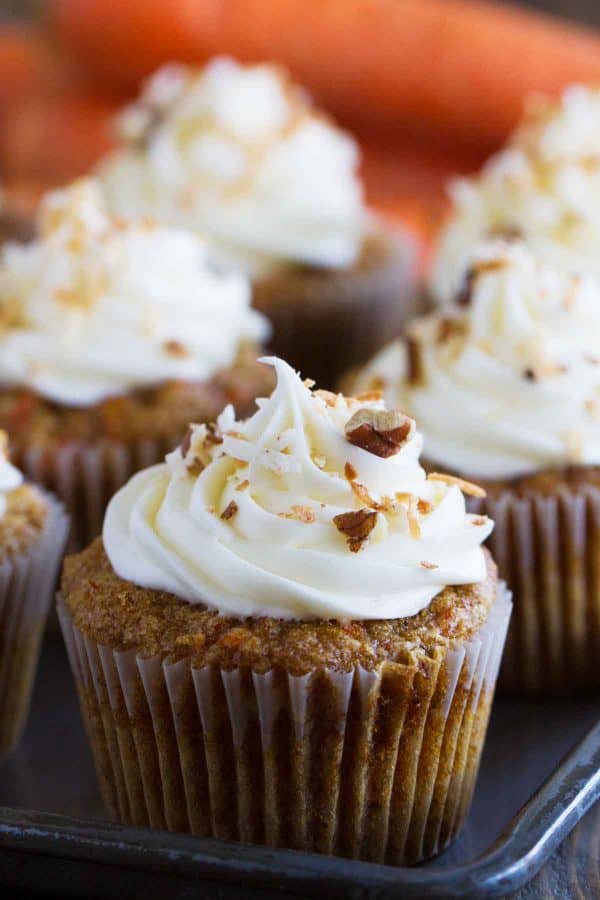 Photos Updated July 2015
Carrot Cake Cupcakes
Or would it be just Carrot Cupcakes? Not that it really matters, though, because my craving has finally been fulfilled. Back in July when I blogged about the Lion House Cheesecake, I mentioned that the cookbook that the recipe came from, Lion House Desserts, had a very good carrot cake recipe. Well, ever since those words were typed, I have been craving carrot cake.
So when we were asked to bring a treat to share for a co-workers going away party, I already knew what I wanted to make!! I decided make it in the form of cupcakes so that it would be easy to eat – no slicing involved. But when I decided to do cupcakes, I felt a huge amount of pressure to make them pretty, because it seems like pretty cupcakes are all the rage these days. I am normally a "just spread the frosting on top" type of girl, but I went the extra mile for these to make them look good. And even though they were far from perfect, I found out that piping the frosting on doesn't really make them any harder, and they do look a lot better!!
I have made this recipe several times. In fact, since the first time I made it several years ago, it is the only carrot cake recipe I have used. To me, it is the perfect sweetness – especially served with cream cheese frosting! I sometimes add raisins, and sometimes I don't. I know that many people always put raisins in their carrot cake, it's just a matter of preference, or what you have on hand that day!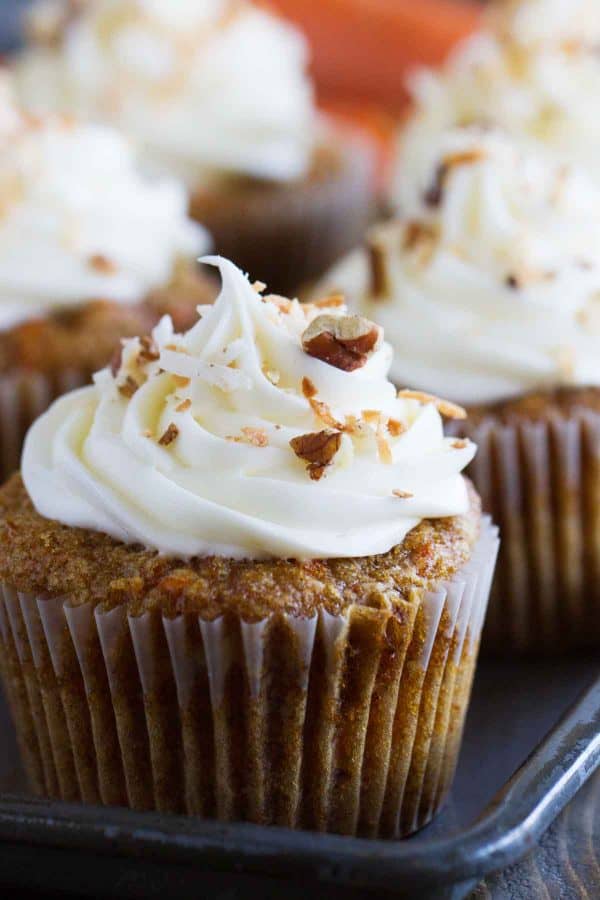 How to make Carrot Cake Cupcakes:
Homemade cupcakes are easier than you think! Start by combining all of the wet ingredients in a large bowl, then mix in the dry ingredients. Stir until combined, and then fill your cupcake liners. You don't want to overfill your cupcake liners – they should only be 1/2 to 2/3 full. If they are overfilled, they will overflow and they won't bake evenly.
What kind of frosting do you use for Carrot Cake Cupcakes?
If you were to ask me, it will be cream cheese frosting all the way! Cream cheese frosting is by far the most popular frosting for carrot cake and for carrot cake cupcakes. I think all you need is a basic cream cheese frosting for these cupcakes, but you could also add some maple extract or toasted coconut. But the tanginess of the cream cheese frosting compliments carrot cake so well!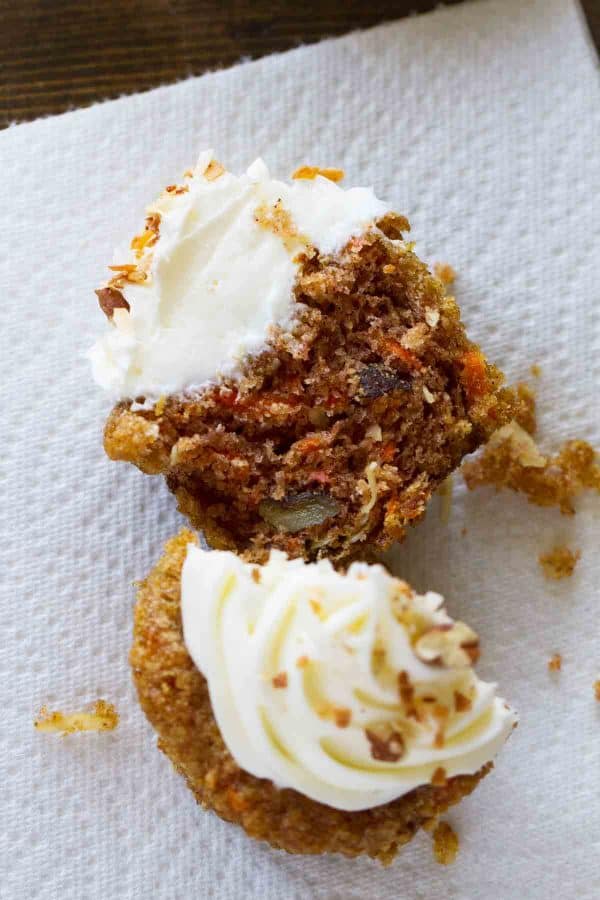 Want more carrot cake recipes?
This Toasted Coconut Carrot Sheet Cake is perfect for feeding a crowd. This Carrot Cake Cheesecake combines carrot cake with a delicious cheesecake layer! Or have your carrot cake for breakfast with these Carrot Cake Pancakes.
Or try these other cupcakes that are perfect for the spring:
The Easiest Spring Chick Cupcakes from Chelsea's Messy Apron, Flower Pot Cakes from Back for Seconds, and these Raspberry Lemon Cupcakes from A Spicy Perspective.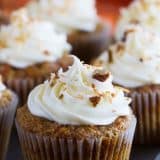 Carrot Cake Cupcakes
---
Author:
Prep Time: 15 mins
Cook Time: 17 mins
Total Time: 32 minutes
Yield: 24 servings 1x
Category: Dessert
Method: Bake
Description
Simply the best, these Carrot Cake Cupcakes are filled with lots of carrots and coconut and are topped with a smooth and creamy cream cheese frosting.
---
Scale
Ingredients
Cupcakes
1 cup sugar
1/2 cup vegetable oil
2 eggs, beaten
1 1/2 cups grated carrots
1 cup unsifted flour
1/2 teaspoon salt
1 teaspoon baking soda
1 teaspoon cinnamon
1/4 cup shredded coconut
1/4 cup nuts, toasted
1/4 cup raisins, optional
Cream Cheese Frosting
1 8-ounce package cream cheese, softened
1/4 cup butter
2 1/2 cups powdered sugar
Hot water, as needed
---
Instructions
Preheat the oven to 400ºF.  Line 24 muffin tins with cupcake wrappers.
Combine the sugar and oil in a large mixing bowl or bowl of a stand mixer.  Add the eggs and mix well.  Stir in the grated carrots.  Add in the flour, salt, baking soda, and cinnamon and stir until combined.  Fold in the coconut, nuts and raisins.
Divide the mixture evenly between the prepared cups.  Bake for 15-17 minutes, or until a tester inserted in the center comes out clean.  Cool completely.
Cream together the cream cheese and butter until smooth and light.  Gradually add in the powdered sugar and beat until smooth.  If needed, add in hot water, 1 teaspoon at a time, until you reach your desired consistency.
Frost the cooled cupcakes with the cream cheese frosting and serve.
Nutrition
Serving Size: 1 cupcake
Calories: 210
Sugar: 20 g
Sodium: 164 mg
Fat: 12 g
Saturated Fat: 4 g
Unsaturated Fat: 7 g
Trans Fat: 0 g
Carbohydrates: 26 g
Fiber: 1 g
Protein: 2 g
Cholesterol: 31 mg
SHOP THIS POST!