Fast and easy – this Cake Donut Recipe is made from pantry staples and is a great way to have homemade donuts in no time at all.
Want more donuts? Try these Ricotta Doughnuts, these Chocolate Hazelnut Stuffed Donut Holes, or this Homemade Funfetti Cake Donut Recipe.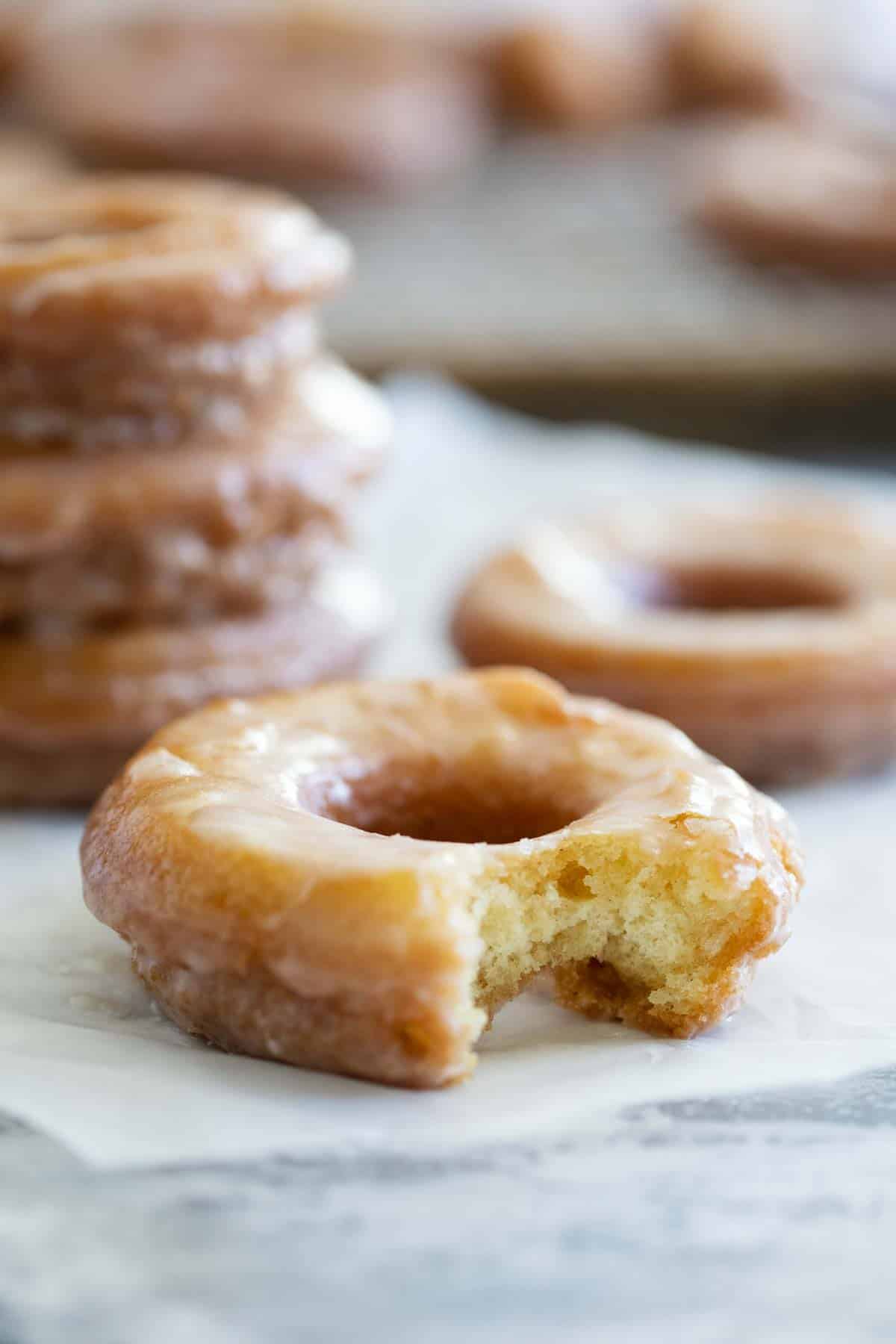 Donuts are my love language. Really – they are the first thing I seek out when I'm out of town, and they are my favorite Saturday morning splurge.
So of course, I had to hit up the local donut show when it was happening here in my home state. (You can watch the video! – if you are interested!)
This Easy Cake Donut is inspired by that Saturday morning of donut indulgence. I wanted to make a donut at home that could be made quickly, that was easy, and that was delicious. I think I nailed all three with this recipe!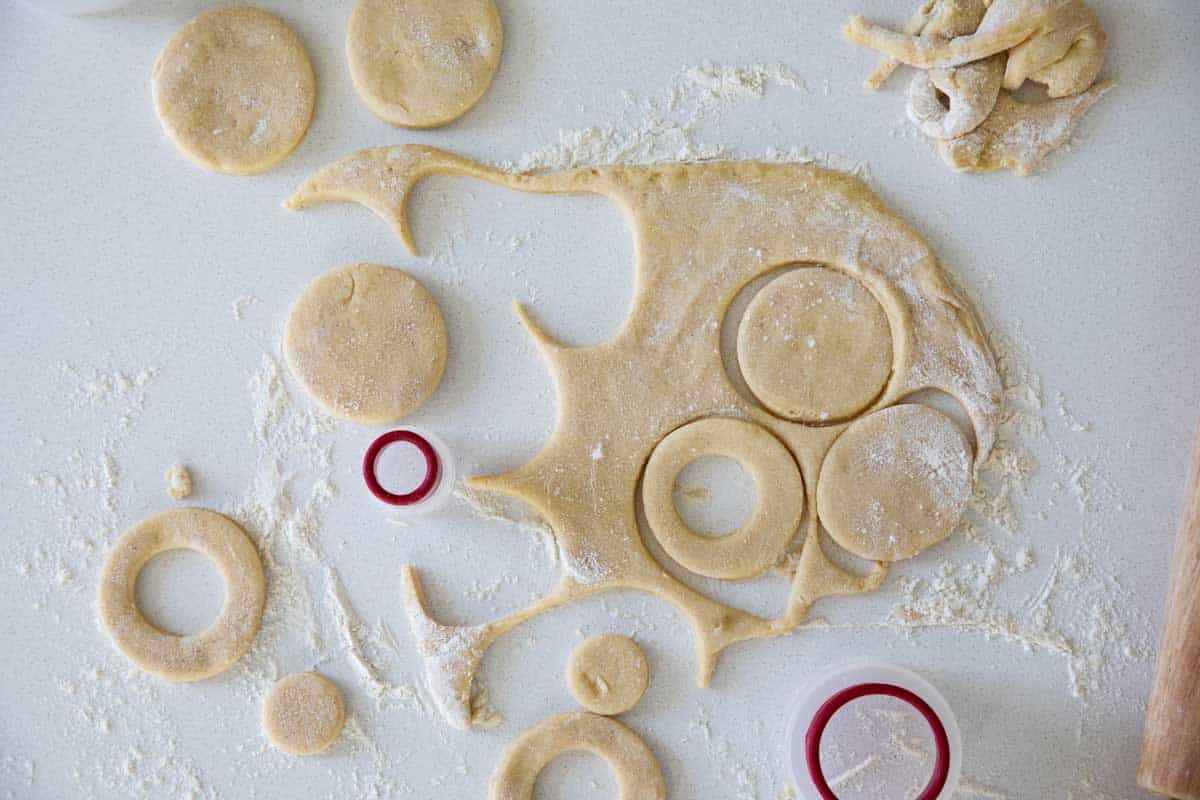 What is a Cake Donut?
There are many different kinds of donuts, but it always seems to me that there are two main types – cake donuts and yeast donuts. The difference is in the leavening.
Yeast donuts, as their name implies, are made using yeast. Yeast raised donuts are typically lighter. They will usually take longer as well, because the dough requires time to raise. Yeast donuts can be glazed or frosted, but they are also often filled.
Cake donuts use baking powder or baking soda as the chemical leavener. These donuts will usually be crisp on the outside with a cake-like interior. They are often a bit greasier because they are more dense than yeast donuts and can sometimes be dry. They are faster to make, as well, because they don't require a long raising time. In fact, I usually have the dough for cake donuts ready to go before the oil is even hot.
I could never choose which donut I like the best – because I love them both!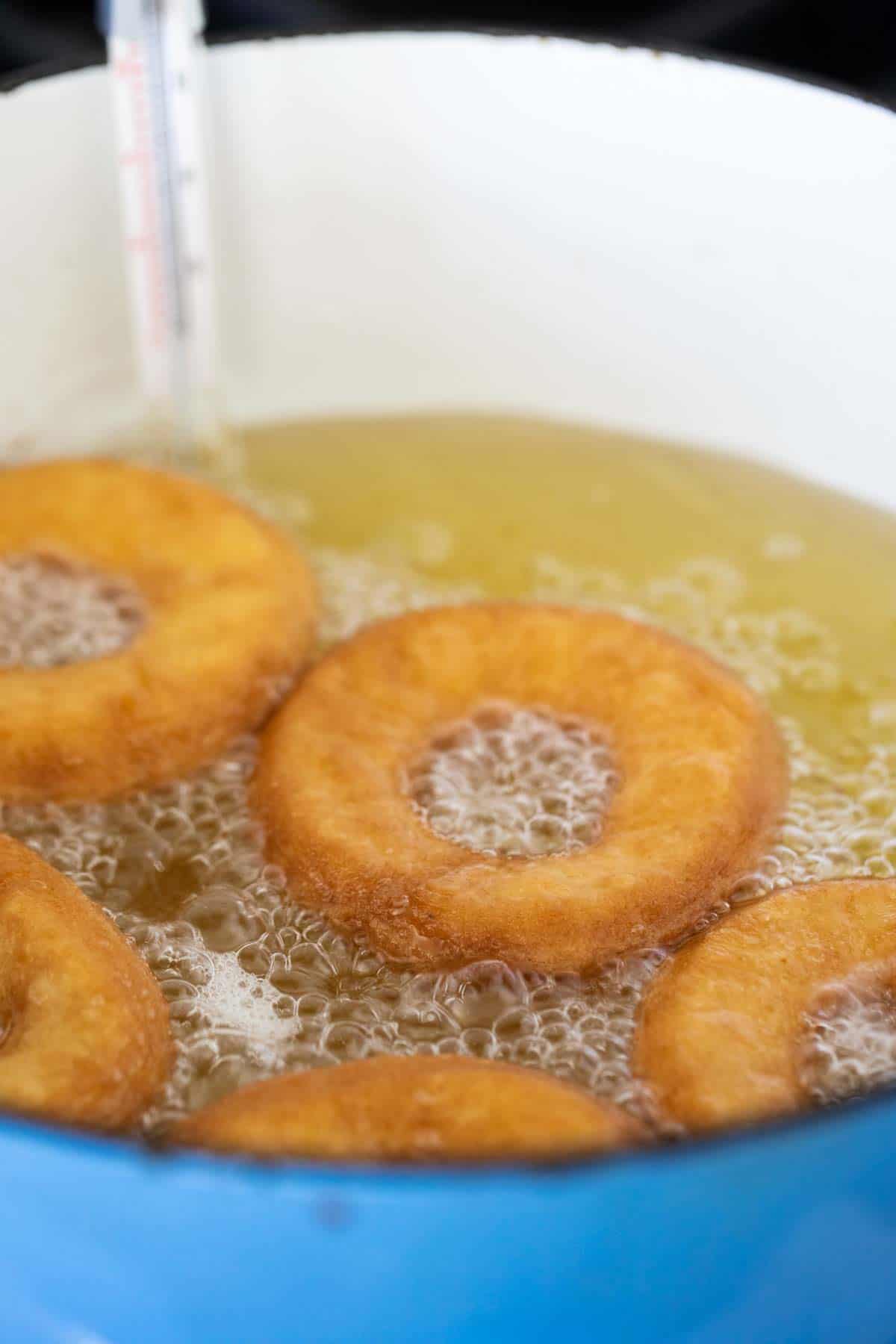 Ingredients
Oil: This is for frying the donuts, so you'll want something neutral. I like to use vegetable oil, but canola oil or peanut oil will work, as well. Just make sure it is fresh oil – don't fry the donuts in oil that you have fried something else in as the flavors will transfer.
Sugar: The dough will be slightly sweetened by the sugar. You'll want to use regular granulated sugar for this recipe.
Vegetable Shortening: The shortening will give the donuts a really great texture. You could use butter instead, but I think vegetable shortening is superior here for texture.
Egg: Just one large egg.
Vanilla: I don't use a lot of vanilla in this recipe, but you could always add more for a more pronounced vanilla flavor.
Flour: I have only tested this recipe with all-purpose flour.
Baking Soda: This recipe is a little different from others in that it uses baking soda and has no baking powder. They end up a little more dense, like old fashioned donuts, instead of super light and fluffy. But between the baking soda, buttermilk, and egg, the donut will still have plenty of lift and will have a beautiful texture.
Salt: This is to balance the flavors.
Nutmeg: This is my secret ingredient! Just a hint of nutmeg in the background gives these donuts a special flavor.
Buttermilk: The buttermilk will help with the leaving, along with the egg and baking soda.
Donut Glaze: I like to make a simple glaze using butter, powdered sugar, milk, and extracts. My favorite are vanilla and almond extract. You can also make a simple chocolate glaze. Add sprinkles or cinnamon sugar or toasted coconut – you can get creative!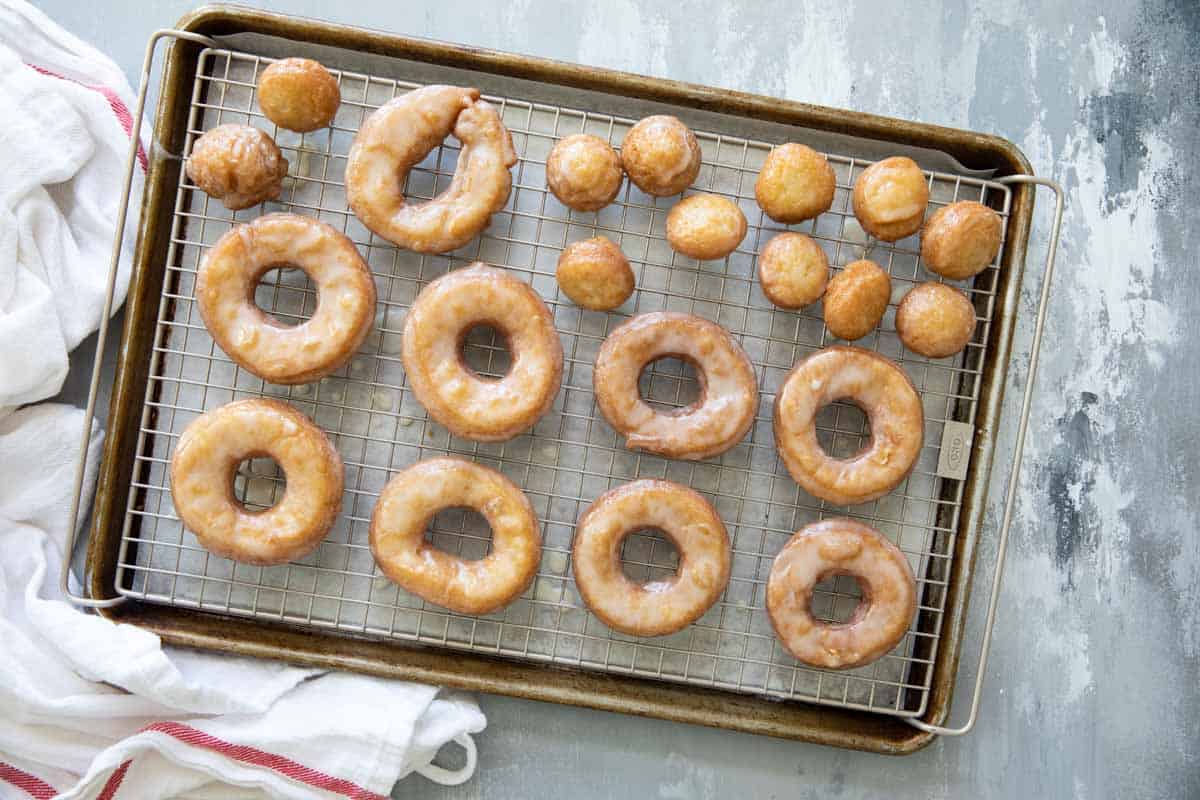 Tips to Make Homemade Cake Donuts
One reason I chose to make these donuts is because of how easy they are. You basically just need to mix everything together and then fry the dough! But here are a few tips to make it even easier.
Don't overmix the dough. The same rule applies to these donuts as a muffin recipe – overmixing makes for a tough donut. This is why I don't re-roll the extra dough, as well.
Flour your work surface well. There's nothing worse than cutting out your donuts and then losing the shape because you can't get the donut off of the counter. Having a well floured surface will help you avoid this.
Temperature is important. So even if you don't usually use one, you probably want a thermometer for this recipe.
Speaking of temperature, keep an eye on the temperature between batches. When you add dough to the oil, the temperature will drop. If the temperature isn't back up to 375ºF by the time you are ready to put a new batch in, wait until the temperature has come back up.
Glaze the donuts as soon as you can safely handle them. You can see a visual of the difference between glazing when hot and glazing when cool in the video in this post. But if you dip your donuts when they are cool, the glaze will be much thicker and it doesn't dry as well. I like to place them on a wire rack so that any excess glaze will drip off instead of pooling around the edges.
Frequently Asked Questions
Can you bake these cake donuts?
This recipe has not been tested as a baked donut. I would suggest using a recipe that is written as a baked donut for best results.
Do you have to have a deep fryer to make these?
You don't! I actually have a deep fryer, but find that my Dutch oven works easiest for me. You can even use a heavy skillet (like a cast iron skillet) and shallow fry them.
Can you use an air fryer?
This recipe is intended for frying, so I would suggest using a recipe that is written for an air fryer.
How long are these donuts good for? Can you make them ahead?
Donuts are best served the same day they are made. They will lose their crisp exterior quickly. You can store them several days and they will still taste good, but the texture will not be the same.
How do you store cake donuts?
You can store them in an airtight container, but I prefer something that will let them breathe just a little bit, like a paper bag or a donut box.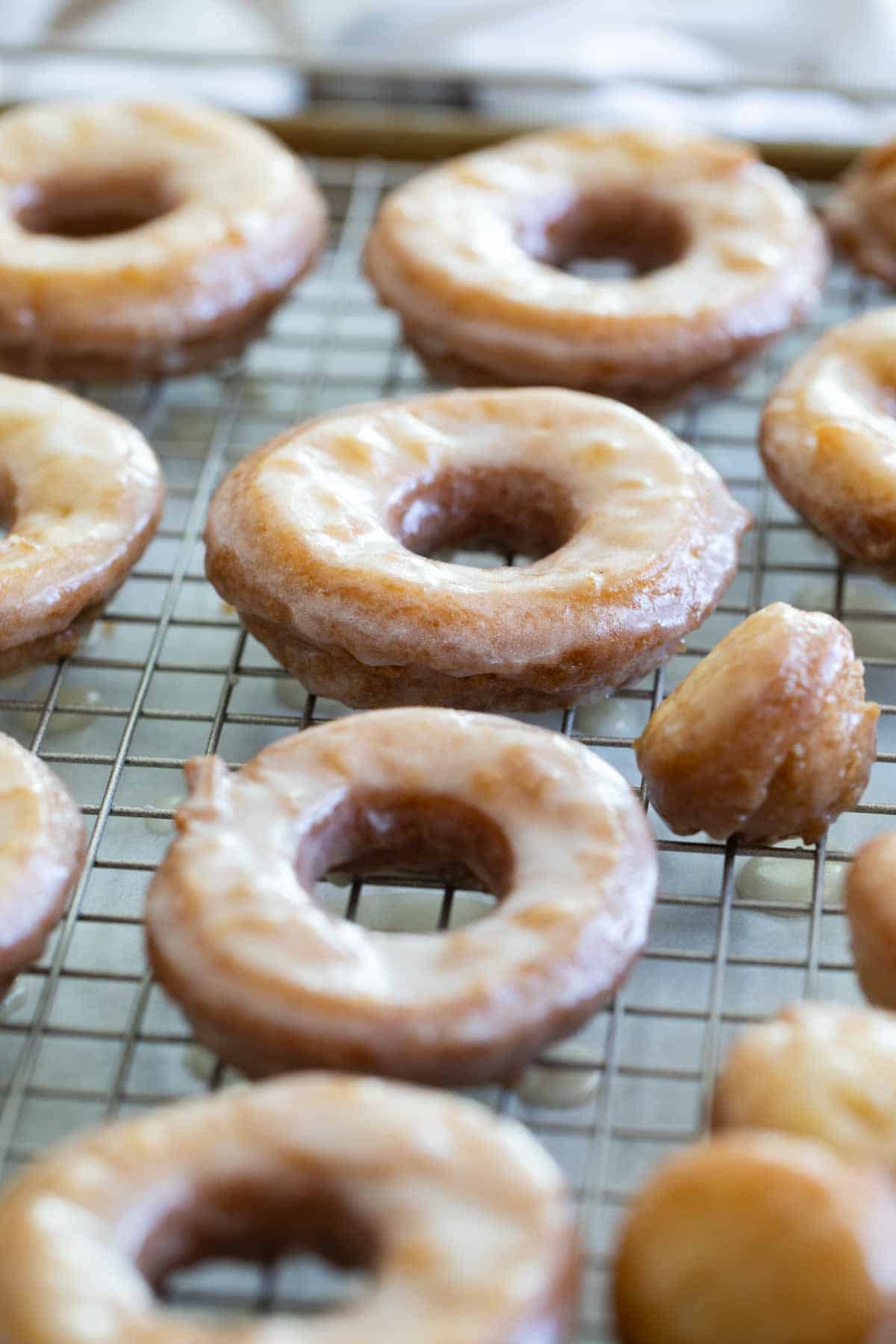 Don't Want to Fry? Try These Baked Donuts:
Baked Chocolate Donuts with Cherry Glaze
Baked Peppermint Donuts
Baked Key Lime Pie Donuts
Blueberry Cherry Baked Donuts
Baked Coconut Donuts
Baked Red Velvet Donuts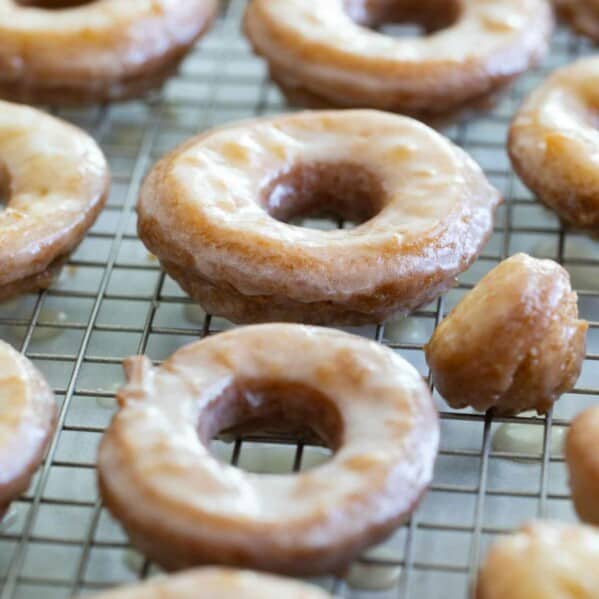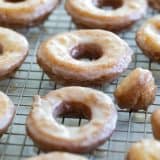 Cake Donut Recipe
---
Author:
Prep Time: 20 minutes
Cook Time: 15 minutes
Total Time: 35 minutes
Yield: 9 servings 1x
Category: Dessert – Misc
Method: Fried
Cuisine: American
Description
Fast and easy – this Cake Donut Recipe is made from pantry staples and is a great way to have homemade donuts in no time at all.
---
Scale
Ingredients
Donuts:
1 quart vegetable oil
1/2 cup sugar
2 tablespoon vegetable shortening
1 egg
1/2 teaspoon vanilla extract
2 cups all-purpose flour
1/2 teaspoon baking soda
1/4 teaspoon salt
1/4 teaspoon nutmeg
1/2 cup buttermilk
Glaze:
4 tablespoon butter, melted
1/2 teaspoon vanilla extract
1/2 teaspoon almond extract
3 cups powdered sugar
Milk, as needed (about 1/4 cup)
---
Instructions
Heat the oil in a large, heavy pot or Dutch oven to 375ºF.
While the oil is heating, make the donuts: place the sugar and shortening into a bowl and beat with a hand mixer until it is combined. Add the egg and the vanilla and continue to beat until combined.
In another bowl, whisk together the flour, baking soda, salt and nutmeg.
Add 1/3 of the flour mixture to the sugar mixture and beat to combine. Add half of the buttermilk, beat, then another 1/3 of the flour. Finish it off by adding the last of the buttermilk, beating to combine, then the remaining flour. Beat just until combined, do not over-beat.
Flour a counter or work surface, then pour the dough out onto it. If the dough is super sticky, knead it a few times in the flour. Roll the dough out to about 1/3" thickness. Use a round cookie cutter to cut out 9 donuts. Use a smaller circle to cut out the centers, then cut more small holes from the scraps.
In another bowl, whisk together the melted butter, the vanilla extract and the almond extract. Slowly start adding the powdered sugar, 1/2 cup at a time, adding in milk as needed. Once all of the powdered sugar has been added, continue adding milk until you have a good glaze consistency.
When the oil is hot, add in half of the donuts. Fry until they are golden brown, then flip and cook the second side. It should take about 3-4 minutes per batch. 
Drain the donuts on a paper towel lined plate. When cool enough to touch, dip both sides in the glaze then transfer to a baking rack to dry.
Repeat with the remaining donuts.
Recipe Notes:
Adapted from allrecipes.com
Nutrition information provided as an estimate only. Various brands and products can change the counts. Any nutritional information should only be used as a general guideline.
We have determined the nutritional value of oil for frying based on a retention value of 10% of oil after cooking. The exact amount may vary depending on cook time and temperature, ingredient density, and the specific type of oil used.
Nutrition
Serving Size: 1 donut + 1 donut hole
Calories: 471
Sugar: 44 g
Sodium: 163 mg
Fat: 18 g
Saturated Fat: 6 g
Unsaturated Fat: 11 g
Trans Fat: 0 g
Carbohydrates: 64 g
Fiber: 1 g
Protein: 4 g
Cholesterol: 36 g
Keywords: cake donut recipe