It doesn't get much easier than this Double Chocolate Bundt Cake – a moist chocolate cake with a satiny smooth chocolate glaze. This is a cake anyone can make, and that everyone wants to eat!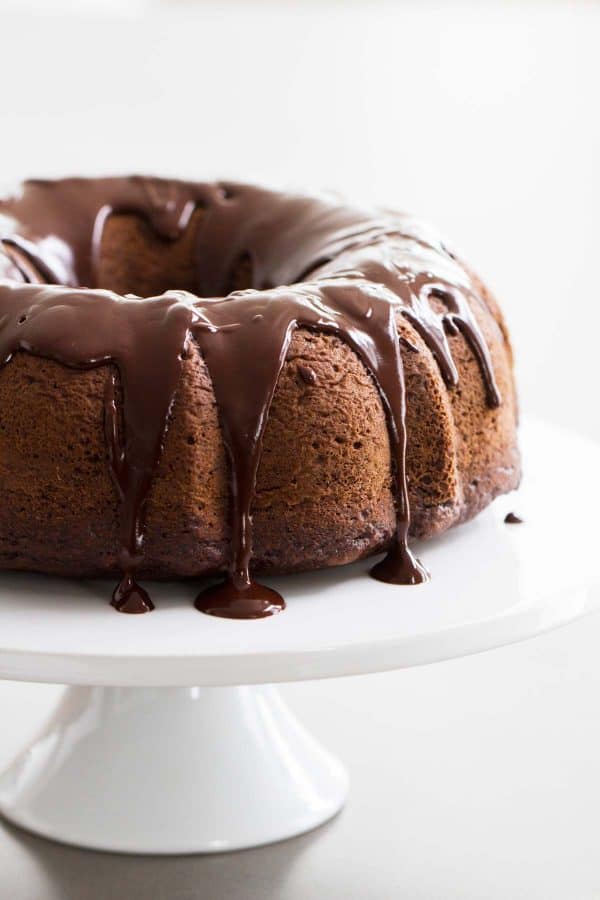 Crowd Pleasing Double Chocolate Bundt Cake
When it comes to cake (or dessert, I should say…), I don't discriminate. Chocolate or vanilla, fruit covered or covered with a rich glaze. With a filling or just plain. Layered, sheet, or bundt. If it's cake, I probably just want a big slice of it.
That being said, I can say that I still do have my favorites. Like completely from scratch versus a cake made with a cake mix. Honestly, I'd choose the scratch cake. Mostly because I prefer the texture. Scratch cakes tend to be a little bit more dense versus the large, airy crumb you get when you use a cake mix. But here's the other thing – I think that most people end up preferring the cake mix cakes, simply because that is what they grew up with and that's what they are used to. Neither is the right answer, neither is the wrong answer. But they are a little bit different.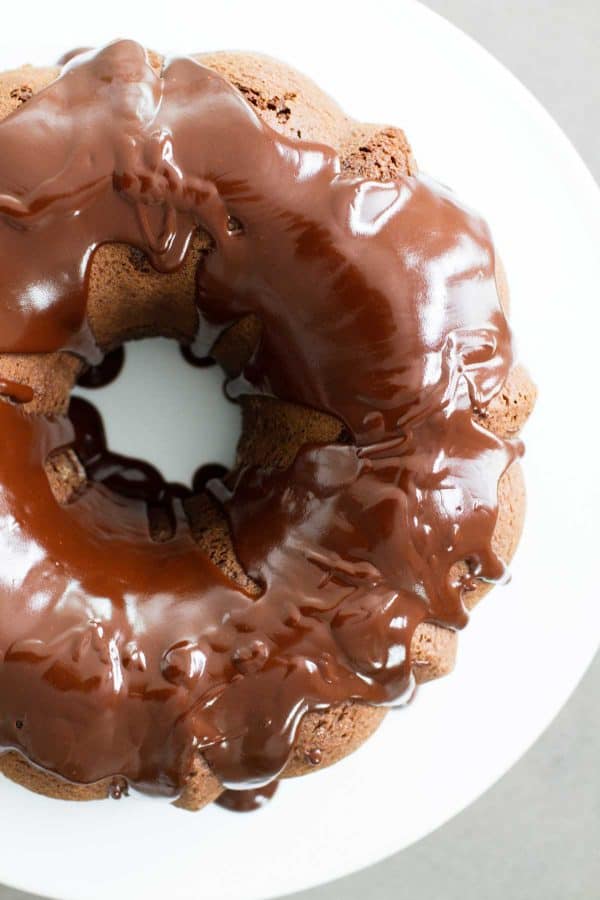 Cake Mix or From Scratch?
Although overall I prefer the texture of a scratch cake, there is no denying that cakes that start with a cake mix are not only super easy, but they are a lot more fail-proof. I can't tell you how many bundt cakes I've had fall or that have been impossible to remove from the pan. But when you start with a cake mix, somehow those usually aren't issues as much as they are with cakes from scratch.
A couple of months ago, I volunteered to bring dessert to our monthly family dinner. I had been dying to remake my Root Beer Bundt Cake, so I decided to go with a bundt cake theme. Along with that Root Beer Bundt Cake, I also made a Buttermilk Cake as well as this Double Chocolate Bundt Cake. I had made both of the other cakes previously, but since they were both cakes from scratch, I knew I needed a cake that I wouldn't have to worry about failing at the last minute. I had made this cake recipe as cupcakes before, and I knew it would translate easily to a bundt cake. And I was right!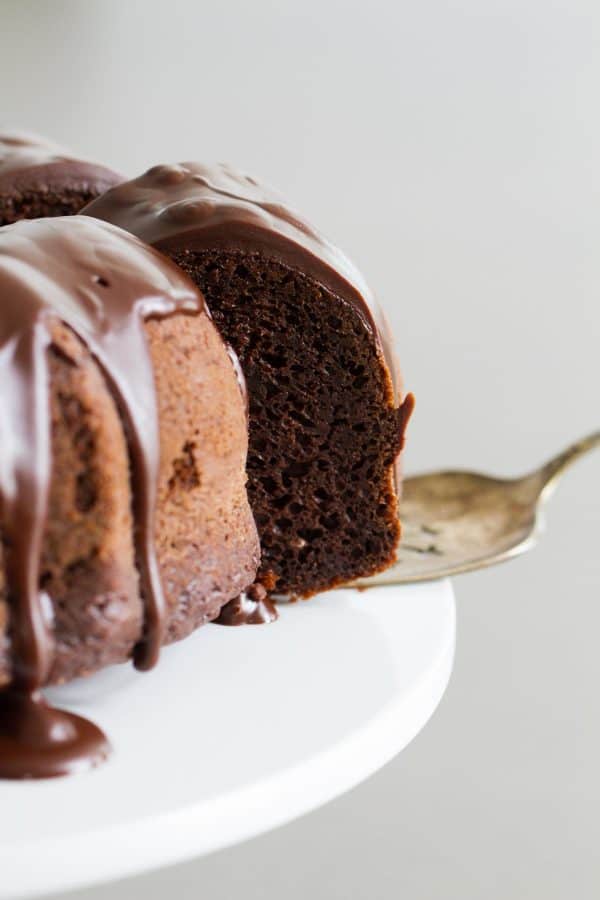 This Double Chocolate Bundt Cake is filled with chocolate flavor. It starts with a chocolate cake mix and a box of instant pudding mix. Then the addition of sour cream ensures that the cake is nice and moist, and a rich chocolate glaze gives it its double dose of chocolate. This cake rises beautifully and was a very popular cake that night at family dinner.
This is a cake recipe you always need to have bookmarked for when you need a recipe you can count on. I know that it is going into my loved recipe stack!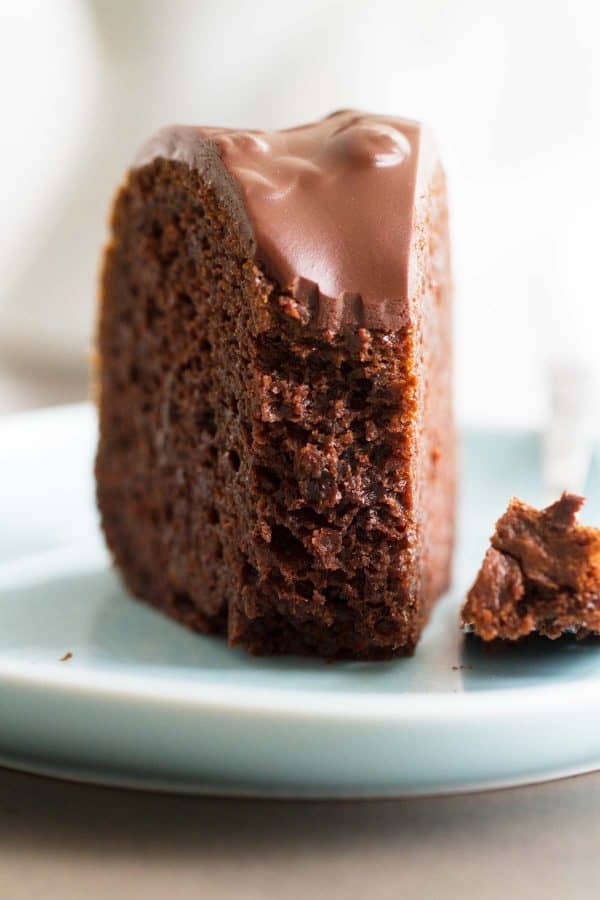 More Fabulous Bundt Cake Recipes
Root Beer Bundt Cake
Orange Glazed Bundt Cake
Crazy for Coconut Bundt Cake
Almond Joy Candy Bar Filled Chocolate Bundt Cake
Samoa Bundt Cake from Spicy Southern Kitchen
Blueberry Lemon Bundt Cake from Tutti Dolci
Like what you see here? Make sure you are following Taste and Tell for more great recipes and ideas!!

Facebook ** Pinterest ** Twitter ** Instagram ** Google+
or you can subscribe to my newsletter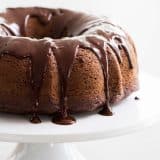 Double Chocolate Bundt Cake
---
Author:
Prep Time: 15 mins
Cook Time: 55 mins
Total Time: 2 hours 20 minutes
Yield: 12 servings 1x
Category: Dessert
Description
It doesn't get much easier than this Double Chocolate Bundt Cake – a moist chocolate cake with a satiny smooth chocolate glaze. This is a cake anyone can make, and that everyone wants to eat!
---
Scale
Ingredients
Cake:
1 (15.25 oz) package chocolate cake mix
1 (3.9 oz) package instant chocolate pudding mix
1 cup sour cream
1/2 cup vegetable oil
1/3 cup milk (I used 2%)
4 eggs, lightly beaten
1/2 cup warm water
Chocolate Glaze:
3/4 cup semi sweet chocolate chips
3 tablespoons butter
1 tablespoon light corn syrup
1/4 teaspoon vanilla extract
---
Instructions
Preheat the oven to 335ºF. Generously grease the inside of a 10-inch bundt pan with butter or shortening and dust it with flour. Tap out any excess flour.
In a large bowl, mix together the cake mix and the chocolate pudding mix.  Add the sour cream, vegetable oil, and milk and beat to combine. Add the eggs and mix until combined. Stir in the warm water.
Pour the batter into the prepared bundt pan. Bake until a tester inserted in the center comes out clean, or until the cake bounces back when you lightly touch it, about 45 minutes.
Cool the cake completely in the pan then invert the cake onto a serving plate.
To make the glaze, place a heatproof bowl on a small pan with an inch or two of water in it. Turn the heat to medium.  Place the chocolate chips, butter and corn syrup in the bowl. Stir until the chocolate chips are melted and the mixture is smooth. Remove from the heat and stir in the vanilla.
Drizzle the warm glaze over the cooled cake on the serving plate. Allow the glaze to set up before serving.
Nutrition
Calories: 457
Sugar: 30 g
Sodium: 184 mg
Fat: 34 g
Saturated Fat: 9 g
Unsaturated Fat: 12 g
Trans Fat: 0 g
Carbohydrates: 38 g
Fiber: 2 g
Protein: 5 g
Cholesterol: 79 mg
SHOP THIS POST: