Light and fluffy and perfect for a date night in, this Chocolate Mousse is the perfect way to get your chocolate fix. Serve it up with whipped cream and fresh berries and you have a restaurant worthy dessert!
This chocolate mousse is an example of the perfect ending to a special meal at home – just like this Raspberry Creme Brulee Recipe, this Butterscotch Budino, or this Vanilla Bean Rice Pudding with Raspberries and Salted Caramel.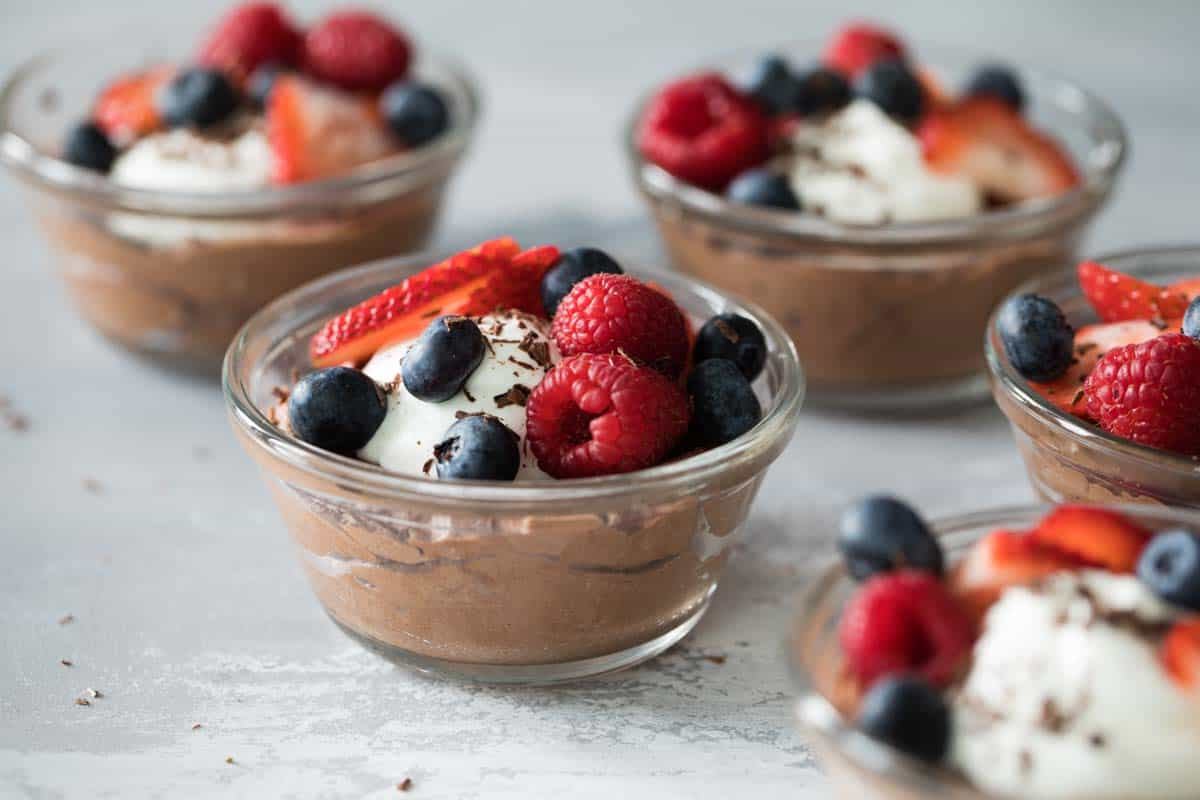 I have always loved Valentine's Day. From those grade school days of coming home with dozens of Valentine's Day cards, to celebrating with my own husband and children – it has always been a day that has brought me joy. And it never has really been about having that perfect significant other – it's all about a day to show your love and support to all of those special people around you.
I don't think we have ever gone out to a restaurant for Valentine's Day. Both my husband and I are not big fans of crowded restaurants and long wait lists, so we like to have a special "fancy" dinner at home with the kids. And a fancy dinner calls for a fancy dessert!
Don't be fooled, though. Just because this chocolate mousse looks fancy (and tastes gourmet!), it doesn't mean it's complicated. Just a few ingredients, a few minutes of prep time, and a little time in the refrigerator. And you can make it ahead of time so that you aren't juggling dinner and dessert at the same time!
This Chocolate Mousse is the perfect way to end off a special meal!
What You'll Need
One of my favorite things about this recipe is that there are only a few ingredients, which means it's always easy to whip up, right? Here is what you need:
semi-sweet chocolate – Since the chocolate is the prominent flavor, you really need a chocolate that is really great quality.
butter – I use unsalted so that I can control the amount of salt
heavy whipping cream – make sure you buy enough for both in the chocolate mousse and to make extra whipped cream for serving
powdered sugar – you should already have this in your pantry
pinch of salt – if you used salted butter, I'd leave this out
egg whites – so, you can separate your eggs and use those whites. You don't need the yolks, so you can save those for something else (like my favorite Lemon Sauce Recipe).
sugar – this is regular, granulated sugar
whipped cream and berries, for serving – you don't want to miss these!
How to Make Chocolate Mousse
There are three parts to this chocolate mousse:
Start by melting the chocolate and butter together in a double boiler (or in a bowl over a pot of simmering water). Once melted and smooth, allow it to cool slightly.
Whip the egg whites with the sugar.
Whip the cream with the powdered sugar.
Then you just have to fold it all together. Start by folding the chocolate into the egg whites, then fold that mixture into the cream.
Transfer the mixture to serving dishes and refrigerate. They should be good after about 30 minutes in the refrigerator!
Tips and Tricks
You want to use good chocolate for this. Don't use chocolate chips, as they are made to hold their form and will not melt perfectly for this.
If you are worried about bacteria from the egg whites, look for pasteurized egg whites. These egg whites have been gently heated enough to kill any bacteria or viruses. They can usually be found near the eggs in a carton.
The trick is to try to keep as much air as possible in both the egg whites and the cream. Fold gently.
Make sure your bowls are clean for both the cream and the egg whites beat up properly.
This recipe makes 4 servings, but you can definitely get away with making the servings smaller. Especially if you are feeding children. It's pretty rich, so a little goes a long way.
If you have any leftovers, just wrap it with plastic wrap and refrigerate for up to 4-5 days. It will last best if it doesn't have whipped cream or berries on top. With the cream and berries, you'll probably want to eat in within a day.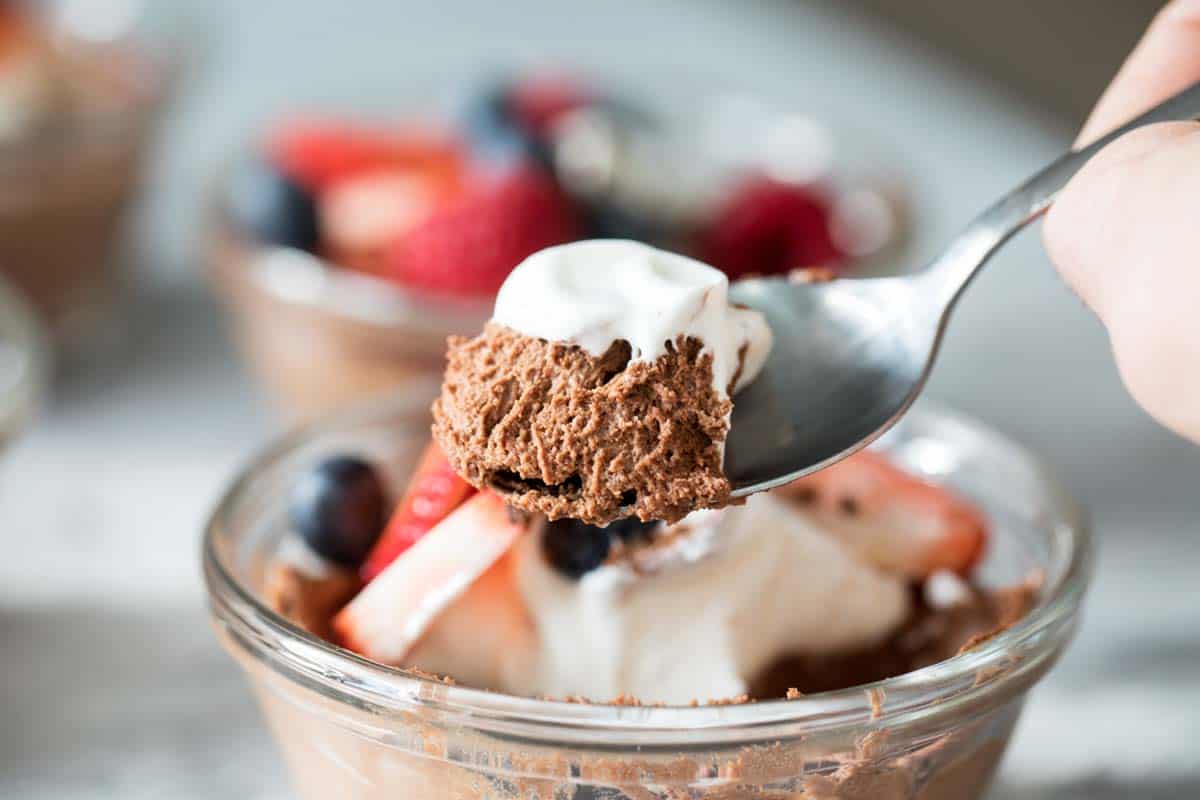 More Chocolate Desserts
Chocolate Sugar Cookies
Chocolate Cream Pie
Dark Chocolate Cake with Nutella Buttercream
Double Chocolate Bundt Cake
Chocolate Molten Lava Cake
Chocolate Pound Cake
Tools Used to Make this Chocolate Mousse
(affiliate links)
You can use a hand mixer or a stand mixer to make this chocolate mousse.
You can use a double boiler to melt the chocolate, but I just put a heat safe bowl on top of a saucepan that has an inch of water in it.
I put our chocolate mousse into custard cups for serving.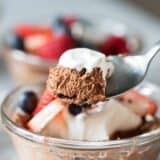 Chocolate Mousse
---
Author:
Prep Time: 15 mins
Cook Time: 5 mins
Total Time: 1 hour
Yield: 4 servings 1x
Category: Dessert
Method: Stove Top
Cuisine: French
Description
Light and fluffy and perfect for a date night in, this Chocolate Mousse is the perfect way to get your chocolate fix. Serve it up with whipped cream and fresh berries and you have a restaurant worthy dessert!
---
Scale
Ingredients
6 oz good quality semi-sweet chocolate, chopped
2 tablespoons butter
1/2 cup heavy whipping cream
1 tablespoon powdered sugar
Pinch of salt
2 egg whites*
2 tablespoons sugar
Whipped cream, for topping
Fresh berries, for topping
---
Instructions
Fill a saucepan with about an inch of water. Bring the water to a simmer. Place a heatproof bowl on top of the pan, making sure the bottom doesn't touch the water.
Place the chocolate and the butter in the bowl on top of the pan. Cook, stirring occasionally, until melted and smooth. Remove from the heat.
Meanwhile, place the egg whites in a large bowl and beat with an electric hand mixer until soft peaks form. Gradually beat in the sugar.
In another bowl, combine the cream, powdered sugar and salt. Beat with an electric hand mixer until stiff peaks form.
Fold the melted chocolate to the whipped egg whites. Fold the whipped cream into the mixture.
Refrigerate until it is set up, about 30 minutes. Serve with freshly whipped cream and berries.
Recipe Notes:
*If you are worried about raw egg whites, you can use pasteurized egg whites. You can usually find these in the grocery store in a carton by the eggs.
This recipe says that it makes 4 servings, but it is quite rich and can be made to even smaller portions. I portioned it out to 5 servings (so we could each have one). This was the perfect serving for the adults, and maybe even a little large for the kids.
Nutrition information provided as an estimate only. Various brands and products can change the counts. Any nutritional information should only be used as a general guideline.
Calorie information does not include whipped cream topping or berries.
Nutrition
Serving Size: 1/4 of recipe
Calories: 418
Sugar: 33 g
Sodium: 167 mg
Fat: 29 g
Saturated Fat: 18 g
Unsaturated Fat: 6 g
Trans Fat: 0 g
Carbohydrates: 39 g
Fiber: 3 g
Protein: 5 g
Cholesterol: 56 mg
Keywords: Chocolate Mousse