Almost no-bake, this White Chocolate Macadamia Pie is super easy and perfect for white chocolate lovers.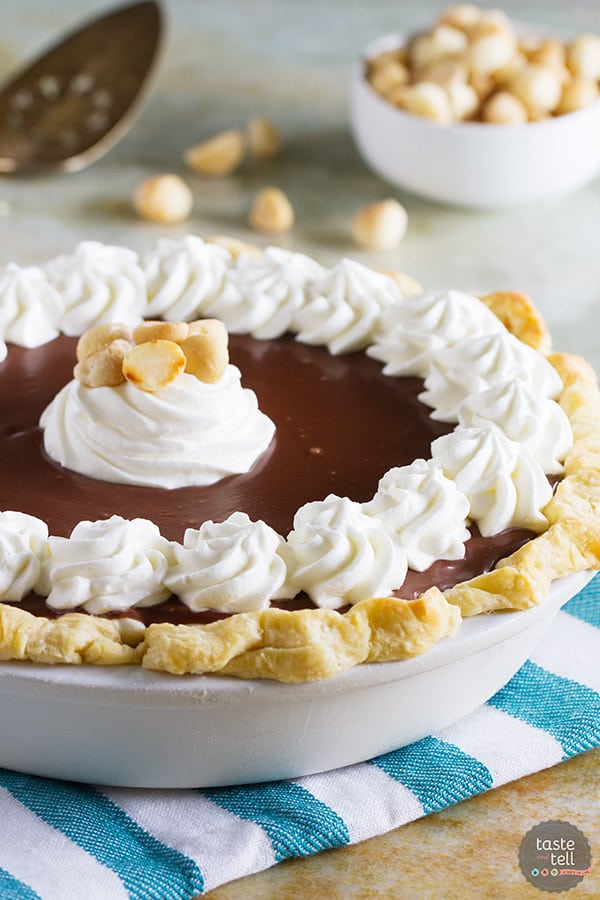 Yum


You guys, I almost missed this month's pie recipe for The Year of Pie. It's only April, and I almost failed you. I had this pie made and ready to photograph a week ago, but the day got away from me and I didn't give it enough time to thaw (more on that below), so I couldn't cut into it. So I had to photograph it the next day, missing the day I was going to post it. And then I got online on Thursday night to post it, and our power went out. By the time it came back on around 11pm, the internet still wasn't working, so no pie on Friday for you. Since it's the last day of the month, and I can't fail my only goal only 4 months into the year, I had to get this up to share.






But really, it's kind of perfect timing, because if you are like me, you still don't know what you are going to get your mom for Mother's Day. And this cookbook – The Lion House Cookbook – just happens to be the perfect cookbook for mom. I have a deep love for the Lion House cookbooks. They are just my kind of recipes. Family friendly, normal ingredients, nothing to out there or crazy. There are quite a few Lion House cookbooks already, and I was happy to add this one to my collection.
Here are the details:
Number of Photos: Many. This book has a lot of recipes – more than 500 of them. There is definitely not a photo for every recipe, or even every other recipe, but there are a good amount of them through the book.
Difficultly Level of Recipes: Easy to Medium. Most of the recipes are pretty simple – aimed for the home cook. There are some baking recipes that might be considered medium level, though, but overall, I think everyone could cook from this book.
Availability of Ingredients: Easy. These are all easy, every day ingredients. I do want to mention, though, that since these are the types of recipes that you'd find in your mom's old cookbook, there are quite a few recipes with canned ingredients, cream of something soups, and cake mixes. But a shortcut never hurts, right?
Other recipes I want to make:
Tangy Party Dip
Brunswick Stew
Buttermilk Scones (with Raspberry Honey Butter!)
Beef and Seven Vegetables
Grilled Salmon with Pineapple Raspberry Salsa
Lion House Chicken
Santa Fe Chicken
Peanut Butter Pie
Lemon Truffle Pie
No Bake Caramel Cookies
Buy The Lion House Cookbook on Amazon.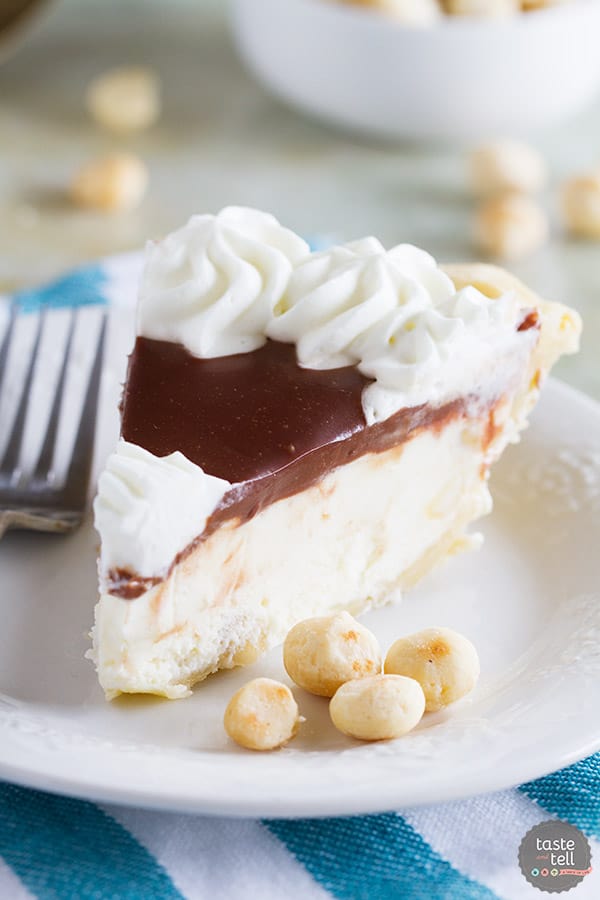 I knew I needed a pie for this month, and this cookbook actually had a few pies that I wanted to try. I was *this* close to making the Lemon Truffle Pie, but I have gone a little crazy on the lemon lately, including a Lemon Cream Pie. So I decided to break away from the lemon for this month, and made this White Chocolate Macadamia Pie.
I love love the white chocolate macadamia nut combination, so this choice was a no-brainer. And I love that it is practically no-bake. You do have to bake the crust, and the chocolate for the ganache needs to be melted, but the filling is no-bake and so easy.
For this pie, you make the filling and then freeze it. Then you top the frozen pie with your warm ganache. Just a word of advice – you'll want to make this far enough in advance to let the pie thaw so you'll actually be able to cut into it and eat it. I had a crazy day the day I made this, and didn't have an hour to wait (the sun was going down!!) So when I went to cut into the pie… Well, it didn't work. So I stuck the pie in the fridge and it was just perfect the next morning. I was afraid the ganache wouldn't fare well overnight, but it was actually great! I would wait until right before you serve the pie to add the whipped cream, though.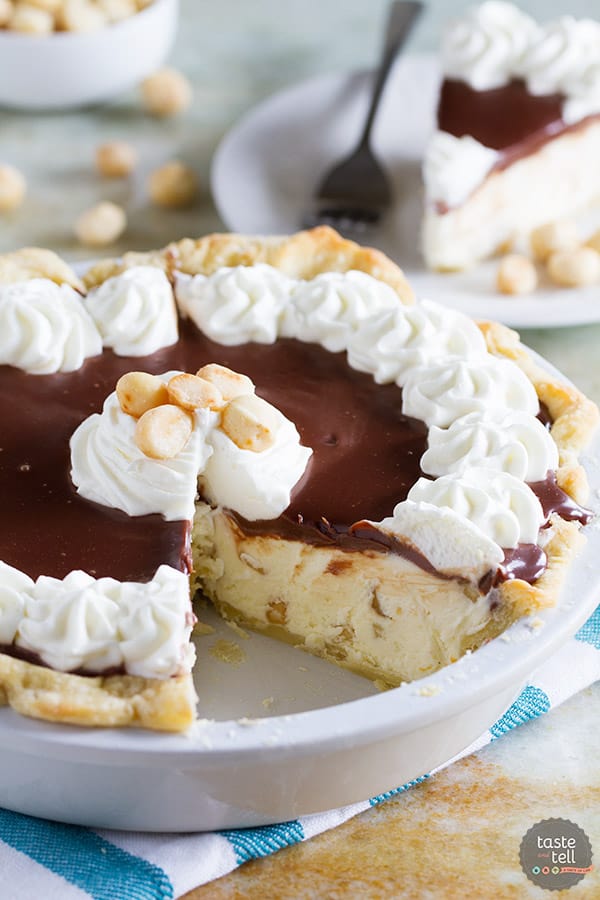 If you are a white chocolate macadamia nut lover, this pie is for you. There is a little bit of orange zest in the filling, and it brings a great, light orange flavor, but the real stars are the macadamia nuts, the white chocolate, and that layer of chocolate ganache. Add this pie to the winners list!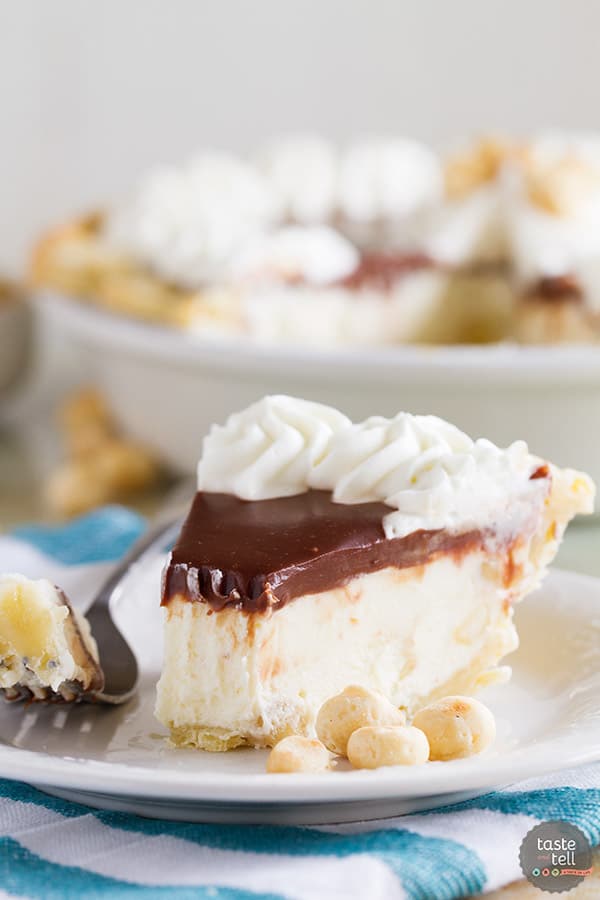 Like what you see here? Make sure you are following Taste and Tell for more recipes and ideas!
Facebook | Pinterest | Instagram | Twitter | Google+ | Weekly Newsletter | Feedly | Bloglovin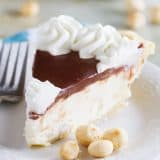 White Chocolate Macadamia Pie
---
Author:
Prep Time: 20 mins
Cook Time: 5 mins
Total Time: 25 mins
Yield: 1 pie, about 8 servings 1x
Description
Almost no-bake, this White Chocolate Macadamia Pie is super easy and perfect for white chocolate lovers.
---
Scale
Ingredients
Filling:
1 (8 oz) package cream cheese, softened
1/4 cup sugar
1/3 cup heavy cream
3/4 cup heavy cream, whipped soft
6 1/2 oz white baking chocolate, melted
1/2 teaspoon orange zest
2/3 cup roasted, chopped macadamia nuts
Ganache:
3/4 cup semi-sweet chocolate chips
1/2 cup heavy cream
Topping:
3 cups sweetened whipped cream
1–2 tablespoons toasted macadamia nuts
---
Instructions
Beat the cream cheese with the sugar until smooth. Add in the 1/3 cup cream and beat to combine. Add the white chocolate, orange zest and macadamia nuts and stir in with a spatula just until combined. Gently fold in the whipped cream.
Spread the mixture into the baked pie crust. Freeze until solid, about 4 hours.
About an hour before serving, make the ganache. Place the chocolate chips in a bowl and set aside. Heat the cream over medium heat until simmering. Pour the simmering cream over the chocolate chips and stir until completely melted. Let the ganache cool slightly. Spread the ganache over the top of the frozen pie, smoothing the chocolate to the edges with an offset spatula.
Pipe the sweetened whipped cream onto the pie and then sprinkle with the macadamia nuts. Refrigerate the pie until ready to serve.
Recipe Notes:
Total time does not include chilling/freezing time.
You'll want to make sure you have about an hour for the ganache to set up and for the pie to thaw out before serving, so make sure you add the ganache no less than an hour before serving.
Very slightly adapted from The Lion House Cookbook
Useful Products for this Recipe:
More White Chocolate Love: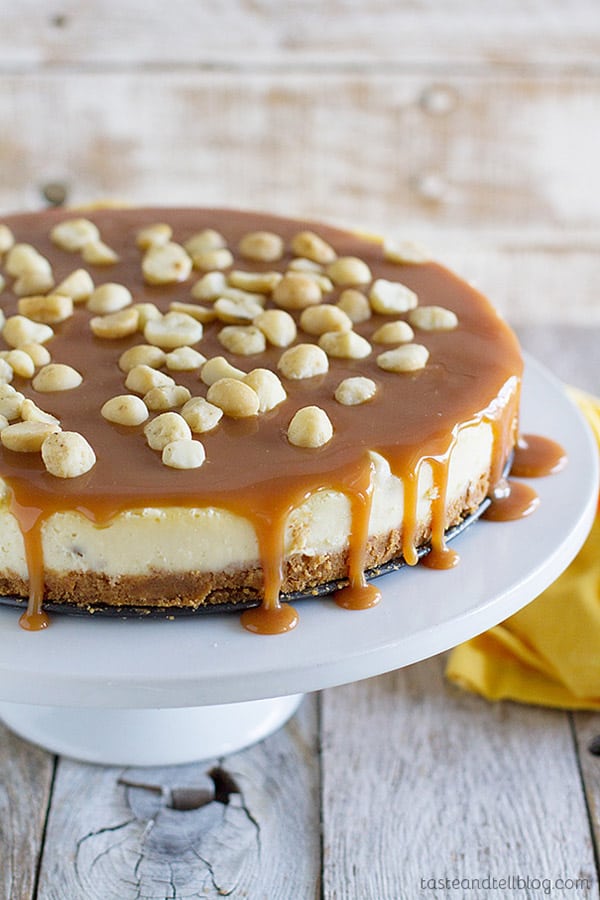 White Chocolate Cheesecake with Macadamia Nuts and Caramel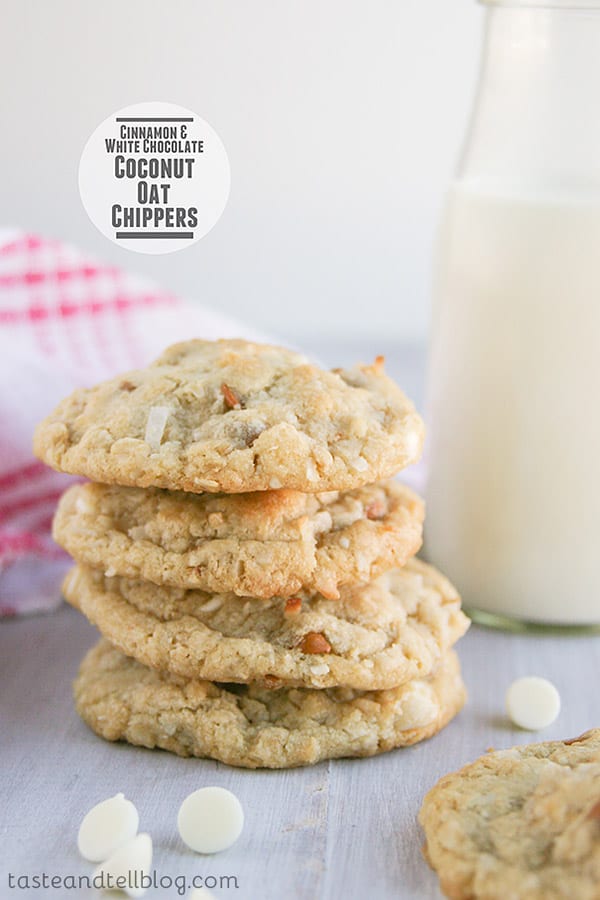 Cinnamon and White Chocolate Coconut-Oat Chippers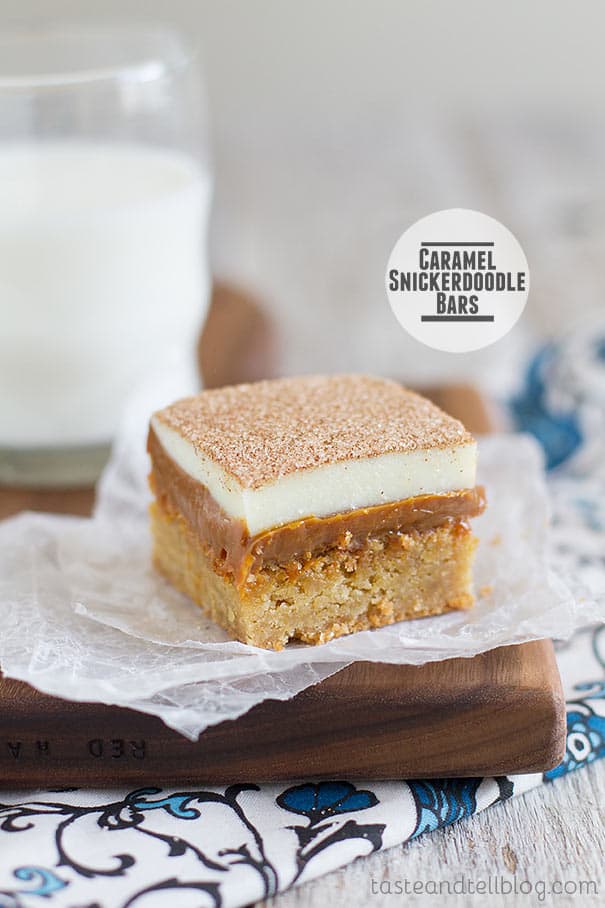 Around the Web:
White Chocolate Cinnamon Sugar Pretzels from Your Cup of Cake
White Chocolate Churro Crunch from Picky Palate
White Chocolate Decadence Brownies from Your Homebased Mom
Don't miss a thing! Follow me on Pinterest to see what I'm pinning!
Visit Taste and Tell's profile on Pinterest.