I went a little crazy today. I don't normally cook this much, but we were home all day and I thought I would take advantage of the time and make a nice Sunday dinner. I have had this chicken recipe on hand for a while now, and I figured that since I have been eating Lean Cuisines for the last week because Josh has been working the swing shift, I deserved a nice, fattening, comfort dinner. I have also decided that Sundays will be the day we are allowed dessert, since we are trying to cut back on sweets. So, on the menu for today: Chicken Breasts in Caper Cream Sauce, Homemade French Bread, Steamed Broccoli, and Doubletree Chocolate Chip Cookies.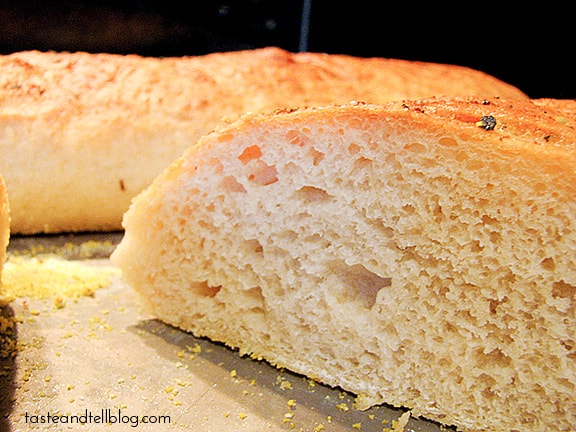 First was the French bread. I am not a bread baker, but have always wanted to learn. I have failed several times, but I know that practice makes perfect. So I got out a cookbook I have not used in awhile – The Great Big Baking Book – and found a recipe for French bread. I was actually quite surprised to see that the only ingredients were yeast, water, salt and flour. This alone probably shows my bread ignorance!! I think that it turned out quite nicely. Sundays are probably the only day of the week that I have enough time to make bread, but I should start doing it more often!
 

French Bread
A simple recipe for French Bread.
Ingredients
1 package active dry yeast
2 c lukewarm water
1 T water
6-8 c flour
cornmeal, for sprinkling
Instructions
Combine the yeast and the water and let sit for 15 minutes. Add the salt.
Add the flour, 1 cup at a time, beating with a wooden spoon. Add in just enough flour to make a smooth dough.
Flour a work surface and transfer the dough. Knead until smooth and elastic.
Shape the dough into a ball and place in a greased bowl. Cover with plastic wrap. Leave to rise in a warm area until doubled in size, 2-4 hours.
Lightly flour a work surface and transfer the dough. Separate the dough into 2 equal portions. Shape into 2 long loaves. Sprinkle a baking sheet with cornmeal and transfer the loaves to the baking sheet. Let rise for 5 minutes.
Using a sharp knife, score the tops of the loaves. Brush the loaves with water and place in a cold oven. Bring an oven safe pan of water to a boil and place at the bottom of the oven. Turn the oven on to 400F.
Bake until golden and crust, about 40 minutes. Cool on a rack.
---------------------------
recipe from The Great Big Baking Book
**Changes I made to the recipe**
Not much – the only thing I did was to brush on a butter, garlic, herb mixture when the bread had about 10 minutes left to cook. I found that I only needed about 5 cups of flour to make the dough consistency, and I only needed to cook it about 30 minutes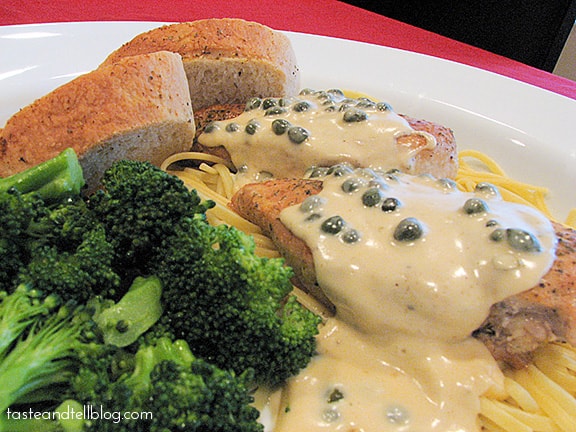 Next up was the chicken. I loved this recipe, and so did Josh. I'm sure you can make this recipe a little healthier by using half-and-half instead of cream, and olive oil instead of butter, but today was one of those full-fat days!!
 

Chicken in Caper Cream Sauce
Boneless chicken breasts are cooked in a skillet and served with a creamy caper sauce.
Ingredients
4 boneless, skinless chicken breast halves
1 t lemon pepper
1 t salt
1 t dried dill weed
1 t garlic powder
3 T butter
½ c whipping cream
2 T capers, drained and rinsed
Instructions
Season the chicken breasts with lemon pepper, salt, dill weed adn garlic powder.
Melt the butter in a medium skillet over medium heat. Place the chicken breasts in the pan and increase the temperature to medium-high. Cook the chicken until browned, about 5 minutes. Reduce the heat to medium and cook until the chicken is cooked through, another 5 to 7 minutes. Remove the chicken to a plate and cover with foil to keep warm.
Increase the heat to high. Whisk in the whipping cream, whisking and cooking until a thick sauce is formed. Stir in the capers. Serve the sauce over the chicken.
-------------------
from allrecipes.com
**Changes I made to the recipe**
One of the things I love the most about allrecipes.com is that you are able to read other's reviews. So many of them said to double the sauce – I wish I would have tripled it. Besides the fact that my husband likes everything really "saucey", there really was not enough for 4 chicken breasts. I served this over linguine noodles, and maybe that was why I felt like I needed more sauce.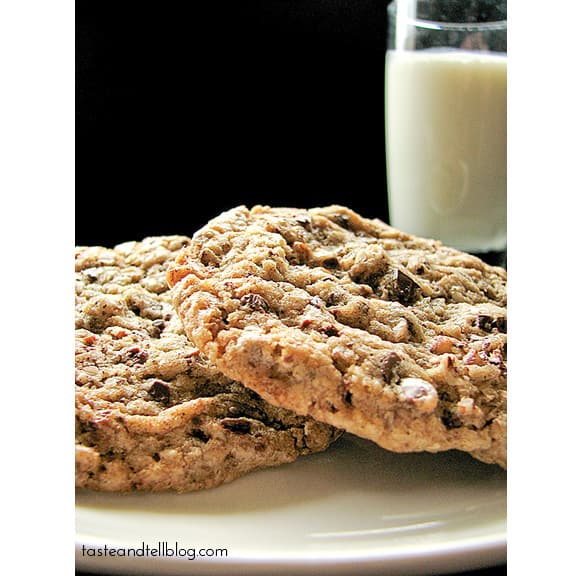 And lastly were the cookies. Josh and I went to Seattle a few months back and stayed at a Doubletree Hotel. Ever since then, we have been talking about their cookies (which we probably each ate a dozen of while we were there!!) I have been searching for a knock-off recipe. Most of them are similar, will only small differences. I tried one off of allreicpes awhile back, and although they were good, they were still off from the Doubletree cookies. So I combined a few and came up with today's try. The taste was great. I think these tasted very similar, but they ended up very flat, and the Doubletree cookies are not flat at all. I think that I need to add some baking powder next time, and maybe that will help. Regardless of the flatness of these cookies, they tasted great!!
 

Doubletree Knock Off Cookies
A chocolate chip cookie with oats, walnuts and chocolate.
Serves:
2-3 dozen cookies
Ingredients
½ c rolled oats
2¼ c flour
1½ t baking soda
1 t salt
¼ t cinnamon
1 c butter, softened
¾ c brown sugar
¾ c granulated sugar
1½ t vanilla
½ t lemon juice
2 eggs
1 c semi-sweet chocolate chips
1 c milk chocolate chips
1½ c walnuts
Instructions
Preheat oven to 350F
Grind the oats in a food processor or blender until fine.
Combine the oats, flour, baking soda, salt, and cinnamon.
In a separate bowl, cream butter, sugars, and vanilla. Add eggs.
Stir the dry ingredients into the creamed butter mixture and mix until well incorporated.
Finely chop the walnuts and chocolate chips and add to the mixture.
Spoon large heaps onto an un-greased cookie sheet and cook until light brown – 12 to 14 minutes