A copycat of the cookie made famous by a hotel chain, these Doubletree Cookies are filled with chocolate chips and walnuts. Serve them warm for the perfect treat.
If you love chocolate chip cookies as much as we do, you also need to make these Chocolate Chip Pudding Cookies, this Toll House Cookie Recipe, or this Giant Chocolate Chip Cookie Recipe.
If you've ever stayed at one of the Doubletree hotels, you'll remember the cookies. When my husband and I were first married, we stayed at a Doubletree, and I'll never forget that warm chocolate chip cookie that you would get upon check in.
The good news is that you don't need a hotel stay to have delicious cookies at home. This recipe is a copycat of that doubletree chocolate chip cookie, and I dare even say it's better when they are made at home!
These cookies are always a hit. Chewy in the center, crispy on the edges, full of chocolate flavor. And don't underestimate the power of ground up oats and chopped walnuts. Several years ago, Hilton came out and shared the recipe, but did not ground the oats. but I think the ground oats are what sets this recipe apart and makes it better.
I love chocolate chip cookies, and these are some of the best!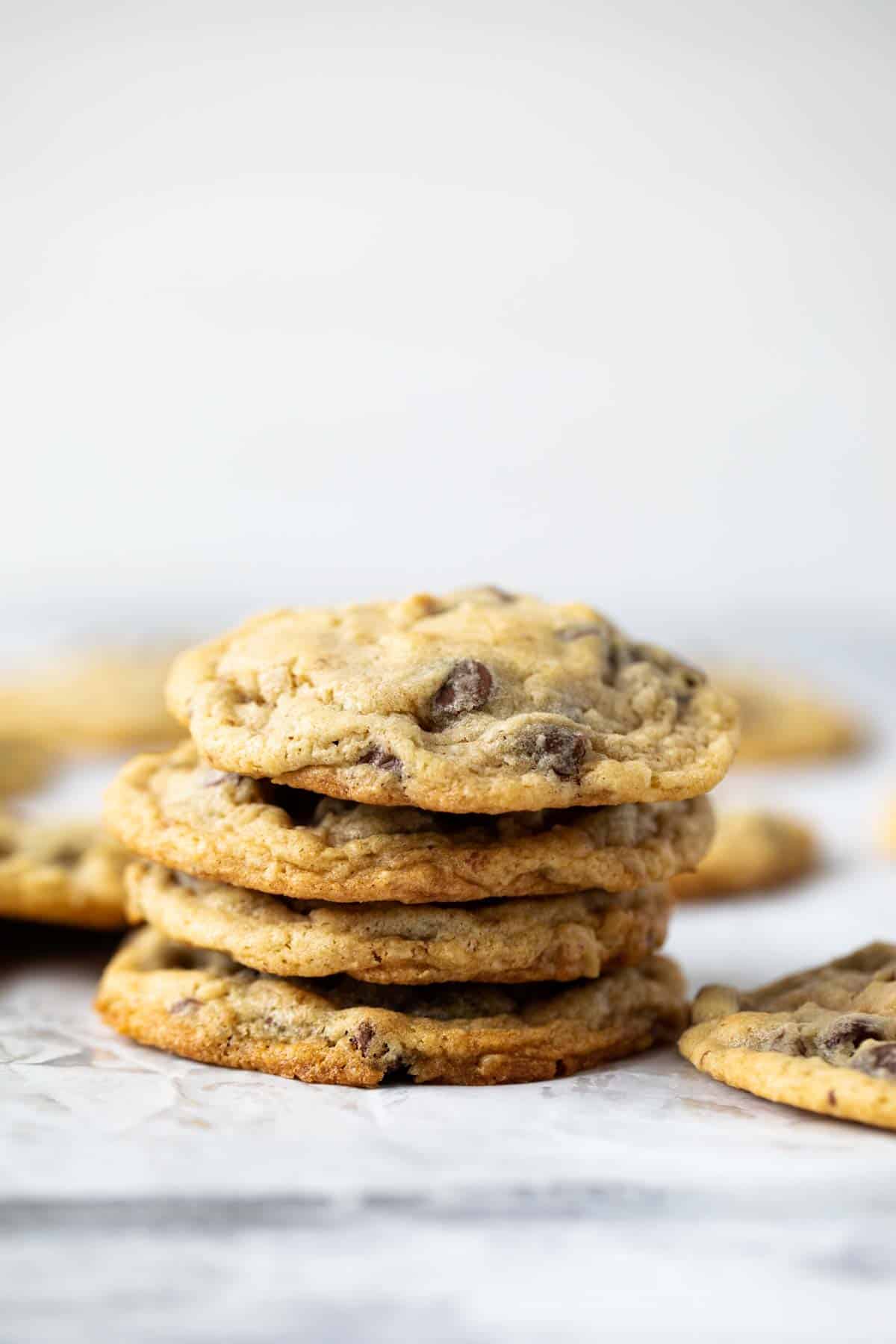 Ingredients
These cookies take a basic chocolate chip cookie recipe and give it some extras that make these cookies extra-special:
old-fashioned oats – this is secret ingredient #1. You'll ground them up in a blender or food processor. So your cookies won't have flakes of oats like an oatmeal cookie would have, but they have extra flavor and texture from the ground oats.
all-purpose flour – I always use unbleached all-purpose flour.
baking soda – the baking soda helps you to have a chewy cookie that isn't flat.
salt – a baking necessity!
cinnamon – I love the little hint of cinnamon you get in these cookies. It definitely isn't overpowering – just barely there.
unsalted butter – if you use salted butter, just cut back on the salt a little bit. Unless you're like me and you don't mind a little extra salt.
brown sugar – I have only made these with light brown sugar, but I'm guessing dark brown sugar would work.
granulated sugar – just regular white flour
vanilla extract – I always use the real stuff!
lemon juice – this is secret ingredient #2. This doesn't make the cookies taste like lemon, but it helps the baking soda to react so that you have the best soft and chewy cookie.
eggs – you'll want to use large eggs for these cookies.
semi-sweet chocolate chips – you'll do a mix of semi-sweet and milk chocolate chips, or feel free to use just one or the other if that's what you want to do. But I love the mix of both!
milk chocolate chips – see above!
walnuts – I am not normally a walnut person, but I love, love, love the walnuts in these Doubletree Cookies. I love that they help to cut back on the sweetness a bit, and that they add a bit of salty crunch. Even people that don't love nuts in their cookies usually love the nuts in these.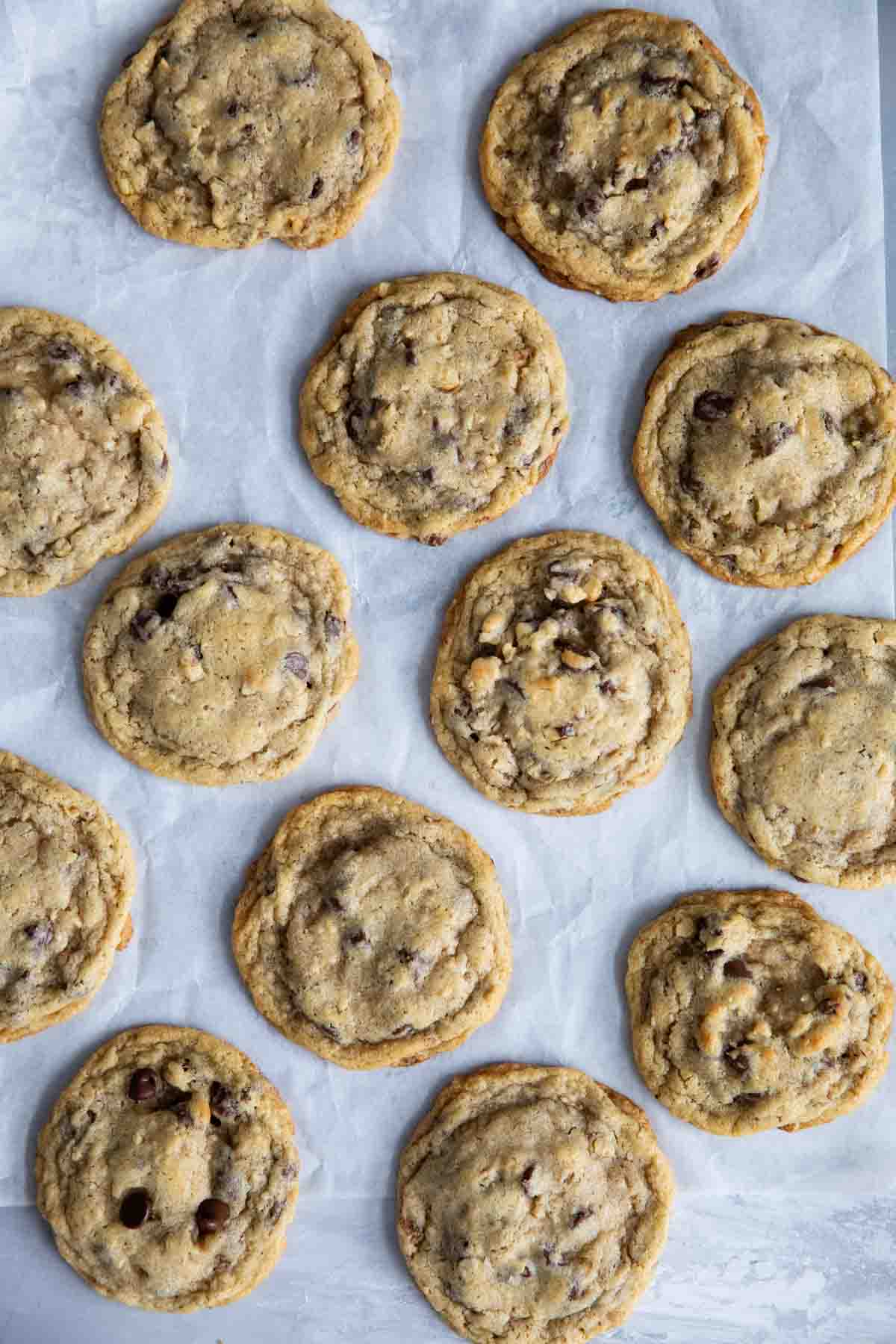 How to Make Doubletree Cookies
Start by putting the oats in a food processor or blender and pulse until they are broken down into fine crumbs. Add the flour, baking soda, salt and cinnamon and pulse until everything is combined.
In the bowl of a stand mixer, combine the butter, brown sugar and granulated sugar and mix on medium speed to cream them together. Add in the vanilla and lemon juice.
Add the eggs, scraping down the bowl as needed.
Add the flour mixture to the butter and sugar and mix it all together. Don't overmix.
Add in both chocolate chips and the walnuts the mix to combine.
Divide the dough into 24 portions and roll into balls.
Place the dough on baking sheets and bake until lightly browned.
Let them sit on the baking sheet for about 5 minutes before transferring them to a wire rack to cool. Or transfer them to your mouth. Shhh – I won't tell.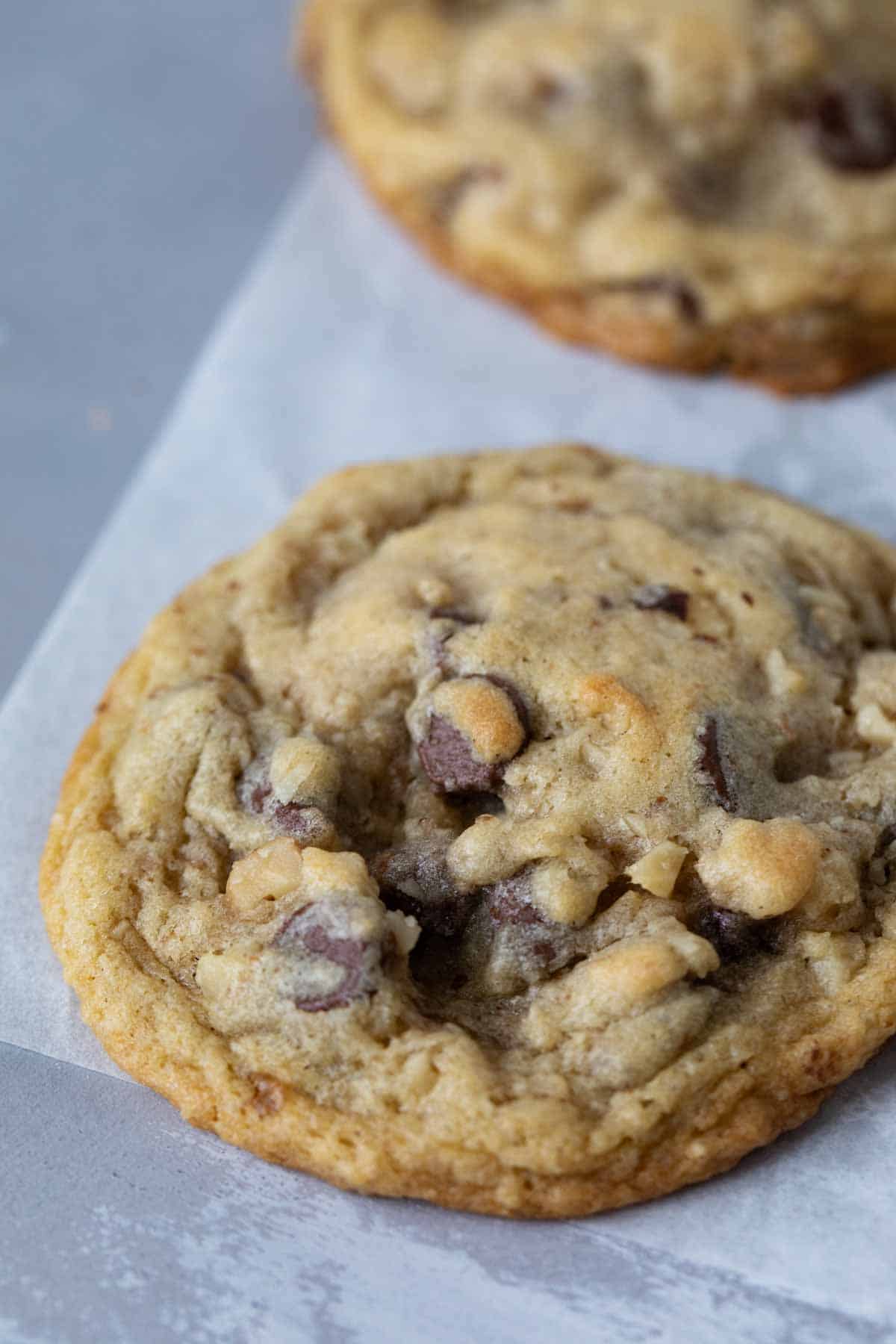 Tips and Tricks
I think that these cookies bake best when you bake one sheet of cookies at a time. If you are baking two sheets at a time, make sure to rotate them halfway through the bake time.
If your cookies are too crispy, you are baking them too long. Try cutting back by a minute or two.
If the cookies are spreading out too much, refrigerate the dough for about 30 minutes before baking. Your ingredients are most likely too warm.
Store any leftover cookies at room temperature in an airtight container.
Freezing Instructions
These cookies freeze very well!
To freeze, take portion dough into balls and place onto a baking sheet and freeze until solid, then transfer the cookie dough to a freezer safe container. You can bake the frozen cookies, just adding on a few minutes of extra bake time, or you can thaw the dough and then bake.
You can even freeze the cookies once they have been fully baked. Let the fully baked cookies cool completely, then wrap and freeze. Let them thaw at room temperature, or you can microwave them for a few seconds to thaw them out. My favorite thing to do is thaw and reheat in the air fryer.
Check out my post on How to Freeze Cookie Dough for all the tips and tricks.
More Chocolate Chip Cookie Recipes
Peanut Butter Oatmeal Cookies with Chocolate Chips
Orange Chocolate Chip Cookies
Chocolate Chip Cookie Bars
Banana Chocolate Chip Cookies
Chocolate Sprinkle Cookies
TOOLS USED:
I love my KitchenAid and feel like it makes it more fun to be in the kitchen!
I always use either parchment paper or a silpat liner when making cookies.
A cookie scoop makes this much easier! I like to use a large size for these cookies.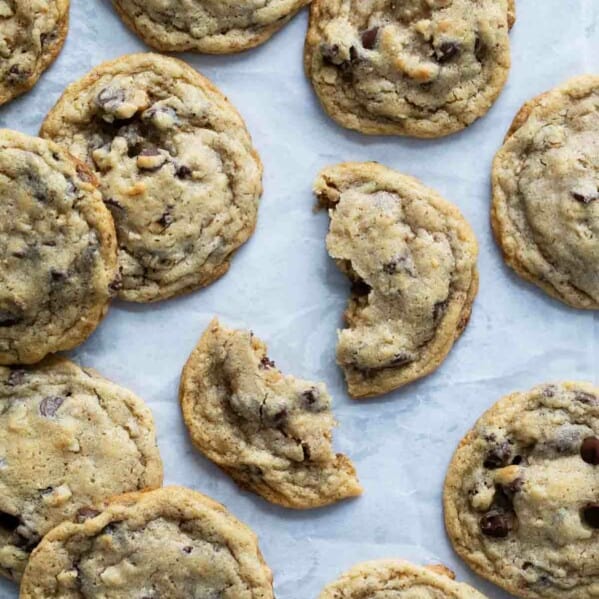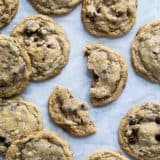 Doubletree Cookies
---
Author:
Prep Time: 15 minutes
Cook Time: 14 minutes
Total Time: 1 hour
Yield: 24 cookies 1x
Category: Dessert
Method: Bake
Cuisine: American
Description
A copycat of the cookie made famous by a hotel chain, these Doubletree Cookies are filled with chocolate chips and walnuts. Serve them warm for the perfect treat.
---
Scale
Ingredients
1/2 cup old-fashioned oats
2 1/2 cups all-purpose flour
1 1/2 teaspoons baking soda
1 teaspoon salt
1/4 teaspoon cinnamon
1 cup unsalted butter, softened
3/4 cup brown sugar
3/4 cup granulated sugar
1 1/2 teaspoons vanilla extract
1/2 teaspoon lemon juice
2 large eggs
1 cup semi-sweet chocolate chips
1 cup milk chocolate chips
1 cup walnuts, finely chopped
---
Instructions
Preheat the oven to 350ºF. Line a baking sheet with parchment paper or a silpat liner.
Place the oats in a blender or a food processor and pulse until they form fine crumbs.  Add the flour, baking soda, salt and cinnamon and pulse a few times to combine.
In a the bowl of a stand mixer or in a large bowl, cream together the butter, brown sugar, and granulated sugar.
Once combined, add the vanilla a lemon juice and mix to combine. Add the eggs, scraping the bowl as needed.
Add the flour mixture to the bowl and mix just until combined. Add in both chocolate chips and the walnuts and mix just to combine.
Divide the mixture into 24 equal portions and roll into balls. Place on the baking sheet at least 2 inches apart. (I usually do 8 cookies per cookie sheet.)
Bake in the preheated oven until light brown, 12-14 minutes. They may still look a tiny bit wet in the center – you don't want to over-bake the cookies because they will continue to bake as they sit on the baking sheet.
Let the cookies sit on the baking sheet for 5 minutes before transferring to a wire rack or a sheet of wax paper to cool.
Recipe Notes:
I think that cookies bake the best if you only bake one baking sheet at a time. For this recipe, I'll have 2 baking sheets ready to go so that I can alternate batches of cookies in the oven.
Nutrition information provided as an estimate only. Various brands and products can change the counts. Any nutritional information should only be used as a general guideline.
Nutrition
Serving Size: 1 cookie
Calories: 311
Sugar: 24 g
Sodium: 191 mg
Fat: 18 g
Saturated Fat: 9 g
Unsaturated Fat: 6 g
Trans Fat: 0 g
Carbohydrates: 37 g
Fiber: 2 g
Protein: 4 g
Cholesterol: 36 mg
Keywords: doubletree cookies, doubletree cookie recipe, chocolate chip cookies, cookie recipe