Faster than calling for a cookie delivery, this Giant Chocolate Chip Cookie recipe gives you 5 warm, gooey, giant chocolate chip cookies in no time at all.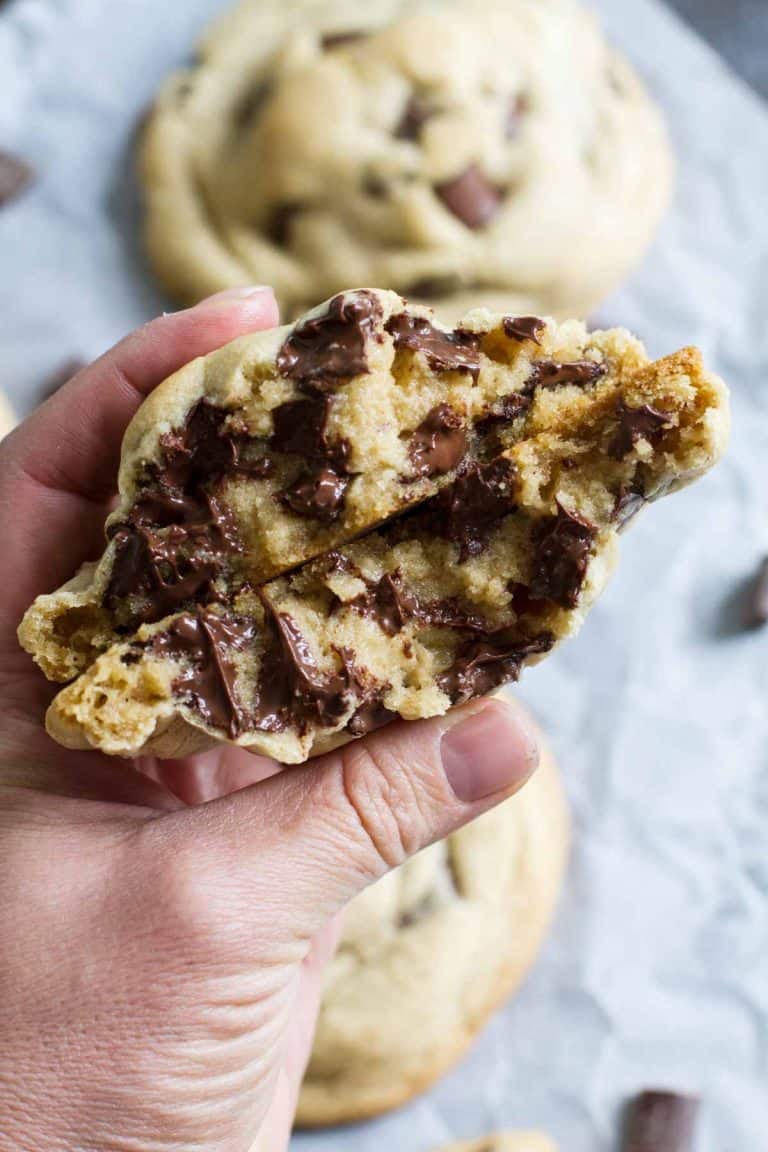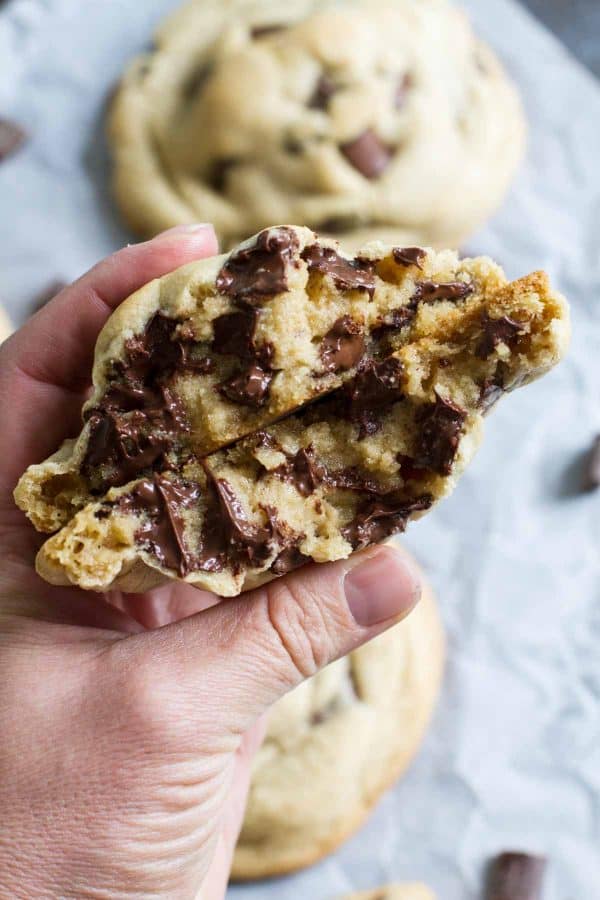 This is part 2 – where I make a recipe inspired by a recent day of eating in my home state. You can watch the first video here.
I don't know if they are the rage anywhere else, but cookie bakeries are popping up left and right here in Utah. Do you remember when cupcakes took over the world and cupcake bakeries started showing up everywhere? Well, that's what is happening with cookies right now.
And I'm not complaining. Because I love a good cookie. And many of these cookie bakeries deliver, as well. Yep, warm chocolate chip cookies right to your door. Definitely nothing to complain about.
Well, I posted before all about the fun day I had on my birthday, eating my way through the day. Instead of cake that day, I opted for cookie delivery. And I loved those cookies so much that I wanted to make my own version. Ones I could make myself at home. In less time than it would take to have those cookies delivered. (And a heck of a lot cheaper, I might add…)
This Giant Chocolate Chip Cookie Recipe is the recipe you want to have on hand for any of those chocolate chip cookie cravings. These babies are big, soft and gooey. Eat them warm and you'll be in heaven. My favorite part about this recipe is that you don't have to wait for butter to soften or for cookie dough to chill. They are so easy and so irresistible. This chocolate chip cookie recipe might actually be a dangerous one to have on hand.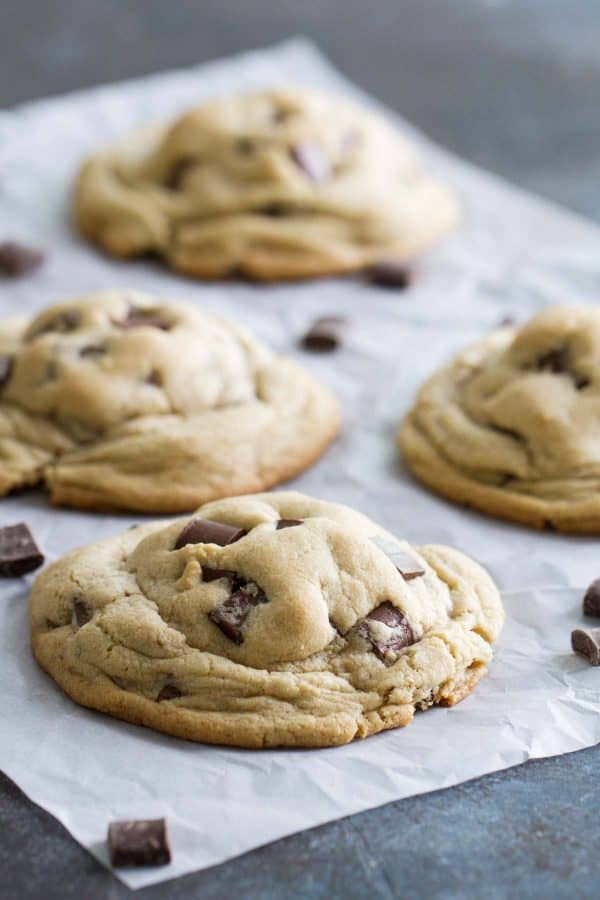 How to Make this Giant Chocolate Chip Cookie Recipe
These cookies are really so easy. If you have ever made chocolate chip cookies, you'll understand the basic steps, as these are pretty straight forward.
Start by creaming together your butter and sugars. This means that you'll beat them together until they are light and fluffy.
Add the vanilla and egg. From this point forward, you just want to beat the dough until the ingredients are combined.
Add in your dry ingredients. Flour, cornstarch to keep them nice and tender, baking powder and salt. Mix this, adding more flour until the dough comes away from the sides of the mixer.
Stir in your chocolate chunks and make your cookie dough balls. You will get 5 cookies, and I just fit them all on one baking sheet.
You only want to bake these until they are done, about 15 minutes. Then let them sit on the baking sheet for another 15 minutes out of the oven. You can grab one before, but it will most likely just fall apart on you.
Serve them warm or at room temperature!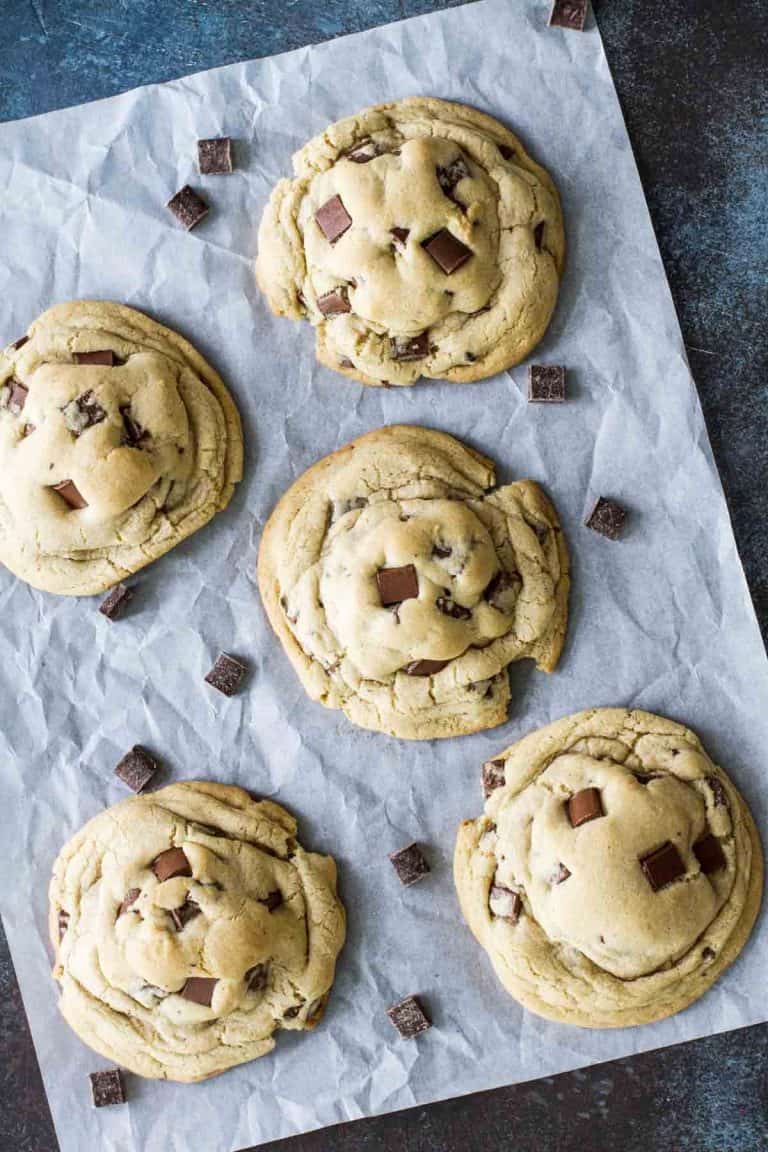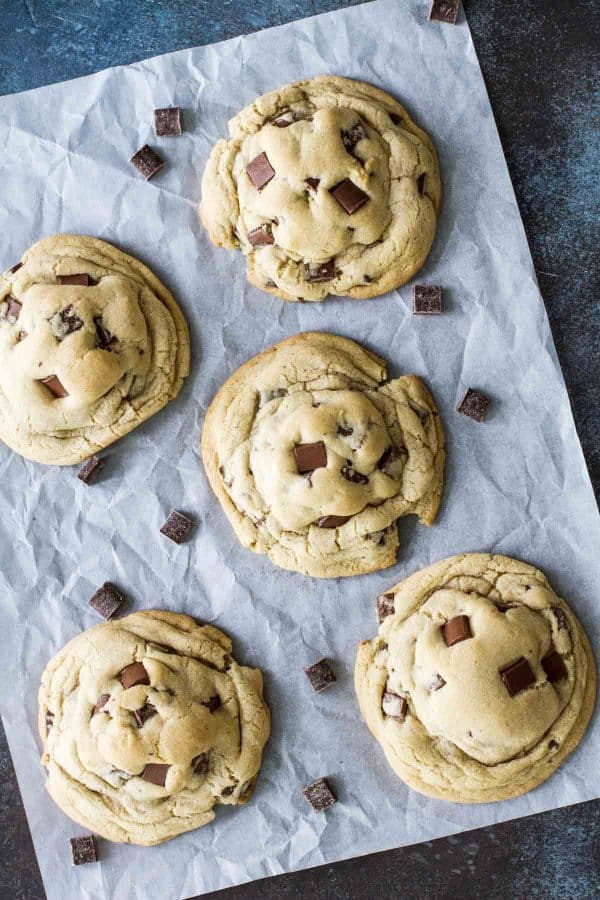 Tips for making giant cookies
The first tip is the butter. I like to halfway melt the butter. You don't want it all the way melted, but you don't want it solid, either. Some of the butter will be liquified, but you will still have some solid pieces.
The second tip is the flour. Too little flour and your cookies will spread. Too much flour and they will stay in a tight ball. You want the dough to start pulling away from the sides of the mixer as it is mixed. Add extra flour as needed to get it to this consistency.
The third tip is to use chocolate chunks. Most of the cookie bakeries here just use chocolate chips, and you totally could, but when you have a cookie this size, I think the chocolate chunks give you the perfect little pockets of chocolate throughout the cookies.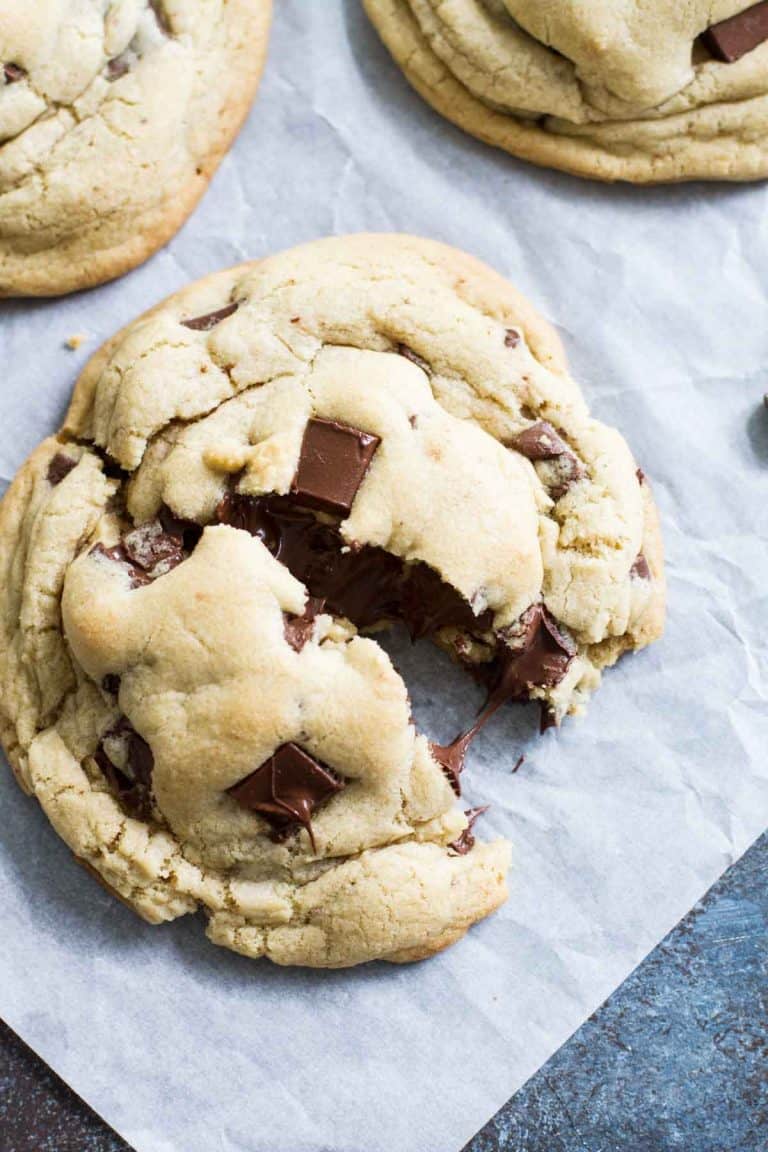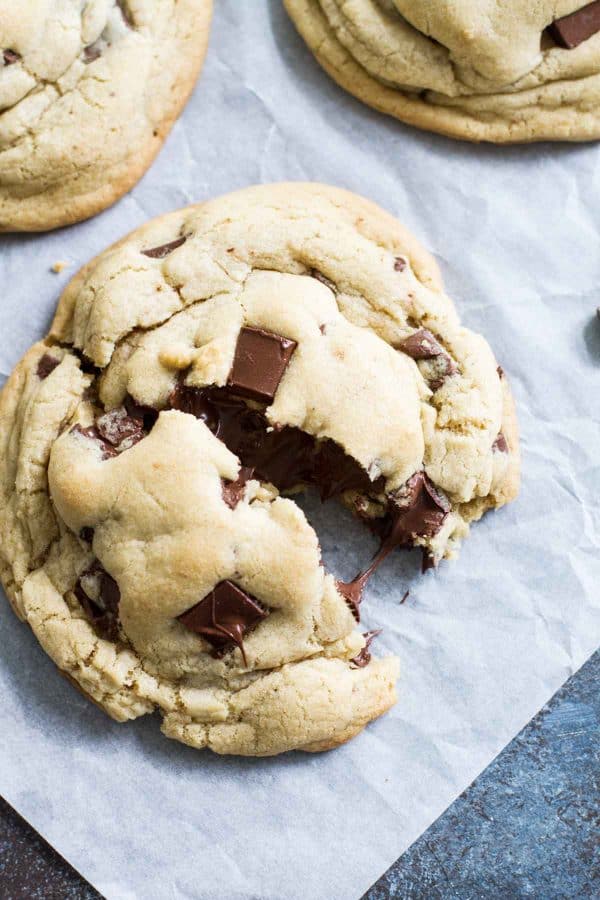 How to keep your cookies soft, and how to make your cookies chewy
I love super soft cookies. But I know some people like cookies that are a little more chewy with crispy edges. So I have the greatest chocolate chip cookie tip ever for you:
If you like soft cookies, use all-purpose flour in your cookies.
If you like chewy cookies with crispy edges, use bread flour instead of all-purpose. I was a doubter, but the kind of flour you use really does make a different cookie!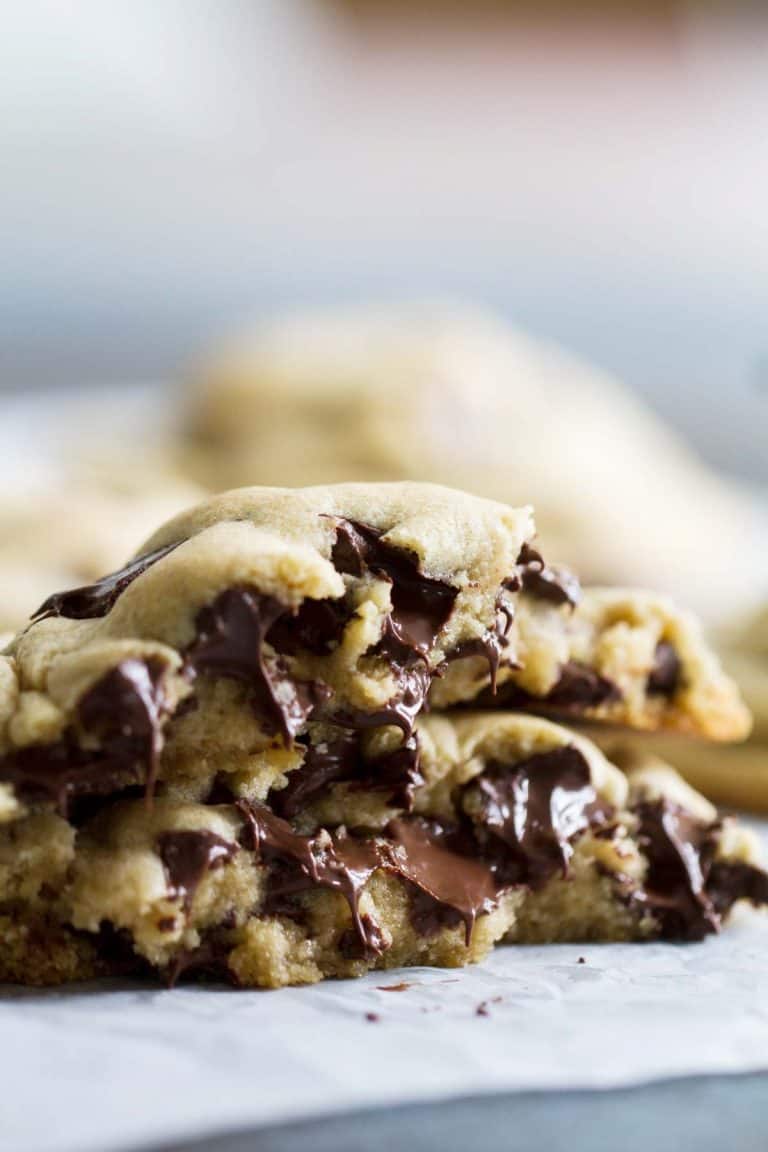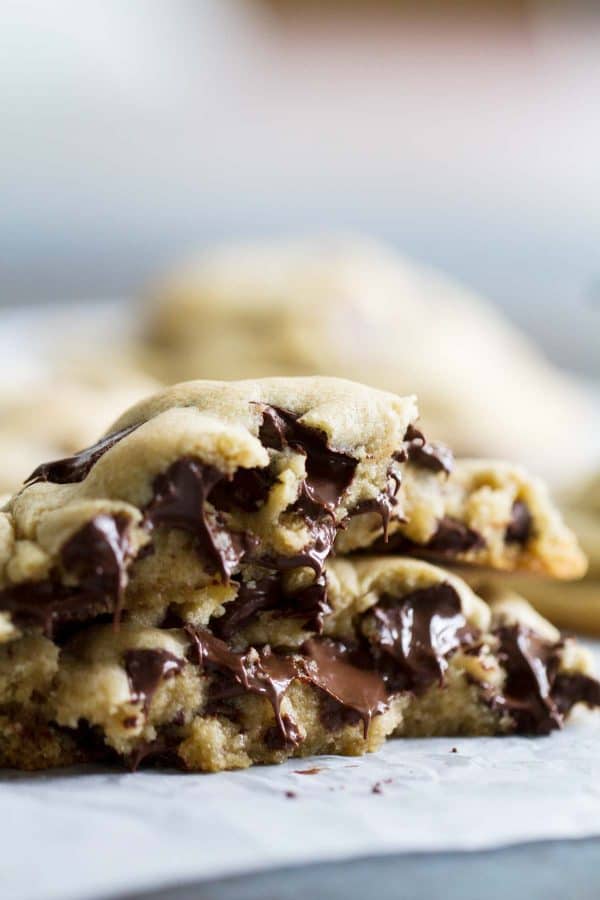 See how to make this Giant Chocolate Chip Cookie here
More delicious cookie recipes
Hot Cocoa Cookies
XL Red Velvet Cookie Recipe
Mrs. Sigg's Snickerdoodles
Malted Chocolate Chunk Cookies
Oatmeal Toffee Cookies
Tools Used to Make this Giant Chocolate Chip Cookie Recipe
I use my KitchenAid Mixer. You could do it by hand, but it's a lot easier with the mixer!
I like to bake my cookies on a silpat liner. I find that they tend to feel greasy when you use a greased cookie sheet.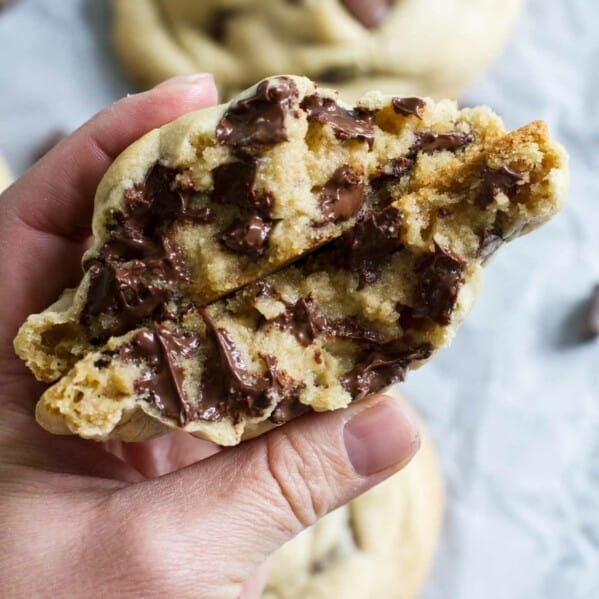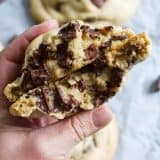 Giant Chocolate Chip Cookie Recipe
---
Author:
Prep Time: 15 mins
Cook Time: 15 mins
Total Time: 30 minutes
Yield: 5 cookies 1x
Category: Dessert
Method: Bake
Cuisine: American
Description
Faster than calling for a cookie delivery, this Giant Chocolate Chip Cookie recipe gives you 5 warm, gooey, giant chocolate chip cookies in no time at all.
---
Scale
Ingredients
1/2 cup unsalted butter
1/2 cup granulated sugar
1/2 cup light brown sugar
1 teaspoon vanilla
1 egg
1 1/2 cups flour*
2 teaspoons cornstarch
1/2 teaspoon baking powder
1/4 teaspoon salt
1 1/2 cups chocolate chunks
---
Instructions
Preheat the oven to 325ºF. Line a baking sheet with a silpat liner.
Cut the butter into 1 tablespoon sized pieces and place in a microwave safe bowl. Microwave for 45 seconds. You don't want the butter to be completely melted, but you want it almost melted. (Refer to the video if you need a visual of how the butter should look.)
Place the butter and both sugars in the bowl of a stand mixer. (You can also use a large bowl and a hand mixer, if desired.). Beat until very well combined. Beat in the vanilla extract. Add the egg and beat just until combined.
Add the flour, cornstarch, baking powder and salt. Slowly beat until all the ingredients are combined. *If the dough is still sticky, start adding more flour, about 2 tablespoons at a time, until the dough is no longer sticky and will easily form a ball.
Add in the chocolate chunks and mix to combine.
Divide the dough into 5 balls – each should be about 1/2 cup. Make the balls a little taller than they are around, and place on the baking sheet.
Bake in the preheated oven until the cookies are browned, about 15 minutes.
Let the cookies cool on the baking sheet for about 15 minutes then serve, if you are wanting the cookies warm and gooey.
Recipe Notes:
*If you prefer a chewier cookie with crispier edges, try bread flour instead of all-purpose flour. All-purpose flour will make the cookie softer and the bread flour makes the cookie chewier.
Nutrition information provided as an estimate only. Various brands and products can change the counts. Any nutritional information should only be used as a general guideline.
Nutrition
Serving Size: 1 cookie
Calories: 465
Sugar: 40 g
Sodium: 140 mg
Fat: 20 g
Saturated Fat: 12 g
Unsaturated Fat: 6 g
Trans Fat: 0 g
Carbohydrates: 67 g
Fiber: 1 g
Protein: 5 g
Cholesterol: 86 mg