Pan seared chicken breasts are topped with a creamy tomato parmesan sauce that is made in the same pan for an easy weeknight dinner.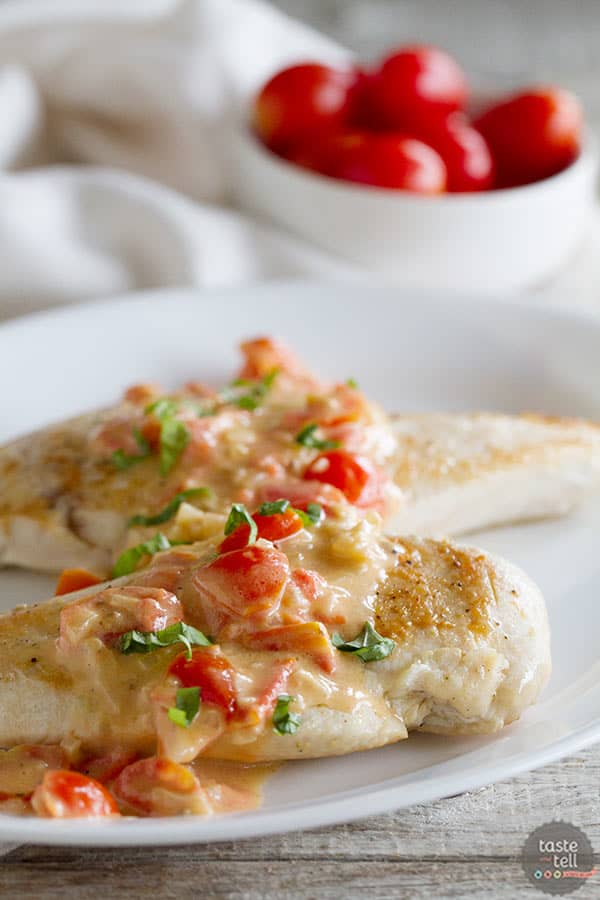 Do you ever think that you'll totally love doing something, only to find out that you really aren't that great at it? For me, one of those things is gardening. In my dream world, I'd have a huge vegetable garden, plus flower gardens and a yard that would be the envy of the neighborhood.
We are renting right now, and the house that we live in doesn't have a space for a garden, but I had decided that this year would be the year I'd plant some flowers that I could enjoy all summer long. Well, a day after I replanted a whole flower bed, there was a terrible hail storm that tore apart half of the plants that I had just planted, and they just haven't come back since then. And I also remember how much I actually hate weeding, and how it's a necessary evil when you have flowerbeds.
So now I've decided that I want beautiful flower beds, but I also want some hired help to do all the manual labor. That's not too much to ask for, right?? 😉
One thing I wish I would have planted, though, is tomatoes in planters. There is nothing better than a freshly picked tomato. When Abbi was little, we had a tomato plant with sweet 100s, and she would go back in the backyard and eat them like candy.
That sweet 100 plant would come in handy for this recipe, but luckily it's pretty easy to pick up a container of grape tomatoes at the market. (You can totally use cherry tomatoes, as well!!) I'm always looking for easy chicken dinners, and this recipe definitely fits that bill. It's an easy and delicious way to cook up a chicken breast (not to mention fast!!) and the tomato parmesan sauce is out of this world. You'll be wanting to lick it out of the pan!!
This one needs to go on your menu asap – it's a great summer meal!



Like what you see here? Make sure you are following Taste and Tell for more recipes and ideas!
Facebook | Pinterest | Instagram | Twitter | Google+ | Weekly Newsletter | Feedly | Bloglovin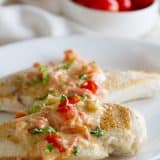 Chicken with Tomato Parmesan Sauce
---
Prep Time: 10 mins
Cook Time: 26 mins
Total Time: 36 mins
Yield: 4 servings 1x
Description
Pan seared chicken breasts are topped with a creamy tomato parmesan sauce that is made in the same pan for an easy weeknight dinner.
---
Scale
Ingredients
2 8-oz boneless, skinless chicken breasts
salt and pepper
1 tablespoon olive oil
1 cup chicken broth
1/4 cup finely chopped onion
3/4 cup grape tomatoes, quartered
2 tablespoons whipping cream
1/4 cup cold butter, cut into 4–6 pieces
3 tablespoons Parmesan cheese
---
Instructions
Using a sharp knife, cut open the chicken breasts horizontally, making 4 thinner pieces. Place a piece of plastic wrap over the chicken, and use a meat mallet to even out the thickness to about 1/4-inch thick. Season both sides of the chicken with salt and pepper.
Heat the olive oil in a large skillet over medium-high heat. Add the chicken and cook until browned and no longer pink, 5-6 minutes, flipping once. (You may need to cook the chicken in 2 batches, depending on the size of your skillet. You don't want to crowd the chicken so that it will brown properly.) Remove the chicken to a plate and cover with foil to keep warm.
Add the chicken broth, onion and tomatoes to the skillet. Use a wooden spoon to scrape up the browned bits on the bottom of the skillet. Bring to a boil, then reduce the heat to medium and let it simmer until reduced to about 1/4 cup, about 10 minutes.
Pour the cream into the skillet. Start adding the butter, one piece at a time, stirring until completely melted before adding another piece. Once all of the butter is added, stir in the Parmesan cheese. Season to taste with salt and pepper.
Serve the tomato parmesan sauce over the chicken.
Don't miss a thing! Follow me on Pinterest to see what I'm pinning!
Visit Taste and Tell's profile on Pinterest.