Forget the time and effort of breading and frying chicken – this Cheater Chicken Parmesan Bake gives you the same flavors and crispy texture from chicken parmesan with half the effort!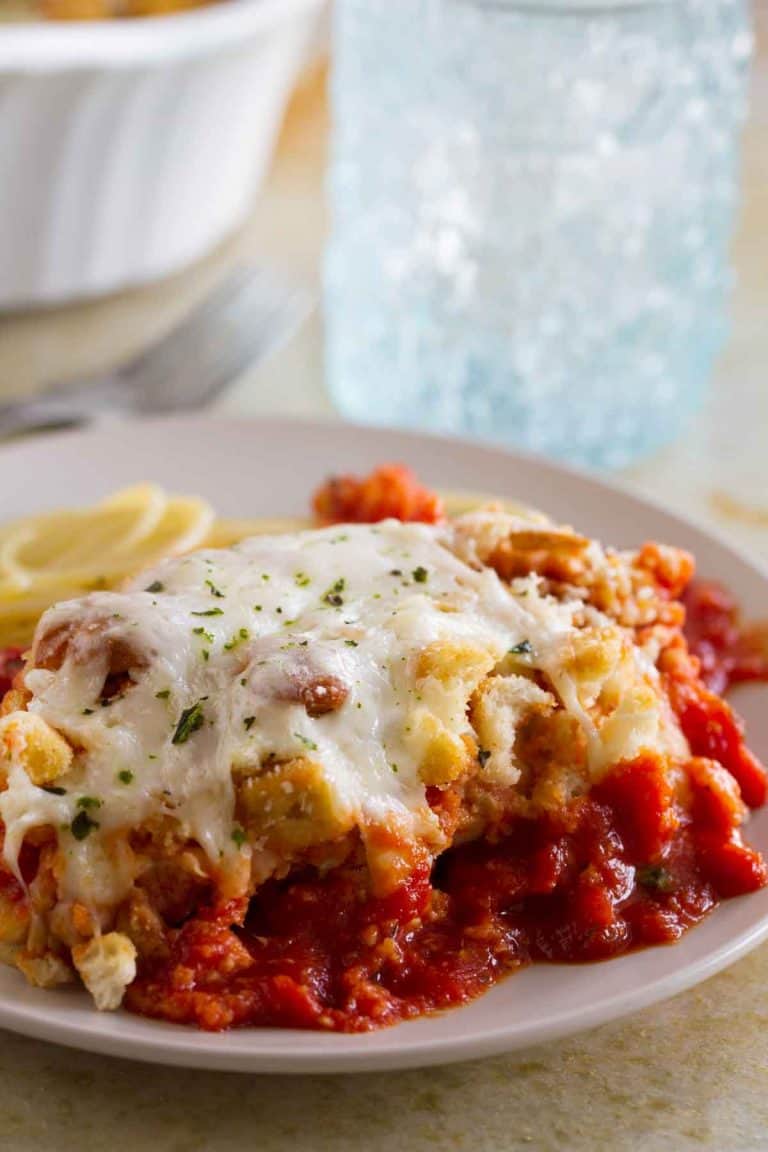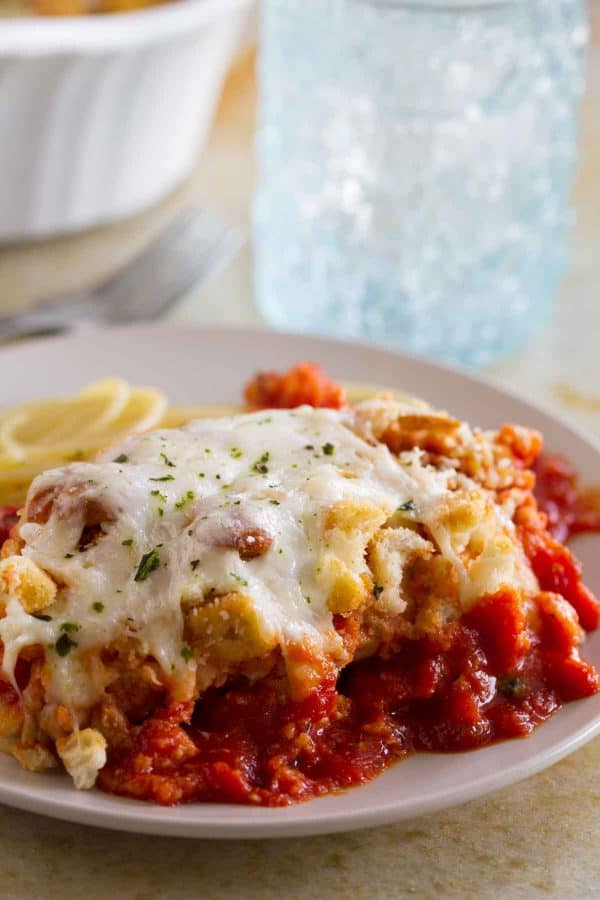 I've moved several times in the last 12 years. You would think that I'd have this down by now, that moving would be a cinch. But somehow, even through several moves, we have managed to amass a bunch of stuff, and I'm refusing to move it one more time.
I had this ideal image in my head 10 months ago when we signed on the dotted line to build this house. I had some time, but wasn't in a huge rush, so I would take one room a month, and go through that room. Go through it with a fine-tooth comb and get rid of everything that we didn't need. And then I would completely organize and pack what was left. A room a month – it was going to be easy.
And then 2 weeks ago I started to freak out because I hadn't packed one single box. Hadn't thrown anything out. Hadn't gathered up everything that needed to be sold or donated. Obviously, I hadn't kept true to my plan of one room a month. All of a sudden, instead of 10 months to go through everything, I was down to 7 weeks.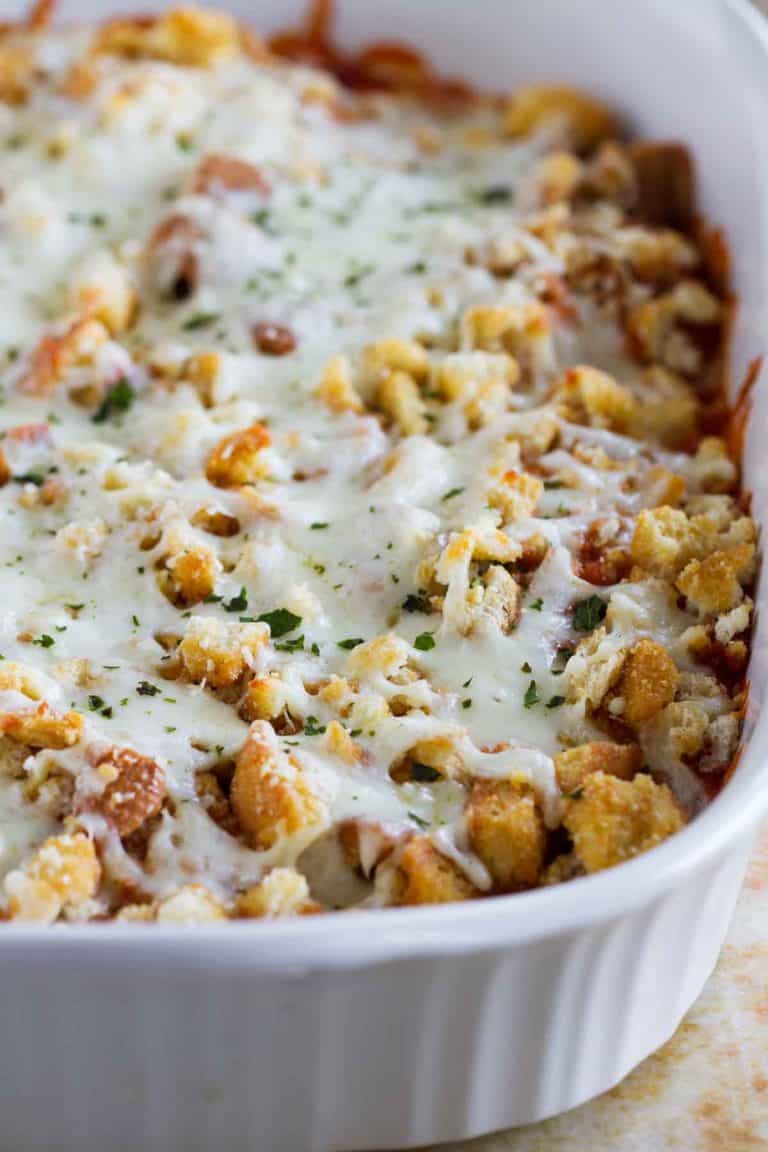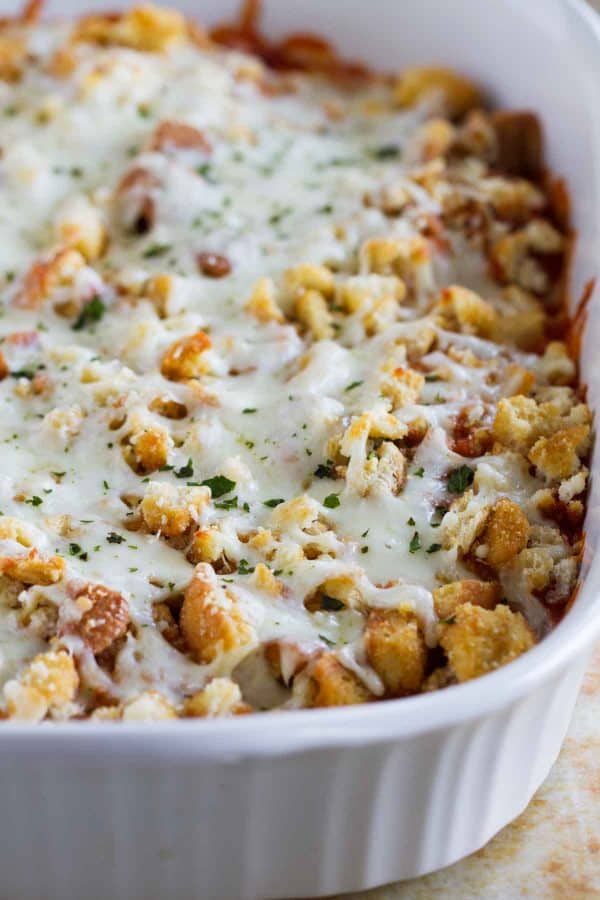 Right now, we have less than 5. Our final walk through is just under 4 weeks. Luckily, I have started now (it's amazing how stress will light that fire beneath you), but it's going a lot slower than I want it to. I'm still determined to not bring boxes of things with us that I can go through "later". Because I still have some of those boxes unopened from the last move. And the move before that.
So needless to say, things have been a little crazy around here. (This is also why I've been quieter than normal here on the blog.) If I was always on the search for easy recipes before, you should see me now! I think my family is getting tired of sandwiches.
But luckily, I've been able to pull off a few other easy meals. Like this Cheater Chicken Parmesan Bake. We all love Chicken Parmesan, right? But these days, I definitely don't have the time to be breading and frying chicken. Not only does it take more time, but it takes more cleanup, and I don't have time for either right now. But with this Cheater Chicken Parmesan Bake, you get all of those same Chicken Parmesan flavors with way less effort.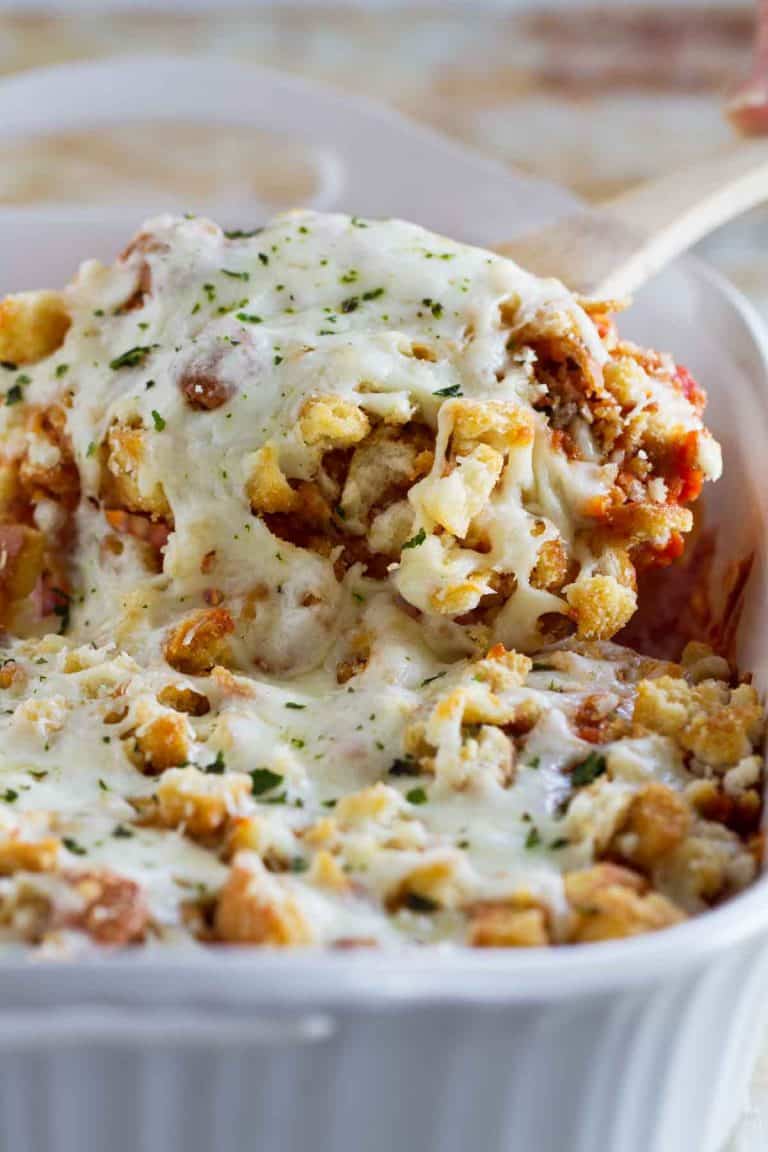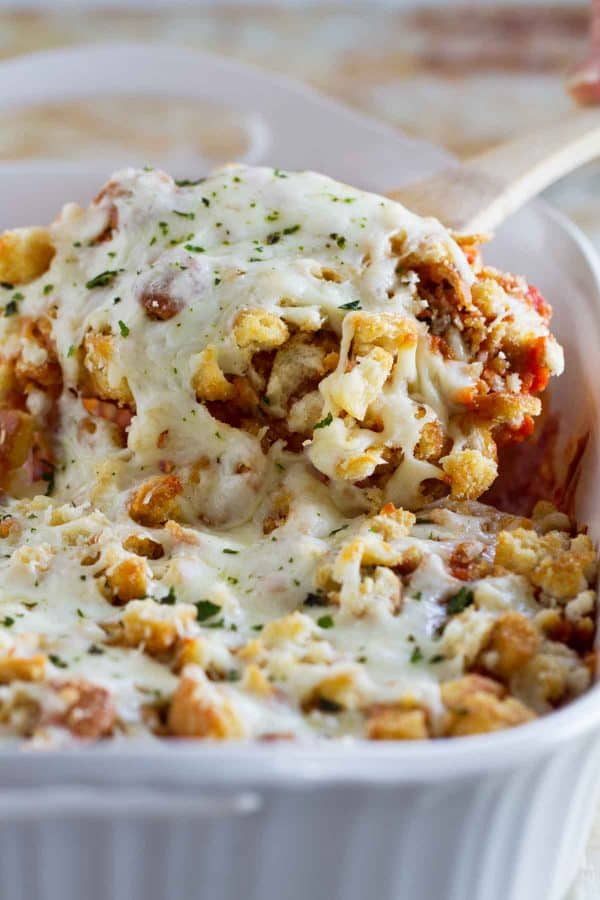 You'll want to start with a marinara sauce that you really love. If you have homemade on hand, feel free to use that. Or use your favorite store bought sauce. I love the Delallo sauce, and I also love the Private Selection brand from my local Kroger store (Smith's). But regardless of what brand you use, just make sure it's a brand/sauce that you love, because it's a prominent flavor in this dish.
The biggest timesaver on this dish is the brilliance of using croutons instead of breading the chicken. I wish I could claim this idea, but I can't. But it really is brilliant, because you still get some of that crunch that you would get from breaded chicken, but you aren't having to coat or fry anything. Win!
This Cheater Chicken Parmesan Bake is easy enough for a weeknight and was a dinner that my whole family loved. And it's perfect for when you are in a time crunch but want something warm and comforting on the table. I'd call that a hit!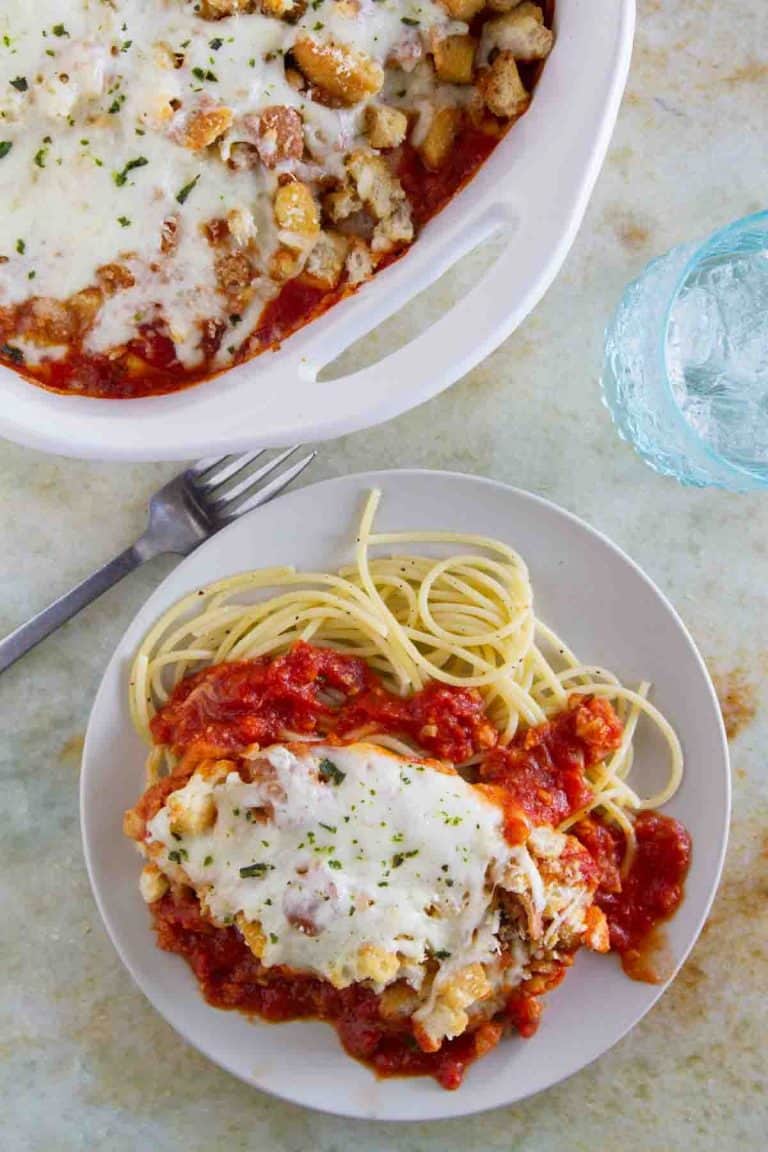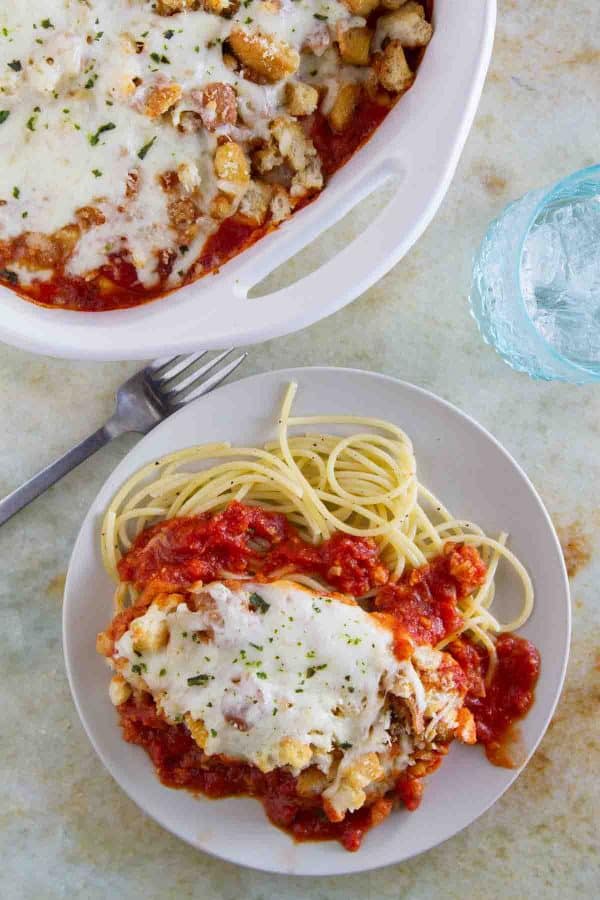 Like what you see here? Make sure you are following Taste and Tell for more recipes and ideas!
Facebook | Pinterest | Instagram | Twitter | Google+ | Weekly Newsletter | Feedly | Bloglovin
Cheater Chicken Parmesan Bake
---
Author:
Prep Time: 15 mins
Cook Time: 35 mins
Total Time: 50 minutes
Yield: 6 servings 1x
Category: Main Dish
Description
Forget the time and effort of breading and frying chicken – this Cheater Chicken Parmesan Bake gives you the same flavors and crispy texture from chicken parmesan with half the effort!
---
Scale
Ingredients
24 oz prepared marinara sauce
3 cloves garlic, minced
6 boneless, skinless chicken breast halves (6 to 8 oz each)
1 teaspoon seasoned salt
2 teaspoons lightly dried basil
8 oz shredded mozzarella cheese
1/2 cup grated Parmesan cheese
5 oz garlic croutons, roughly crushed
---
Instructions
Preheat the oven to 350ºF.
Spread a thin layer of the marinara sauce over the bottom of a 9×13-inch baking dish.  Sprinkle the garlic over.
Season the chicken on both sides with the seasoned salt.  Place in a single layer in the baking dish.  Pour the remaining marinara sauce over the top of the chicken, then sprinkle the basil over the top.
Sprinkle half of the Mozzarella over the top, then half of the Parmesan, and then the croutons.  Add the remaining Mozzarella and Parmesan.  Cover the dish tightly with foil.
Bake for 25 minutes, then remove the foil.  Continue to bake for 10 minutes, or until the cheese is melted, the croutons are browned and the chicken is at least 160ºF on an instant read thermometer.
Serve hot.
SHOP THIS POST:
More Chicken Parmesan Inspired Recipes: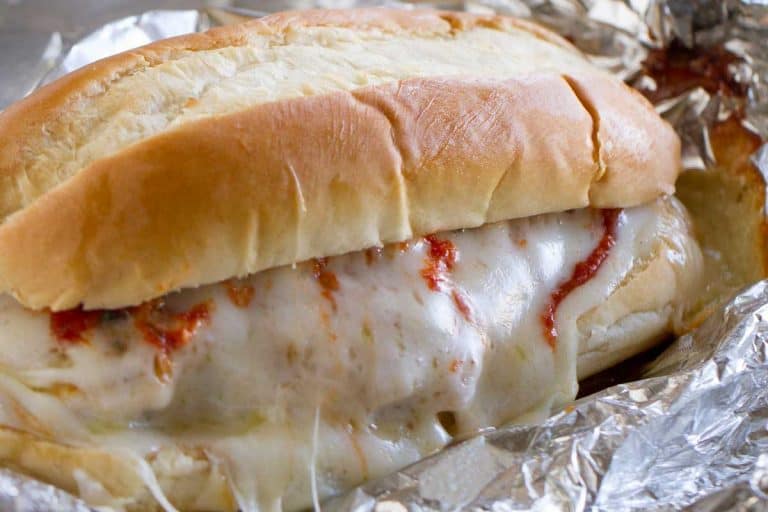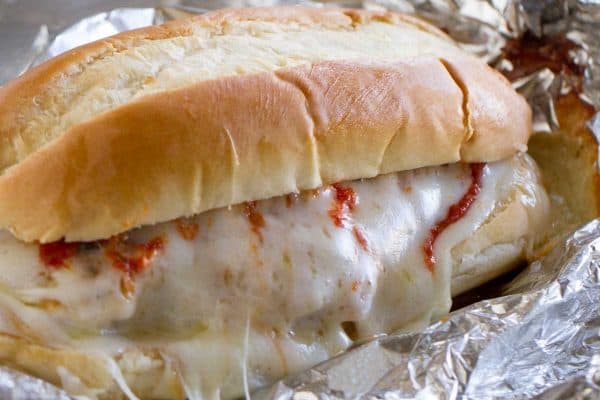 Oven Baked Chicken Parmesan Sandwiches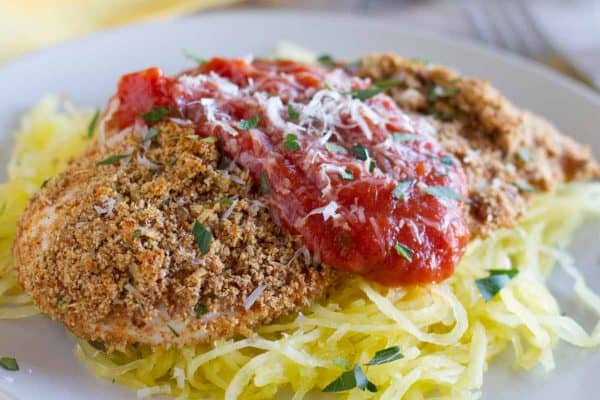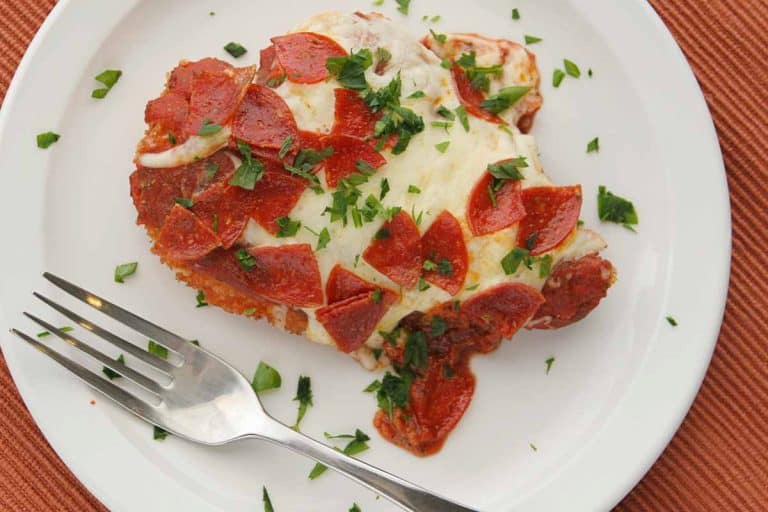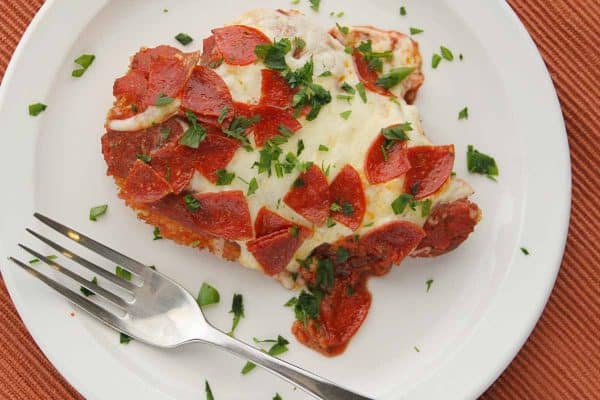 Chicken Parmesan with Pepperoni
Around the Web:
Chicken Parmesan Sliders from Garnish with Lemon
Skinny Chicken Parmesan from Lil Luna
Chicken Parmesan Baked Pasta Recipe from Budget Saavy Diva
Don't miss a thing! Follow me on Pinterest to see what I'm pinning!