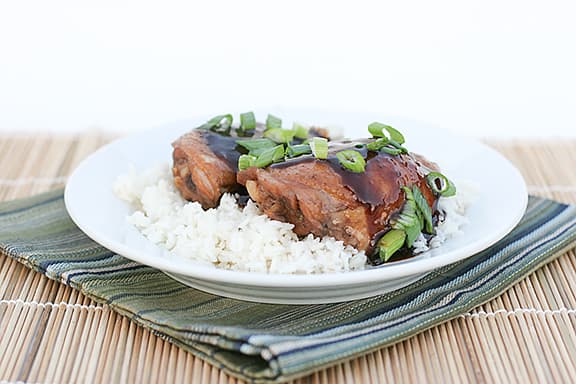 I have to tell you – this month's Cookbook of the Month is surprising me.  I really wasn't expecting anything fantastic.  No big, beautiful color photos.  No forwards written by the latest celebrity chefs.  But lots of information.  Lots of it.  In fact, I would say that this book is only half cookbook, and half history and information about the food and culture of Hawaii.  I'm really wishing I had a few extra hours on my hands right now, because I know I could learn a thing or ten from this book!!
But as for the recipes – the book is divided into 4 sections.  I figured that I would make 1 recipe from each section each week.  The first section is "Local Food."
I didn't really know anything about Hawaii and it's food before this.  I've never been to Hawaii before (but I will go one day!!), so I didn't realize how much Chinese and Japanese influence there is in the food.  In fact, this dish that I made felt very Asian to me.  But after some research online, I guess this is a very Hawaiian dish – but the early influences for this dish originated in China.
Recipe Notes:
I'm not convinced that I like five-spice powder.  There is only a small amount of it in this dish, but it was pretty strong to me.  I think I would have really loved this dish if it weren't for that five-spice!
If you like soy sauce, you will love this.  It was a bit on the strong side for me, but combined with the green onion garnish and the rice, it was actually quite balanced.  But just to take a bite of the chicken on it's own was a little bit too overpowering for me.
I'm a dork and didn't read the instructions clearly and didn't cook any of the green onions in the sauce. Didn't realize I messed that up until after I was done!
My chicken wasn't done enough for me, even after a full 30 minutes.  I didn't realize this until it was plated and ready to be eaten, so I just stuck it in a pan and in the oven to cook until it was done.  So I would make sure your chicken is really done before taking it out of it's cooking liquid.
Overall, this was very delicious.  A little strong for me, like I mentioned above, but then again, I am pregnant, and am easily affected these days by flavors and smells!
Recipe Rating:  4 out of 5
Shoyu Chicken
from The Food of Paradise
serves 4
2 1/2 pounds chicken thighs (bone in, skin on)
1 cup soy sauce
1/2 cup brown sugar, preferably turbinado sugar
2 cloves garlic, crushed
1 teaspoon five-spice powder
2 tablespoons fresh ginger, finely chopped
4 tablespoons dry sherry
3-4 green onions, chopped, plus a couple more cut into rings for garnish
1 tablespoon cornstarch
salt and wine vinegar to taste
Combine chicken, soy sauce, brown sugar, garlic, five-spice powder, ginger, sherry and green onions in a large pot.  Add water just to cover.  Simmer until the chicken is tender, about 20-30 minutes.
Remove chicken from pot and arrange neatly on a serving dish, skin side up.  Keep warm while you prepare the sauce.
Reduce the cooking liquid to about 2 cups.  In a small bowl, add 2 tablespoons water to the cornstarch and stir to make a smooth paste.  Add to the cooking liquid.  Bring to a boil and simmer until thickened.  Adjust seasoning to taste.  Pour the sauce over the chicken.
Garnish with rings of green onion.  Serve with rice.
&nbsp