Fresh berries are the star of this chopped salad that is topped with a homemade poppy seed dressing and sugared almonds.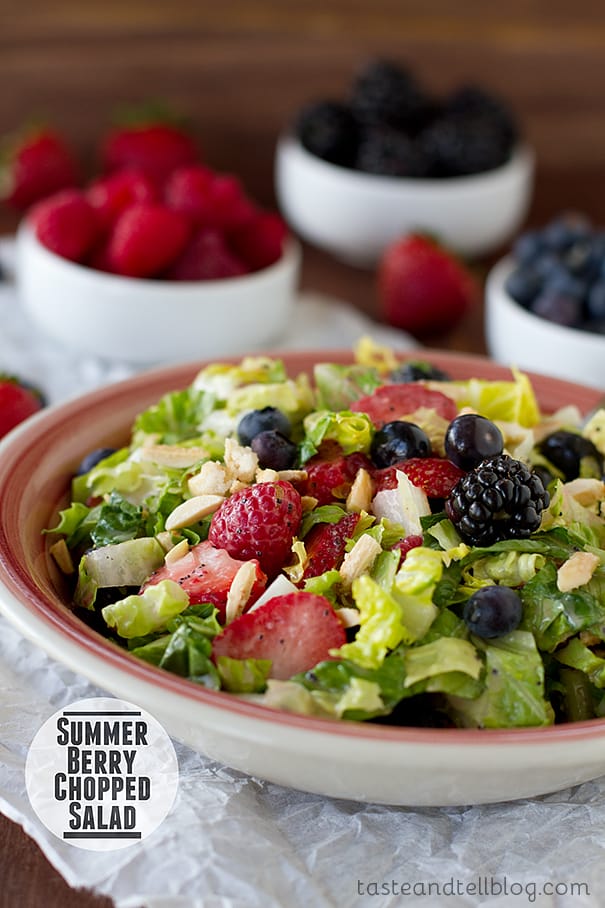 I have always liked salads. But I've usually been the "bring me a side salad before my meal" kind of person. Sometime in the last couple of years, though, that has changed. I don't eat salads for dinner as often as I should, but I have definitely gained an appreciation – and love – for a good salad for dinner. And more recently, I have had a little chopped salad addiction.
It all started with the Thai Chopped Chicken Salad. And then there was the Chinese Chopped Salad. And even then, I warned you that this might be the year of the chopped salad.
So of course, I had to deliver on that promise, and I'm back with another chopped salad. And this one is perfect for the summertime.
I was actually looking through the fridge one day, and there were oodles of berries sitting there – staring at me. And all of a sudden, all I could think about was my very favorite salad at Cafe Zupas. And I couldn't get it out of my head. I could honestly eat their Nuts About Berries Salad every single day.
Well, I didn't want to hop in the car to go out and buy a salad, so I decided to make something myself.
Now, this isn't a true copycat of that salad. The dressing is different, and their nuts are different. But I didn't even care, because this was so good. So good, in fact, that I pretty much ate half of it myself.
This will definitely be my go-to salad for the rest of the summer!!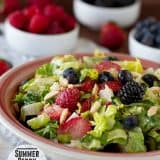 Summer Berry Chopped Salad
---
Prep Time: 15 minutes
Cook Time: 10 minutes
Total Time: 25 minutes
Yield: 4 servings 1x
Description
Fresh berries are the star of this chopped salad that is topped with a homemade poppy seed dressing and sugared almonds.
---
Scale
Ingredients
Poppy seed Dressing
1/4 cup white balsamic raspberry blush vinegar
2 tablespoons plus 2 teaspoons sugar
1 tablespoon mayonnaise
1 teaspoon grated onion
1/2 teaspoon salt
1/2 teaspoon dry mustard
1/2 cup vegetable oil
1 1/2 teaspoons poppy seeds
Sugared Almonds
1/2 cup slivered almonds
1 1/2 teaspoons sugar
Salad
8 cups chopped romaine lettuce
3 cups mixed berries (sliced strawberries, blueberries, raspberries, blackberries)
---
Instructions
In a blender or food processor, combine the vinegar, sugar, mayonnaise, onion, salt and dry mustard. Process until combined. Slowly stream in the vegetable oil. Stir in the poppy seeds.
Place the almonds in a small sauté pan over medium heat. Sprinkle the sugar over the almonds. Cook, stirring frequently, until the sugar starts to melt and coat the almonds. Remove from the heat and allow to cool.
In a large bowl, combine the lettuce and berries. Pour the poppy seed dressing over the top and toss to combine. Stir in the almonds and serve.
More Chopped Salads: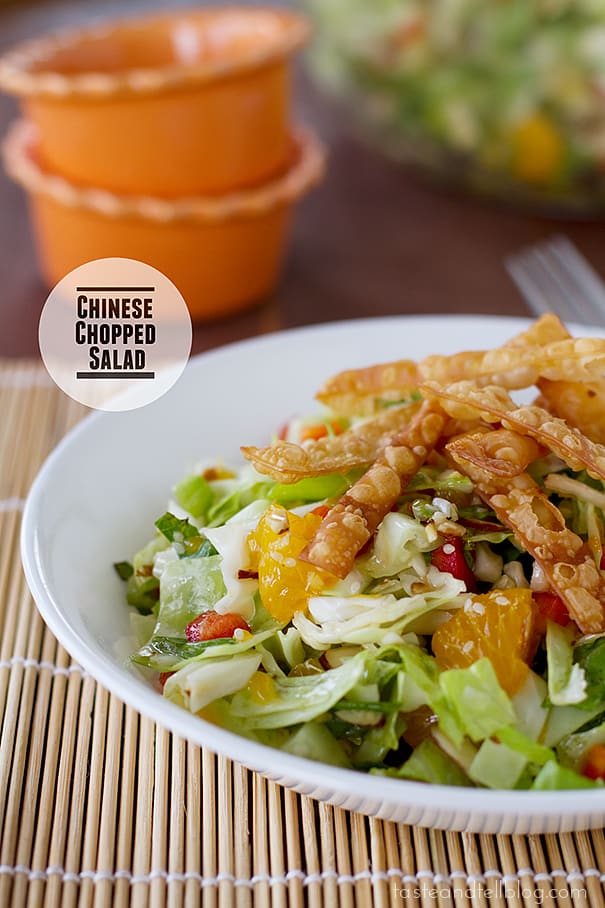 Around the Web:
Portillo's Chopped Salad from The Girl Who Ate Everything
Southwest Chicken Chopped Salad from Lauren's Latest
BBQ Chicken Chopped Salad from Iowa Girl Eats