Finished in 30 minutes, this easy Skillet Chicken with Garlic and Herbs has tons of flavor with very little effort. And the cleanup is easy, too!
Nothing beats a dinner that can be done in 30 minutes or less! For even more great recipes, check out all of my easy weeknight dinners.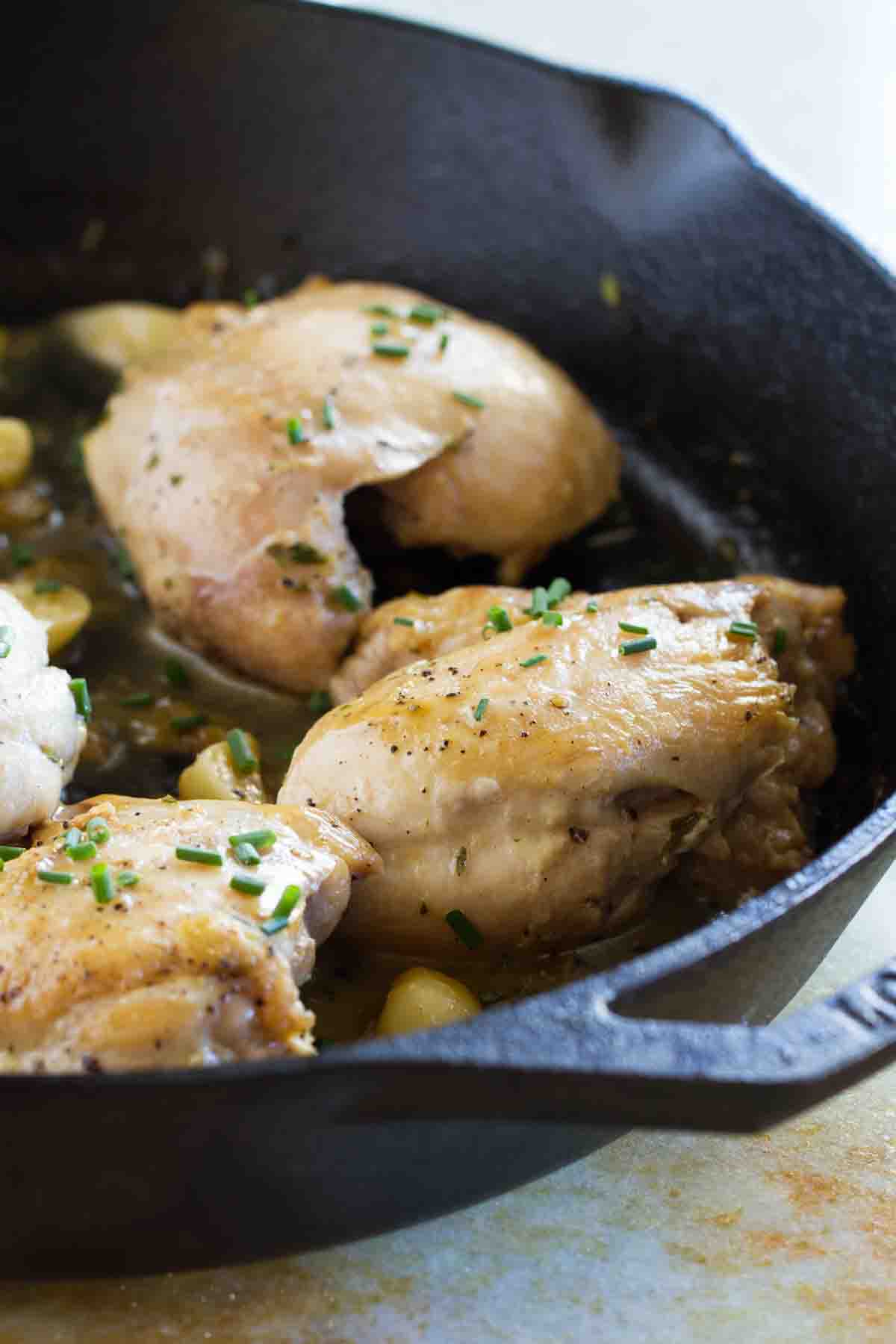 If you are a garlic lover like me, this Skillet Chicken with Garlic and Herbs is for you. Actually, even if you aren't a garlic lover, you may fall in love with this recipe. Because the garlic isn't strong or potent like it is when it's raw. This recipe doesn't cook it long enough to make it really sweet like roasted garlic, but it's well on its way there. The garlic is definitely a lot more mellow. Mellow enough to eat the garlic straight out of the skillet. (Not that I would know or anything…)
This chicken dish is a perfect weeknight dinner – it can be finished in 30 minutes. And by using chicken thighs, you take a lot of the guesswork out of cooking the chicken because you don't have to worry so much about overcooking your chicken and ending up with dry chicken breasts. If you are a regular here you already know that I love using thighs over breasts simply because they are so much easier to cook.
This would also make a great date night in supper (remember – 2 garlics cancel each other out!), but it's also great for just any weeknight. The kids would love this recipe, too!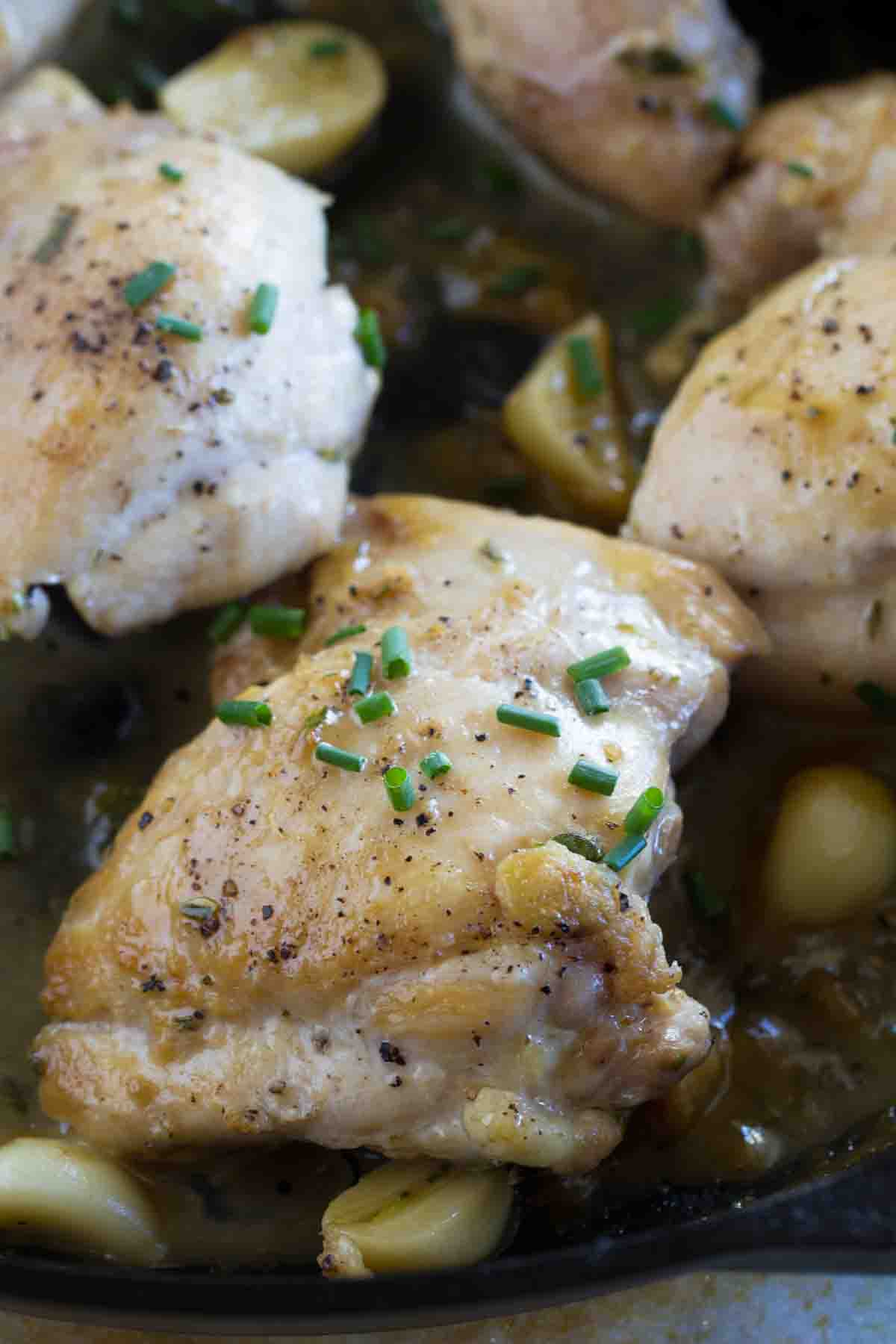 Ingredients
Chicken Thighs: I love using chicken thighs because they have so much flavor and they are easier to cook than chicken breasts. But feel free to swap in breasts if that is what you prefer.
Salt and Pepper: Because there are so few ingredients in this recipe, you'll want to make sure and season generously with salt and pepper.
Olive Oil: This is for cooking the chicken. Feel free to swap in another oil of your choice.
Garlic: You'll need 10 cloves of garlic. This recipe has you cut the cloves in half lengthwise. Since this is a quicker cooking recipe, cutting the garlic in half will help it to cook faster and release flavor quicker.
Chicken Stock: You can also use chicken broth if that is what you have on hand, but stock is richer and more flavorful.
Rosemary, Thyme & Chives: If you can get fresh herbs, I recommend that. You can use dried, though – the amounts are included in the notes section of the recipe card below.
Tips and Tricks
Having an instant-read thermometer is a great way to test if your chicken is done. I like to take them out when they are around 165ºF and then let them sit for 5ish minutes. The residual heat will continue to cook them and get them up to the recommended 170ºF.
I like to serve this with something like roasted potatoes so that I can drizzle any extra sauce over them.
The garlic will flavor the chicken and the sauce, but if you are a garlic lover, don't be afraid to just eat the garlic, as well!
Keep any leftovers in a container in the refrigerator for 3 to 4 days.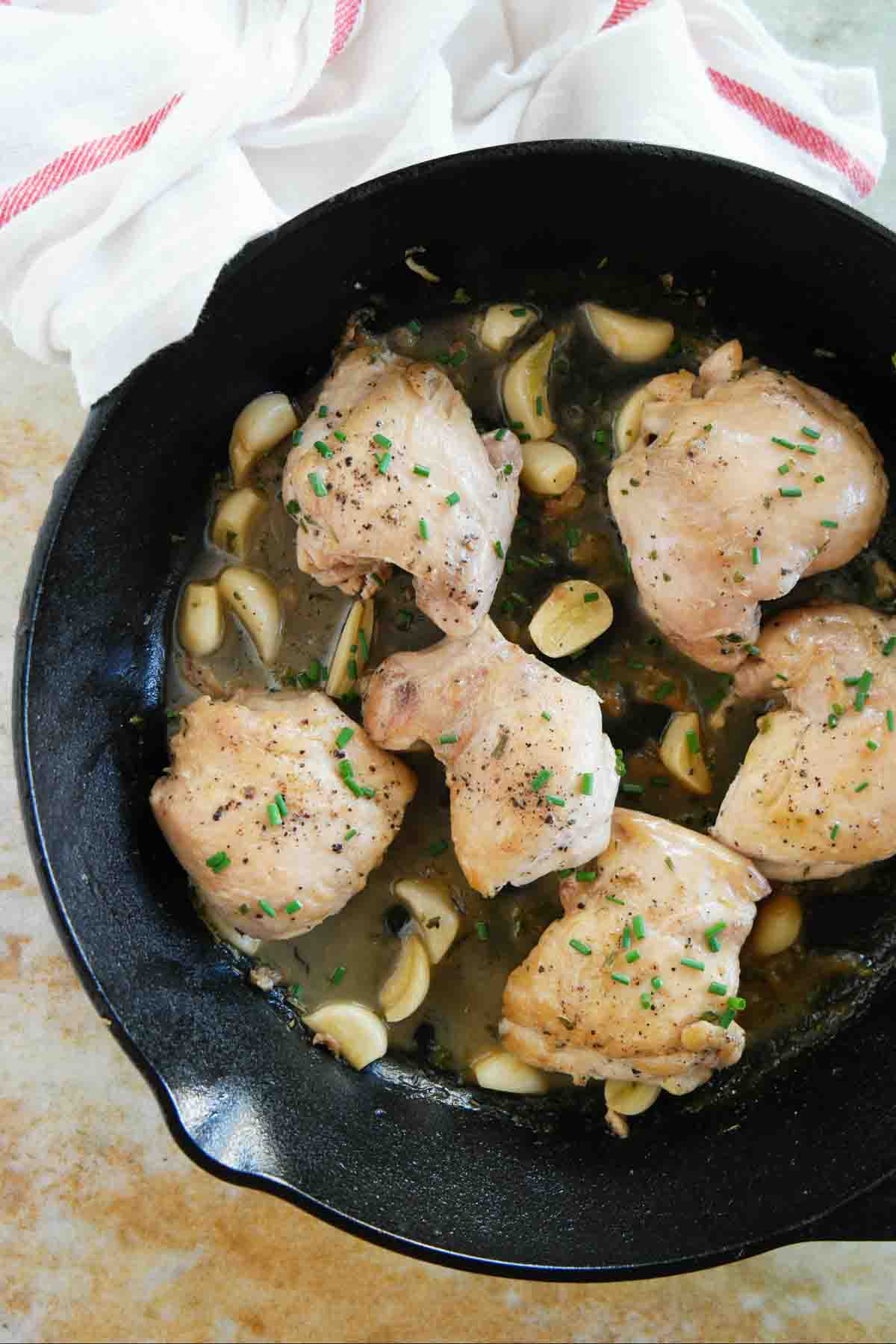 More Chicken Thigh Recipes
Cast Iron Teriyaki Chicken Thighs
Thirteen Spice Skillet Chicken Thighs with Creme Fraiche
Huli Huli Chicken
Garlic Paprika Instant Pot Chicken Thighs
Easy Lime Baked Chicken Thighs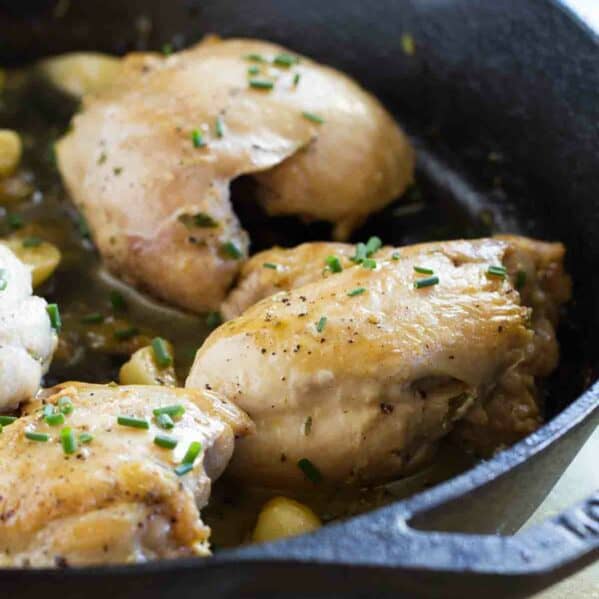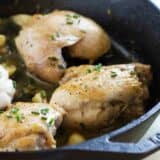 Skillet Chicken with Garlic and Herbs
---
Author:
Prep Time: 10 minutes
Cook Time: 20 minutes
Total Time: 30 mins
Yield: 4 servings 1x
Category: Main Dish
Method: Stove Top
Cuisine: American
Description
Finished in 30 minutes, this easy Garlic and Herb Skillet Chicken has tons of flavor with very little effort. And the cleanup is easy, too!
---
Scale
Ingredients
1 1/2 lbs boneless, skinless chicken thighs (about 6)
1/2 teaspoon salt
1/4 teaspoon pepper
1 tablespoon extra-virgin olive oil
10 garlic cloves, peeled and cut in half lengthwise
1 cup plus 2 tablespoons chicken stock
1 teaspoon minced fresh rosemary*
1/2 teaspoon minced fresh thyme*
1 tablespoon minced fresh chives
---
Instructions
Sprinkle both sides of the chicken with the salt and pepper.
In a large skillet, heat the olive oil over medium-high heat. Add the chicken and cook until browned, then flip and cook the second side until browned. Remove the skillet from the heat and transfer the chicken from the skillet to a plate.
Add the garlic and 2 tablespoons of chicken stock to the skillet. Return the skillet to the heat and cook, stirring, until the liquid has almost evaporated, 1-2 minutes. Stir in the remaining 1 cup of chicken stock, the rosemary and the thyme. Add the chicken back to the pan in a single layer. Bring the mixture to a boil, then reduce the heat and simmer, uncovered, until the chicken is cooked through and reads 170º on an instant read thermometer, about 8 minutes.
Sprinkle the chicken with chives before serving.
Recipe Notes:
*you can substitute the fresh rosemary for 1/4 teaspoon dried rosemary, and the fresh thyme for 1/8 teaspoon dried thyme. If you don't have fresh chives, you can leave them off or use 1 teaspoon of dried chives.
Recipe source: TASTE OF HOME HEALTHY COOKING 2016 ANNUAL RECIPES
Nutrition
Serving Size: 1/4 of recipe
Calories: 326
Sugar: 0 g
Sodium: 570 mg
Fat: 16 g
Saturated Fat: 4 g
Unsaturated Fat: 11 g
Trans Fat: 0 g
Carbohydrates: 9 g
Fiber: 1 g
Protein: 36 g
Cholesterol: 185 mg
Keywords: skillet chicken, skillet chicken thighs