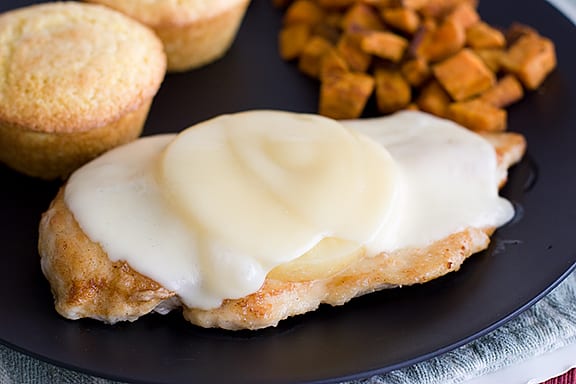 I got so close to running out of recipes to post several months ago. I just wasn't cooking a whole lot. Then the cooking bug caught me again, (it seems to come in waves), and I had a whole bunch of recipes in my folder, waiting for their time here on my blog. I thought I'd never catch up. Well, I guess I lost the cooking bug, because now I'm running out again!! It's strange for me to go and type up a post, only to see 3 other recipes waiting to be posted. I guess I need to get into the kitchen again!
This recipe didn't end up quite like it was supposed to. There is supposed to be some broccoli under that cheese, but it didn't make it into this final dish. I had broccoli in the freezer, and that's why I didn't add it to my grocery list. But I guess I don't know how long it had been in the freezer, because when I took it out and cooked it, it looked so sad, and the color did not look good. So into the garbage it went. So instead of Chicken, Broccoli and Pineapple Supreme, I got Chicken and Pineapple Supreme!!
My husband loved this one. I just thought it was ok – I think it was missing a little something. (Maybe the broccoli?? 🙂 ) But he ate it right up. In fact, he ate his serving and whatever I didn't finish of mine. So it can't be too bad!
Chicken and Pineapple Supreme
adapted from Pillsbury 30-Minute Meals
serves 4
total time: 30 minutes
4 boneless, skinless chicken breast halves
3 tablespoons all purpose flour
1/2 teaspoon salt
1/8 teaspoon white pepper
2 tablespoons butter
1 (8-oz) can pineapple slices, drained
4 oz (4 slices) provolone cheese
Place 1 chicken breast half between 2 pieces of plastic wrap or waxed paper. Working from the center, gently pound chicken with a meat mallet or rolling pin until about 1/4 inch thick; remove wrap. Repeat with remaining chicken.
In a shallow pan, combine the flour, salt and pepper. Coat chicken with the flour mixture.
Melt the butter in a large skillet. Add the chicken, cook about 10 minutes, or until chicken is fork tender and juices run clear, turning once.
Place a pineapple slice on each chicken breast half. Top with a cheese slice. Cover; cook an additional minute or until cheese is melted.