Artichoke Chicken with Roasted Potatoes – Boneless, skinless chicken breasts are topped with a creamy artichoke spread and served with rosemary potatoes.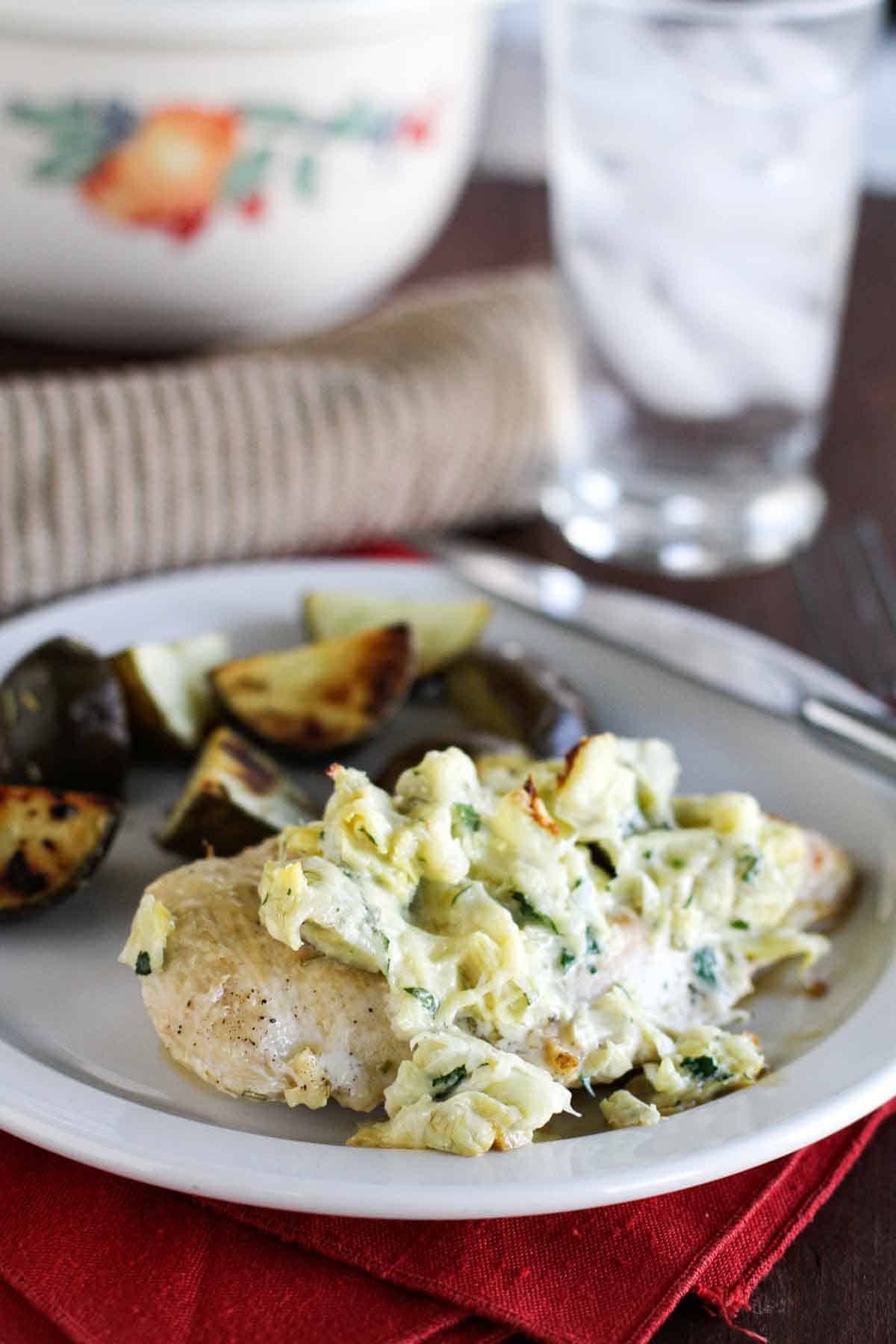 Let me just give you a run-down of my day this past Sunday:
5am – Wake up. It's posting day for the Daring Bakers, so I go to the computer to see that the automatic posting in blogger didn't work – so I have to go in and make sure that mine is posted. I start going through the list of the Daring Bakers to see what they have done.
7am – Take a short break to make a coffee cake for breakfast.
7:30am – Go back to the computer while the cake is in the oven.
8:30am – Cake is out of the oven, so I take a break from posting to take a shower and get ready for the day.
9:30am – Get back on the computer for a few minutes before I have to be to a meeting and while my husband is getting ready.
10am -Go to my meeting
10:45am – Get home from the meeting – go back to the computer to continue to read DB posts.
12:45am – Make sure I'm still presentable and head off for church.
4pm – Get home from church and decided that I'm just not going to be able to make dinner. Since I was a co-host this month, Elle and I split up the list of Daring Bakers – each taking half of them to make sure everyone gets visited. I'm still only making a small dent in the ones I have, so I decide to have leftovers so that I can get through more of the list.
8pm – Decide to call it a night on the computer – my head is pounding! Plus, it's time for Desperate Housewives!
9pm – Fall asleep exhausted.
Now granted – this is not a typical Sunday for me. In fact, I usually try to stay off of the computer on Sundays. But overall, this is how busy a typical day is for me. I don't have a lot of down time, and I have a lot of things to get done. I seriously am in awe of people with children who are able to balance their lives!! I only have a husband and a dog, yet I feel like there is never enough time!!
Since life is so busy, I am always on the lookout for quick, yet delicious meals. If you read my blog regularly, you probably already know this. And this is why I am bringing you yet another quick and tasty recipe.
We really liked this whole meal, but the real star of the show for me was the potatoes. I am a potato lover – I can't seem to ever get enough of them, no matter how you make them – and roasted potatoes are one of my favorites. But they take time. This method was a total eye-opener for me. You get potatoes that taste like they have been slow roasted, but in a matter of minutes!! You start by boiling the potatoes to cook them through, then they are finished on the stove-top to crisp up the outsides. They were seriously delicious! Even my husband, who is not usually a huge fan of potatoes, ate all of his and was disappointed that there weren't any seconds!
The other thing about this recipe that is great is that it is a perfect 2 servings for 2 adults. There wasn't enough of the topping, in my opinion, so the recipe below has a beefed up topping like we had it. And although this would have been best with fresh artichoke hearts, I used canned to save on time.
So next time you are feeling pressed for time, try this out – you won't be disappointed!!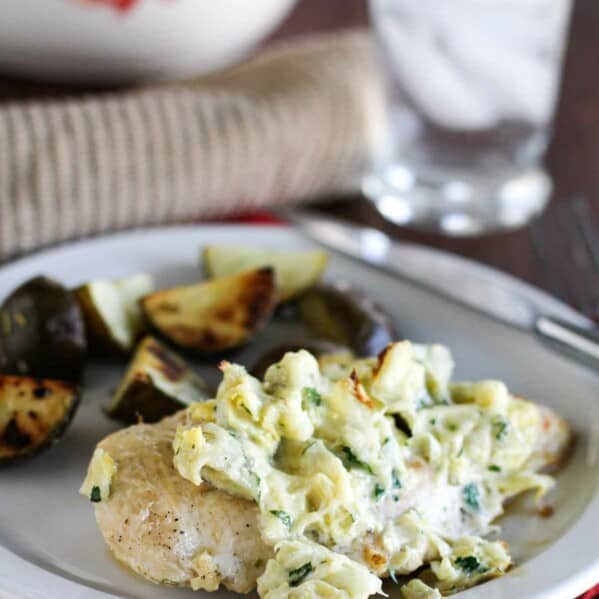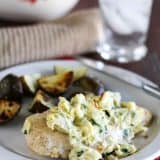 Artichoke Chicken with Roasted Potatoes
---
Author:
Prep Time: 10 minutes
Cook Time: 20 minutes
Total Time: 30 minutes
Yield: 4 servings 1x
Category: Main Dish
Method: Broiled
Cuisine: American
Description
Artichoke Chicken with Roasted Potatoes – Boneless, skinless chicken breasts are topped with a creamy artichoke spread and served with rosemary potatoes.
---
Scale
Ingredients
Potatoes and Chicken
3 small red potatoes
1 1/2 cups water
1 teaspoon salt
2 boneless, skinless chicken breasts
2 teaspoons rosemary herb seasoning mix, divided*
2 teaspoons olive oil, divided
Artichoke Topping
1 cup chopped artichoke hearts (about 4 hearts)
4 teaspoons chopped fresh parsley
2 ounces Parmesan cheese, divided
4 teaspoons mayonnaise
Rosemary Herb Seasoning Mix
1 teaspoon crushed rosemary
1/4 teaspoon salt
1/8 teaspoon coarsely ground black pepper
---
Instructions
Preheat the broiler to high. Meanwhile, cut potatoes into quarters. Place the potatoes, water and salt into a covered, microwave safe dish. Microwave on high for 6-8 minutes, or until the potatoes are tender. Drain and set aside.
Meanwhile, make the artichoke topping. Chop the artichokes and parsley, place in a small bowl. Grate the cheese; set aside 4 teaspoons for later use. Add remaining cheese and mayonnaise to the artichoke mixture and mix well.
Cut each chicken breast in half to make 4 thin portions. Sprinkle both sides of each piece with 1 teaspoon of the seasoning mix.
Add 1 teaspoon of oil to a large oven-safe skillet. (Do not use non-stick cookware.) Heat the oil over medium high heat for 1-3 minutes. Meanwhile, add the remaining 1 teaspoon oil and remaining 1 teaspoon seasoning mix to the potatoes. Stir to coat.
Place the chicken and potatoes, cut side down, into the skillet. Cook 3-4 minutes, or until chicken is golden brown. Turn both the chicken and potatoes over; cook an additional 3-4 minutes until the chicken is golden brown.
Remove potatoes from the skillet; set aside to keep warm. Spread the artichoke topping evenly over the chicken breasts; sprinkle with reserved cheese. Place the skillet as close as possible to the heating element; broil 4-6 minutes or until the topping is golden brown and the chicken registers an internal temperature of 170F. If the topping starts to brown too quickly, adjust it in your oven. Carefully remove the skillet from the broiler.
Serve the chicken with the potatoes
Keywords: artichoke chicken