This Chicken Bacon Pasta is rich and comforting and the perfect dinner to take to a friend. It has chicken that is slow cooked before it's added to a pasta with a creamy sauce, bacon, and peas.
I am always looking for meal ideas to take to neighbors or friends, and this Chicken Bacon Pasta checks all of the boxes for me! For more ideas, try this Taco Casserole, Penne Pasta Bake Recipe, or this Ranch Chicken and Potatoes with Cheese.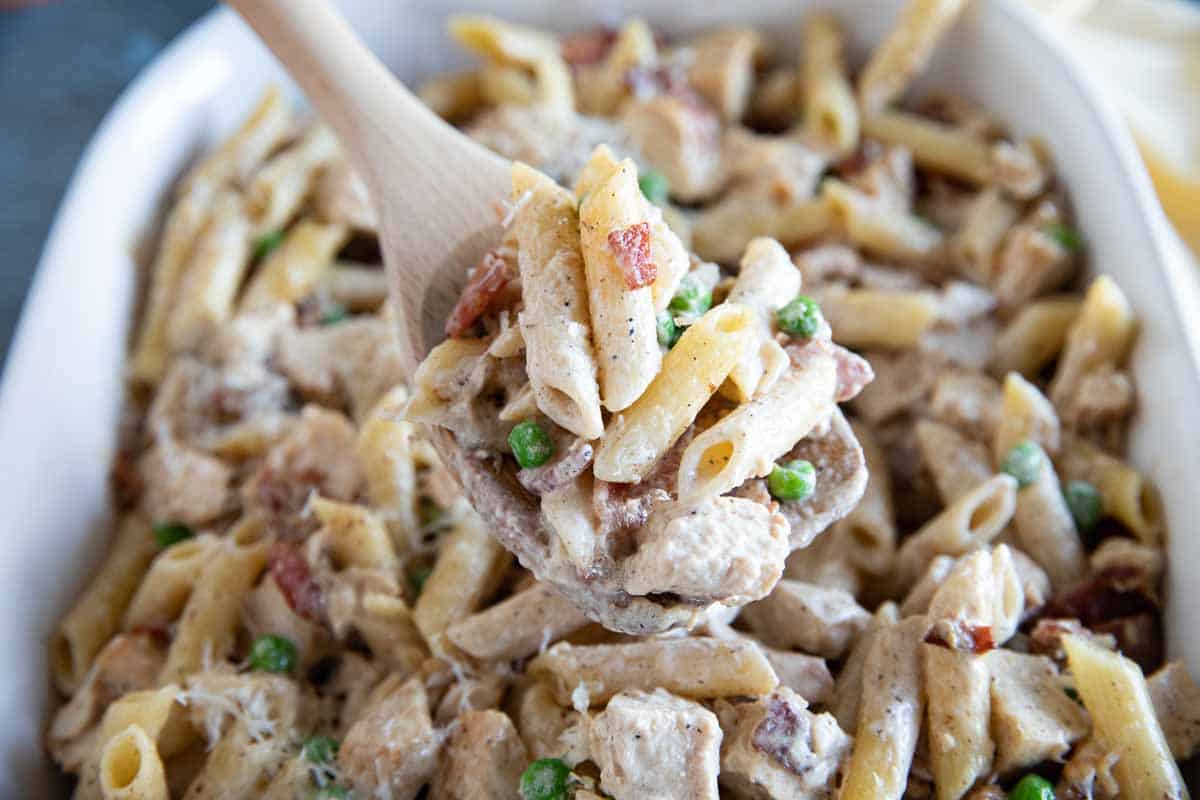 Back when I had my first baby, my family was wonderful in bringing me and my husband meals. We ate very well the week or two following the birth of our little girl! Everything was just wonderful. So recently, when a neighbor had a baby and I had volunteered to bring a meal, a pasta dish that my sister brought immediately popped into my head.
I called her up to get the recipe, and she told me that she had come across a recipe that she liked even more than the one she had brought me. If it was better, I knew it would be good, so I got that recipe.
This was so good that I ended up making it for another neighbor that had just had a baby only a few weeks after the first. And lucky for me, the recipe makes so much that I had enough to take to the other family as well as enough for my family – for several meals!!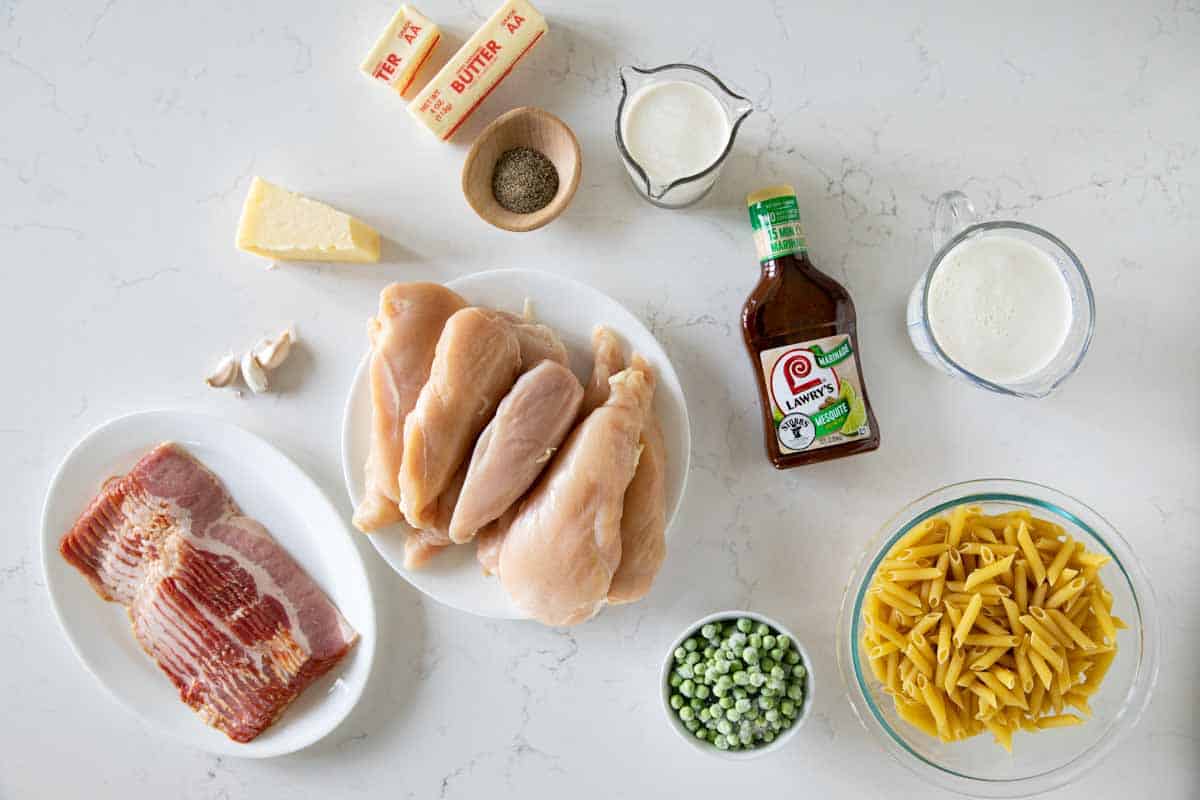 Ingredients
Chicken: I use boneless, skinless chicken breasts. You could also use thighs. If you use thighs, they will cook a little bit longer, but should still be up to temperature by the 4 hour mark. You can also use cooked, shredded chicken in this recipe to make it easy for a weeknight.
Marinade: I love the Lawry's Mesquite Marinade for the chicken. It has been a little bit harder to find lately, so I'll sub in something else when I can't find it. You really can use any marinade that you like.
Pasta: I have always liked penne with this recipe, but any short cut pasta will work.
Bacon: I like to chop my bacon and cook it, but you can always cook the bacon and then chop it. You can also cook it in the oven, but I like to use some of the bacon drippings to make the sauce.
Butter: This is a buttery sauce – but I have not tried cutting the amount back, so I don't know how it would turn out if you did.
Garlic: Fresh garlic is best!
Half and Half & Cream: The original recipe I printed here used all heavy cream, but I have started to use part half and half and part heavy cream and it works out great. If you do want to make it extra rich and delicious, you can use all heavy cream.
Pepper: The original recipe also called for 1 1/2 tablespoons of pepper. And I've made it that way many times and have loved the spice from the pepper. But using 1 1/2 tablespoons of freshly cracked pepper is very different from using 1 1/2 tablespoons of ground pepper. So I have reprinted it as 1/2 to 1 tablespoon so you can use as much as you like.
Parmesan: I like to use freshly grated Parmesan.
Peas: Frozen peas work perfectly here. If you don't have them, (or don't like them), you can leave them out.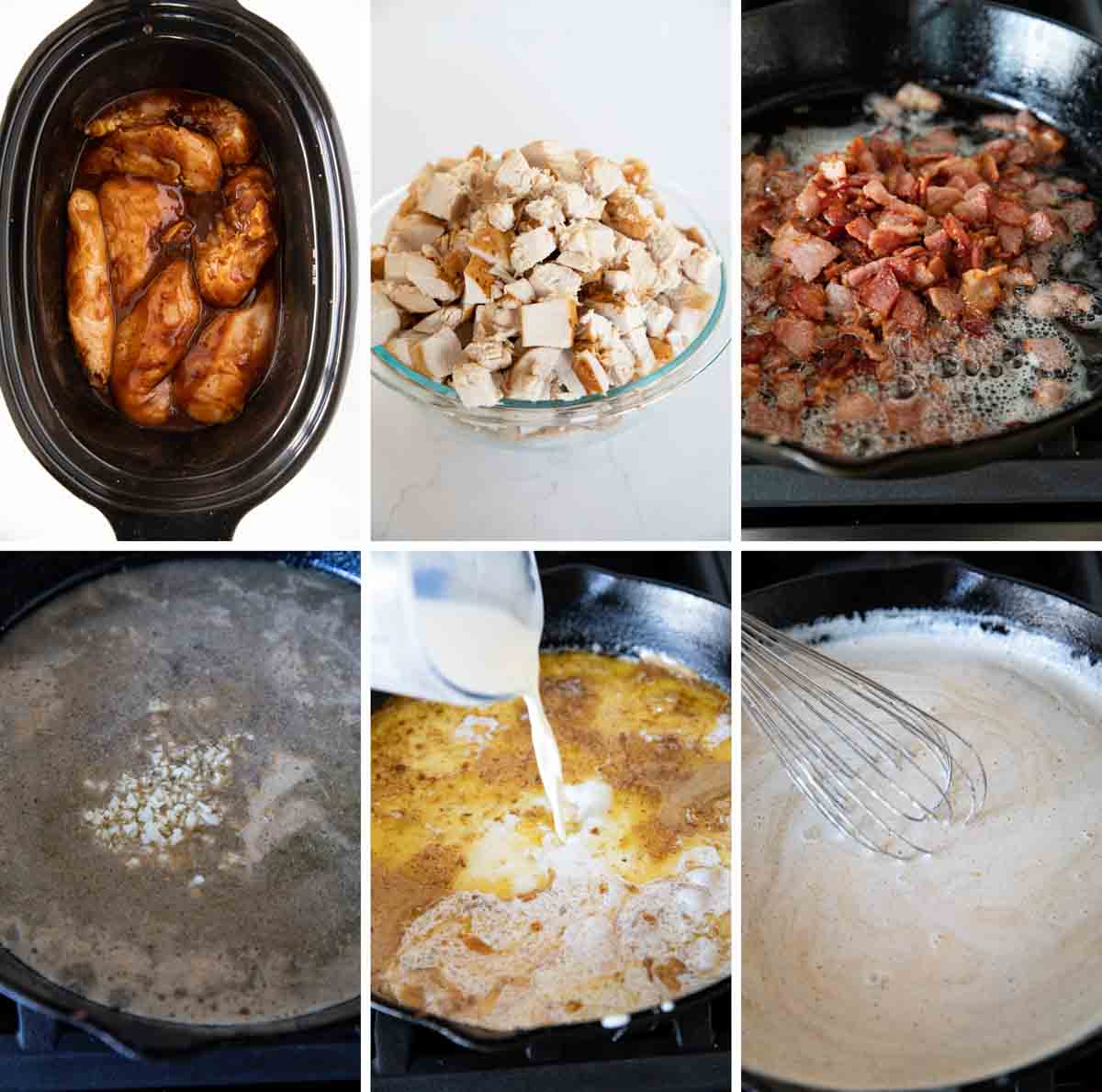 How to Make Chicken Bacon Pasta
1: Combine the chicken and the marinade in a slow cooker and cook until the chicken is done, about 3-4 hours on low.
2: Remove the chicken and dice it. You can discard any marinade left in the slow cooker.
3: Dice and cook the bacon in a large skillet until crisp. Remove to a paper towel lined plate.
4: Add the butter to the skillet, and once melted, add the garlic and cook.
5: Whisk in the half and half, cream, pepper, and parmesan.
6: Let it cook until everything is combined and slightly thickened.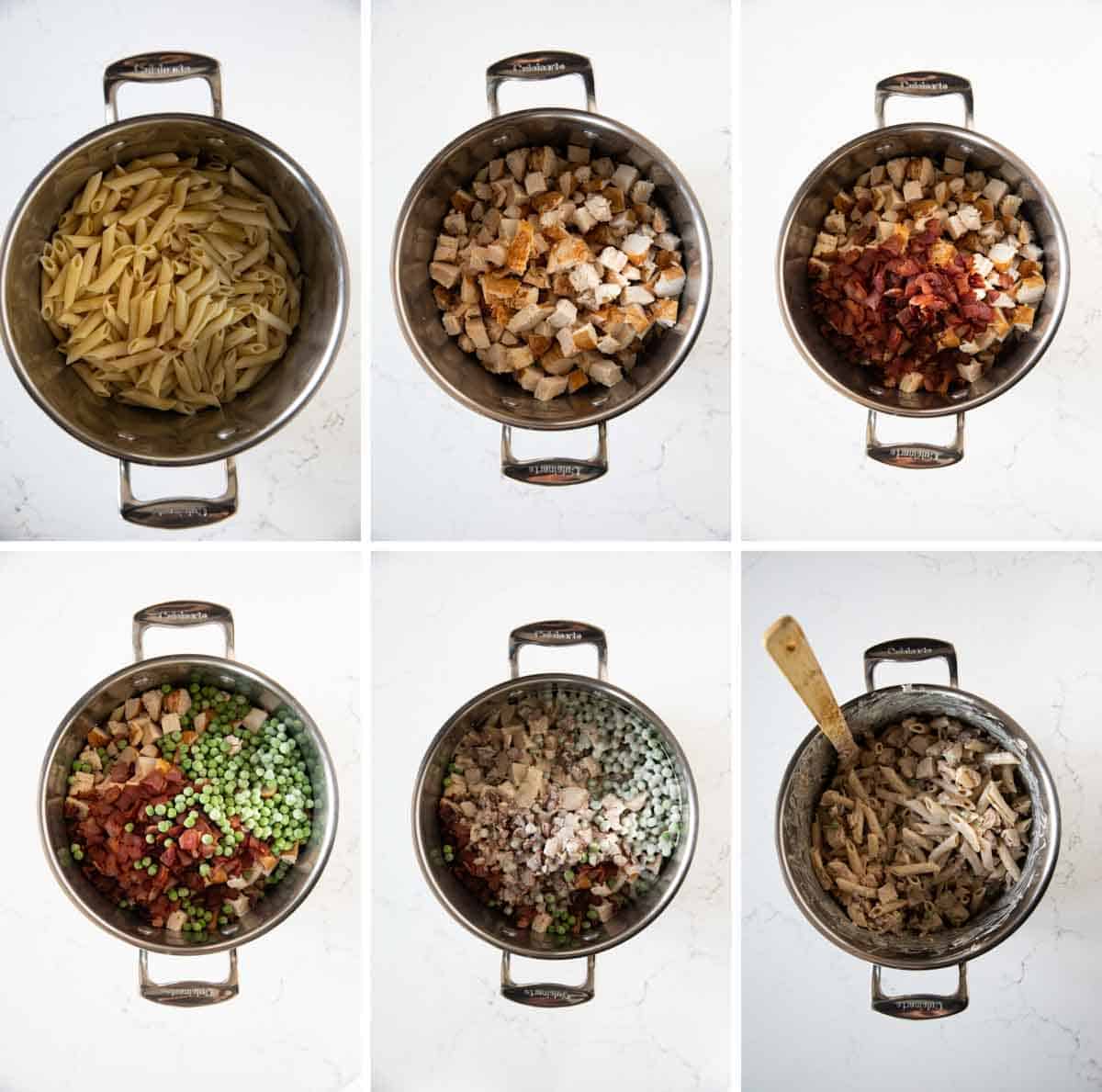 7: Cook and drain the pasta. Return it to the pan.
8: Add in your cooked chicken.
9: Then add the bacon.
10: Pour in the peas.
11: Then pour in your sauce.
12: Mix it all together, then pour into 2 9×13-inch pans. Sprinkle some extra parmesan on top, if desired. If eating right away, bake until the cheese is melted and everything is warmed through, about 15 minutes.
Freezing Instructions
Since this makes so much, it's great to freeze the second dish of pasta (unless you are taking it to a friend!)
I like to put it in a disposable aluminum pan. Let the pasta cool completely. Wrap tightly with foil, and label. Freeze for up to 3 months.
To serve, remove from the freezer and let it defrost in the refrigerator overnight. Bake it at 350ºF, still covered, for 10-15 minutes. Remove the foil and let it cook for another 5 minutes, or until it is heated through.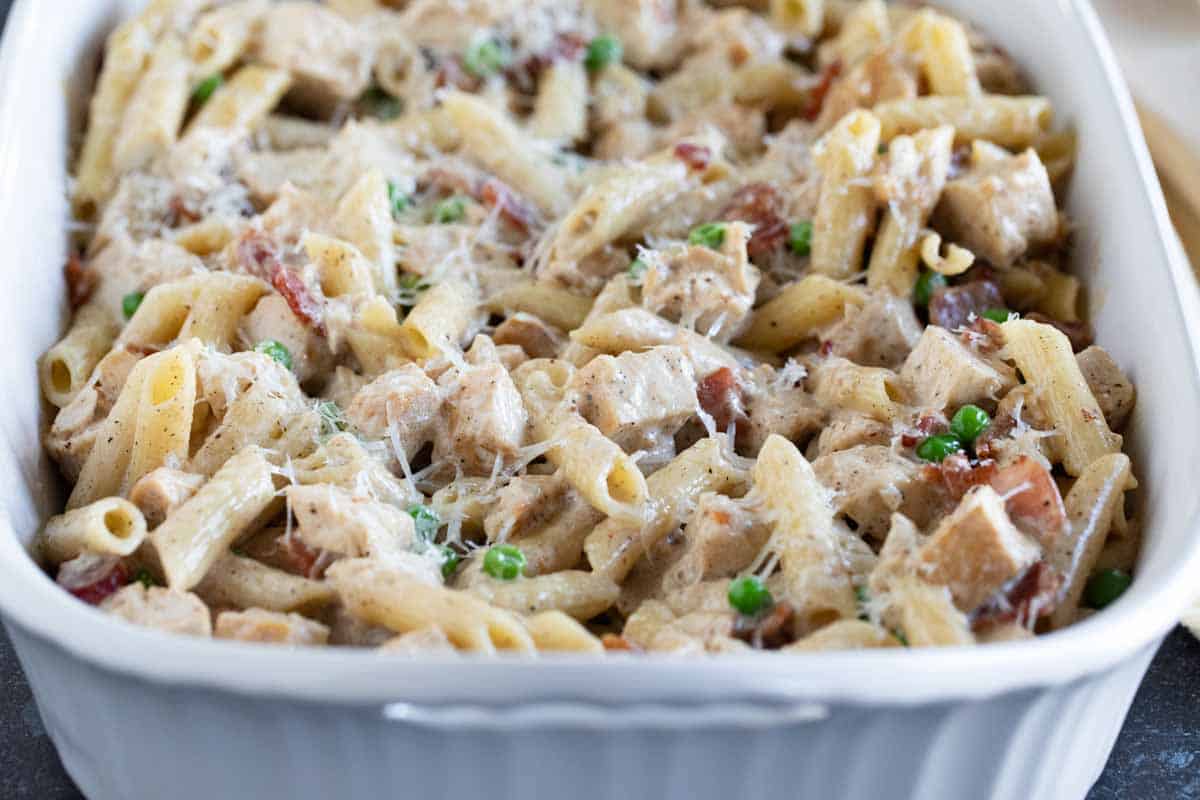 What to Serve with Chicken Bacon Pasta
This pasta recipe goes with pretty much everything, but here are a few of my favorites.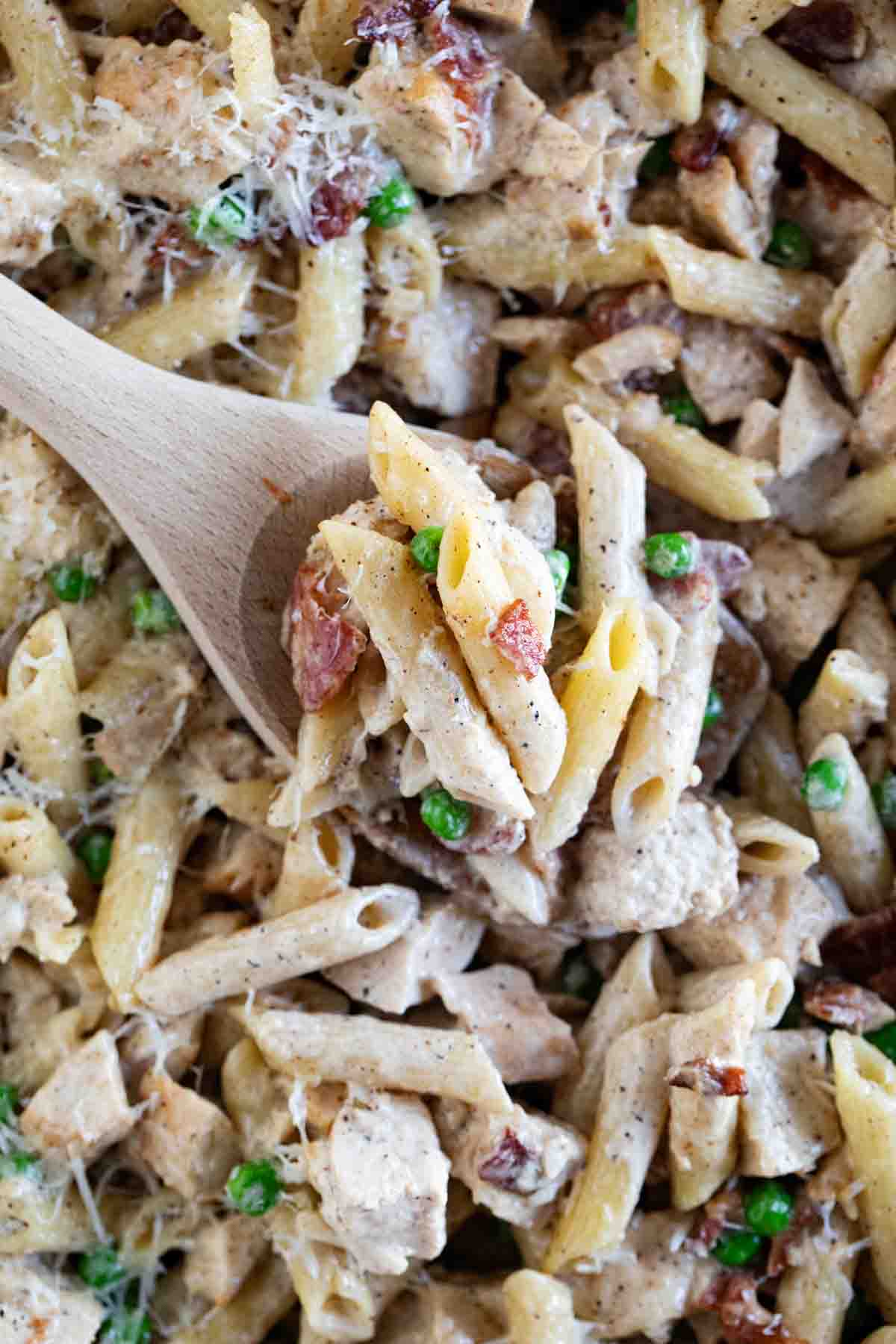 More Pasta Recipes
Sausage and Peppers Pasta
Easy Alfredo Sauce
Chicken Pesto Pasta
Creamy Mac and Cheese
Tuna Casserole
Chicken Stuffed Shells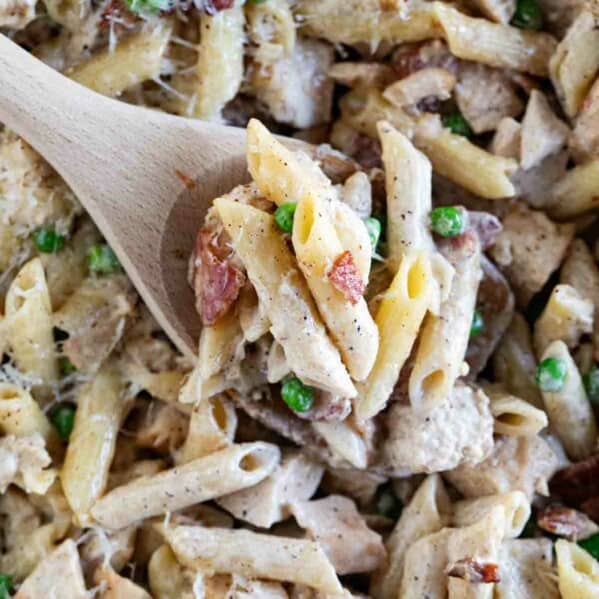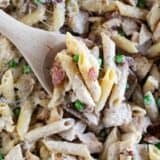 Chicken Bacon Pasta
---
Author:
Prep Time: 20 minutes
Cook Time: 4 hours 30 minutes
Total Time: 4 hours 50 minutes
Yield: 16 servings 1x
Category: Main Dish
Method: Slow Cooker
Cuisine: American
Description
This Chicken Bacon Pasta is rich and comforting and the perfect dinner to take to a friend. It has chicken that is slow cooked before it's added to a pasta with a creamy sauce, bacon, and peas.
---
Scale
Ingredients
6 chicken breast halves (4–5 lbs)
1 12–ounce bottle Lawry's Mesquite Marinade
1 pound small cut pasta
1 pound bacon, diced
3/4 cup butter
1 1/2 tablespoons minced garlic
2 cups half and half
1 cup heavy cream
1/2 to 1 tablespoon pepper
3/4 cup grated Parmesan, plus more for the top
1/2 cup frozen peas
---
Instructions
Put the chicken breasts and the marinade in a slow cooker. Cook until chicken is done – about 3-4 hours on low. When cooked, cut the chicken into bite-sized chunks.
Preheat the oven to 350ºF.
Bring a large pot of salted water to a boil and cook the pasta until al dente. Drain and return to the pot.
In a skillet, cook the bacon over medium-high heat until crisp. Remove with a slotted spoon to a paper towel lined plate. Discard all but about 1 tablespoon of the bacon grease.
Add the butter to the skillet with the remaining grease. Add the garlic and cook until fragrant, about 30 seconds.
Stir in the half and half, heavy cream, pepper and parmesan cheese. Whisk until combined.
In a large pan, combine the half and cream, pepper, butter, garlic and Parmesan cheese. Whisk over medium heat until combined and thickened.
To the pot with the pasta, add the cooked chicken, bacon, and frozen peas. Stir in the sauce.
Transfer the pasta to 2 9×13-inch baking dishes. (I like to make one now and freeze the other for later or give the other away.) Top with additional parmesan cheese, if desired.
Bake the pasta  until warmed through and the cheese is melted, about 15 minutes.
Recipe Notes:
SUBSTITUTIONS: My original recipe called for all heavy cream, which makes a richer, creamier pasta. But I thought it was still great with part half and half to cut back on some of the calories and fat.
Any short cut pasta will work, as well.
Want to use cooked, shredded or cubed chicken? Just skip cooking the chicken in the slow cooker, and add your cooked chicken into the recipe instead.
The marinade can be replaced with any favorite marinade. We just really love this one with this recipe!
FREEZE: This makes a lot, so I always divide into 2 and cook one now and keep one in the freezer for later. Cover tightly with foil and freeze for up to 3 months. Defrost in the refrigerator and cook, covered, for 10-15 minutes. Then remove the foil and cook an additional 5 minutes.
STORE: Store any leftovers in the refrigerator for 3-5 days. You can reheat in the oven (covered with foil) or you can reheat individual portions in the microwave.
Nutrition information provided as an estimate only. Various brands and products can change the counts. Any nutritional information should be used as a general guide.
Nutrition
Serving Size: 1/16 of recipe
Calories: 386
Sugar: 3 g
Sodium: 960 mg
Fat: 21 g
Saturated Fat: 8 g
Unsaturated Fat: 4 g
Trans Fat: 0 g
Carbohydrates: 26 g
Fiber: 1 g
Protein: 25 g
Cholesterol: 103 mg
Keywords: chicken bacon pasta