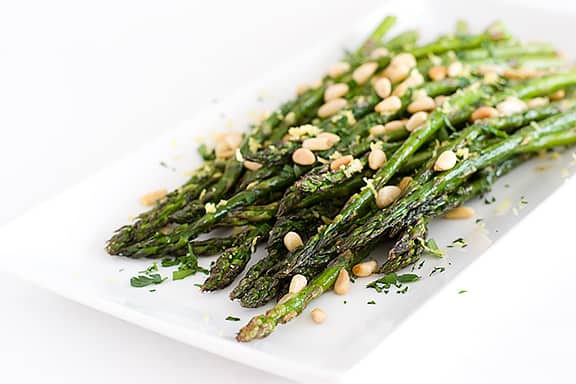 I hope you all had a wonderful Easter!
We woke up to several inches of snow, so while it didn't feel like springtime or Easter outside, I still am super excited that spring is here. Now if only the weather would cooperate!
One thing that always screams spring to me is asparagus. This time of year, I certainly eat my fair share of it! In fact, I was just telling my mom yesterday that whenever I make it for my husband and I, I have to make at least a full pound because I can easily eat a half pound myself. Especially if it is roasted!
This recipe is super simple, plus a little fancy at the same time. And the best part is that it is easy as can be!! This would be the perfect accompaniment to any springtime meal.
Roasted Asparagus
from Food Network Magazine April 2010
Serves 4-6
Total time: 20 minutes
2 pounds asparagus
1 tablespoon olive oil
salt and pepper
1/3 cup toasted pine nuts
1/2 cup chopped parsley
grated zest of 1 lemon
Preheat oven to 450F. Trim asparagus.
Toss the asparagus with the olive oil and salt and pepper and place it on a baking sheet. Roast in the preheated oven until lightly browned.
Mix the pine nuts, parsley and lemon zest. Sprinkle over the asparagus. Season with more salt and pepper, if needed.