A light lemon flavor is the star of this pasta dish with lemon and garlic scented pasta, topped with a slightly crispy lemon chicken. This Lemon Chicken Pasta is a weeknight winner!
Pasta is always a favorite, so if you are looking for even more pasta recipes, make sure to also check out this Garlic Spaghetti or this Baked Ravioli.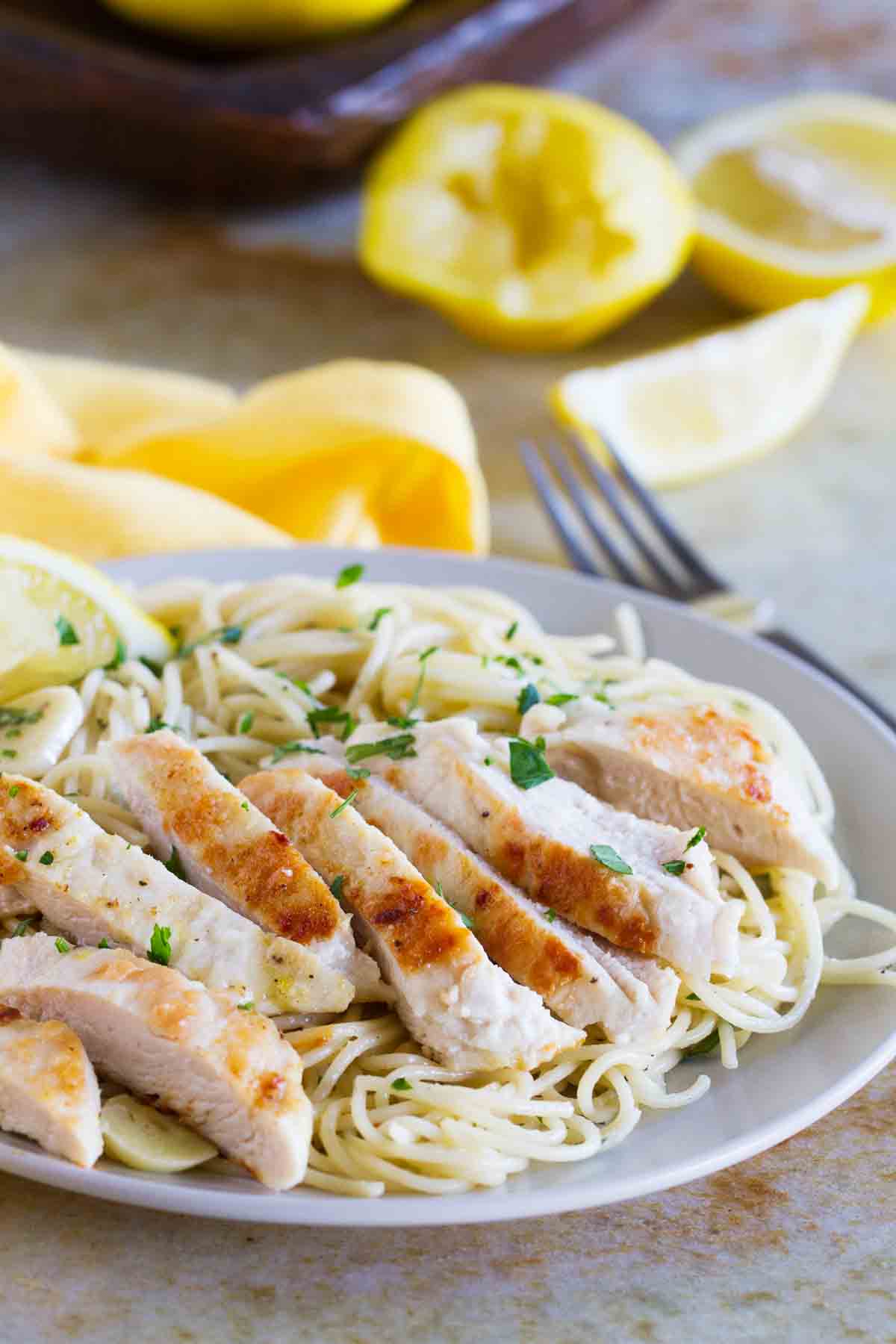 I feel like I'm all out sorts this year. Here it is, December 12th, and I should be posting a month of Christmas cookies and candy and all of those great holiday treats. And I'm posting about chicken. Yep. Truth be told, I just haven't had much time in the kitchen lately. I'm driving my kids to school (since we started them at the school in the boundries for our new house), which means I'm in the car for about an hour and a half every day. Which is pitiful, seeing that the new school is only about 10-15 minute away. I load kids in the car, drive there, usually with some time to spare to make sure no one is late, then drop off and drive home. Then since Easton is in kindergarten, he's only half day, so I go back to pick him up. Then there's the last pick up for Abbi. And there is an hour and a half of my day gone. It wouldn't be so bad if it was all together, but it's broken up into 3 different times, which means there's not a ton of time to start and finish something in between those pick ups.
I was actually ok with everything before the time change. But now that it gets dark at 4:30, there is no photographing in the afternoons. And let's not forget about all of the incredibly overcast days we've been having lately.
I'm not complaining – really, I'm not – it's just been hard to do everything I want to do. Because believe me – I have a list of recipes I want to make and share with all of you. And hopefully I'll still get to a few of those. Crossing my fingers!!
But when you really think about it, we still have to eat dinner every night. And while I do love those cookies and candies and all of the other Christmas treats, what I always need are easy, fast dinner ideas. And this Lemon Chicken Pasta is just that.
You all know that I'm obsessed with lemon everything, so it's no wonder I've made yet another lemon recipe. And just in case you think lemon is just for sweet recipes, this will show you that it is perfect in savory recipes. This Lemon Chicken Pasta is easy, and can easily be finished in less than 45 minutes – making it a perfect weeknight meal. And this one is good any time of year – not just in December!!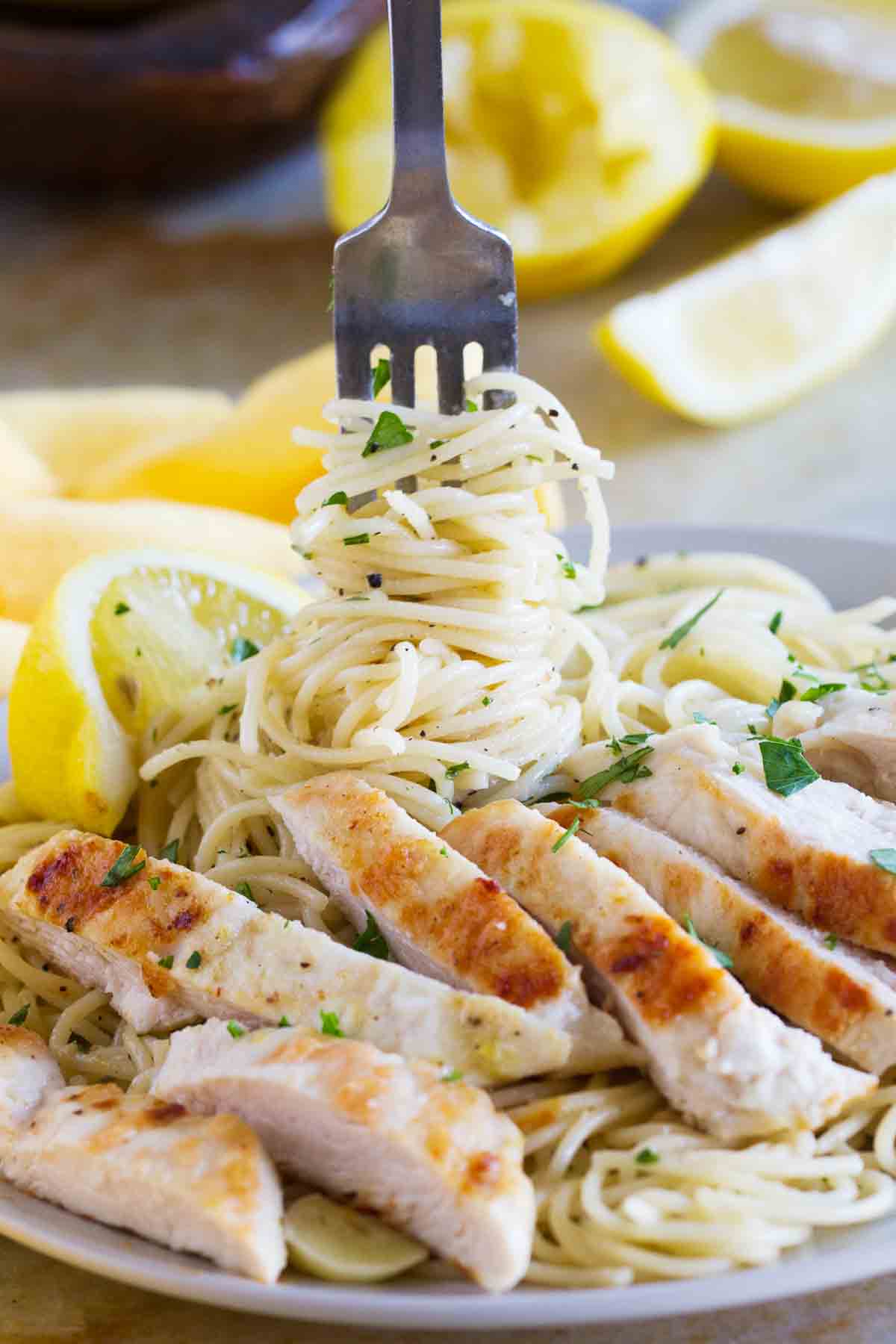 More Savory Lemon Recipes
Lemon Herb Fish with Crispy Oven Fries
Easy Lemon Chicken with Butternut Squash
Lemon Cream Sauce Pasta with Asparagus and Peas
Grilled Lemon Shrimp
Lemon Pepper Shrimp Pasta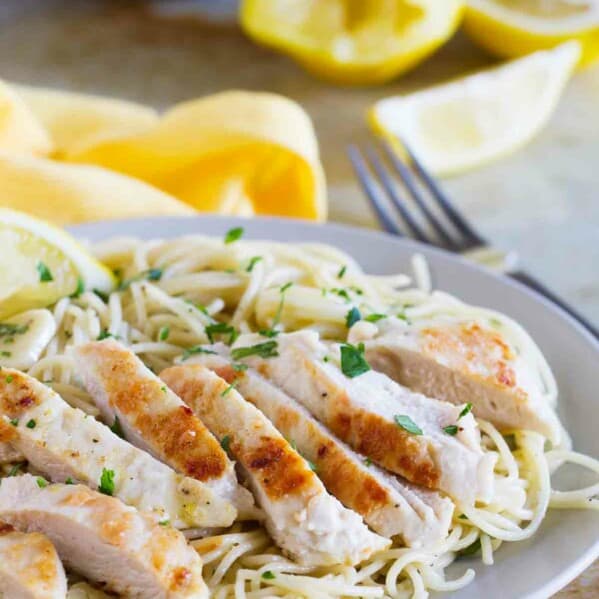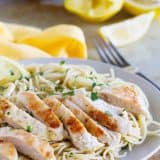 Lemon Chicken Pasta
---
Author:
Prep Time: 20 minutes
Cook Time: 15 minutes
Total Time: 35 minutes
Yield: 6 servings 1x
Category: Main Course
Method: Stove Top
Cuisine: Italian
Description
A light lemon flavor is the star of this pasta dish with lemon and garlic scented pasta, topped with a slightly crispy lemon chicken. This Lemon Chicken Pasta is a weeknight winner!
---
Scale
Ingredients
8 ounces angel hair pasta, (uncooked)
4 boneless, skinless chicken breasts, (about 6 oz each*)
1 teaspoon salt (divided)
1/2 teaspoon pepper (divided)
1/2 cup all-purpose flour
2 teaspoons lemon pepper
3 tablespoons olive oil (divided)
1/4 cup peeled and thinly sliced garlic cloves
1 cup chicken broth
2 tablespoons lemon juice
1/2 cup grated Parmigiano-Reggiano cheese
1/3 cup plus 3 tablespoons chopped parsley, (divided)
lemon wedges, (for serving)
---
Instructions
Bring a large pot of water to a boil, then salt generously. Add the pasta and cook until al dente. Drain the pasta, reserving at least 1/2 cup of the pasta water.
Meanwhile, pound the chicken breasts with a meat mallet to an even thickness, about 1/4" thick. Sprinkle with 1/2 teaspoon of the salt and 1/4 teaspoon of the pepper. Place the flour in a shallow dish and add the lemon pepper and mix. Dip the chicken in the flour mixture to coat each side, then shake off the excess.
Place 2 tablespoons of the oil in a large skillet over medium heat. Add the chicken, working in batches if needed, and cook until no longer pink, 2-3 minutes per side. Remove to a plate and tent with foil to keep warm.
In the same skillet, add the remaining oil and heat up over medium heat. Add the garlic and cook and stir for 30-60 seconds. Add the chicken broth and continue to cook, scraping the browned bits off the bottom of the pan, until the liquid is reduced by half. Stir in the lemon juice.
Place the drained pasta in a large bowl. Add the cheese, 1/3 cup of parsley and the garlic mixture. Add the remaining 1/2 teaspoon salt and 1/4 teaspoon pepper. Toss to combine, adding some of the reserved pasta water, if needed, to loosed the pasta.
Thinly slice the chicken, then serve alongside the pasta. Sprinkle with additional parsley, and serve with lemon wedges.
Recipe Notes:
*If your chicken breasts are larger (which mine almost always are), you can cut them in half horizontally, making 2 thinner pieces. I actually like doing this more than having smaller breasts because they are easier to pound to an equal thickness.
slightly adapted from Taste of Home April/May 2016
Keywords: lemon chicken pasta