The perfect ending to any meal, this Butterscotch Budino is a creamy Italian pudding that will stick in your memory and leave you craving more!
One of my favorite parts of blogging is all of the people that I get to meet. I have met and become friends with people through blogging that I probably wouldn't have met otherwise, and my life would not be as full without these people in it.
One of these people is Becky, who blogs at Vintage Mixer. I have known Becky for a few years now, and she is honestly one of the sweetest, kindest, most genuine people I have ever met. I consider myself blessed that I can call her a friend.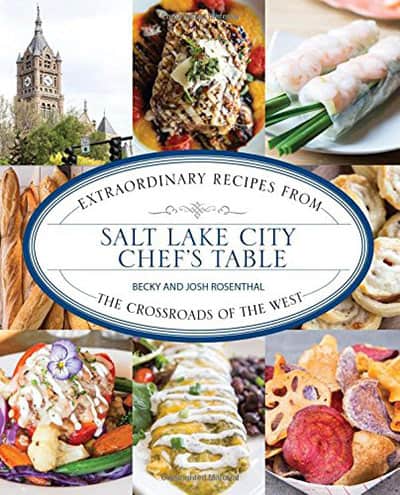 I was so excited when I heard that Becky and her husband, Josh, were writing a cookbook. But this cookbook is not like any other cookbook in my collection. Salt Lake City Chef's Table is not only a collection of recipes from some of Utah's best restaurants, but it is also about the people and stories behind these restaurants. This is one of those books that you'll want to read from cover to cover.
I have lived in Utah for quite some time now, but after reading this book, I have realized just how much I have not seen of the food scene here. This book is unique in that not only does it make you want to get into the kitchen to cook, but it also makes you want to get out and actually experience these recipes at the restaurants. I would totally buy this cookbook even if I didn't plan on making one recipe, just for the inside look at all of the restaurants.
Here are the details:
Number of Photos: lots There is not only a photo of almost every recipe, but there are lots of photos of the chefs and the restaurants where the recipes come from. They are gorgeous photos as well.
Difficulty Level of Recipes: easy to hard There really is a wide variety of recipes in this book – everything from a simple quinoa salad to making your own gnocchi. I love that all of the recipes are from the different restaurants, though, so that you can make restaurant quality food at home.
Availability of Ingredients: easy to hard Since these are restaurant recipes, a few of the ingredients might be a little harder to come by than just your basics. But I have a feeling that it would totally be worth finding the ingredients for all of these recipes!
Other recipes I want to try:
Faustina's Eggs Benedict
Eva's Bakery Blackberry Upside-Down Cornmeal Cake
Copper Onion's Beef Stroganoff
Chanon Thai's Gang Dang Curry
Tulie French Toast
Taqueria 27's PBLTA Tacos
Buy Salt Lake City Chef's Table on Amazon.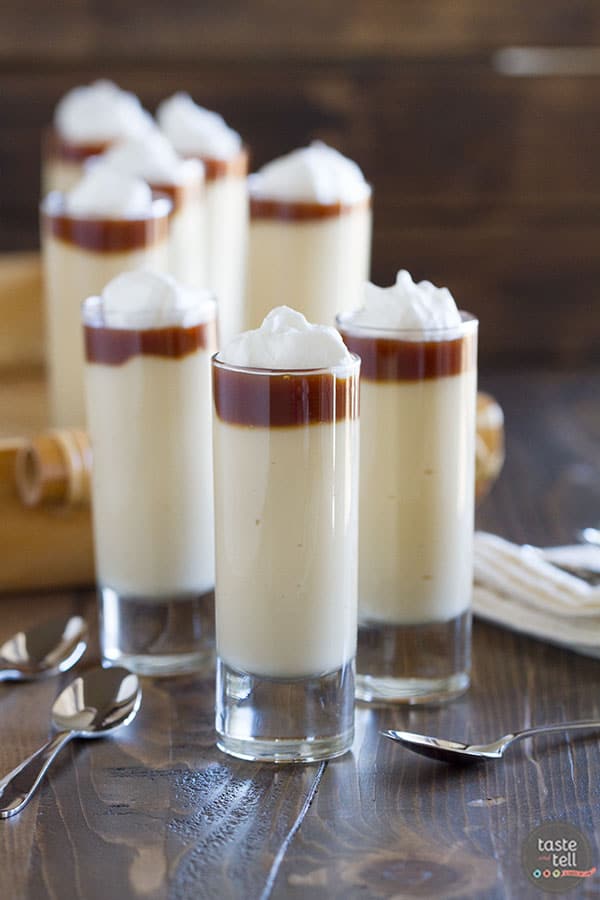 As I was reading through the book for the first time, I was trying to decide between the cornmeal cake and beef stroganoff (listed above). And then I got to the end of the book, where I stopped dead in my tracks. There was Vinto, a wonderful restaurant that I've actually been to, known for their pizza. And I saw it – the Butterscotch Budino. It has been quite awhile since I ate at Vinto, but I remembered that Butterscotch Budino like it was yesterday. I knew I had to make that recipe.
This recipe is all that I was expecting and more. This dessert is crazy delicious. Smooth and creamy and rich – it is honestly a dessert you will be dreaming about for days, weeks, or months to come.
There wasn't a recipe included for the caramel layer, so I used one from Fifteen Spatulas that was just perfect. And the recipe in the book says that it makes 8 servings, but I think those servings would be quite large. My cups are 2.5 oz each, and I filled all 12 that I have, and still had about half of the mixture left. My cups are a small portion, so I think you should be able to get 12 decent sized portions from this recipe.
Now I can't wait to cook my way through this book, and eat my way through the city with all of these great restaurants on my list now!!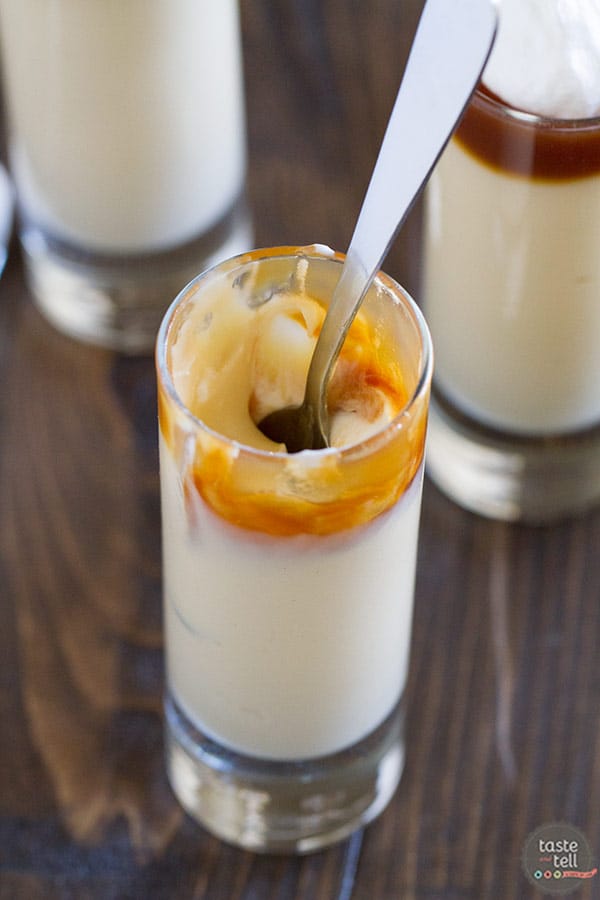 Like what you see here? Make sure you are following Taste and Tell for more great recipes and ideas!!

Facebook ** Pinterest ** Twitter ** Instagram ** Google+
or you can subscribe to my newsletter or Feedly or Bloglovin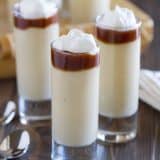 Butterscotch Budino
---
Author:
Prep Time: 20 mins
Cook Time: 20 mins
Total Time: 40 mins
Yield: 12 servings 1x
Description
The perfect ending to any meal, this Butterscotch Budino is a creamy Italian pudding that will stick in your memory and leave you craving more!
---
Scale
Ingredients
4 cups heavy cream
1 cup whole milk*
1 1/4 cups light brown sugar
1/2 cup water
1 whole egg
3 egg yolks
5 tablespoons cornstarch
4 tablespoons unsalted butter, cut into small pieces
1 1/2 teaspoons fine sea salt or kosher salt
caramel sauce**
freshly whipped cream
---
Instructions
Combine the cream and the milk in a bowl or in a large measuring cup and set aside.
In a large, heavy bottomed saucepan, combine the brown sugar and the water. Turn the heat to medium and let the mixture come to a simmer. Turn the heat up to medium-high and cook until there are slow rolling bubbles and the mixture is dark. Be sure to watch it continuously, as the mixture will burn quickly.
Slowly add the cream and milk mixture. The mixture may seize, but just whisk it until the cream and the sugar mixture are completely combined. Bring the mixture to a simmer, then turn off the heat.
While the sugar and cream are heating, whisk the egg, egg yolks and cornstarch together until smooth.
Slowly pour half of the warm caramel mixture into the egg mixture, whisking constantly to make sure you don't scramble the eggs.
Turn the heat back on the caramel mixture to medium-high. Pour the egg mixture back into the caramel mixture and cook, whisking constantly, until bubbles form on the surface and pop. Remove the mixture from the heat and whisk in the butter and salt until it is smooth.
Pour the mixture through a sieve into a large measuring cup or bowl with a spout. Immediately portion the pudding into parfait glasses or bowls and chill.
Serve topped with a thin layer of caramel and a dollop of whipped cream.
Recipe Notes:
recipe slightly adapted from Salt Lake City Chef's Table by Becky and Josh Rosenthal
*I used 2% milk because that's what I had on hand and it still worked great.
**I used this caramel recipe from Fifteen Spatulas.
Total time does not include chilling time.
The original recipe calls for 2 tablespoons of dark rum to be mixed in with the butter. Since I don't drink, I just left it out and it was still out of this world delicious.
Don't miss a thing! Follow me on Pinterest to see what I'm pinning!
Visit Taste and Tell's profile on Pinterest.



**This post contains affiliate links. If you purchase an item from Amazon from the link Taste and Tell receives a small commission. Thank you for supporting Taste and Tell through your purchases!**