The perfect ending to any meal, this Butterscotch Budino is a creamy Italian pudding that will stick in your memory and leave you craving more!
This Butterscotch Budino is the perfect date night in dessert recipe! Also try this Rice Pudding with Salted Caramel and Raspberries, Raspberry Creme Brulee, or Coconut Lemon Pudding Parfaits.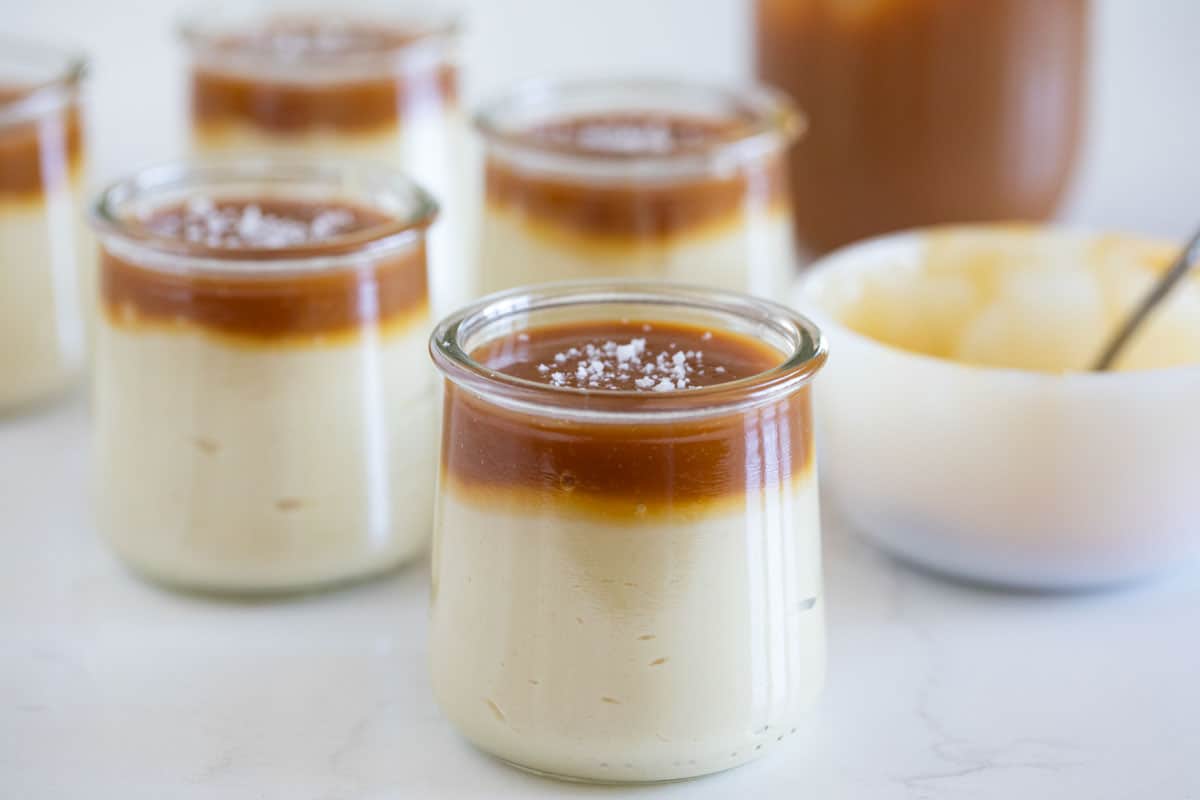 This budino recipe originally came from a cookbook review I did years ago – Salt Lake City Chef's Table.
The cookbook is filled with recipes based off of popular dishes at local Salt Lake restaurants.
I am especially grateful for this cookbook now, as many of the restaurants in the book have closed. Including Vinto, where you used to be able to find this Butterscotch Budino.
What is Budino?
Until I tried this dessert at Vinto many years ago, I did not know what budino was.
Basically, it is Italian for pudding. But just like so many other recipes, it can be something different depending on where you get it.
The version here is more like what we know as a pudding here in the United States. A creamy mixture made from milk, eggs, cream, and sugar. This version is thickened with cornstarch. You can find recipes that are more like a souffle. And some that are a boiled pudding.
Regardless, I call this delicious. I like to make it when we have a "fancy" dinner at home, like on Valentine's Day or on a special birthday. But really, it is easy enough to make year round!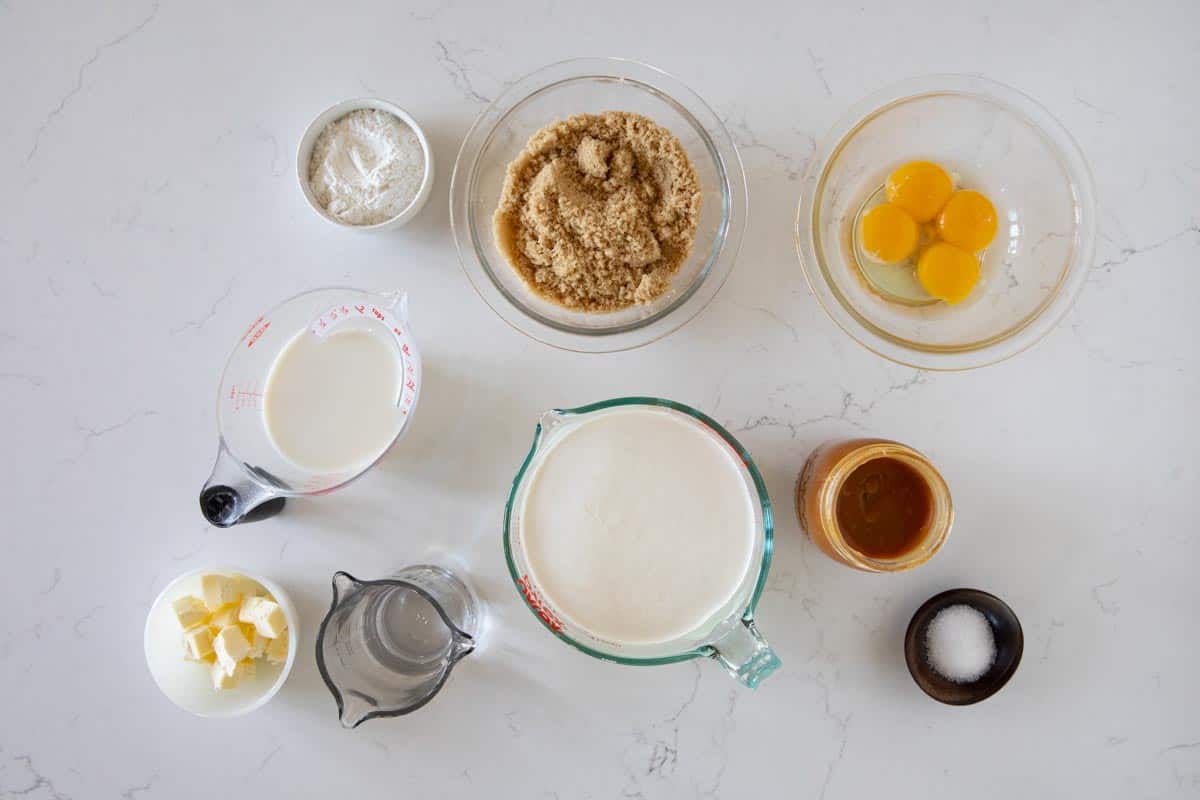 Ingredients
Cream: Use full fat heavy whipping cream here.
Milk: The original recipe calls for whole milk, but I have made it successfully with 2%.
Brown Sugar: I use light brown sugar, but I'm sure dark brown would work as well.
Eggs: You'll need one whole egg and three egg yolks. You can always save the whites to make meringue cookies!
Cornstarch: This is what we use to thicken up the budino.
Butter: I use unsalted, then add salt in. I feel like I can better control how salty it is that way.
Salt: I prefer sea salt to table salt. I think it has a smoother, better flavor.
Salted Caramel: I use homemade salted caramel sauce, but store bought will work, too.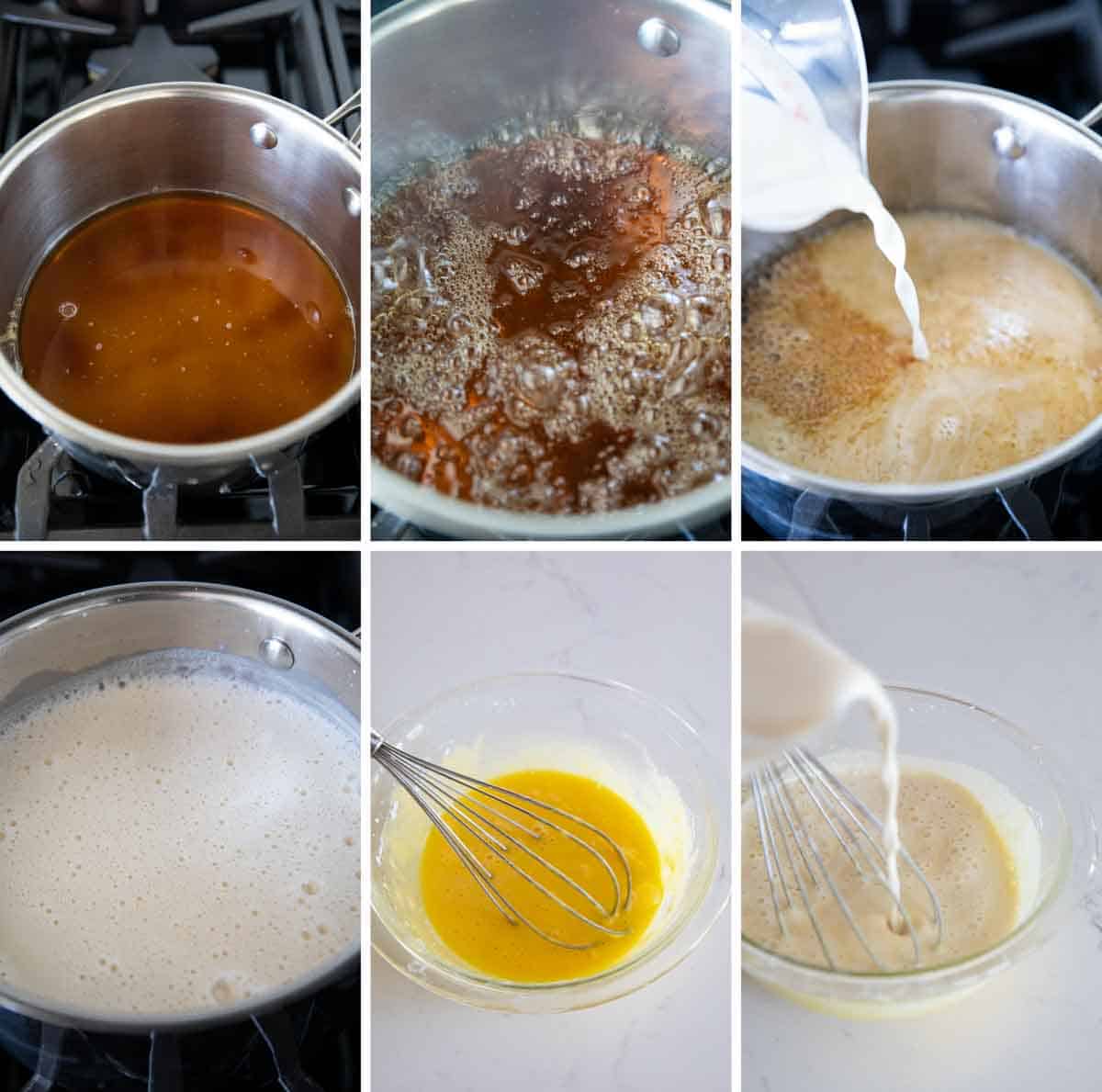 How to Make Butterscotch Budino
1: Combine the sugar and the water in a large saucepan.
2: Bring it to a boil, and let it cook until it turns a nice amber color.
3: Whisk in the milk and cream.
4: If this seizes up, just continue to whisk until it all comes together.
5: In another bowl, whisk your egg and egg yolks together.
6: While whisking, pour about half of the hot mixture into the eggs.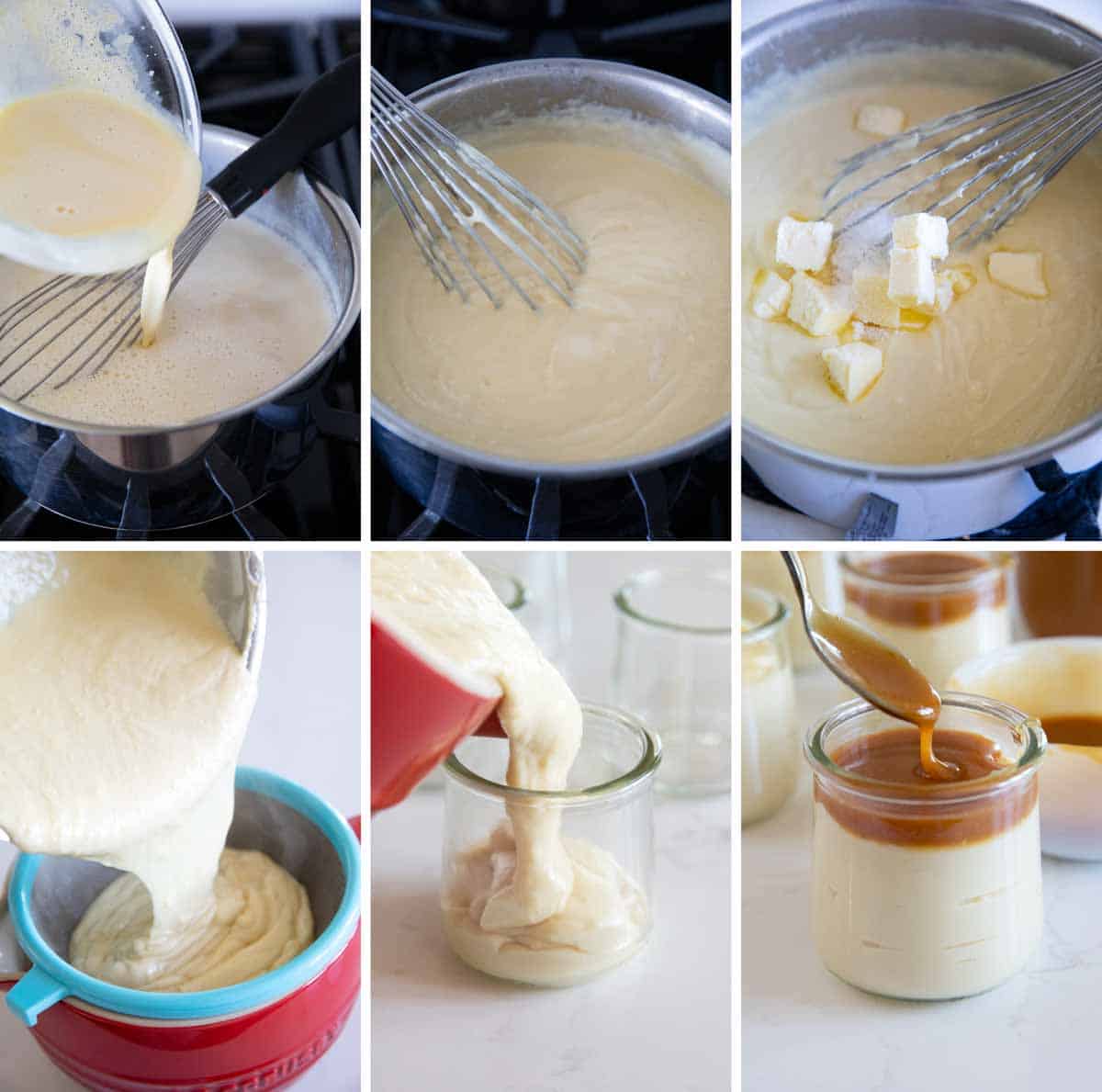 7: Pour it all back into your saucepan.
8: Continue to cook, whisking constantly, until you have big bubbles and the mixture is thickened.
9: Remove the pan from the heat and whisk in the butter and salt.
10: Pour this mixture through a sieve into a large bowl or measuring cup with a spout. (I have a batter bowl that works perfectly.)
11: Pour the budino into individual serving glasses or cups. Refrigerate.
12: When ready to serve, slightly heat the salted caramel and spoon on top of each dessert cup.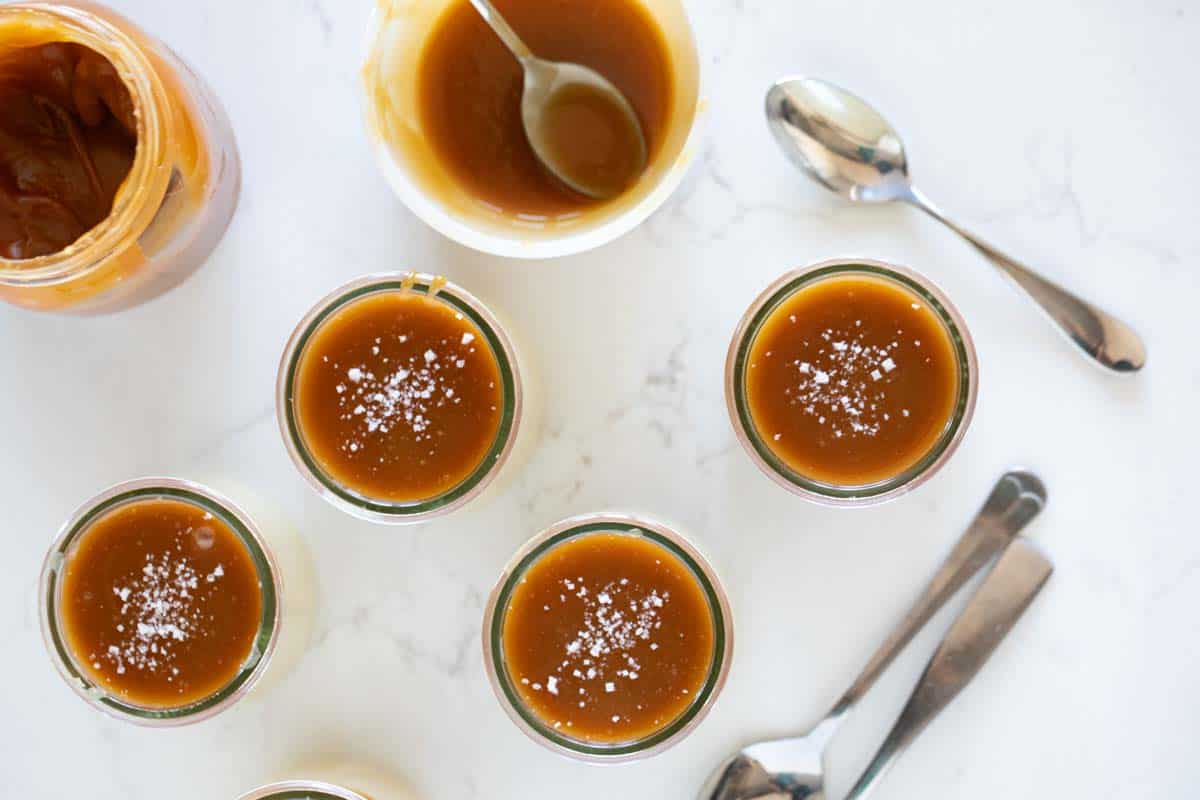 Make Ahead
You want to give the budino some time in the refrigerator to cool thoroughly, so this is a great make ahead dessert.
I like to transfer the pudding to individual serving cups while it is still warm. Then, the best way to refrigerate them is to place a piece of plastic wrap right on top of the pudding to prevent a skin from forming. The budino can then be refrigerated for up to 5 days.
I like to make homemade salted caramel sauce to go on top. This, also, can be made ahead of time.
I wait until it is time to serve the dessert (or shortly before) to add the caramel. The caramel will need to be slightly heated to make it the right consistency to add to the top. If you refrigerate the dessert once the caramel has been added, the caramel will firm up and make it harder to eat the budino, so it is best right before serving.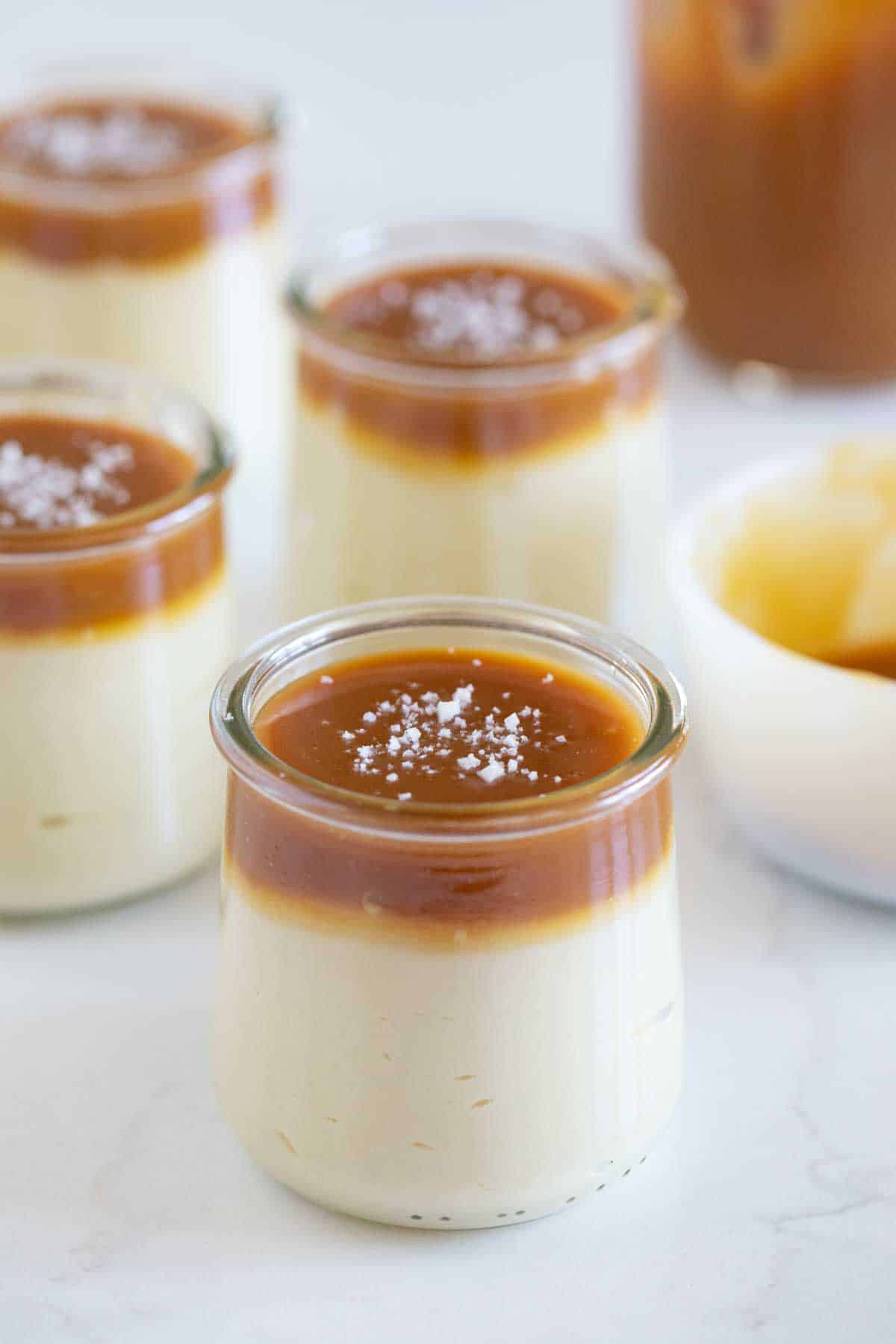 Tips and Tricks
You can use dessert cups, parfait cups, or even re-use yogurt jars (like I did here!) You can also use ramekins, but you won't be able to see the layered effect if they are not clear.
Make sure to whisk well while combining the hot liquid to the eggs to avoid clumps. But you will press it all through a sieve to make sure it is nice and smooth.
I also like to top mine with a sprinkle of sea salt, but my kids prefer it without. Feel free to add a dollop of fresh whipped cream, as well!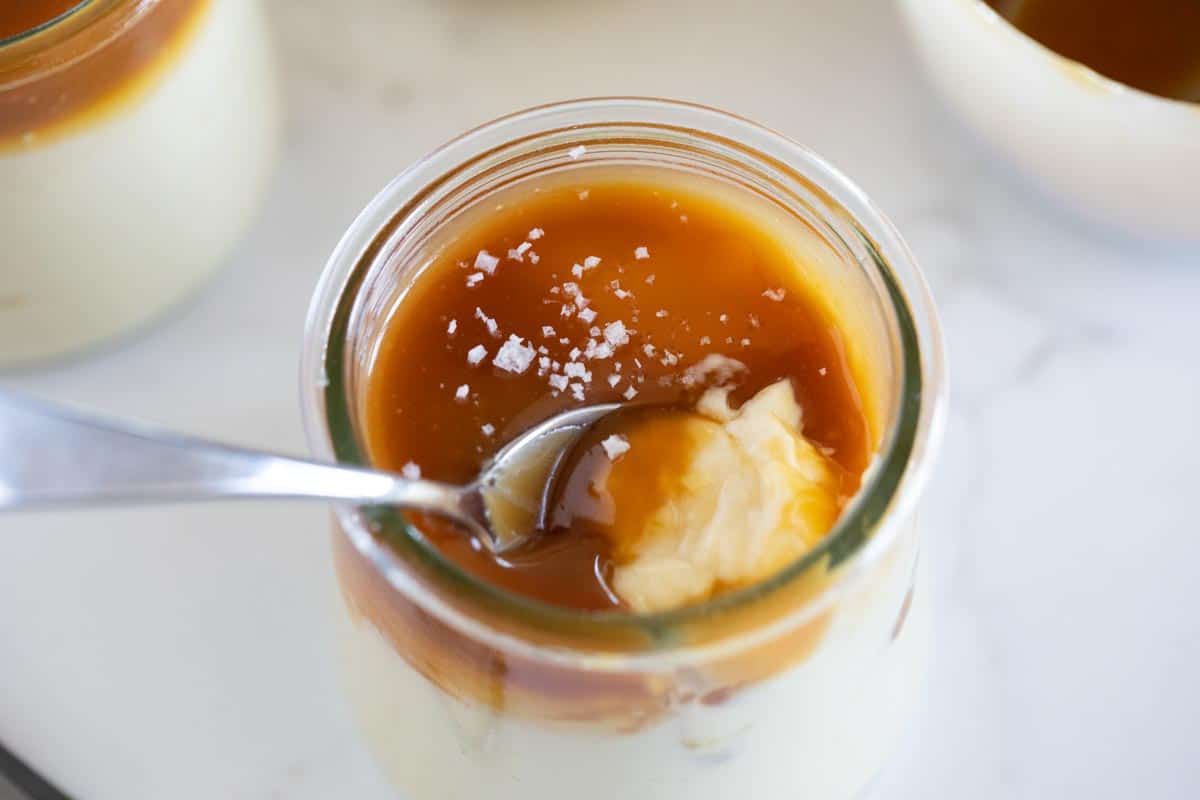 More Unforgettable Dessert Recipes
Homemade Brownies
Chocolate Mousse
Red Velvet Cupcakes
Pavlova Recipe with Fresh Berries
Lemon Cheesecake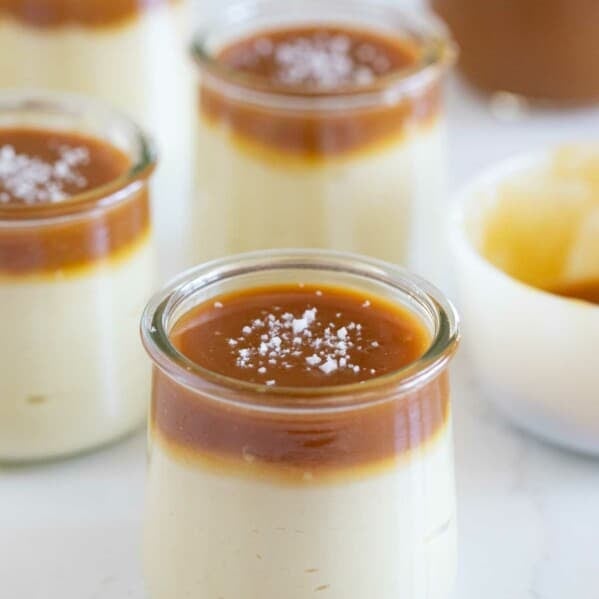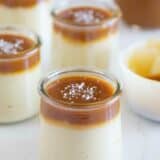 Butterscotch Budino
---
Author:
Prep Time: 20 minutes
Cook Time: 20 minutes
Total Time: 2 hours
Yield: 12 servings 1x
Category: Dessert
Method: Stove Top
Cuisine: Italian
Description
The perfect ending to any meal, this Butterscotch Budino is a creamy Italian pudding that will stick in your memory and leave you craving more!
---
Scale
Ingredients
4 cups heavy cream
1 cup whole milk
1 1/4 cups light brown sugar
1/2 cup water
1 whole egg
3 egg yolks
5 tablespoons cornstarch
4 tablespoons unsalted butter, cut into small pieces
1 1/2 teaspoons fine sea salt or kosher salt
1 cup salted caramel sauce
---
Instructions
Combine the cream and the milk in a bowl or in a large measuring cup and set aside.
In a large, heavy bottomed saucepan, combine the brown sugar and the water.  Turn the heat to medium and let the mixture come to a simmer.  Turn the heat up to medium-high and cook until there are slow rolling bubbles and the mixture is dark.  Be sure to watch it continuously, as the mixture will burn quickly.
Slowly add the cream and milk mixture.  The mixture may seize, but just whisk it until the cream and the sugar mixture are completely combined.  Bring the mixture to a simmer, then turn off the heat.
While the sugar and cream are heating, whisk the egg, egg yolks and cornstarch together until smooth.
Slowly pour half of the warm caramel mixture into the egg mixture, whisking constantly to make sure you don't scramble the eggs.
Turn the heat back on the caramel mixture to medium-high.  Pour the egg mixture back into the caramel mixture and cook, whisking constantly, until bubbles form on the surface and pop.  Remove the mixture from the heat and whisk in the butter and salt until it is smooth.
Pour the mixture through a sieve into a large measuring cup or bowl with a spout.  Immediately portion the pudding into parfait glasses or bowls and chill.
Serve topped with a thin layer of caramel.
Recipe Notes:
Recipe slightly adapted from Salt Lake City Chef's Table by Becky and Josh Rosenthal
SUBSTITUTIONS: Whole milk will give you the best result, but I have used 2% and it has worked just fine.
STORE: Store the pudding covered in the refrigerator. I like to lay a piece of plastic wrap right on top of the pudding. These store best without the caramel on top – I like to add the caramel just before serving.
Nutrition information provided as an estimate only. Various brands and products can change the counts. Any nutritional information should be used as a general guide.
Nutrition
Serving Size: 1/12 of recipe
Calories: 227
Sugar: 7 g
Sodium: 336 mg
Fat: 12 g
Saturated Fat: 7 g
Unsaturated Fat: 3 g
Trans Fat: 0 g
Carbohydrates: 30 g
Fiber: 0 g
Protein: 2 g
Cholesterol: 93 mg
Keywords: butterscotch budino, budino, budino recipe