Ranch lovers will go crazy over this Cheesy Ranch Chicken with Potatoes. Hands on time is minimal, and the chicken packs a flavor punch!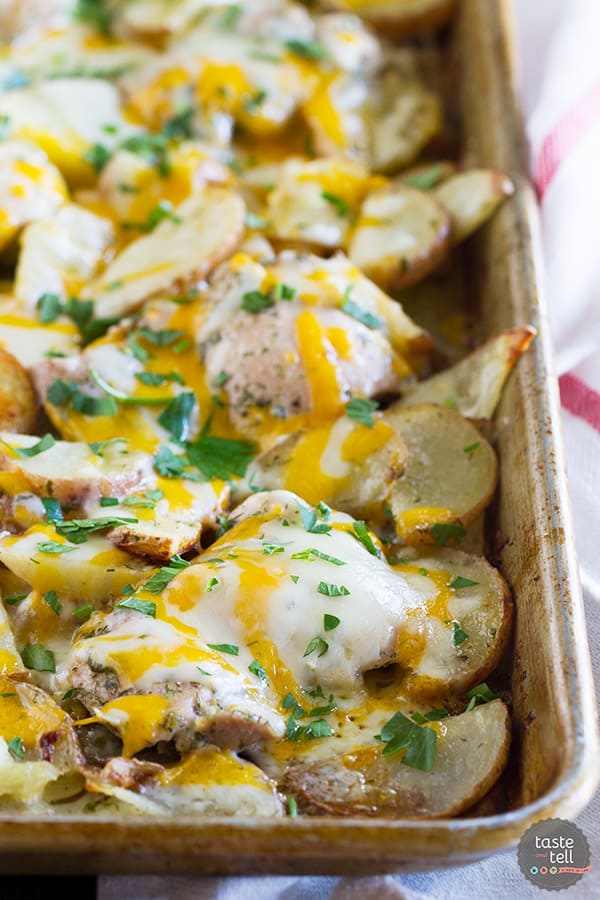 I have officially crossed the line into the busy mom life. Ok, I hate using the word busy, but I can't think of another word to describe it. (And I apologize if I talk about this incessantly over the next few months until I find my groove. I'm just not used to the go-go-go!) But my life as a homebody is officially over. In the past, I would be at home at least 5 of the 7 days of the week. Now, I'm out of the house every day. Mostly running kids here and there, but I don't think I've ever been in the car this often.
But I'm still trying to retain some normalcy. And I have become more committed than ever to family dinner time. Because when life gets crazy, that 15 minutes around the table may be the only time you are together all day long. The problem, though, is that when you are running around all day, finding the time and the motivation to make dinner can be challenging.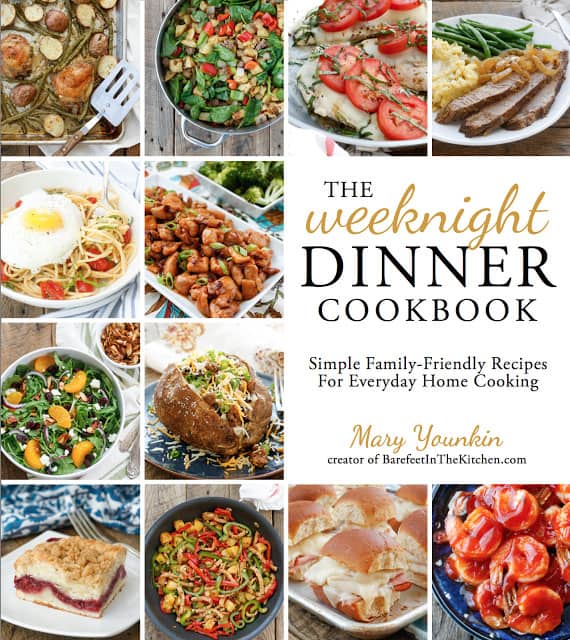 Which is one reason I am so excited about today's cookbook review – The Weeknight Dinner Cookbook by Mary Younkin from Barefeet In The Kitchen. You guys – this is all you need for weeknight dinner planning.
First of all, I love how the book is organized. The main dishes are organized by how long they will take to make. There is a chapter for 15-25 minute meals, a chapter for 30-45 minute meals, and another chapter for 5-10 minute prep meals that can cook on their own. This is perfect for when I need to plan a meal on a super busy night when I don't have a lot of time, but I don't want to search through cookbooks looking for a quick recipe. And even better – all of the recipes look amazing. I made this Cheesy Ranch Chicken with Potatoes (more on that below) and the Green Chile and Cheese Stuffed Chicken and both were home runs. At this point, I'm not even bothering to put the book away on my bookshelf because I know I'll be cooking from it regularly!! (And I can't wait to break into the dessert chapter, too!!)
Here are the details:
Number of Photos: lots. There is a photo of every finished dish. And they are beautiful!
Difficulty Level of Recipes: easy. These recipes are made to be simple, and perfect for a weeknight!
Availability of Ingredients: easy. There aren't any crazy ingredients – you should be able to find them at any grocery store.
Other recipes I want to try:
Sweet Chipotle Chicken Bites
Bow-Tie Pasta with Bacon and Brussels Sprouts
Spicy Chili Garlic Beef and Broccoli Soup
Fish Tacos with Jalapeno Lime Sauce
Creamy Balsamic Skillet Chicken
Honey Chipotle Meatloaf
Greek Chicken
Maple Herb Roasted Carrots
Buy The Weeknight Dinner Cookbook on Amazon.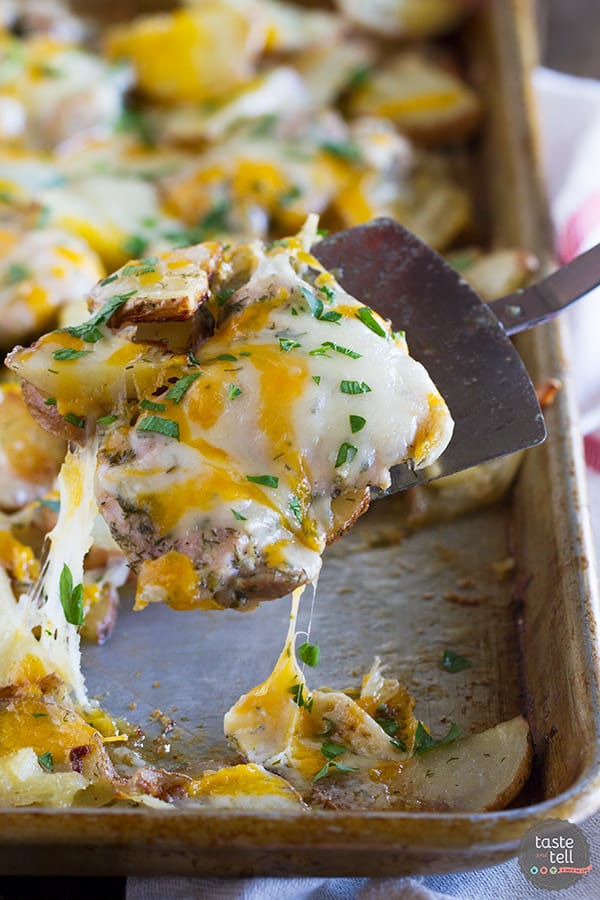 And now the Cheesy Ranch Chicken with Potatoes. There's really not much to say except for you should make this. So easy, and so delicious! You do have to prepare ahead to make sure you marinate the chicken, but the hands on time is so minimal, and you end up with a meal that the whole family will devour. When I saw this recipe, I knew it would be a hit. You really can't go wrong with ranch, potatoes, chicken and cheese!!
You start by marinating the chicken in a homemade ranch seasoning mix. Then the chicken goes onto a sheet pan with potatoes, and when it's all cooked, you smother it all in cheese. In the book, Mary serves it all up with a homemade ranch dressing, but I do have to admit that I was a bad planner and didn't make the ranch ahead of time. So we just used bottled. But even though I didn't try her recipe, I can guarantee it would be better than bottled!
I know this Cheesy Ranch Chicken with Potatoes will be on repeat in our house!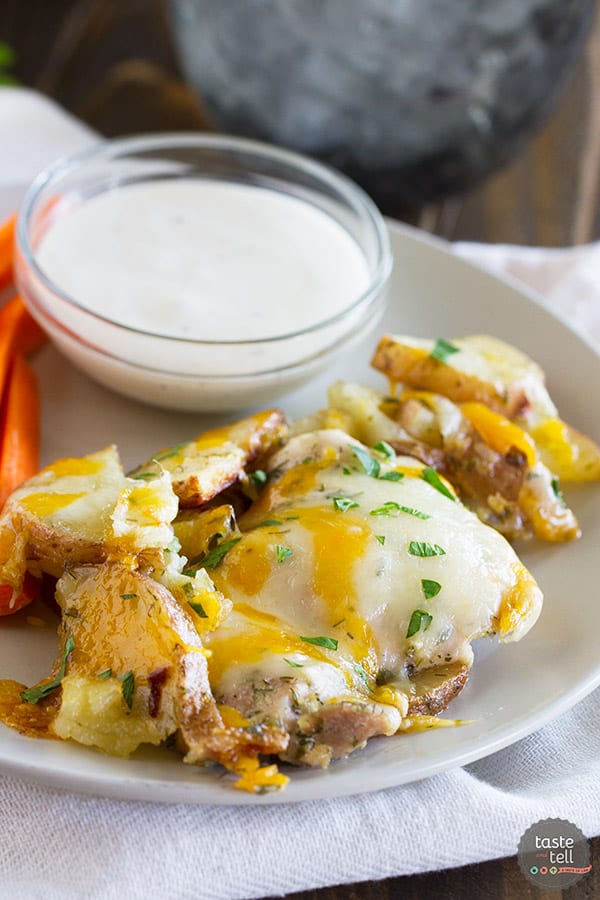 Like what you see here? Make sure you are following Taste and Tell for more recipes and ideas!
Facebook | Pinterest | Instagram | Twitter | Google+ | Weekly Newsletter | Feedly | Bloglovin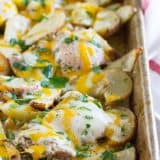 Cheesy Ranch Chicken with Potatoes
---
Author:
Prep Time: 15 mins
Cook Time: 40 mins
Total Time: 55 mins
Yield: 4-5 servings 1x
Description
Ranch lovers will go crazy over this Cheesy Ranch Chicken with Potatoes. Hands on time is minimal, and the chicken packs a flavor punch!
---
Scale
Ingredients
Marinade:
3 tablespoons olive oil
2 tablespoons red wine vinegar
1 1/2 teaspoons dried dill
1 teaspoon dried chives
1/2 teaspoon dried parsley
1 1/2 teaspoons garlic powder
3/4 teaspoon onion powder
1 1/2 teaspoons kosher salt
1/2 teaspoon freshly ground black pepper
Chicken and Potatoes:
2 lbs boneless, skinless chicken thighs (can use breasts, if desired)
1 1/2 lb medium-sized red potatoes, cut into 1/4-inch thick wedges
2 cups shredded Mexican cheese blend or cheddar and Monterey Jack
2 tablespoons chopped fresh Italian parsley
Ranch dressing, for dipping
---
Instructions
To make the marinade:
Combine all of the marinade ingredients in a gallon-size ziplock bag. Shake to blend. Add the chicken, turn to coat, place in the refrigerator and marinate for 6 to 12 hours, but no more than 24 hours.
To make the chicken:
Preheat the oven to 400ºF. Place the chicken on a large rimmed baking sheet. Transfer the potatoes to the bag with the remaining marinade. Press the bag with your hands and coat the potatoes as thoroughly as possible. Transfer the potatoes to the tray with the chicken, squeezing out as much of the remaining marinade as possible. Use your hands to stir the pieces around a bit to make sure everything is coated thoroughly.
Place the pan in the center of the oven and roast for approximately 20 minutes, until the chicken is cooke through. Remove from the oven, transfer the chicken to a separate dish and loosely tent with foil to keep warm. Roast the potatoes an additional 10 to 15 minutes. Remove from the oven, add the chicken back onto the tray and sprinkle the chicken and potatoes generously with the cheese. Roast an additional 3 to 4 minutes to melt completely. Sprinkle with the parsley. Serve with the ranch dressing for dipping.
SHOP THIS POST!
More Must Try Ranch Recipes: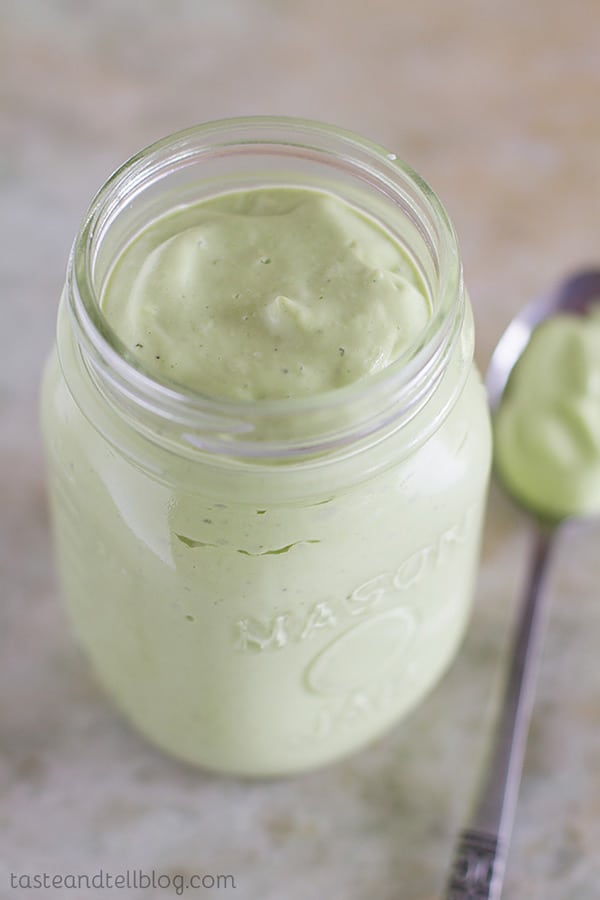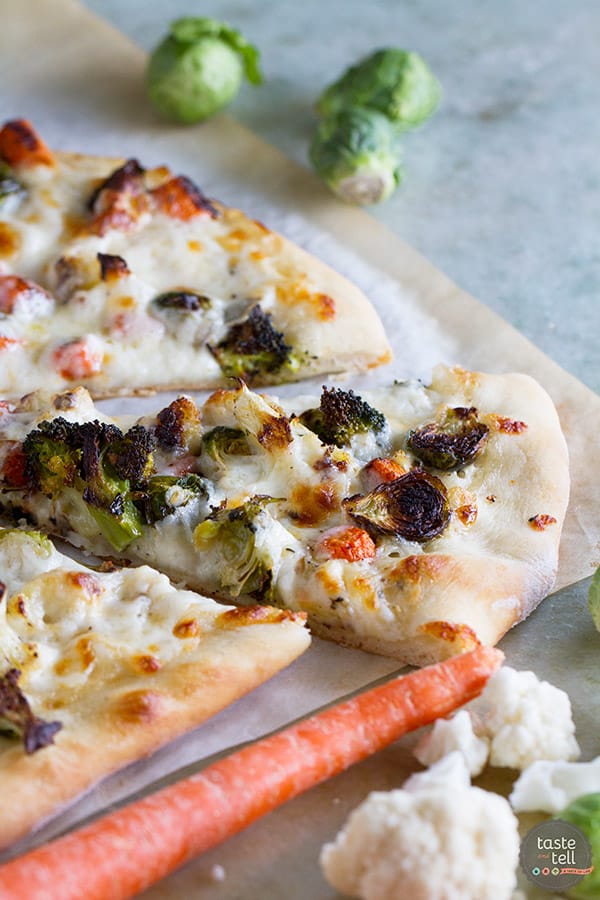 Roasted Vegetable Pizza with Ranch
Around the Web:
Bacon Ranch Pasta Salad from Life in the Lofthouse
BBQ Chicken Ranch French Bread from Boys Ahoy
4 Ingredient Bacon Ranch Chicken Bake from The Pinning Mama
Don't miss a thing! Follow me on Pinterest to see what I'm pinning!
Visit Taste and Tell's profile on Pinterest.