This Peanut Butter Banana Bran Muffin Recipe just may become your new favorite muffin! They are hearty and filling with the perfect peanut butter and banana flavor.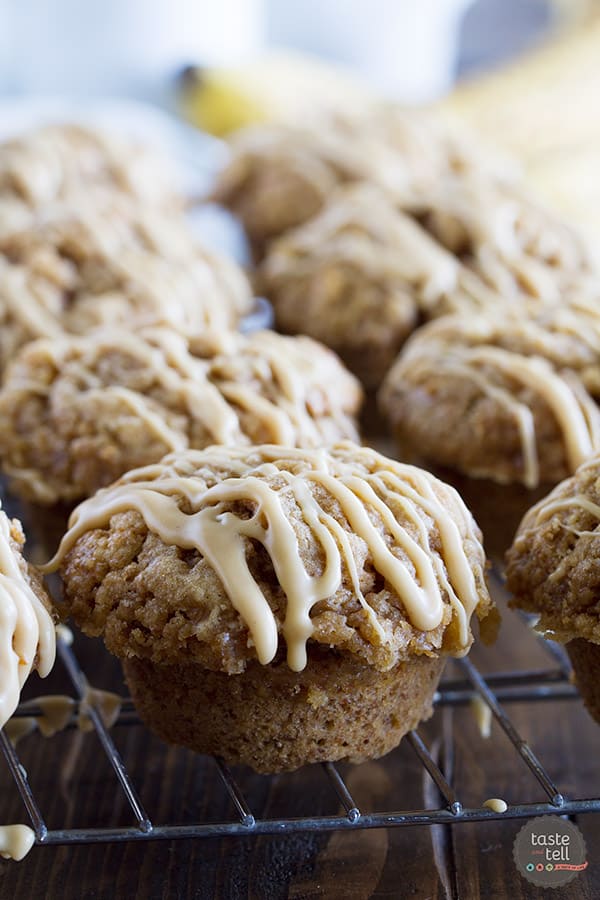 Years ago, I was muffin obsessed. I always joked that if I were to ever write a cookbook, it would be about muffins. Ironically, talking to my publisher who published my Red Velvet Lovers Cookbook and Best 100 Smoothies For Kids, he mentioned that a muffin cookbook just wouldn't do well. This was without me even saying anything about it.
Well, I would like to think he is wrong. Not that I'm going to write another cookbook, (I don't think there are any more of those in the stars for me!!), but doesn't everyone love muffins? I mean, what's not to love? It's almost as good as a cupcake for breakfast, right?
I used to try all kinds of different muffins, but in the last couple years, we've been stuck in a muffin rut. I shouldn't say it's a rut – it's just that all my family ever wants are Brown Sugar Muffins. As much as I love to please my family, though, sometimes I want to change things up. And it was time for a new muffin recipe.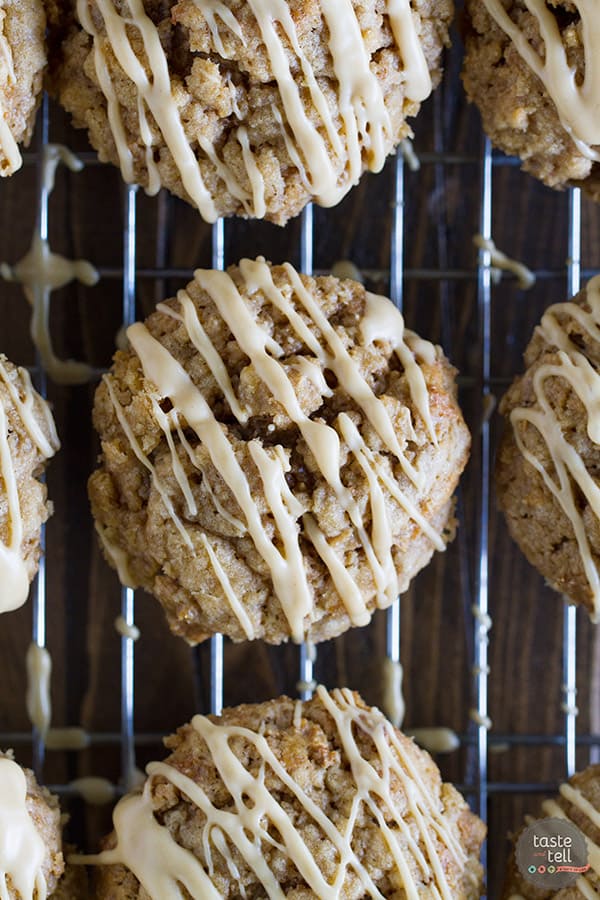 I actually saved the recipe that this Peanut Butter Banana Bran Muffin Recipe was inspired by years ago from a blog that I read regularly back in my early blogging years. She doesn't blog anymore, but while looking through my saved recipes, this muffin recipe was speaking to me. It is no secret that I'm obsessed with crumb toppings. I would gladly put a crumb topping on just about everything. But I had to take these a step further and add a nice peanut butter glaze to the top.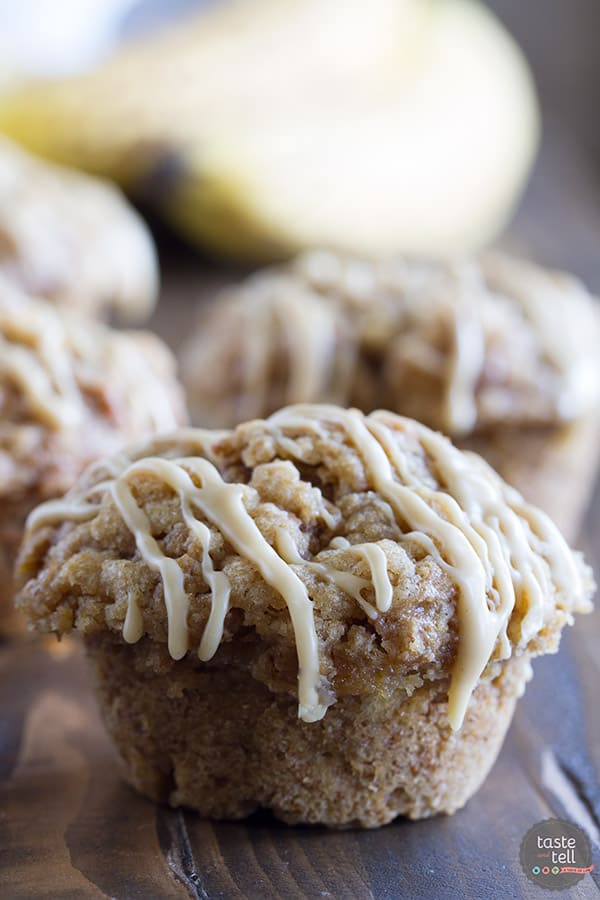 I loved these. Loved them so much, in fact, that I had to immediately package up the leftovers and take them to neighbors. I knew that if they were sitting in my kitchen, I would end up eating every single one. This Peanut Butter Banana Bran Muffin Recipe is a recipe that I wouldn't hesitate to recommend to any banana and peanut butter lover. 100% muffin love!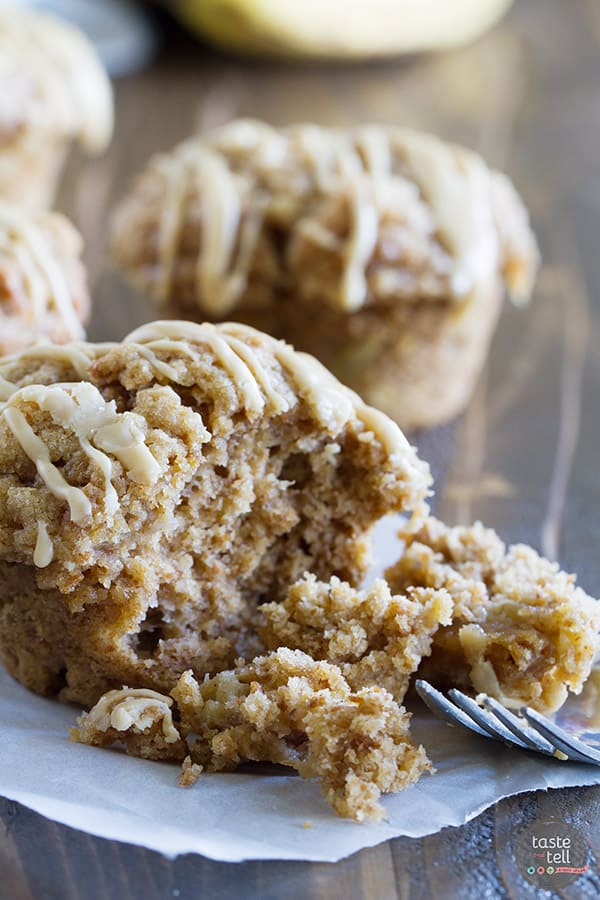 Like what you see here? Make sure you are following Taste and Tell for more recipes and ideas!
Facebook | Pinterest | Instagram | Twitter | Google+ | Weekly Newsletter | Feedly | Bloglovin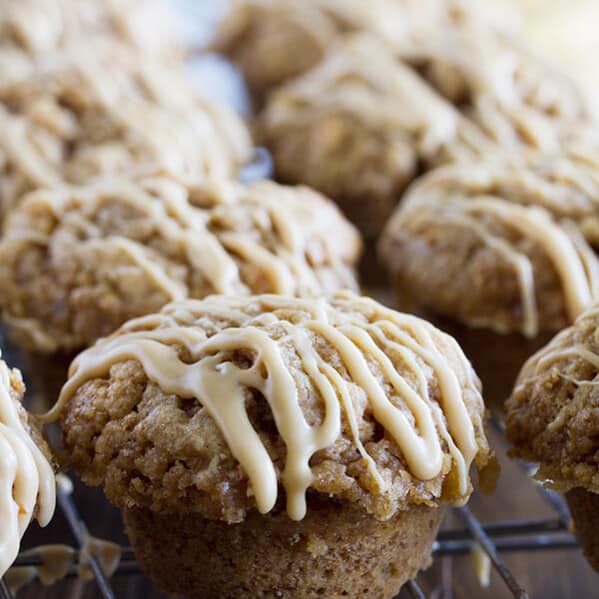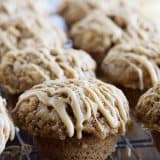 Peanut Butter Banana Bran Muffins
---
Author:
Prep Time: 15 mins
Cook Time: 20 mins
Total Time: 35 mins
Yield: 12 muffins 1x
Description
This Peanut Butter Banana Bran Muffin Recipe just may become your new favorite muffin! They are hearty and filling with the perfect peanut butter and banana flavor.
---
Scale
Ingredients
Muffins:
1 1/2 cups bran cereal
1 1/2 cups milk
2 cups all-purpose flour
2 teaspoons baking powder
1 teaspoon cinnamon
1/4 teaspoon salt
3/4 cup creamy peanut butter
1/4 cup butter
1/2 cup packed brown sugar
1 cup mashed banana (about 2 large bananas)
1 egg, lightly beaten
Crumb Topping:
1/4 cup butter
1/4 cup packed brown sugar
1/4 cup all-purpose flour
Peanut Butter Drizzle:
3 tablespoons creamy peanut butter
1 cup powdered sugar
3–4 tablespoons milk
---
Instructions
IN a bowl, combine the bran cereal and the milk and allow to sit for a few minutes.
Preheat the oven to 400ºF.
In a large bowl, whisk together the flour, baking powder, cinnamon and salt.
Combine the peanut butter and butter in a microwave-safe bowl. Microwave for 60 seconds. Pour into the bowl with the dry ingredients. Add the bran mixture, brown sugar, banana and egg and stir just until combined.
Grease a 12-cup muffin tin. Spoon the mixture into the muffin tin, dividing the mixture between the 12 cups. (The cups will be full.)
In a small bowl, mix the butter, brown sugar and flour, using a fork to cut the butter into the mixture until it is crumbly. Sprinkle the streusel over the top of the muffins.
Bake until a toothpick inserted in the center comes out clean, about 20 minutes. Allow to cool slightly before removing from the pan to cool completely.
To make the glaze, melt the peanut butter in a bowl. Stir in the powdered sugar and 3 tablespoons of milk until smooth. Add more milk, if needed, until it is a drizzling consistency. Drizzle the mixture over the tops of the cooled muffins.
More Peanut Butter and Banana Love: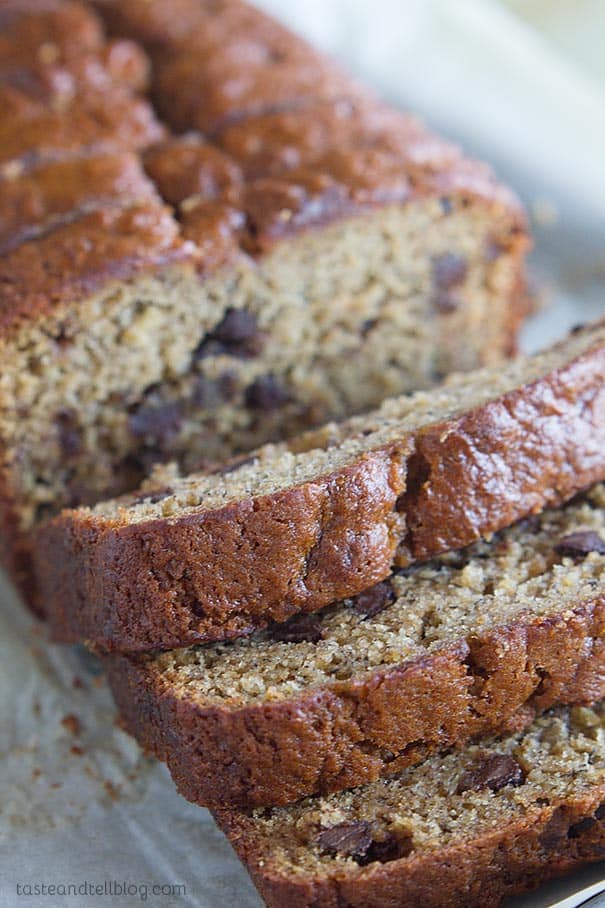 Peanut Butter Banana Bread with Chocolate Chips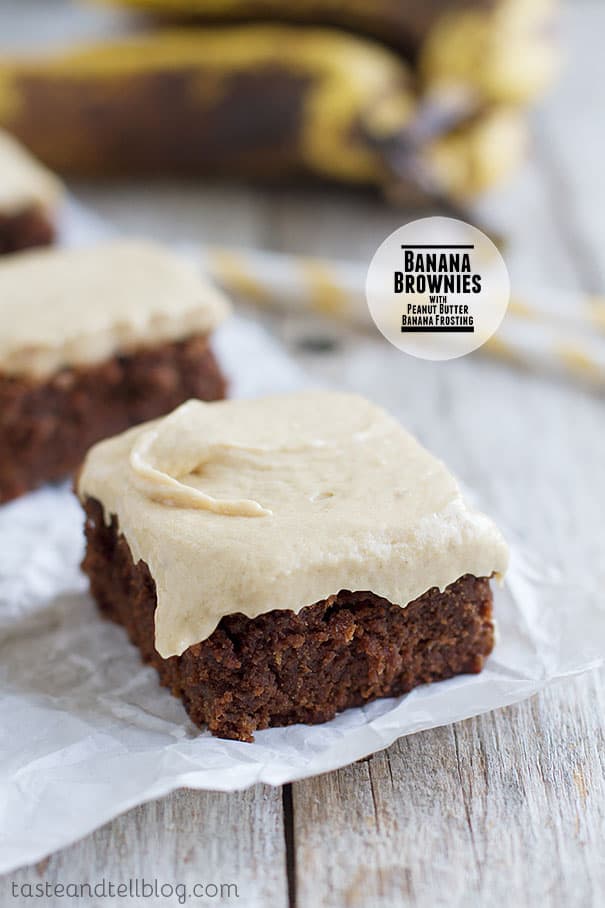 Banana Brownies with Peanut Butter Banana Frosting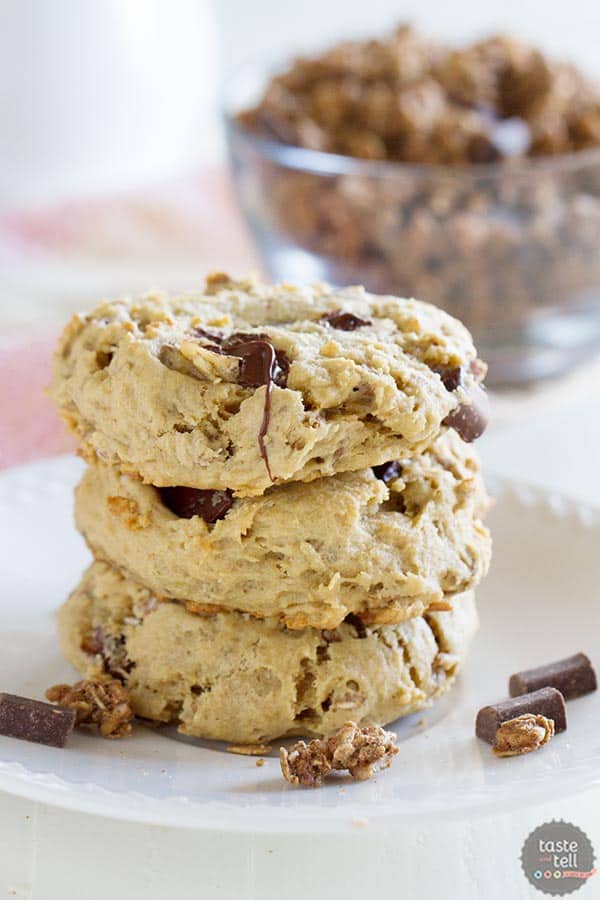 Breakfast Cookies with Peanut Butter, Banana and Chocolate Granola
Around the Web:
Peanut Butter Banana Berry Acai Bowl from Boys Ahoy
Chocolate Peanut Butter Banana Muffins from Handle the Heat
Peanut Butter Banana Cream Pie from A Cup of Jo
Don't miss a thing! Follow me on Pinterest to see what I'm pinning!
Visit Taste and Tell's profile on Pinterest.