A fresh take on the Caesar salad, this Caesar salad with Pasta is a pasta salad/green salad hybrid that is combined with a homemade dressing for a perfect side dish or potluck salad.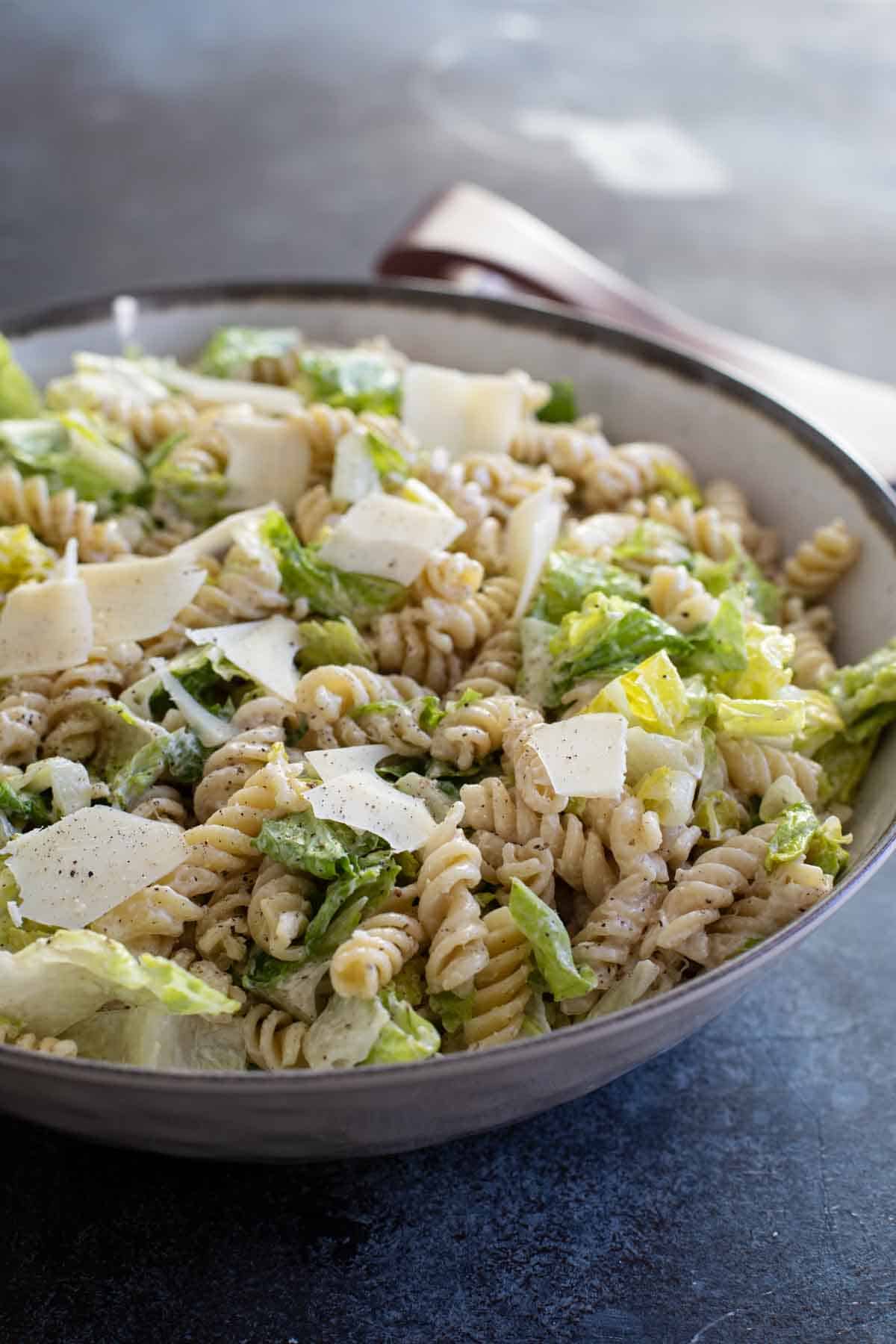 I don't have many claims to fame. Back in 2001 while in New York City, my sisters and I were in the crowd outside the Today Show and Al Roker talked to me on air. And then one time, I was in line behind Donny Osmond at See's Candy in the mall. I obviously live a pretty exciting life. 🙂
But quite awhile ago, I was contacted by Kelsey Nixon to write for a website. She was working with them doing recipe development and running their blog, and she had personally chosen me to write for them. I remember meeting up with her in person one day to talk about details and being so nervous. If I remember correctly, this was post Food Network Star but before she started her show on The Cooking Channel. But she was the most down to earth, sweet person that I think I had ever met.
She eventually moved to New York and achieved her dream of cooking on tv, and I have loved watching her journey. Her show, Kelsey's Essentials, is one of my favorites, and I was SO excited when I heard about the release of her first cookbook – Kitchen Confidence.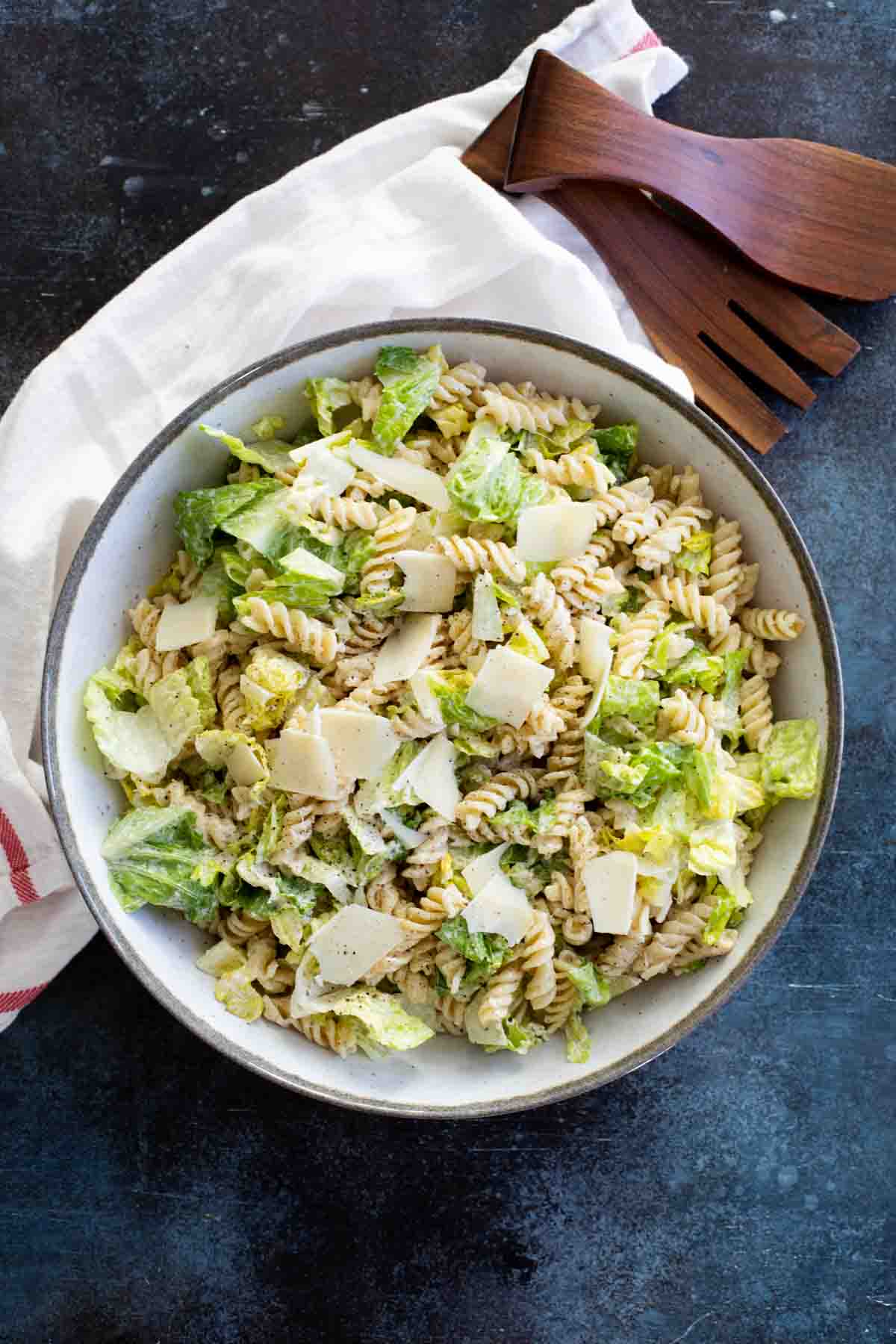 Kitchen Confidence by Kelsey Nixon
I could say a lot of things about this book, but I think the only thing that really needs to be said is – BUY THIS. I will warn you now that you may see "this is the best…" several times below as I talk about the recipes that I made from this book. You can tell that a lot of thought, testing, and love went into creating this cookbook. I honestly want to make every single recipe in this book, and this is now my favorite cookbook that I'm cooking from. Here some of the other recipes that I made from the book:
Tomatillo Guacamole
I knew I would like this recipe, that is why I chose it after all, but I wasn't prepared for just how much I would like it. Seriously. My new favorite guacamole. I would have never thought to add raw tomatillos to a guacamole recipe, but it works so well. And this comes together in just minutes, so it would be perfect for entertaining. My family doesn't like spicy at all, so I considered leaving out the jalapeño, but I ended up making the recipe just as written. It was a little spicy for them, but in all honesty – I was ok with that because I inhaled the whole recipe myself in a matter of days. I will totally be making this one over and over again!
Roasted Tomato Soup with Pesto and Cheesy Croutons
Another best – this is my new favorite tomato soup recipe. The original recipe calls for San Marzano tomatoes, and my grocery store didn't have any the day I did my shopping, so I used regular plum tomatoes. They totally worked, and although I'm sure it would have even been better with the San Marzano, it was still amazing. And the croutons? Don't skip them. So buttery and delicious!
Honey Corn
Although I'm not originally from Utah, I have lived here for the past many years. And I can't believe it, but I have never had honey corn. Kelsey grew up in Northern Utah, and she says that it is a Utah staple, so I can't believe I've gone this long without trying it!! I had to give it a go, and I may not go back to regular caramel corn. I have a favorite soft caramel corn recipe, and this reminds me of it somewhat, except it uses honey. I loved that honey flavor and could have easily eaten a huge bowl of this myself. I literally had to hide it away in the pantry so that I would stop eating it. You do need a candy thermometer to make this, but it's pretty simple. This is perfect for family movie night, or just for an afternoon snack.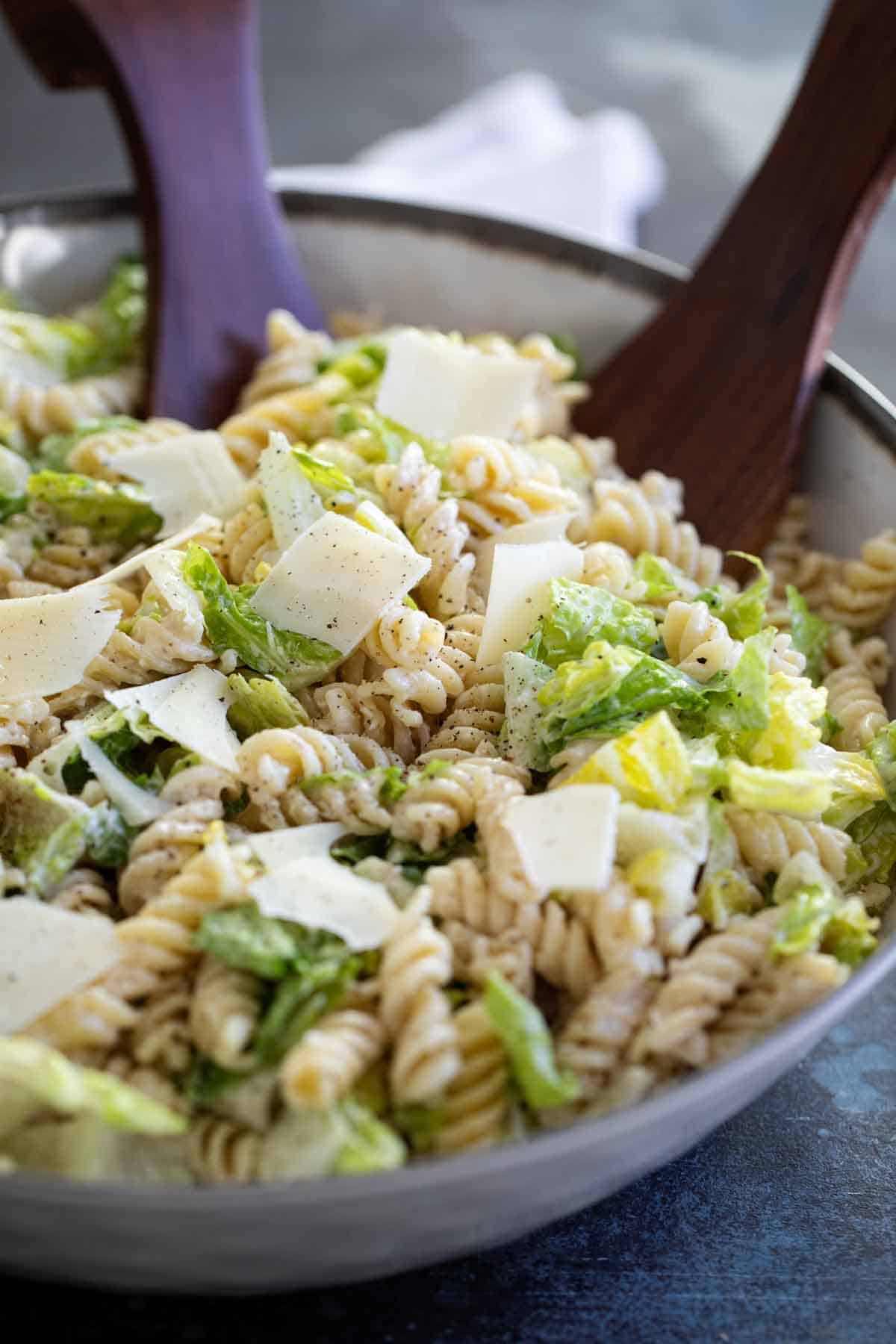 And now onto the salad!! This Caesar Salad with Pasta is so easy and always a crowd pleaser. I love Caesar Salad (even in the form of Chicken Caesar Wraps!), but there is something special about this version filled with pasta.
I know you could really make this easy and just use a store bought Caesar dressing, but this dressing is so easy and so flavorful that you'll want to make it yourself.
How to Make Caesar Salad Dressing
This Caesar Salad Dressing Recipe really is simple. Here is how you do it.
Caesar Salad Dressing Ingredients:
Mayonnaise – yep, you read that right. Instead of using egg yolks and oil, this recipe uses mayonnaise. Which, really, is eggs yolks and mayonnaise. But by using the mayonnaise, you don't have to worry about raw egg yolks.
Anchovies – don't be afraid of these little fish!! Anchovies not only bring a saltiness to your dressing, but they also add so much depth to the flavor. I actually use anchovy paste – which most major stores carry these days – it's so much easier to store and there is no chopping involved!
Worcestershire sauce – some people might think you don't need both anchovies and Worcestershire sauce, but I disagree! While the Worcestershire has some of the same flavor profiles as the anchovy, I think they are both different enough to enjoy them both in the dressing.
You'll also need Parmesan cheese, Dijon mustard, garlic, and salt and pepper.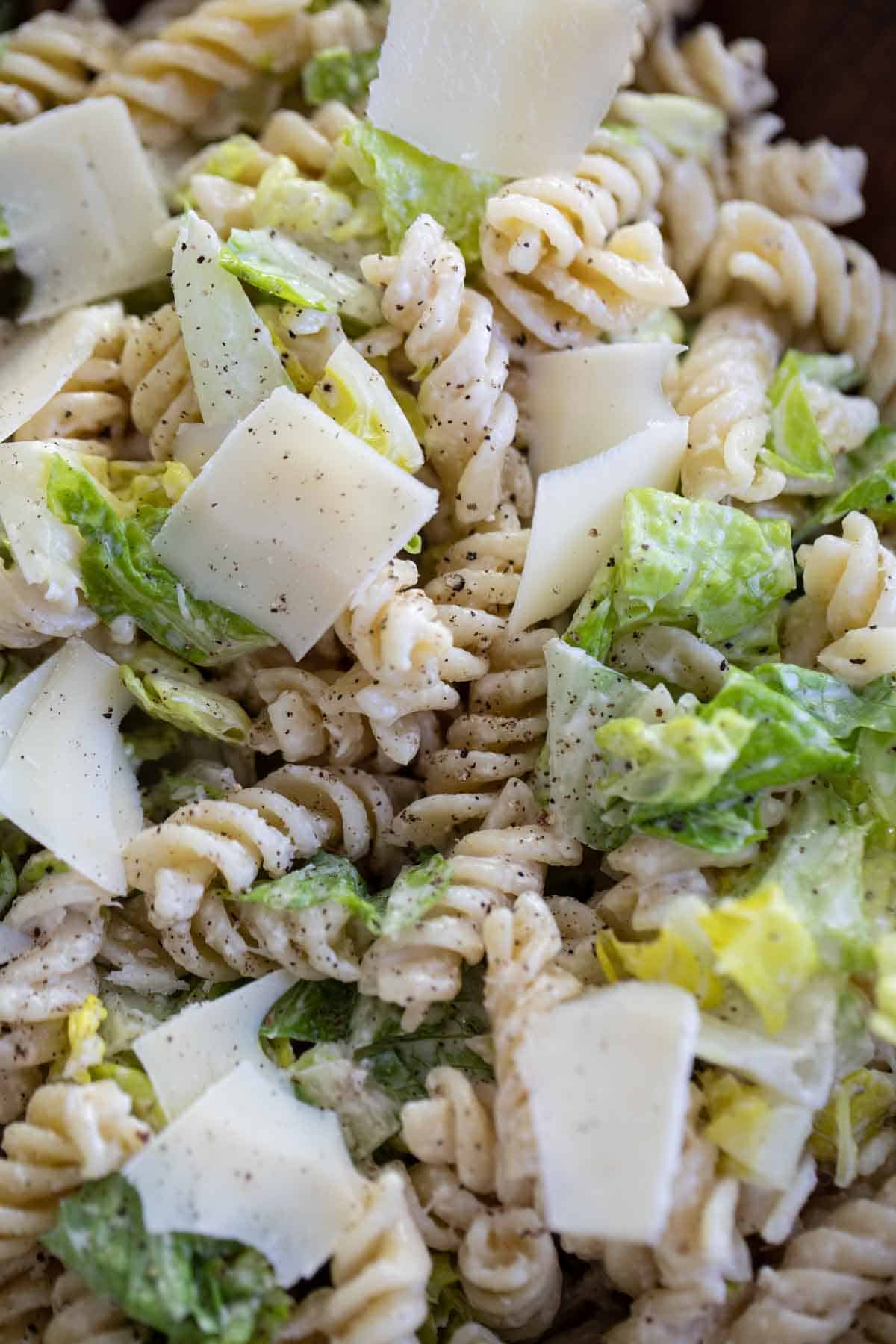 More Side Salad Recipes
Broccoli Salad
Italian Chopped Salad
Artichoke Pasta Salad
Allison's Best Pasta Salad
Avocado and Tomato Salad
Raspberry Spinach Salad
Tools Used to Make this Caesar Salad with Pasta
My favorite way to make the Caesar dressing is to use my Twister Jar on my Blendtec.
I love having an excuse to use a nice salad bowl.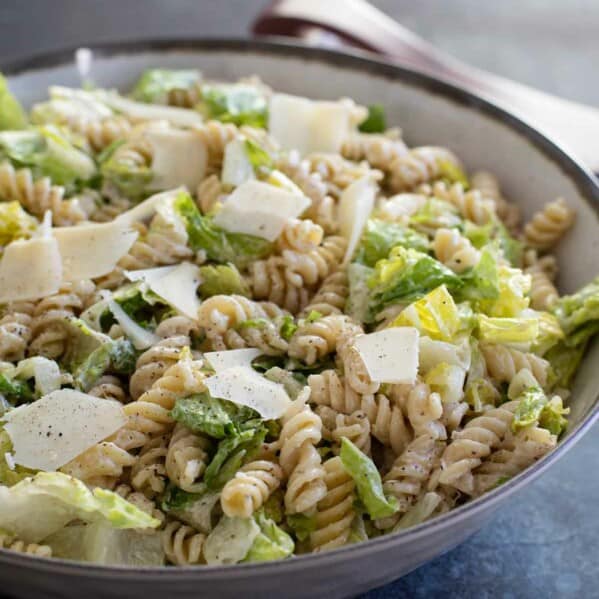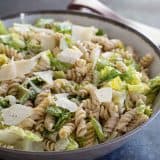 Caesar Salad with Pasta
---
Author:
Prep Time: 15 minutes
Cook Time: 15 minutes
Total Time: 30 minutes
Yield: 8 servings 1x
Category: Salad
Method: Boil
Cuisine: Italian
Description
A fresh take on the Caesar salad, this Caesar salad with Pasta is a pasta salad/green salad hybrid that is combined with a homemade dressing for a perfect side dish or potluck salad.
---
Scale
Ingredients
1 pound fusilli (corkscrew) pasta
1/2 cup mayonnaise
1 1/2 cup grated Parmesan cheese, divided
1/4 cup fresh lemon juice
2 tablespoons extra virgin olive oil
2 teaspoons Dijon mustard
1 teaspoon Worcestershire sauce
2 cloves garlic, minced
1 anchovy filet, rinsed, dried and chopped (or equivalent anchovy paste)
Kosher salt and freshly ground pepper
2 romaine hearts
---
Instructions
Bring a large pot of salted water to a boil. Add the pasta and cook according to the package directions until al dente. Drain and allow to cool completely.
In a blender or food processor, combine the mayonnaise, 1/2 cup of the grated Parmesan, the lemon juice, olive oil, mustard, Worcestershire sauce, garlic, and anchovy. Season with salt and pepper. Process until smooth and emulsified. Store in the refrigerator until ready to use.
Cut the romaine into 1/2 inch pieces. Place it in a large salad bowl. Toss the cooled pasta with the romaine. Pour the dressing over the salad, add the remaining 1 cup of Parmesan and toss to combine. Season to taste with salt and lots of freshly ground pepper.
Top with shaved Parmesan, if desired.
Recipe Notes:
**I made 1 1/2 times the recipe and easily served about 50 people (adults and children) as a side dish when people kept their portions fairly small.  As a normal side dish, you should be able to easily have 8 generous servings.
source: Kitchen Confidence
Nutrition
Calories: 407
Sugar: 1 g
Sodium: 458 mg
Fat: 20 g
Saturated Fat: 5 g
Unsaturated Fat: 12 g
Trans Fat: 0 g
Carbohydrates: 44 g
Fiber: 0 g
Protein: 14 g
Cholesterol: 18 mg