This light Oriental Pasta Salad is filled with Asian flavors and a little bit of sweetness, making it a great picnic side dish.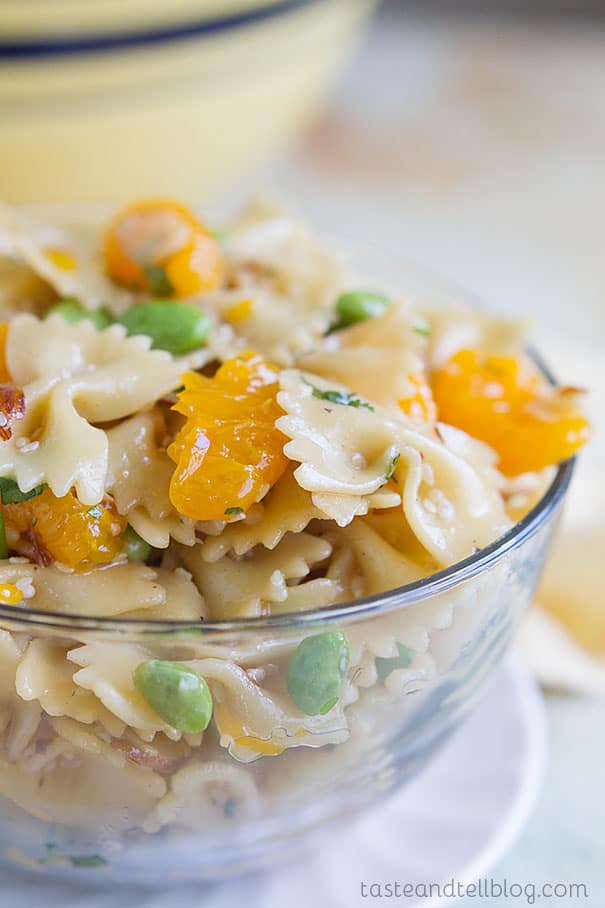 I'm always looking for great ideas for side dishes – especially in the summer. I think it's harder in the summer to come up with something, because you don't want something too heavy. And as much as I love pasta salads – especially ones with mayonnaise in them, I tend to steer clear of them in the summer months.
A few weeks ago, I got an email with a recipe for an Asian inspired pasta salad. It sounded really good, but it was made with mayonnaise. I knew that if I did make it, it wouldn't be for a few months, until the weather cooled down, so instead of keeping it, I deleted the email. And then I couldn't get it out of my head. All I wanted was an Asian inspired pasta salad. I actually thought about it every day for about a week. And then we decided to do a little barbecue with my husband's parents for Father's Day. The first thing I claimed was a pasta salad!!
This Oriental Pasta Salad came together better than I had expected. All of the flavors worked together so well, and it was exactly what I was looking for. And the wonderful thing about it is that it's perfect for outdoor picnics because there is no mayonnaise! This salad keeps really well, too. I ate it for a couple of days after I made it, and it was just as good as leftovers as it was the first day it was made!
Next time you are looking for the perfect picnic side dish, try this Oriental Pasta Salad!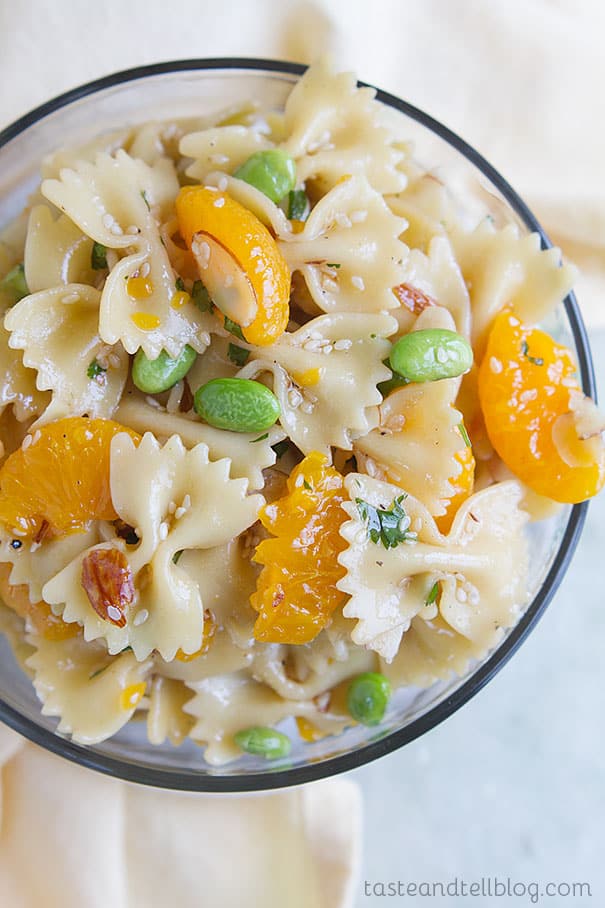 More Pasta Salad Recipes:
Hawaiian Macaroni Salad
Artichoke Pasta Salad
Bow Tie Pasta Salad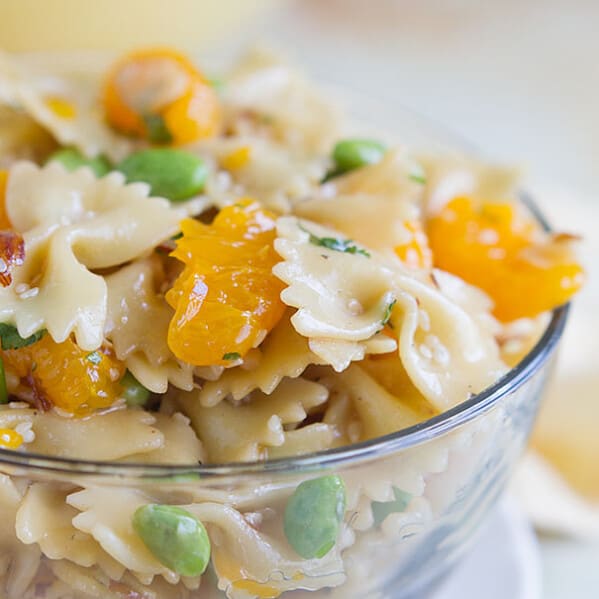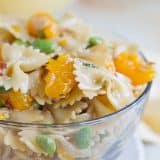 Oriental Pasta Salad
---
Prep Time: 10 minutes
Cook Time: 12 minutes
Total Time: 25 minutes
Yield: 10–12 servings 1x
Description
This light Oriental Pasta Salad is filled with Asian flavors and a little bit of sweetness, making it a great picnic side dish.
---
Scale
Ingredients
16–ounces bow tie pasta
1/2 cup vegetable oil
1/3 cup soy sauce
1/3 cup rice vinegar
1 teaspoon sesame oil
3 tablespoons white sugar
1/2 teaspoon ground ginger
freshly ground pepper, to taste
1/4 cup sesame seeds, toasted
1/3 cup chopped cilantro
1/3 cup chopped green onion
1 (15-ounce) can mandarin oranges, drained
1 cup edamame
2/3 cup slivered almonds, toasted
---
Instructions
Bring a large pot of salted water to boiling. Add in the pasta and cook until just shy of al dente. (The pasta will soak up the dressing and continue to soften.) Drain pasta and transfer to a large bowl.
In a jar with a tight fitting lid, combine the vegetable oil, soy sauce, rice vinegar, sesame oil, sugar, ginger, pepper and sesame seeds. Fasten the lid and shake well to combine. Pour over the pasta in the bowl and stir or toss several times to completely combine and let the pasta soak up the dressing.
Gently stir in the cilantro, green onion, mandarin oranges, edamame and almonds. Store in the refrigerator until ready to eat.