Far from boring, this Peanut Butter, Coconut and Banana Oatmeal is a flavor-packed way to start your day.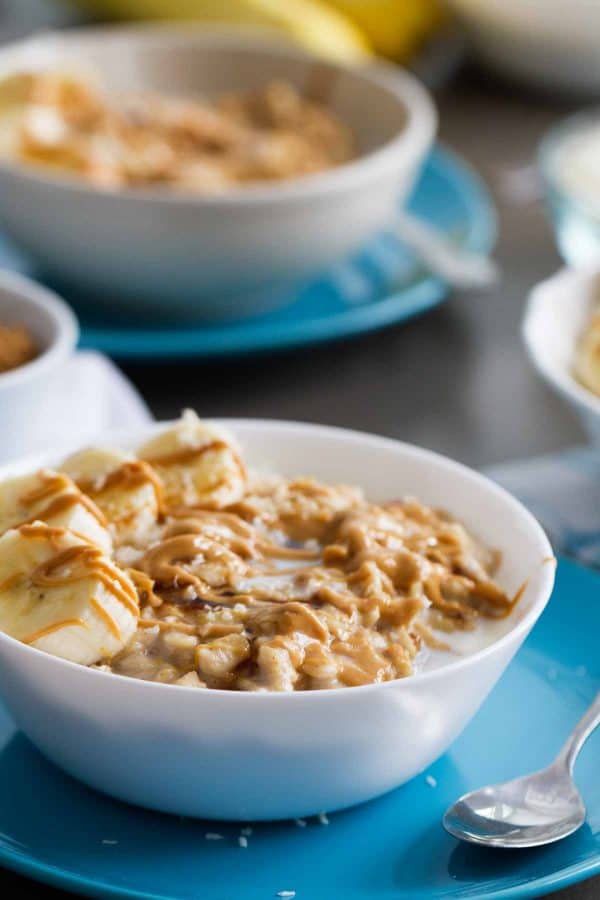 I first fell in love with Gail Simmons when I started watching Top Chef way back in 2006. She seems very smart, very trusting, and like she has very good taste. She recently came out with a cookbook of her own, and I was super excited to get my hands on it!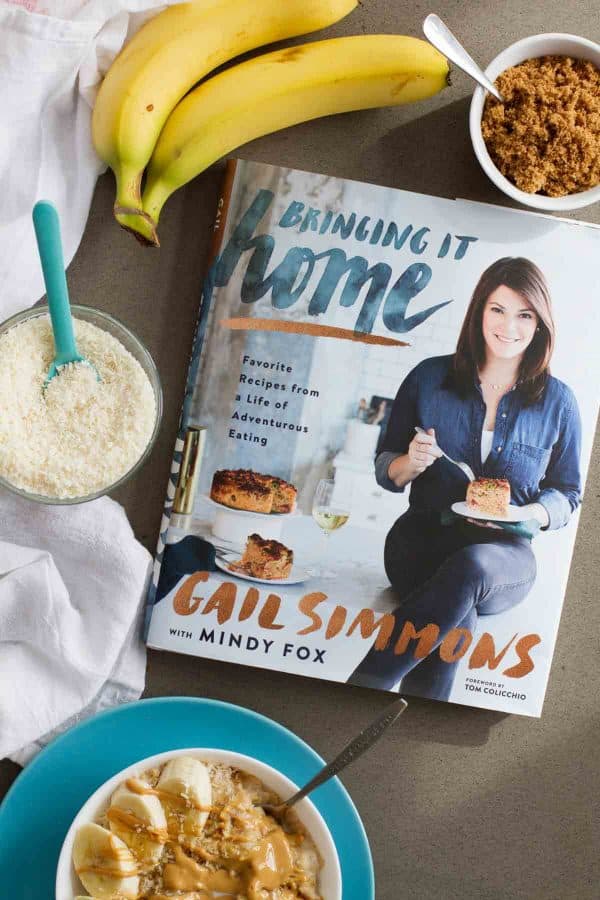 Bringing It Home is a cookbook filled with over 100 recipes inspired by Gail's travels and encounters with some of the world's greatest chefs. The book is filled with all kinds of recipes – breakfasts, salads, desserts, and everything in between, as well as all kinds of tips and tricks.
Here are my thoughts on the book so far:
Pros: I love the premise of this book. Gail Simmons takes inspiration from her travels and her experiences, and these recipes are all about "bringing it home" – making recipes at home that are inspired by the food she has experienced. I love that she has tidbits of "Kitchen Wisdom" throughout the book – tips and tricks for ingredients and cooking techniques. There are some very adventurous recipes, and also some more tame recipes. The photographs are beautiful and a decent number of the recipes have accompanying photos.
Cons: You all know me and know that I am all about the family friendly recipes. While I would love the majority of the recipes in this book, I think my family wouldn't feel quite the same. I think my children might refuse to eat if I made a Salt-Baked Branzino or Lamb Chops a la Parilla with Roasted Grapes and Sweet Onions. That being said, though, there are still a lot of recipes in the book that I definitely could and would make – I just wouldn't qualify this book as one that is centered around family friendly recipes.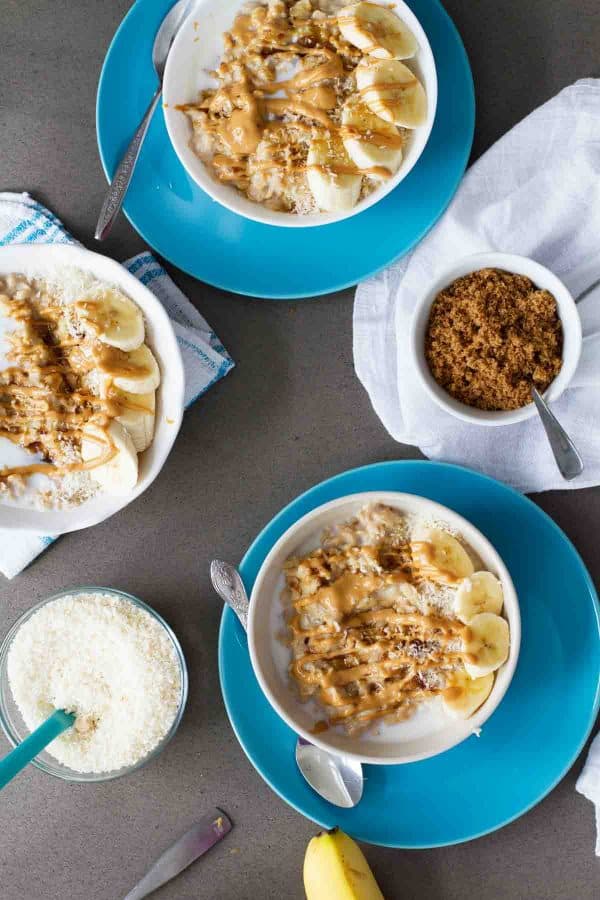 Other Recipes I Want To Try:
Chocolate Ginger Scones
Salt-And-Vinegar Smashed Potatoes
Rena's Coconut Callaloo
Spaghetti Pie
Cold Soba Noodle Salad with Shredded Chicken
Jerk Shrimp Rolls
Pastrami-Style Roast Turkey
Chang's Sticky Baby Back Ribs
Chili Cheese Toast
Watermelon Lime Agua Fresca
Blueberry Lemon Bars
Buy Bringing It Home on Amazon.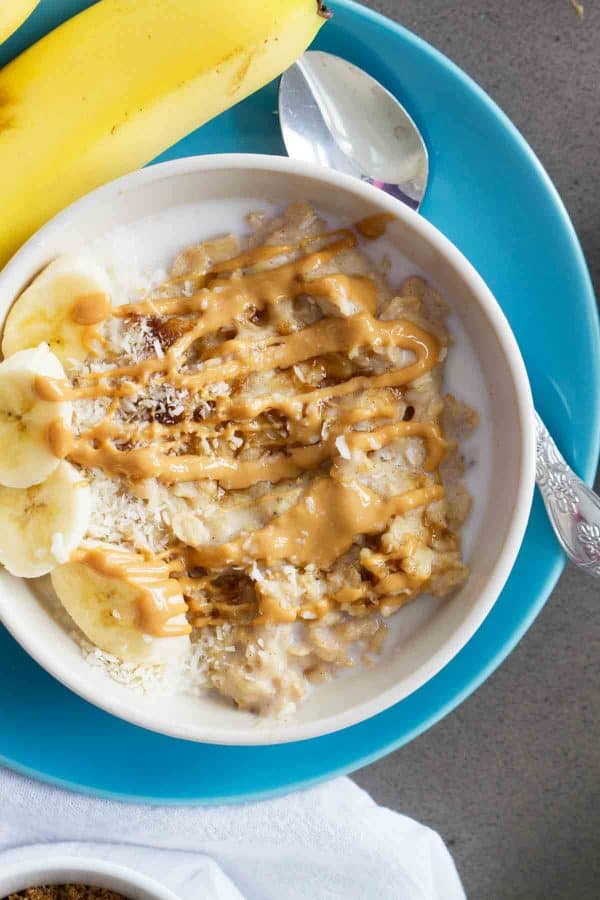 If you know me, this Peanut Butter, Coconut and Banana Oatmeal is going to seem like a strange recipe for me to choose to make from this book. I am not a picky eater. I like pretty much everything, or at least will try it. But one of the very few things that I don't like – and haven't since I was a kid – is oatmeal. I think it's a texture thing. It's just always so mushy, often slimy, and just does not feel pleasant going down my throat. I love oatmeal cookies, or oatmeal pancakes, or oatmeal bars – it's just the breakfast oatmeal that I really don't care for.
So now I know you're asking – Deborah, if you can't stand oatmeal, why are you making this and recommending that I make it? Well, my kids love oatmeal. And my husband really, really loves oatmeal. So I have been trying to love oatmeal. And honestly, most of the time, it has not worked out very well. But I thought I'd give this a try. I like bananas. I like peanut butter. I like coconut. This Peanut Butter, Coconut and Banana Oatmeal had to be worth a try, right?
And guess what? I liked it. I really did!!! I wouldn't go as far as to say I know I'll be craving it and wanting it all the time, but this recipe is solid. It's probably the first oatmeal recipe where I've actually finished the whole serving without hating it. And for me, that's saying something! I do have to say that in the beginning of the recipe, I cooked down the bananas more than the original recipe probably intended. I was hoping to get past that slimy stage that you often get with cooked bananas. I just didn't think I could do the texture of oatmeal along with mushy bananas. So in the end, there were no pieces of cooked bananas in my oatmeal – the flavor was there, but I didn't detect the texture of banana pieces. And that totally worked for me. If you think you'd like the texture of the cooked bananas, just use bananas that aren't as ripe and don't cook them quite as long.
Also, these portions are pretty big. The recipe makes 4 servings, but I almost feel like you could get 6 servings out of it – especially if you are serving kids.
I have to say that if this Peanut Butter, Coconut and Banana Oatmeal converts me, you know it's a good one!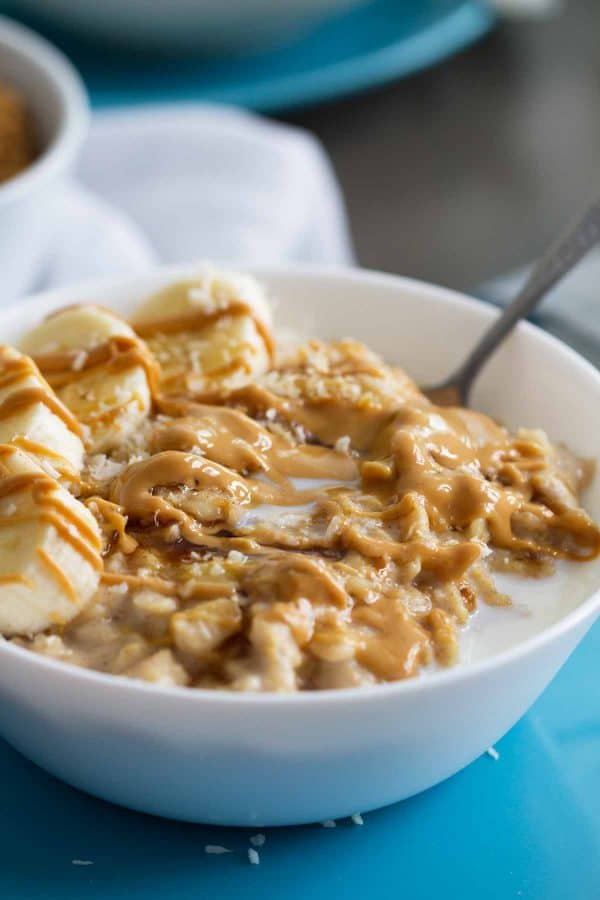 Want even more breakfast recipes?
Whole Wheat Bran Muffins
Peanut Butter and Jelly Yogurt Parfait Recipe
Southwestern Breakfast Bowl
Coconut Berry Smoothie Bowl
Breakfast Cookies with Peanut Butter, Banana and Chocolate Granola
Like what you see here? Make sure you are following Taste and Tell for more great recipes and ideas!!

Facebook ** Pinterest ** Twitter ** Instagram ** Google+
or you can subscribe to my newsletter
Learn how to make this Peanut Butter, Coconut and Banana Oatmeal here: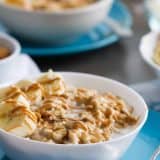 Peanut Butter, Coconut and Banana Oatmeal
---
Author:
Prep Time: 5 mins
Cook Time: 15 mins
Total Time: 20 minutes
Yield: 4 servings 1x
Category: Breakfast
Description
Far from boring, this Peanut Butter, Coconut and Banana Oatmeal is a flavor-packed way to start your day.
---
Scale
Ingredients
1 teaspoon coconut oil
3 medium bananas, cut into 1/4" rounds, divided
2 cups old-fashioned oats
1/2 teaspoon ground cinnamon
1/4 teaspoon salt
3 1/2 to 4 cups milk, plus more for serving
4 tablespoons smooth peanut butter, divided
4 tablespoons unsweetened coconut, divided
2 tablespoons dark brown sugar, divided
---
Instructions
Melt the coconut oil in a medium saucepan over medium heat. Add about 2/3 of the banana slices and cook, stirring occasionally, until they become soft and lightly golden, about 5 minutes.*
Add the oats, cinnamon, a dash of salt, 3 1/2 cups of milk and 2 tablespoons of the peanut butter into the bananas. Bring to a boil, then reduce the heat to a simmer. Continue to cook until the milk is absorbed and the mixture is creamy, stirring occasionally, 5 to 10 minutes.  Add the remaining 1/2 cup milk if the oats are still not tender.  Remove from the heat.
Divide the oatmeal between 4 bowls. Top each bowl with 1 tablespoon of the coconut, 1/2 tablespoon of the brown sugar, and 1/4 of the remaining banana slices. Drizzle the remaining peanut butter over the top. (I found it was easiest to microwave the peanut butter for a few seconds so that I could drizzle it.) Serve with additional milk, if needed, as well.
Recipe Notes:
*I wanted to avoid any slimy banana pieces, so I used very ripe bananas and let them cook down a little more so that they would blend into the oatmeal better. If you don't mind the chunks, you can cook them for less time.
These are very generous servings!
Nutrition information provided as an estimate only. Various brands and products can change the counts.
slightly adapted from Bringing It Home
Nutrition
Calories: 503
Sugar: 30 g
Sodium: 310 mg
Fat: 20 g
Saturated Fat: 9 g
Unsaturated Fat: 2 g
Trans Fat: 0 g
Carbohydrates: 72 g
Fiber: 8 g
Protein: 17 g
Cholesterol: 19 mg
Don't miss a thing! Follow me on Pinterest to see what I'm pinning!