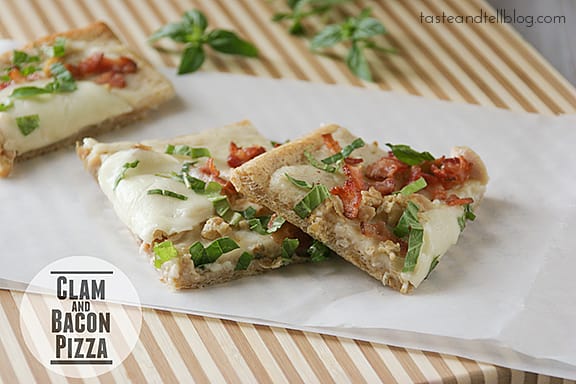 What is the strangest pizza topping that you have had?
Ok, so I know that today's recipe is a little out there.  Clams?  On a pizza?  But please believe me when I tell you that this combination is so delicious!!
It all started when my friends at Pillsbury challenged me to make a pizza with bacon using their Artisan Pizza Crust.  The first thing that popped into my head was a Clam and Bacon Focaccia that I made several years ago.  Any my mind stopped there.  I didn't even want to think of another combination to make.
I think my family thought I was a little bit crazy when I went to make this, but it was just as delicious as I was hoping it would be.  The only thing that would have made this better would have been if I had access to fresh clams instead of the canned clams that I had to use.  But even then, I totally loved this.
Are you a pepperoni and cheese person, or do you like to get crazy with your pizza toppings?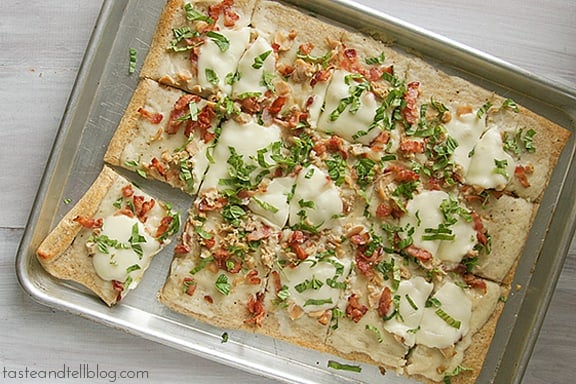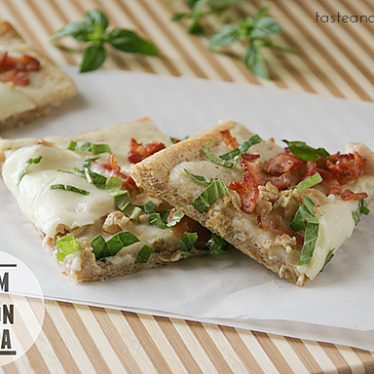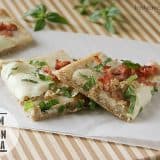 Clam and Bacon Pizza
---
Prep Time: 15 minutes
Cook Time: 18 minutes
Total Time: 40 minutes
Yield: 6 servings 1x
Description
Clams, bacon and an alfredo sauce top an easy, weeknight pizza.
---
Scale
Ingredients
1 can (13.8 oz) Pillsbury® refrigerated artisan pizza crust with whole grain
1/2 lb bacon, cooked and crumbled (reserve 4 tablespoons bacon grease)
4 tablespoons flour
1 cup milk
3/4 cup grated parmesan cheese
Salt and pepper
2 cans (6.5 oz) clams, drained
8 oz fresh mozzarella
1/2 cup fresh basil leaves, torn or sliced
---
Instructions
Heat the oven to 400°F.
Grease a baking sheet with nonstick cooking spray. Roll the crust out and press out slightly. Bake in the oven for 8 minutes.
While the crust is baking, cook the bacon. Remove all the grease from the pan except 4 tablespoons. Whisk in the flour and cook for 1 minute. Slowly whisk in the milk and cook until thickened and bubbly, 1 to 2 minutes. Remove from the heat and stir in the cheese. Season with salt and pepper.
Remove the pizza from the oven. Top with the alfredo sauce. Add the clams, bacon and mozzarella. Return the pizza to the oven and bake an additional 6-10 minutes, until the crust is golden brown and the cheese is melted. Sprinkle on the fresh basil.

**This is a sponsored post, but all opinions are my own.**