Make a change from your typical banana bread with this version filled with blueberries and coconut and topped with a crunchy streusel topping.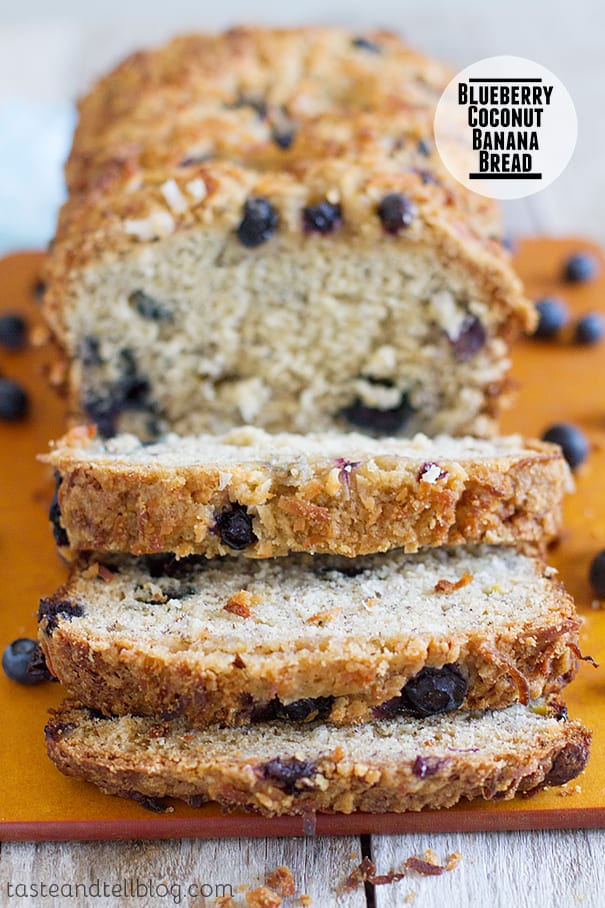 I love blogging. I love thinking up recipe concepts. Pouring through cookbooks and magazines. Getting into the kitchen to cook and create. Most of the time I love photographing the food, and sometimes I even like writing the posts.
But what I don't love? All of the background "technical" stuff that goes along with running a website and a business. Taxes. SEO. Hosting and backups.
I just want to cook, photograph, and write about it. I wish it was that easy.
This week, I had to switch hosting companies, and some of you noticed that I had a little glitch yesterday, making it so that you couldn't access my site. It was a dumb mistake on my part, and I'm so thankful for people who actually know what they are doing. I am a creature of habit, and I like schedule and order in my life, so when I couldn't update my blog yesterday, I felt frustrated and out of control.
But we are mostly back to normal now (yay!!) and hopefully I can leave the technical side alone for a day or two.

What do you do when you get stressed out? I love to bake. Things like this banana bread. I actually made this banana bread twice in the span of a week. Which is pretty much a miracle around our house because it's basically impossible for bananas to get overripe at my house. I swear I live with a bunch of monkeys. But I managed to hide away some bananas to make this bread. And the first time I made it, it was very delicious, but I totally under baked it. We still managed to eat most of it – except for the gooey center – but I knew I had to make it again to blog it. So I hid away more bananas and patiently waited a few days for them to get nice and ripe. I paid better attention the second time around so that I didn't end up with an uncooked center, :), and we happily snacked on a second loaf of bread.
Definitely a delicious change to normal banana bread!!
Like what you see here? Make sure you are following Taste and Tell for more great recipes and ideas!!

Facebook ** Pinterest ** Twitter ** Instagram ** Google+
or you can subscribe to my newsletter or Feedly or Bloglovin


Blueberry Coconut Banana Bread
Make a change from your typical banana bread with this version filled with blueberries and coconut and topped with a crunchy streusel topping.
Ingredients
Bread
2 cups + 1 tablespoon all-purpose flour
1½ teaspoons baking powder
½ teaspoon baking soda
½ teaspoon cinnamon
¼ teaspoon salt
¼ teaspoon nutmeg
⅛ teaspoon ginger
2 eggs, lightly beaten
1½ cups mashed ripe bananas
1 cup sugar
½ cup melted butter
¾ cup fresh or frozen blueberries
½ cup shredded sweetened coconut
Streusel Topping
3 tablespoons packed brown sugar
2 tablespoons all-purpose flour
2 tablespoons butter, cut into pieces
½ cup shredded sweetened coconut
¼ cup fresh or frozen blueberries
Instructions
Preheat the oven to 350ºF. Spray a 9x5-inch loaf pan with nonstick cooking spray.
In a large bowl, combine 2 cups of the flour, baking powder, baking soda, cinnamon, salt, nutmeg and ginger. In another bowl, combine the eggs, bananas, sugar and melted butter. Stir the wet ingredients into the dry ingredients, just until moistened. Toss the blueberries in the remaining 1 tablespoon of flour. Fold in the blueberries and coconut. Pour into the prepared loaf pan.
To make the streusel, combine the brown sugar and flour. Cut in the butter with a fork or a pastry cutter until it resembles coarse crumbs. Stir in the blueberries and the coconut. Sprinkle on top of the batter.
Bake in the preheated oven until a tester inserted in the middle comes out clean, 50 to 60 minutes. (Cover the top of the bread with foil during the last 15 minutes of baking to prevent over browning, if necessary.) Cool for 10 minutes in the pan then carefully remove to a wire rack to cool completely.
More uses for your overripe bananas: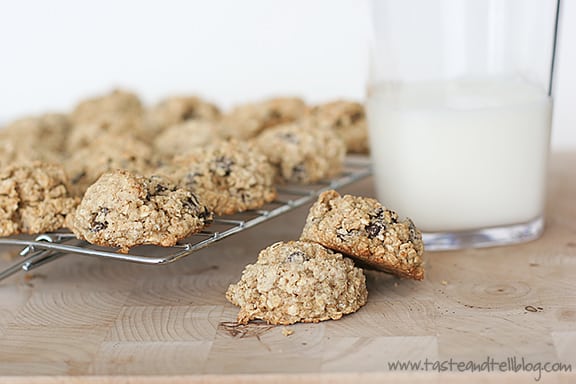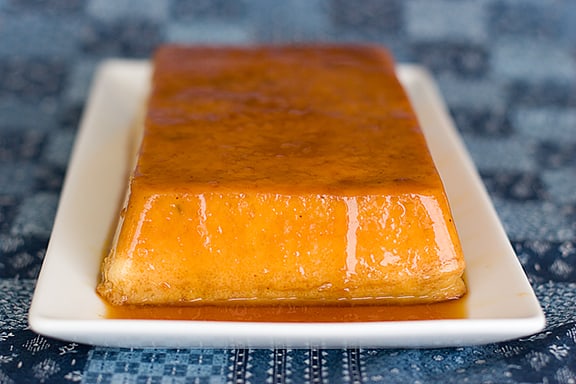 Coconut-Banana Caramel Custard
Around the Web:
Banana Bread Ice Cream from The Guilty Kitchen
Strawberry Banana Muffins from Sweet Treats and More
Banana Cupcakes with Peanut Butter Frosting from Center Cut Cook