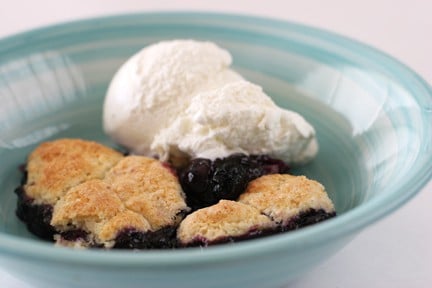 Did you know July is National Blueberry Month? I can't think of a better way to celebrate than with Blueberry Cobbler!!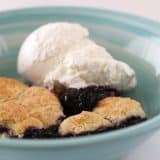 Blueberry Cobbler
---
Description
This Blueberry Cobbler is the perfect way to celebrate National Blueberry Day – or any other day of the year!
---
Scale
Ingredients
1 pint blueberries (about 2 1/2 cups)
1/2 cup plus 1 teaspoon flour
3 tablespoons plus 1 teaspoon sugar
1 teaspoon lemon juice
1/2 teaspoon finely ground lemon zest
1 teaspoon baking powder
1/8 teaspoon salt
2 1/2 tablespoons cold unsalted butter
1/4 cup milk
---
Instructions
Preheat the oven to 375F.
Toss the blueberries with 1 teaspoon of the flour, 2 tablespoons of sugar, the lemon juice and the lemon zest.  Pour the mixture into an 8×8 baking dish.
Mix the remaining 1/2 cup flour with 1 tablespoon of sugar, the baking powder and salt.  Cut in the butter until the mixture resembles coarse meal.  Stir in the 1/4 cup milk to make a very soft dough.
Drop the dough by teaspoonfuls onto the blueberries.  Sprinkle the surface with the remaining 1 teaspoon sugar.
Bake the cobbler for about 35 minutes, or until golden brown and the berries are bubbling.  Serve warm with vanilla ice cream.
Recipe Notes:
adapted from Food and Wine