Filled with cinnamon, spice and everything nice, this sheet cake is super tender and moist and addictive!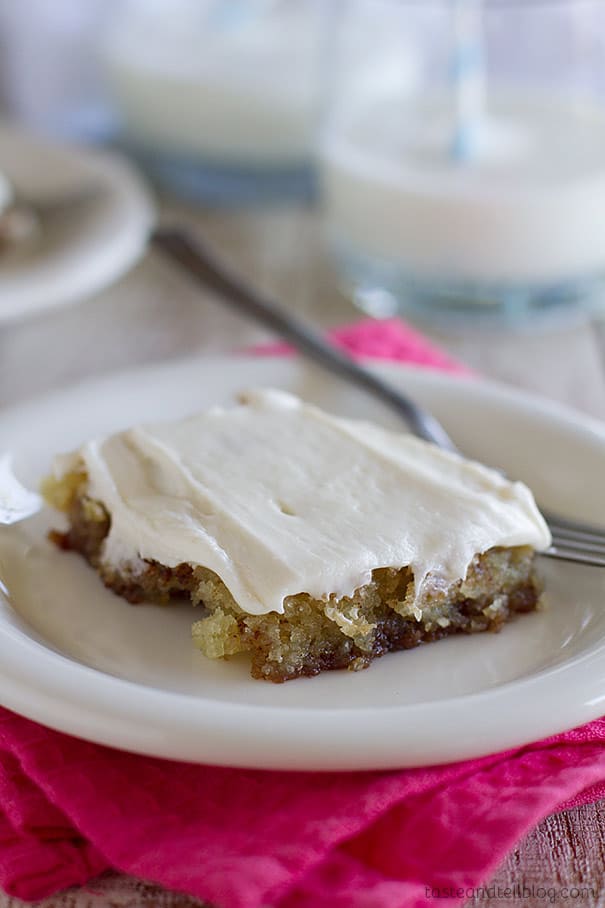 I read a lot of blogs. And there are a lot of blogs that I love. But there are just a handful of blogs that I feel like I totally get. You know what I mean – they make my kind of food. Everything they put up is something that I know I'll like and that my family will like.
Christy Denney's blog – The Girl Who Ate Everything – is one of my favorites. It has been for years. Her blog is one of my go-to's, and everything I have made has been amazing. (Her Cilantro Lime Chicken Tacos and Hawaiian Grilled Chicken are both on my favorites list!)
When I found out that Christy was writing a cookbook, I knew that I wanted it in my collection. And it is every bit as good as I had hoped it would be!!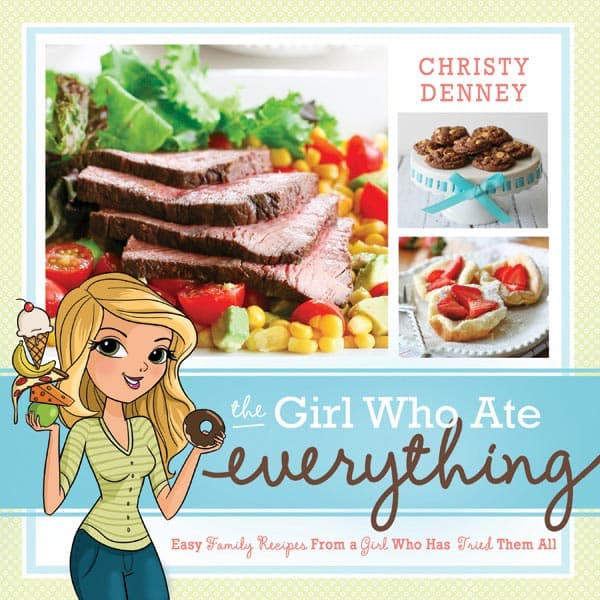 I have a lot of cookbooks. And I love a lot of cookbooks. But it's pretty rare for me to want to cook every. single. recipe. from a cookbook. But this one? Yep – there is not a recipe in the book that I don't want to try.
The book is filled with all kinds of recipes – everything from breakfast to appetizers, main dishes to dessert. It is filled with recipes that aren't too fussy, aren't pretentious, and that the whole family will love. I know that my copy will be well loved!!
Here's the rundown:
Number of Photos: Many
A beautiful full page photo accompanies every recipe. Can't beat that!!
Difficulty Level of Recipes: Easy
This is the kind of book that a beginner could cook from, but that someone who loves to be in the kitchen wouldn't be bored with. There really is something for everyone!
Availability of Ingredients: Easy
You shouldn't have a hard time finding any of the ingredients in this book.
Other recipes that I want to try:
all of them 🙂 but I'll start with
Bubble Bread
Creme Brulee French Toast
Brazilian Rubbed Salmon
Loaded Potato Slices
Cookie Crusted Chocolate Chip Cake
Buy it on Amazon.
Read more here.
Ok – and now this cake. I seriously couldn't decide what to make from the book. But I kept going back to this Cinnamon Roll Sheet Cake.
And since I'm incapable of reading directions, I actually ended up making this Cinnamon Roll Sheet Cake twice. 🙂
The first time, I decided to use a 9×13-inch pan because my 10×15-inch pan's sides aren't quite 1-inch tall. It was all fine, except for the fact that I read the directions wrong and put the wrong amount of butter in the filling. The sheet cake was amazing (seriously) but the filling all sunk to the bottom because it was so heavy because I did it wrong.
I wanted to do it right, so I tried it again. I decided to use the 10×15-inch pan. And it was a little bit too short (note to self – buy a proper 10×15-inch sheet pan) and some of the filling overflowed onto the bottom of my oven, but in the end it didn't matter.
Because this cake is a.maz.ing.
Christy calls this sheet cake "melt in your mouth" and I can't think of a better way to describe it. The texture is moist and perfect. It's sweet and cinnamon-y and just perfect.
If you don't have a 10×15-inch sheet pan, you can make this in a 9×13-inch baking dish. It took about 10 minutes extra for it to bake, but it was still just perfect!



Like what you see here? Make sure you are following Taste and Tell for more great recipes and ideas!!

Facebook ** Pinterest ** Twitter ** Instagram ** Google+
or you can subscribe to my newsletter or Feedly or Bloglovin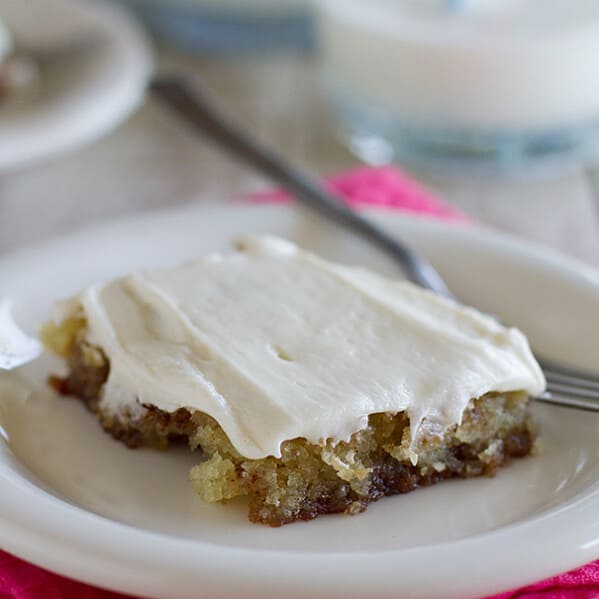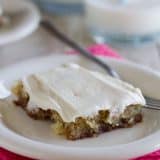 Cinnamon Roll Sheet Cake
---
Prep Time: 20 mins
Cook Time: 22 mins
Total Time: 42 mins
Yield: 24 servings 1x
Description
Filled with cinnamon, spice and everything nice, this sheet cake is super tender and moist and addictive!
---
Scale
Ingredients
Cake
1 cup butter
1 cup water
2 cups flour
2 cups sugar
2 eggs, beaten
1/2 cup sour cream
1 teaspoon vanilla extract
1 teaspoon baking soda
1 teaspoon salt
Filling
1 cup brown sugar
1/2 cup butter, melted
1 1/2 tablespoons cinnamon
1 tablespoon flour
Frosting
4 oz. cream cheese, softened
4 oz. butter, softened
2 cups powdered sugar
1/2 teaspoon vanilla
---
Instructions
Preheat the oven to 375ºF. Grease a 10x15x1-inch baking pan.
In a saucepan, combine the butter and the water and bring to a boil. Meanwhile, in a large bowl, combine the flour and sugar. Add in the eggs, sour cream, vanilla, baking soda and salt. Mix to combine.
Pour the boiling water/butter mixture into the flour mixture, a little at a time, stirring constantly. The batter will be very thin. Pour the batter into the prepared pan.
In a small bowl, combine the brown sugar, butter, cinnamon and flour. Place dollops of the mixture over the cake batter, distributing it evenly. Use a knife to gently swirl the filling, making sure not to mix.
Bake the cake for 18-22 minutes, or until golden brown. Remove from the oven and let the cake cool at least 5-10 minutes before frosting.
To make the frosting, beat together the cream cheese and butter until fluffy. Add in the powdered sugar a little at a time, then add the vanilla. Beat for 2-3 minutes. Spread onto the cake. Cut the cake into squares to serve.


This post contains affiliate links. If you purchase an item from Amazon from the link Taste and Tell receives a small commission. Thank you for supporting Taste and Tell through your purchases!