Your holiday breakfast can be easy and impressive – it doesn't get much easier than this Slow Cooker Monkey Bread with Salted Caramel and Walnuts!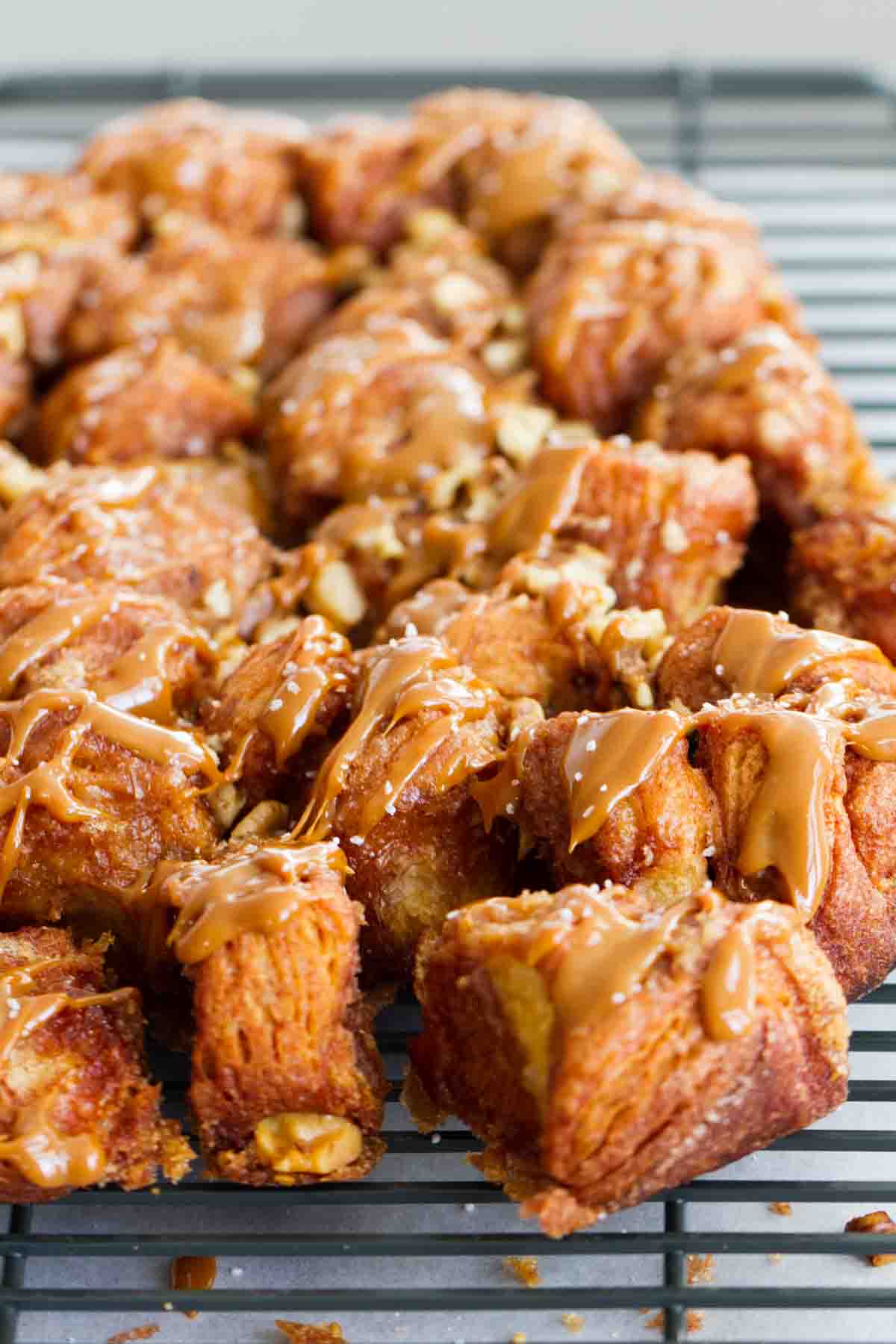 I think my family is probably like a lot of families out there. When it comes to the holidays, one of the things we look forward to the most is the food. For me, it doesn't matter what holiday it is – food always comes in as one of the most important parts of that holiday.
So I was so excited when a copy of Holiday Slow Cooker showed up on my doorstep. Written by Leigh Anne Wilkes from Your Homebased Mom, this cookbook is filled with slow cooker recipes for every holiday. 100 recipes, and holidays through the whole year. One thing I really love, though, is that many of these recipes could be made year round – not just on a specific holiday.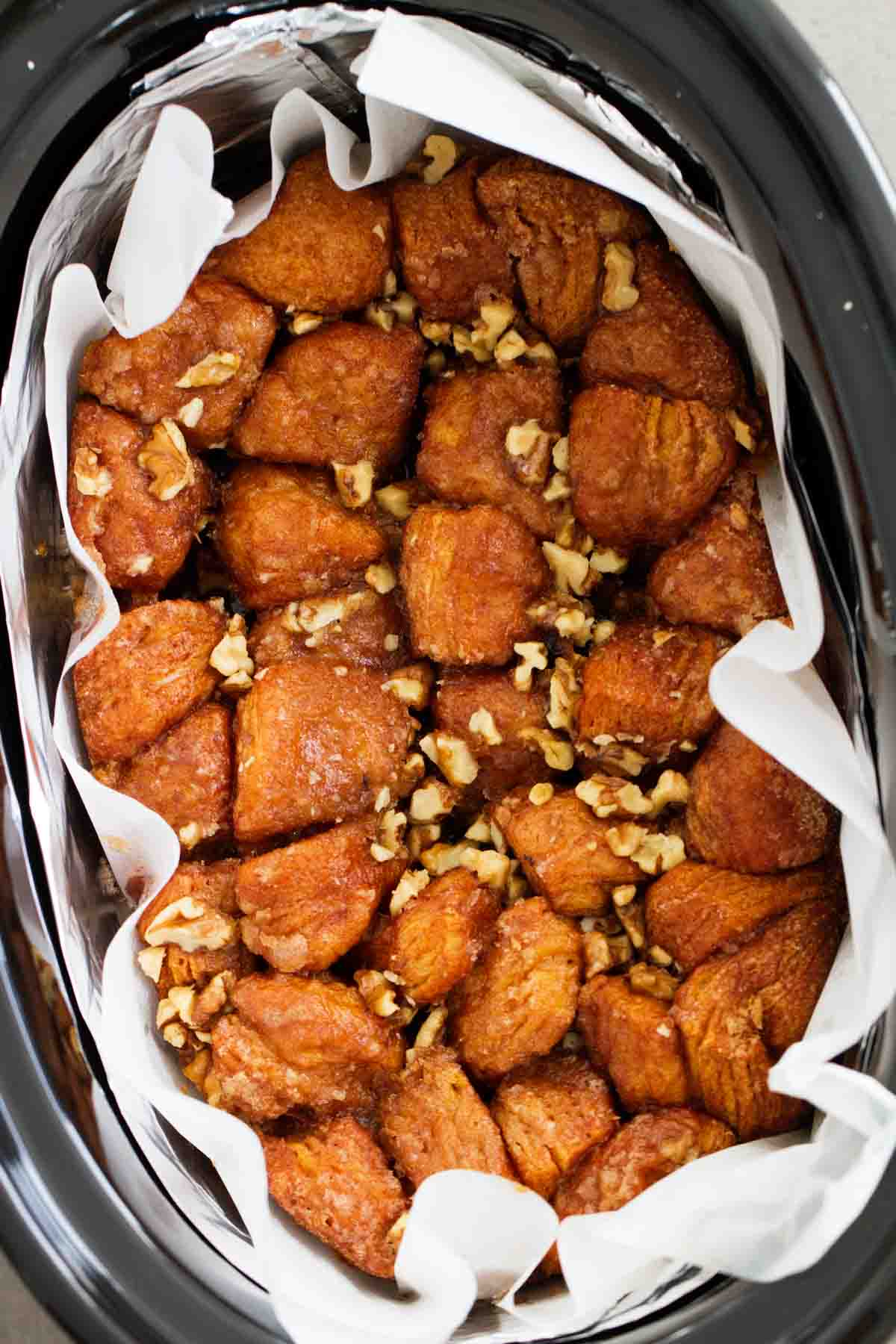 I actually think this is a brilliant cookbook idea. Because so many holidays are centered around the food, that just means that cooking the food can be tricky sometimes. Especially when you have 4 things that need to be done at the same time, yet only one oven. This cookbook tastes care of that problem by giving you recipes that you can make in the slow cooker instead of the oven.
This book has quite a few photos of the finished recipes. And I love that the recipes aren't too hard or complicated. When it comes to cooking for the holidays, life is much much easier when recipes aren't overly difficult.
If you are a holiday lover, this book is for you!!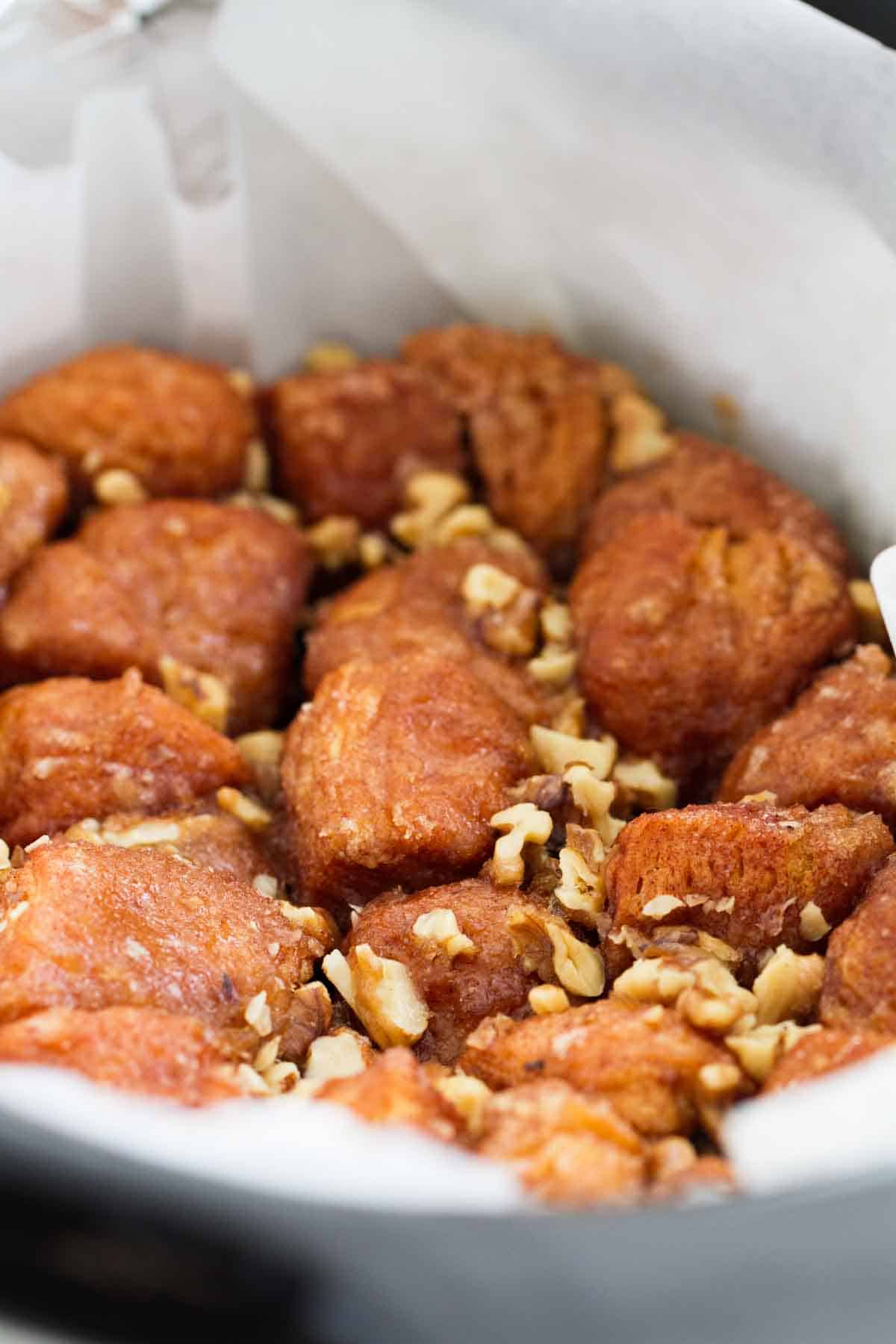 I had intended on making a slow cooker potato recipe from the book for Thanksgiving, but things got crazy and Thanksgiving came and went. So I went back to the book, and ended up choosing something different. I love a good breakfast, but the slow cooker isn't usually something that I grab to cook breakfast in. I may be changing my tune after this!
This was such a delicious recipe. And an easy one! It really only took a few minutes to put it together, then I just had to bake it up. I did make one mistake when I was making these and my timer wasn't working. So I didn't know how long I cooked them. It all ended up working out, though – I just kept an eye on it more than I normally would have.
There is a recipe in the book for homemade caramel sauce, but I totally cheated and had a can of dulce de leche that I had in my food storage. It was easy, and I'll never turn down a can of dulce de leche.
This slow cooker monkey bread is a real winner. And now I can't wait for even more holidays to make more from this book!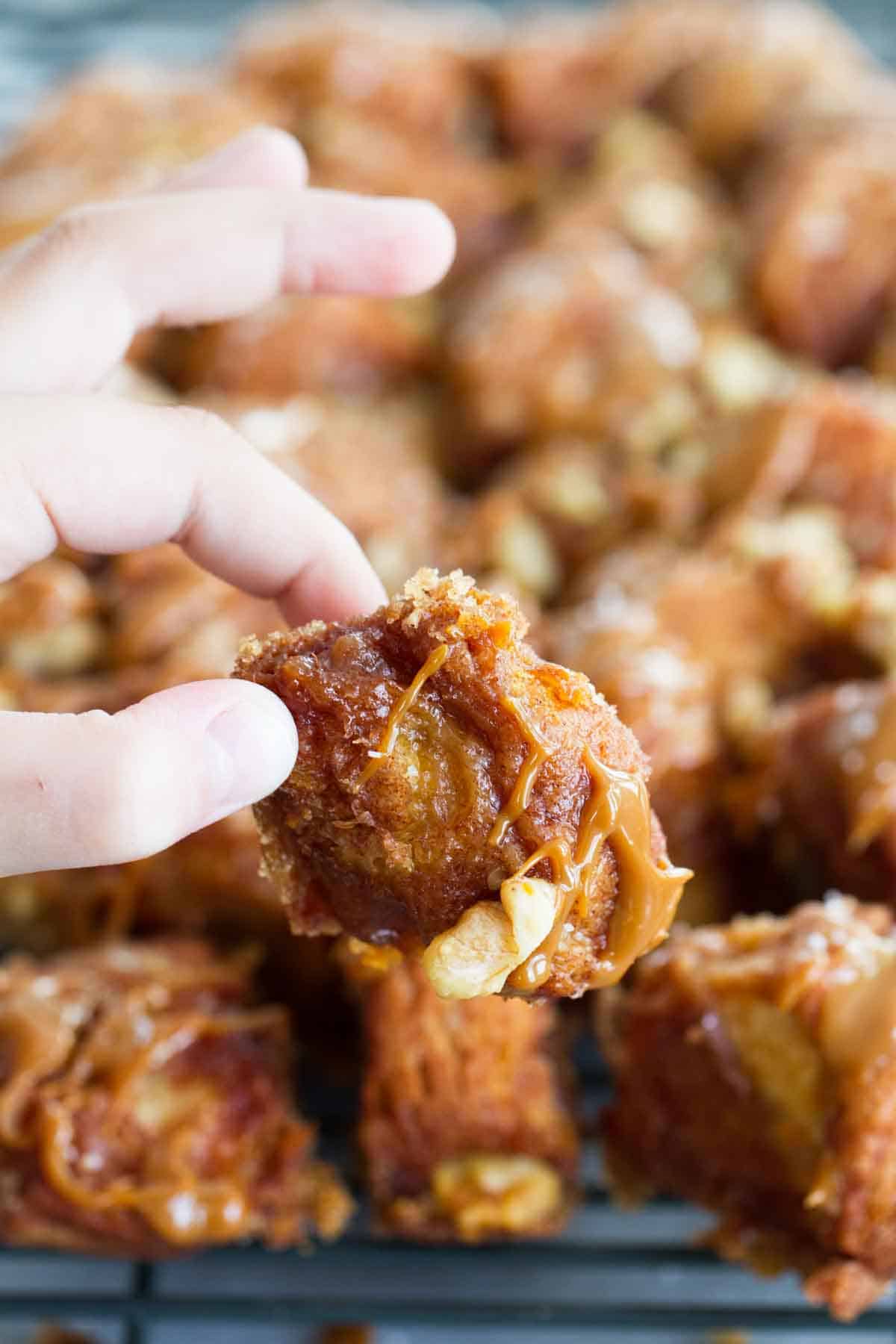 Want more delicious breakfast ideas?
Banana Coffee Cake with Honey Glaze
Lemon Scones with Nutmeg and Cherries
Ice Cream Soaked French Toast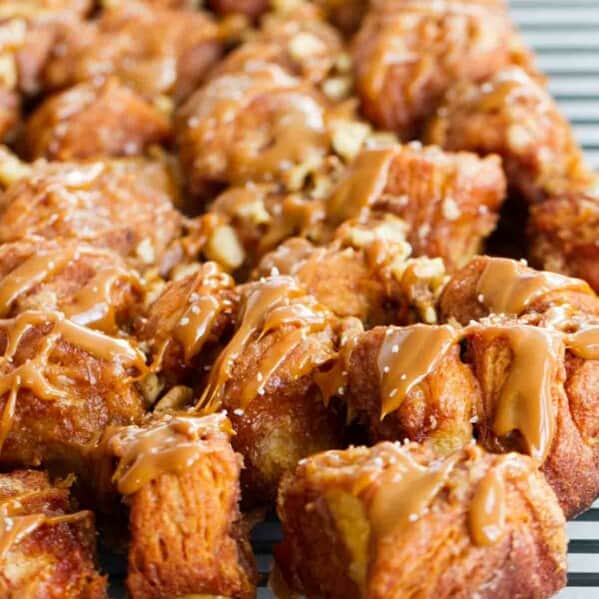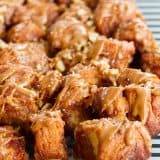 Salted Caramel Slow Cooker Monkey Bread
---
Author:
Prep Time: 10 minutes
Cook Time: 1 hour 30 mins
Total Time: 1 hour 40 mins
Yield: 4-6 servings 1x
Category: Breakfast
Method: Slow Cooker
Cuisine: American
Description
Your holiday breakfast can be easy and impressive – it doesn't get much easier than this Slow Cooker Monkey Bread with Salted Caramel and Walnuts!
---
Scale
Ingredients
1 tube (16.3 oz) refrigerated biscuits (jumbo size) – 8 biscuits
1/2 cup granulated sugar
1 teaspoon cinnamon
1/4 cup butter, melted
1/2 cup packed brown sugar
1/4 cup chopped walnuts
dulce de leche, or caramel sauce of choice
large flake sea salt
---
Instructions
Take two pieces of foil that are 18 inches long and fold them in half, then half again so that each piece of foil measures 4 x 18 inches long. Place the pieces in a 6 quart slow cooker so they line the sides of the slow cooker. Place a piece of parchment paper in the slow cooker, over the foil.
Cut the biscuits into quarters.  Combine the sugar and the cinnamon in a large ziptop bag, then add the biscuits and shake lightly until the biscuits are coated. Place the biscuits in the bottom of the slow cooker in a single layer.
Mix the butter and brown sugar together, then drizzle over the top of the biscuits. Sprinkle the remaining cinnamon sugar from the bag over the top. Sprinkle the walnuts over the top.
Place a cotton towel between the lid and the slow cooker (this will absorb the condensation so that the monkey bread doesn't get soggy).
Cook for 1 1/2 hours on high. If the middle of the biscuits are still undercooked, continue cooking in 5 minute increments.
Drizzle with the dulce de leche or caramel and sprinkle with the sea salt. Serve warm.
Recipe Notes:
recipe source: Holiday Slow Cooker
Nutrition information provided as an estimate only. Various brands and products can change the counts.
Nutrition
Calories: 491
Sugar: 53 g
Sodium: 617 mg
Fat: 15 g
Saturated Fat: 7 g
Unsaturated Fat: 3 g
Trans Fat: 0 g
Carbohydrates: 85 g
Fiber: 1 g
Protein: 8 g
Cholesterol: 31 mg
Keywords: monkey bread, slow cooker breakfast