A Starbucks copycat, this Chocolate Cinnamon Bread is a rich chocolate bread with a hint of cinnamon, topped with a crunchy cinnamon sugar topping.
Originally posted December 19,2007 – I am officially ready for holiday baking!! This next month is going to be filled with all kinds of Christmas goodies, and I'm excited to be bringing a few oldies back to the front as well.
This Chocolate Cinnamon Bread is one of my favorite Christmas treats. I've made it pretty much every year since the first time I made it back in 2007. As you can read below in the original post, I used to use regular unsweetened cocoa in place of the Dutch process cocoa that is called for in the original recipe. While it has always worked, the bread would always cave somewhat in the middle. After researching and re-testing this recipe multiple times in the last few weeks, I have come to the conclusion that if you want the bread to work perfectly, you need to use Dutch process cocoa. There is science involved (that I won't go into because I am not all that great when it comes to science in the first place), but just know that although you will get a delicious bread using regular unsweetened cocoa, if you really want this to be good, use the Dutch process. It was worth sending my husband 2 towns away to the only grocery store I know that carries it by me!!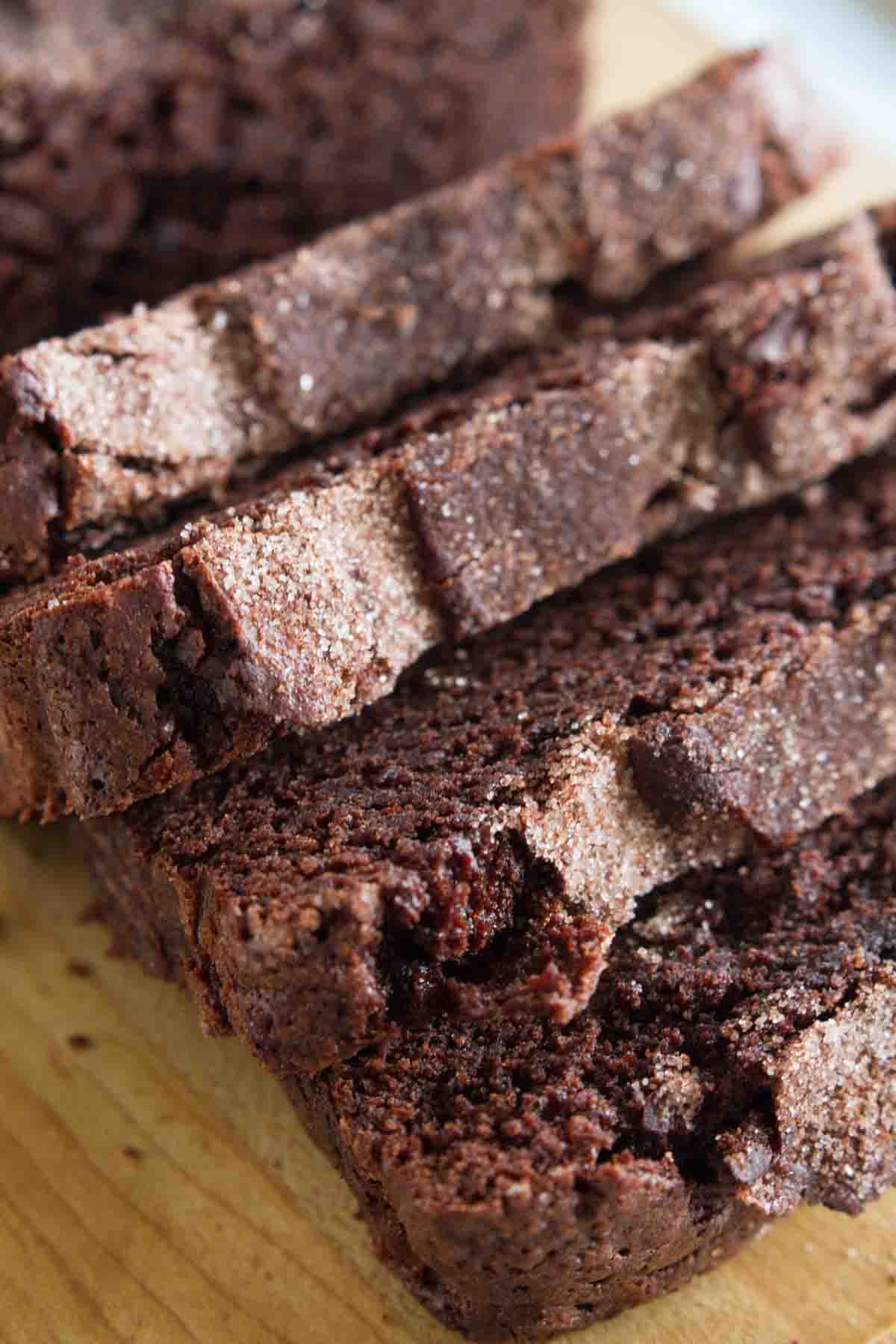 I keep telling myself that I am going to focus more on recipes from my cookbooks and magazines (to make all of the money I spend on them worth it – right?) but then I see recipes on other blogs and I can't get them out of my head. This Chocolate Cinnamon Bread is one of those recipes.
I first saw this Chocolate Cinnamon Bread on Baking Bites, but have since seen it on a few other blogs. It sounded delicious, and I had an excuse to make it a few weeks ago. My husband's aunt and uncle came into town for a few weeks over Thanksgiving. He hadn't seen them in years, and had fun spending some time with them. On the morning they were leaving, we woke up early to go see them off. The night before, I was in the mood to bake something, and this recipe popped into my mind. I figured it would be nice to bring a loaf of this bread over for breakfast.
This Chocolate Cinnamon Bread recipe makes 2 loaves. I was going to cut it in half, so we had the one loaf to take to breakfast the next morning. I ended up making both loaves, but we had no problem polishing off the second loaf at home that day!! I followed the recipe, except I didn't have any Dutch Process cocoa, so I used regular cocoa, and it was still delicious*. I also didn't add the decorating/sparkle sugar to the topping because I didn't have it.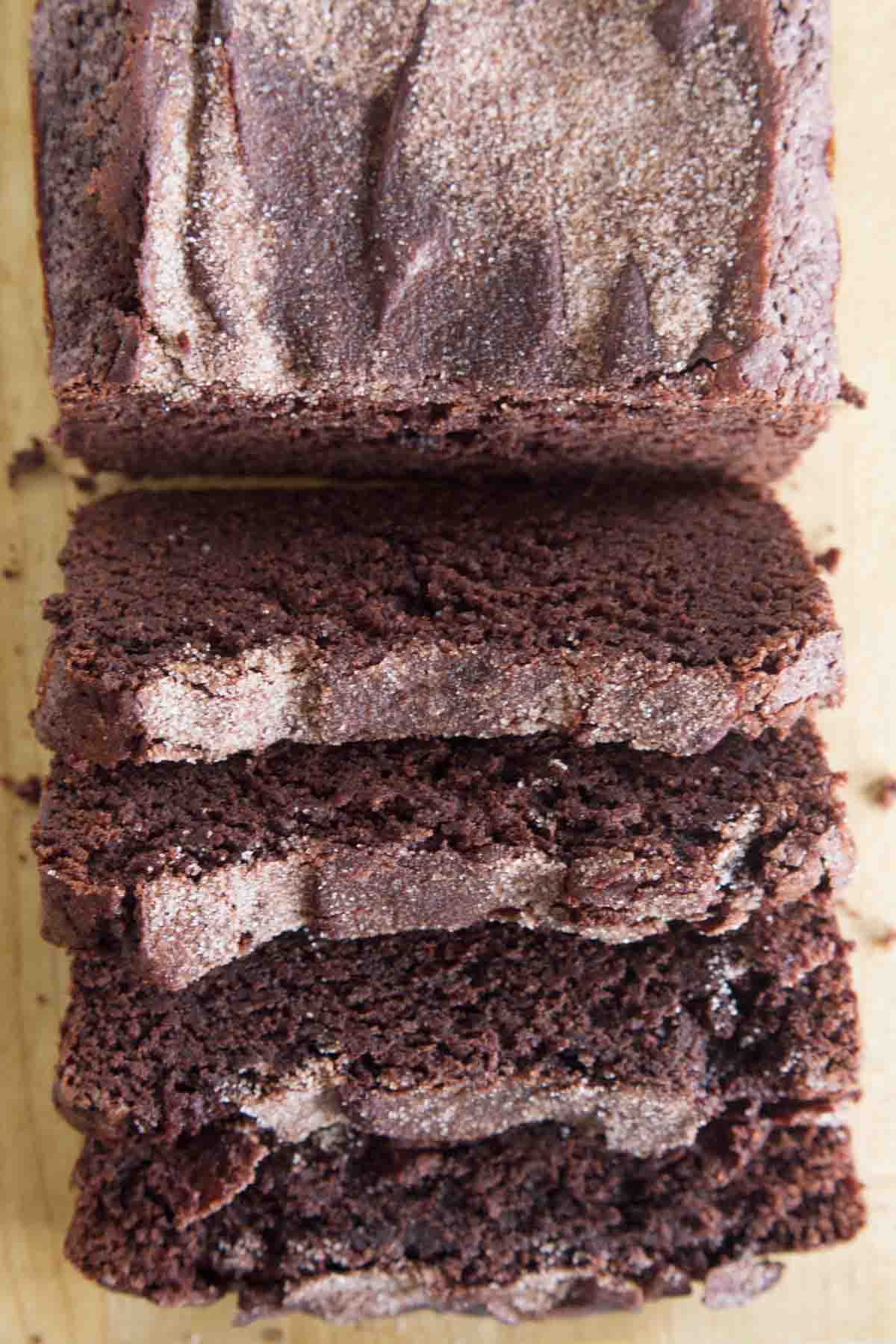 The biggest complaint I have heard from other blogs was that the cinnamon sugar mixture on top doesn't stay on, and trying to get it to stay on while taking the bread from the pan is quite difficult**. This is true, but since you put a piece of parchment paper on the bottom of the pan, I was able to stick a spatula underneath to get the Chocolate Cinnamon Bread out instead of turning the pan over. You can always leave off the topping, because the bread is sweet enough without it, but I really liked the crunch it gave the bread.
I guess it went over well at my in-laws, because my mother-in-law emailed me the next day for the recipe. I do know that chocolate and cinnamon is now one of my favorite combinations, and there is nothing better than having that smell in my house while this was cooking!!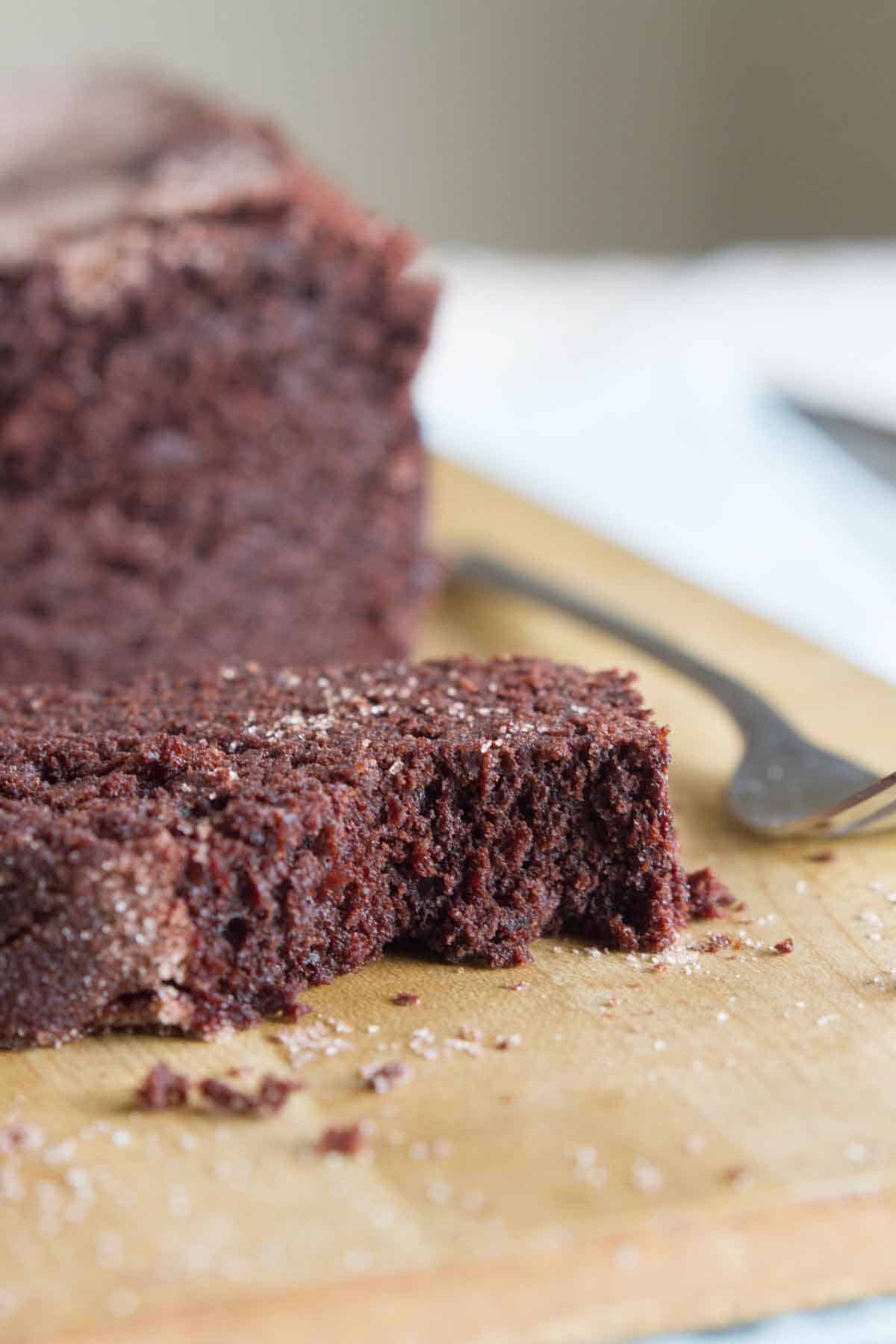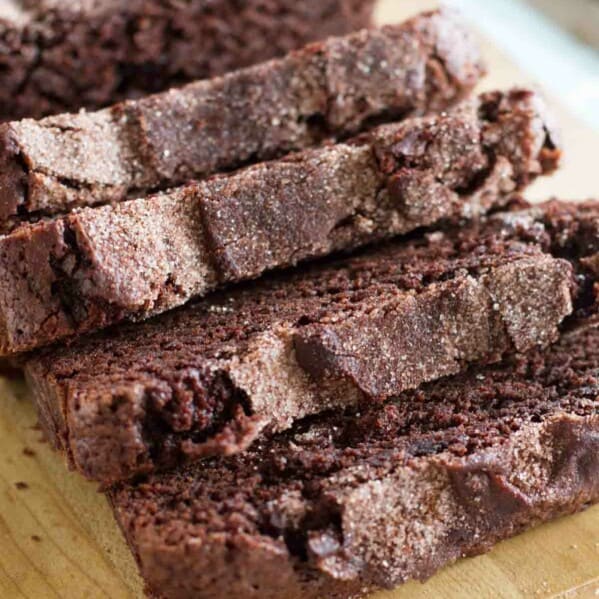 Chocolate Cinnamon Bread
---
Author:
Prep Time: 15 minutes
Cook Time: 50 minutes
Total Time: 1 hour 5 minutes
Yield: Two 9x5 loaves 1x
Category: Bread
Method: Baked
Cuisine: American
Description
A Starbucks copycat, this Chocolate Cinnamon Bread is a rich chocolate bread with a hint of cinnamon, topped with a crunchy cinnamon sugar topping.
---
Scale
Ingredients
Chocolate Batter
3 sticks unsalted butter, at room temperature (1 1/2 cups)
3 cups granulated sugar
5 large eggs, at room temperature
2 cups all-purpose flour
1 1/4 cups Dutch-processed cocoa powder
1 tablespoon ground cinnamon
1 teaspoon salt
1/2 teaspoon baking powder
1/2 teaspoon baking soda
1 cup buttermilk
1/4 cup water
1 teaspoon vanilla extract
Cocoa-Spice Sugar Crust
1/4 cup granulated sugar
3/4 teaspoon ground cinnamon
1/2 teaspoon Dutch-processed cocoa powder
pinch ground cloves
pinch ground ginger
---
Instructions
Preheat the oven to 350ºF. Line two 9×5-inch loaf pans with parchment paper or foil to cover the bottoms and up the sides with at least a 1-inch overhang.** Spray lightly with nonstick cooking spray.
Cream the butter and sugar together in the bowl of an electric mixer until light and creamy, about 5 minutes. Add in the eggs, one at a time, scraping down the sides of the bowl after each addition.
Meanwhile, in a medium bowl, sift together the flour, cocoa powder, cinnamon, salt, baking powder and baking soda. In another bowl or liquid mixing cup, combine the buttermilk, water and vanilla.
With the mixer on low, add 1/3 of the dry ingredients, followed by half of the buttermilk mixture, beating just until combined. Add another 1/3 of the dry ingredients, then the remaining buttermilk, followed by the remaining dry ingredients. Divide the mixture between the two prepared loaf pans. Shake the pans back and forth to even the tops, then set aside.
In a small bowl, combine the sugar, cinnamon, cocoa, ginger and cloves. Sprinkle the mixture evenly over the tops of the batter. Bake until a toothpick inserted in the center of the bread comes out clean, 45-55 minutes.
Let the bread cool completely before lifting out of the pans.
Recipe Notes:
*Dutch process cocoa makes a far superior bread in this recipe. Not only will it help so that your bread doesn't sink on top, but the texture and flavor is much better with Dutch process vs regular unsweetened cocoa powder.
**The original recipe had you just line the bottom of the pan with parchment paper. It works much better if you line the bottom and up the sides with a bit of an overhang so that you can easily lift the bread out of the pan without losing the cinnamon sugar topping.
Very slightly adapted from Starbucks.
Keywords: chocolate cinnamon bread