A great use for those in-season peaches, this Peach Frozen Yogurt is fresh and sweet and filled with lots of peach flavor.
Looking for something else fruity and frozen? Try this Mango Sorbet, this Fruit Batido, or this Pineapple Dole Whip.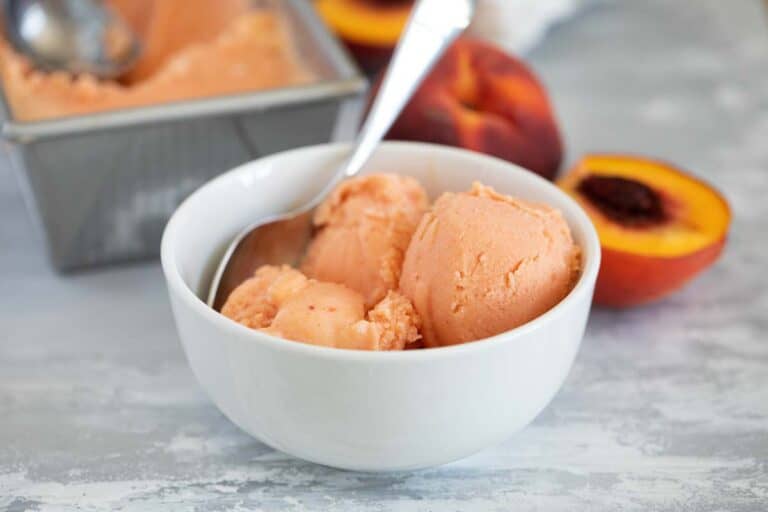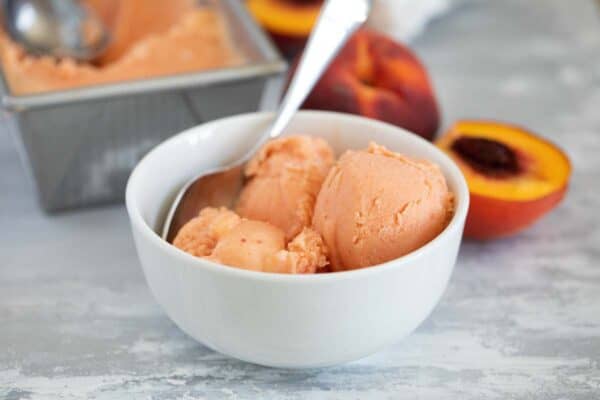 My favorite "produce season" here in Utah is peach season. I wait longingly for those peaches to hit the fruit stands, and then I can't get enough of them. They seem to come a little later here than in other parts of the country, so I eagerly await their arrival every year.
But they are in season now, and I'm a happy girl. Especially when I get something like this Peach Frozen Yogurt.
If you are looking for something that lets that fresh peach flavor shine, this is it. Sweet and delicious – I could definitely get used to having this in my freezer!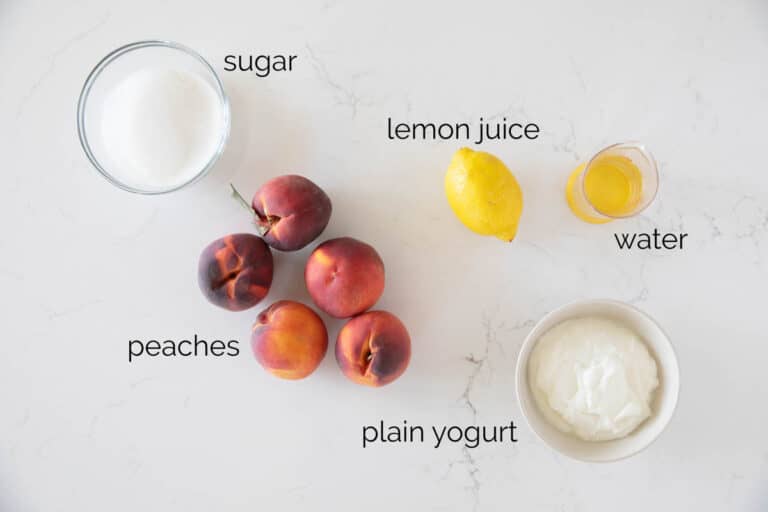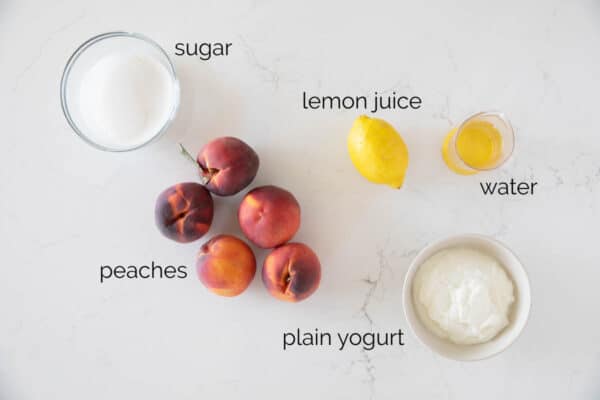 Ingredients
Peaches: You'll need about 1 1/2 pounds of peaches – weighed before removing the peels and the pits. That should be about 4-5 peaches, depending on their size.
Water: The water is used while cooking the peaches.
Sugar: You will need 3/4 cup of granulated sugar. I have not tested cutting back the sugar at all.
Yogurt: I like to use a full fat Greek yogurt for the best results.
Lemon Juice: You'll just need a little bit of lemon juice. Fresh is best!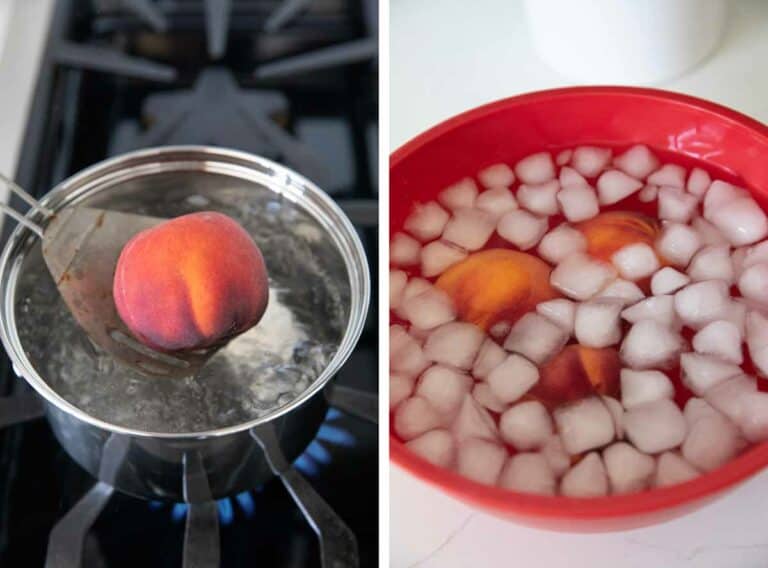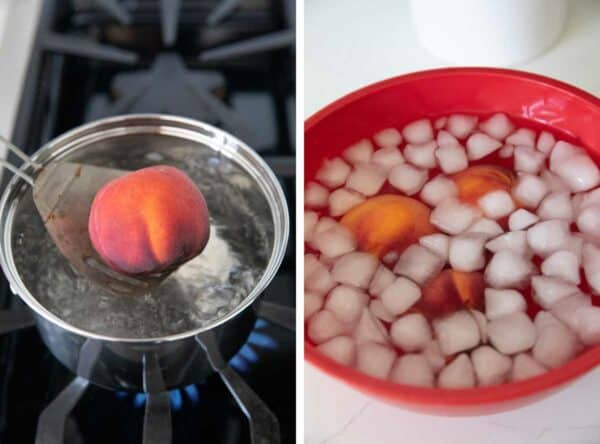 How to Peel Fresh Peaches
Peeling peaches isn't always the most fun, but it is easy! Here is how I do it.
Bring a pot of water to a boil. Score an X over the top and the bottom of each peach. You don't want it to go deep, just very shallow through the peel.
Plunge the peaches in the hot water. You want to make sure they are submerged, so work in batches if necessary.
Let the peach sit in the water for 30-60 seconds, then remove with a slotted spoon to a bowl of ice water.
Once cool, the peel should pull right off where you made the cuts.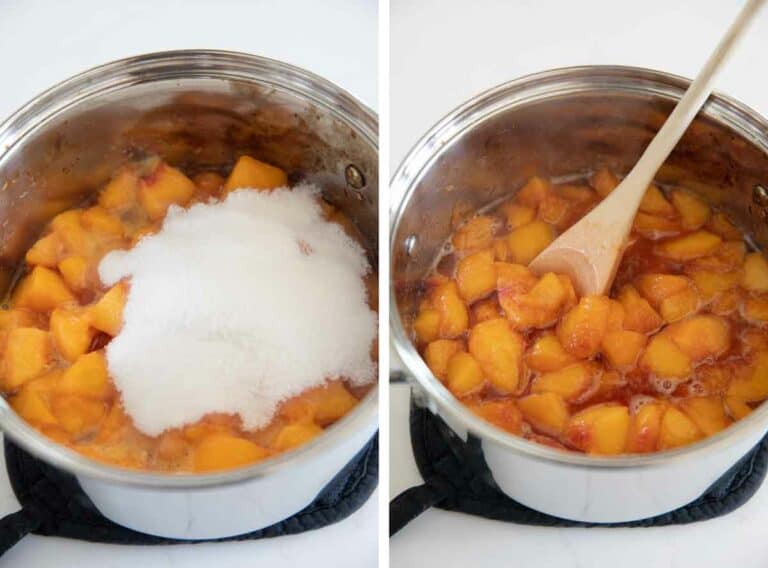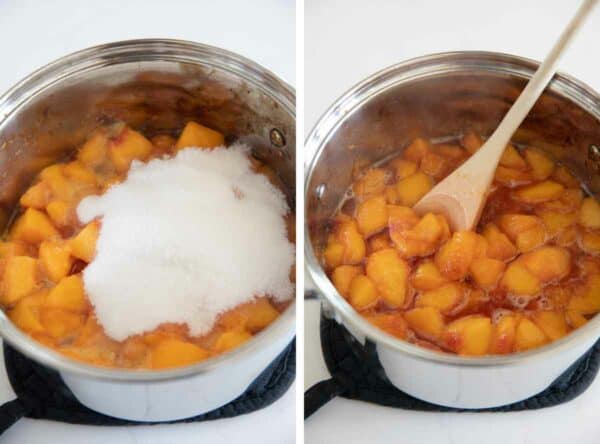 How to Make Peach Frozen Yogurt
Once your peaches are peeled, remove the pit and chop the peaches. Combine them with the water in a saucepan and cook for about 10 minutes – until the peaches are cooked and soft.
Remove the pot from the heat and stir in the sugar.
Refrigerate this mixture until cooled.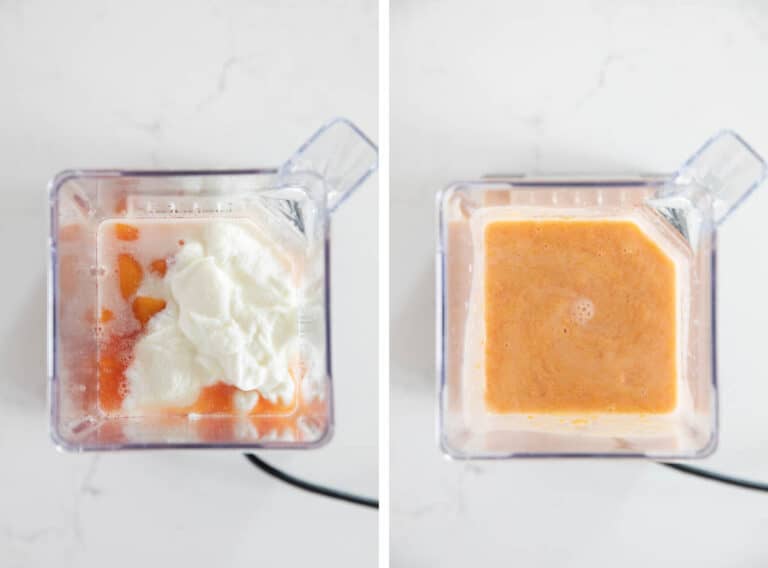 Once the peaches are cooled, combine them in a blender or food processor with the yogurt and lemon juice.
Blend until smooth.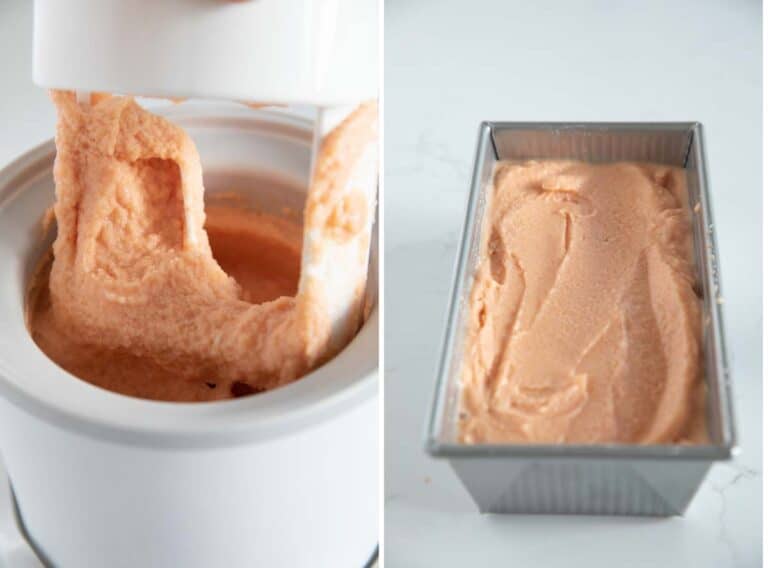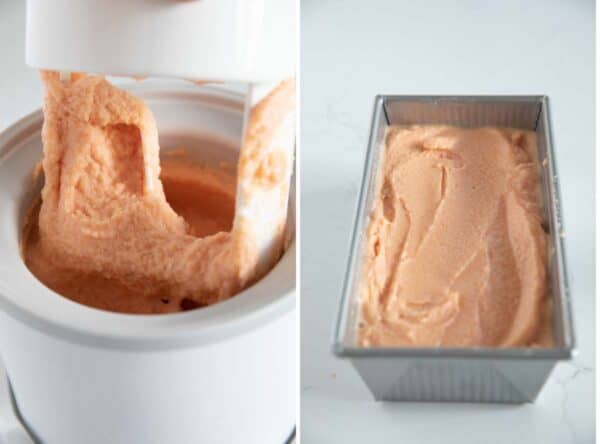 Transfer the mixture to your ice cream maker and process according to the manufacturer's instructions.
Transfer to a freezer safe container and freeze until frozen through.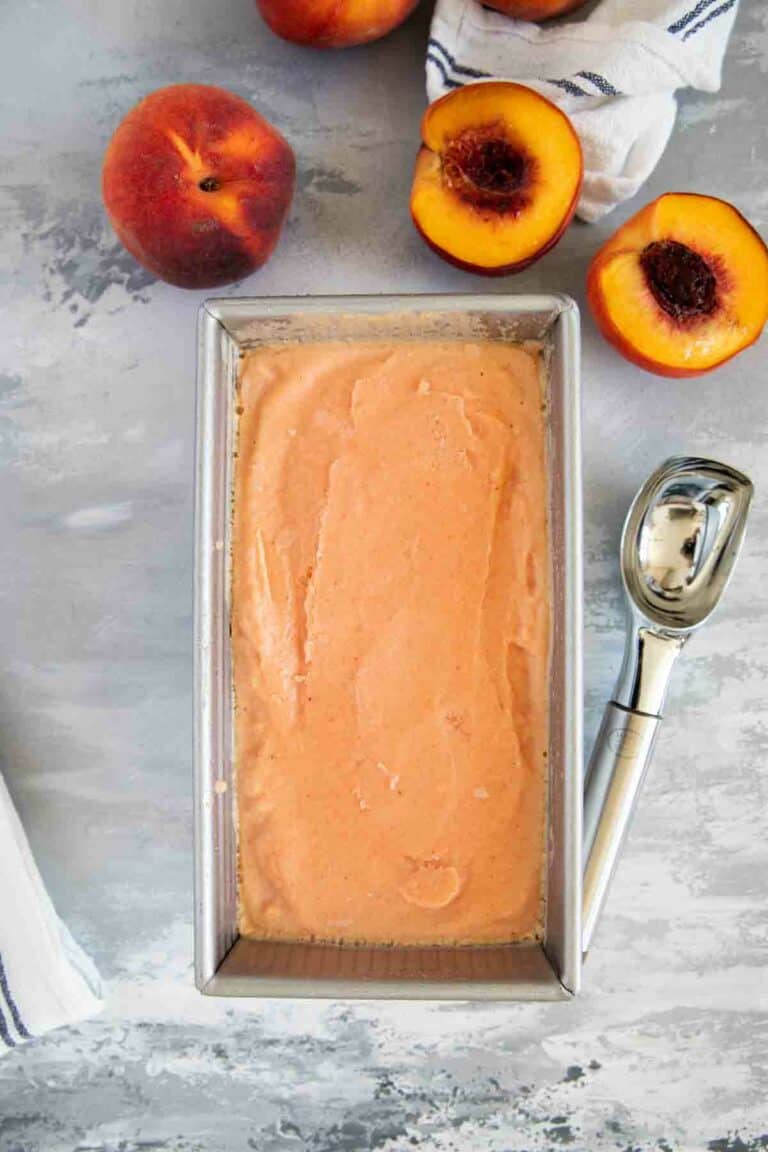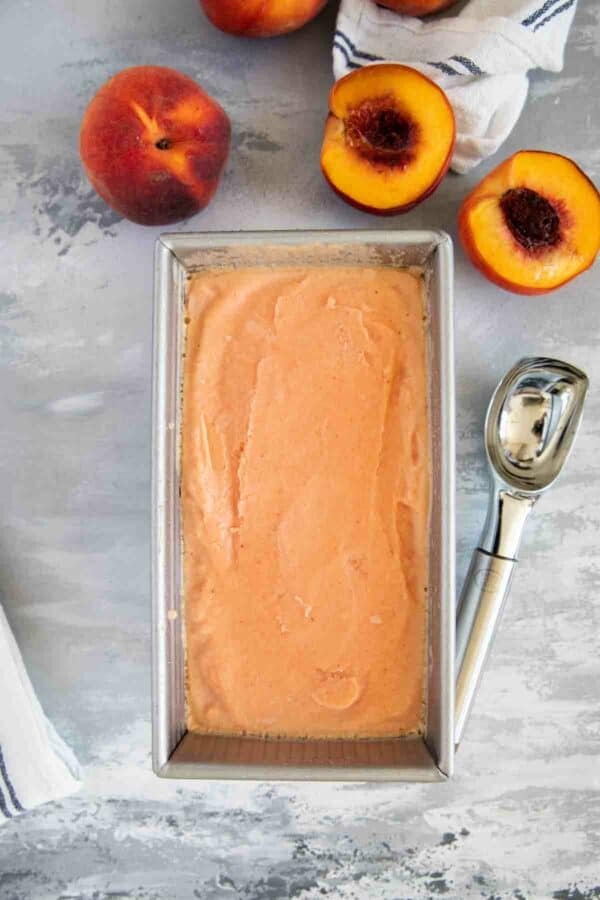 Tips and Tricks
You don't have to puree the mixture completely. You can leave some chunks, if desired. I like the texture of the frozen yogurt when it is fully pureed, though.
You can eat it right after it is finished in the ice cream maker, but it will be more of a soft serve consistency.
I have a few reusable ice cream containers I keep on hand, but a bread pan will work, as well, as long as you have a way to cover it.
This can get a bit hard to scoop straight from the freezer. I like to set it out for 20-30 minutes first.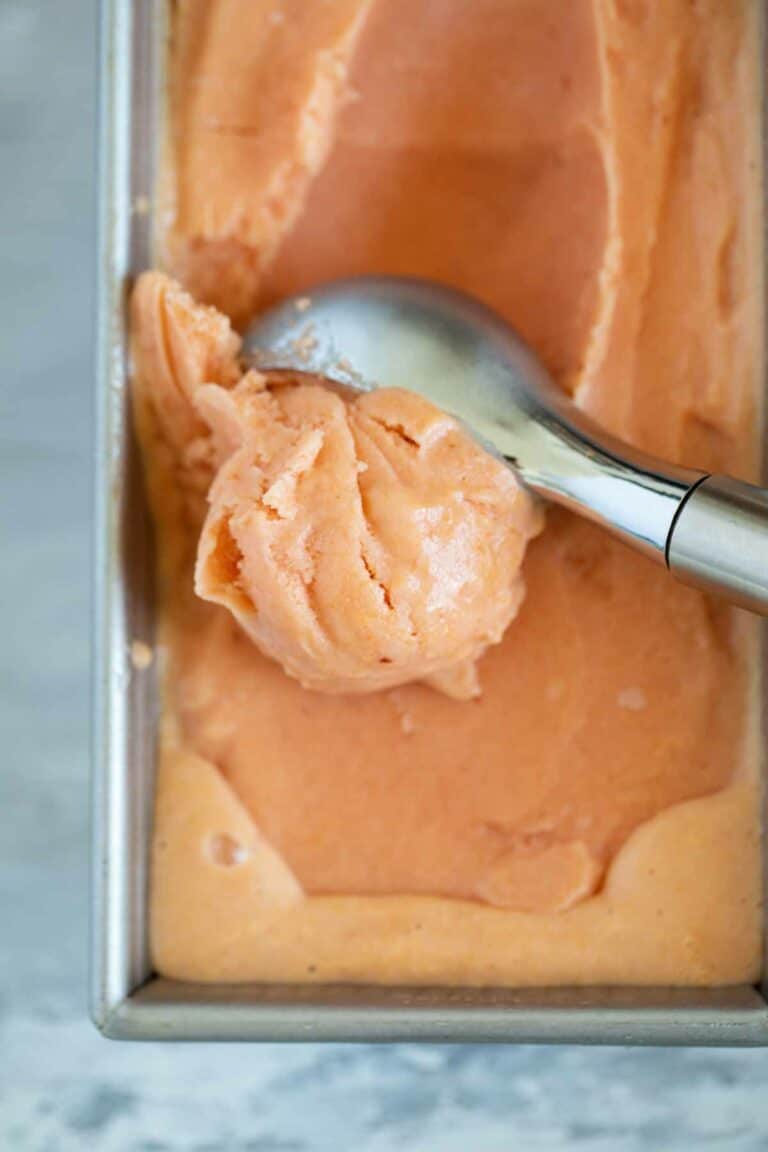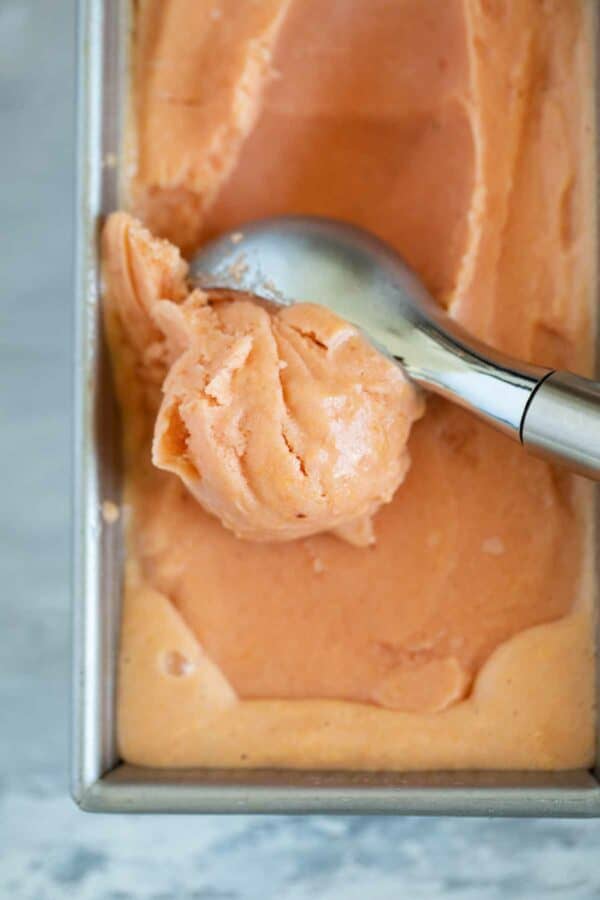 Frequently Asked Questions
Can I use regular plain yogurt?
Yes! In fact, the original recipe here was made with plain yogurt. But after re-testing, I preferred the Greek yogurt version. But both will work!
Can I use frozen peaches instead of fresh?
You can, but I wouldn't suggest cutting back on sugar at all if you do. You will need about 3 1/2 cups of chopped peaches total.
Do I have to use an ice cream maker?
I actually don't have an answer to this, because I have only tested it with an ice cream maker. But I have seen a method that has you blending or processing the mixture in a food processor a few times as it freezes. But you'd have to experiment to see what works best.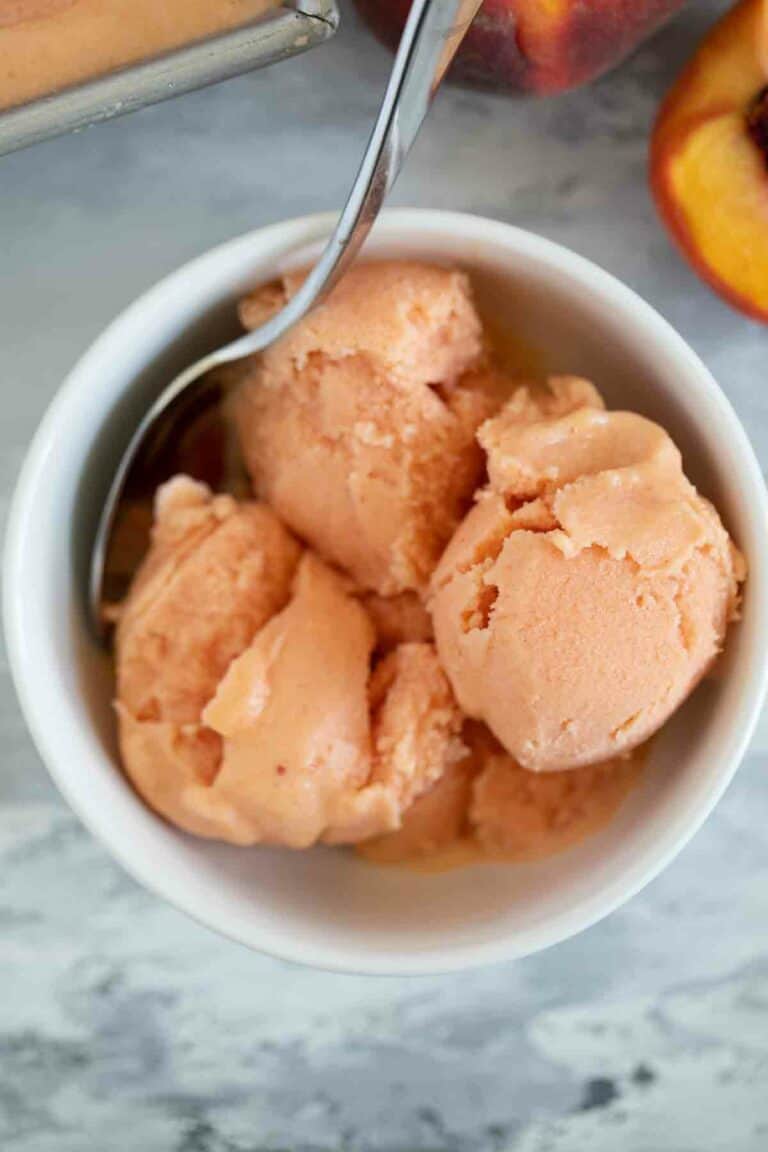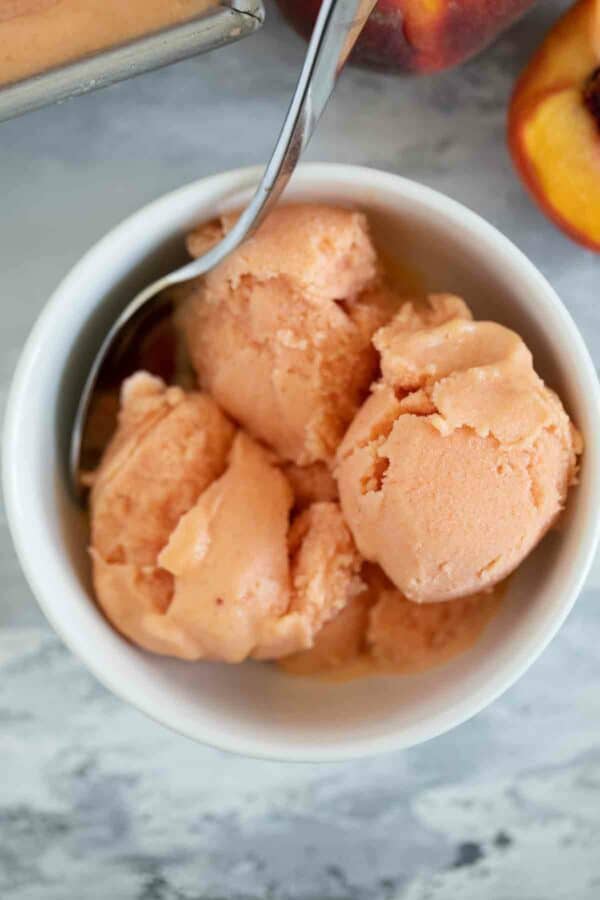 More Fresh Peach Recipes
Cast Iron Peach Crostata
Peaches and Cream Bars
Peach Melba Pie
Coconut Peach Cobbler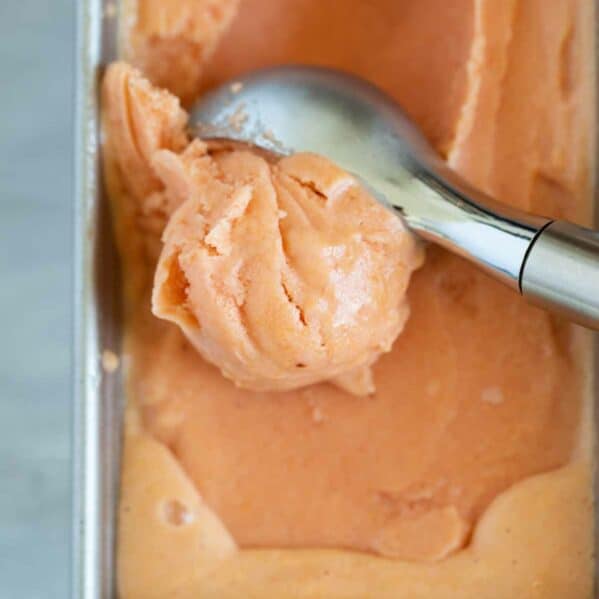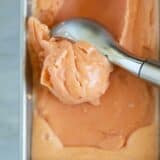 Peach Frozen Yogurt
---
Author:
Prep Time: 20 minutes
Cook Time: 10 minutes
Total Time: 4 hours 30 minutes
Yield: about 3 cups 1x
Category: Dessert
Method: Frozen
Cuisine: American
Description
A great use for those in-season peaches, this Peach Frozen Yogurt is fresh and sweet and filled with lots of peach flavor.
---
Scale
Ingredients
1 1/2 lbs ripe peaches
1/2 cup water
3/4 cup granulated sugar
1 cup plain Greek yogurt
2 teaspoons fresh lemon juice
---
Instructions
Bring a pot of water to a boil. Fill a large bowl with ice water. 
Take each peach and score the top and the bottom with an X, trying to cut just through the skin. Drop the peaches into the boiling water (working in batches, if needed) and let boil for 30 seconds to a minute.
Immediately remove the peaches with a slotted spoon into the ice water. Let them sit in the water until completely cooled. Once removing from the water, you should be able to easily peel the skin off.
Once the skin has been removed, cut in half and remove the pit, then chop the peaches.
Place the peach chunks into a pot along with the water. Cook the peaches over medium heat until soft and cooked through, about 10 minutes. Turn off the heat and stir in the sugar.
Chill the mixture until completely chilled.
Once chilled, pour the peach mixture into a blender or food processor, along with the yogurt and lemon juice. Puree until smooth.
Pour the mixture into an ice cream maker and churn according to the machine instructions.
Once churned, transfer to a freezer safe container and freeze until firm.
Recipe Notes:
Slightly adapted from The Perfect Scoop
Nutrition information provided as an estimate only. Various brands and products can change the counts. Any nutritional information should be used as a general guide.
Nutrition
Serving Size: 1/2 cup
Calories: 163
Sugar: 34 g
Sodium: 10 mg
Fat: 2 g
Saturated Fat: 1 g
Unsaturated Fat: 0 g
Trans Fat: 0 g
Carbohydrates: 36 g
Fiber: 2 g
Protein: 4 g
Cholesterol: 5 mg
Keywords: peach frozen yogurt