Photo Updated January 2013
Dear Paula Deen,
First of all, let me apologize for saying that your newest cookbook – The Deen Family Cookbook – was hit and miss. I did try many recipes from it before I made that statement, but I hadn't tried this recipe yet. And let me tell you – this recipe is reason alone to buy this cookbook. Sure, it's not even close to healthy, but really – do we really expect healthy from the queen of butter? But next time I'm looking for comfort on a plate, I'll be opening this book up to this recipe and making myself a big bowl of this delicious pasta. It really is one of the most delicious pasta dishes I've tried lately! Thank you for making me once again believe in Paula Deen!
Sincerely,
Deborah
Taste and Tell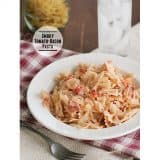 Smoky Tomato-Bacon Pasta
---
Prep Time: 5 minutes
Cook Time: 20 minutes
Total Time: 25 minutes
Yield: 4 to 6 servings 1x
Description
Tomatoes, bacon and cream cheese make up the sauce for this easy pasta recipe.
---
Scale
Ingredients
1/2 pound bacon
1 large yellow onion, diced
One 28-ounce can diced tomatoes, drained
salt and pepper
4 ounces cream cheese, cut into pieces
1 pound uncooked pasta
---
Instructions
In a large skillet, cook the bacon until crisp. Transfer to a paper towel lined plate. Pour off all but 1/4 cup of the bacon grease.
Add the yellow onion to the grease and saute until soft, about 5 minutes. Add in the tomatoes and crumble in the bacon. Season with salt and pepper. Simmer, stirring occasionally, for about 10 minutes. Add in the cream cheese and stir until melted.
Meanwhile, bring a large pot of salted water to a boil. Cook the pasta according to the package directions. Drain and transfer to a large bowl. Add the sauce and toss to combine.
Serve immediately.
———————