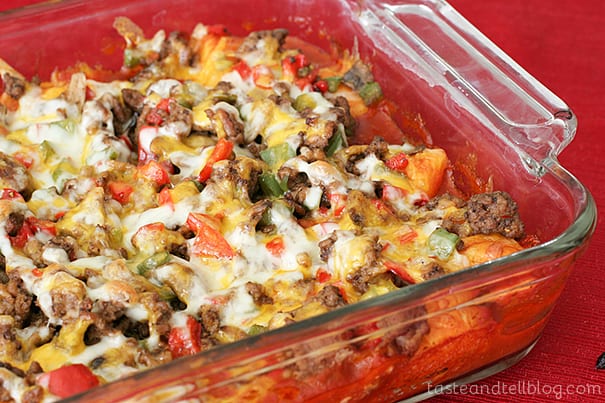 I have to admit – sometimes you all surprise me. I'll post something that I don't think will be very popular, but it ends up getting tons of hits. Usually the sweet treats are the most popular, but the Beefy Tex-Mex Stir-Fry I posted earlier this week was quite popular. It just goes to prove that I really think most of us like simple, easy and fast food!
Here is another taco twist – a taco casserole. I found this recipe in my recipe box, written on a card, so I have no idea where it came from. I'm guessing it probably came from my mom – I should call her and ask! I know it's not much to look at, but it sure did taste good. In fact, I wasn't even going to post about it, but my husband liked it so much that I decided I needed to share!
Taco Casserole
source unknown
16 oz. taco sauce
12 ounce can buttermilk biscuits
4-6 ounces shredded cheddar cheese
4-6 ounces shredded mozzarella cheese
1 can sliced olives, drained
1 pound ground beef
1 teaspoon chili powder
1 teaspoon cumin
1/4 cup red bell pepper, chopped
1/4 cup green bell pepper, chopped
8 ounces mushrooms, sliced
Preheat oven to 400F. Lightly grease a 13×9 inch baking dish. Spread taco sauce evenly over bottom of dish.
Separate dough into 10 biscuits. Cut each biscuit into 4 pieces. Place biscuit pieces in hot sauce, turn to coat. Sprinkle biscuits with half of the cheese and the olives. Bake for 15-18 minutes.
In a large skillet, combine ground beef, peppers, mushrooms, cumin and chili powder. Cook until ground beef is cooked through.
Sprinkle the ground beef mixture over the baked biscuit mixture. Top with the remaining cheese. Bake an additional 5-7 minutes, until cheese is melted.