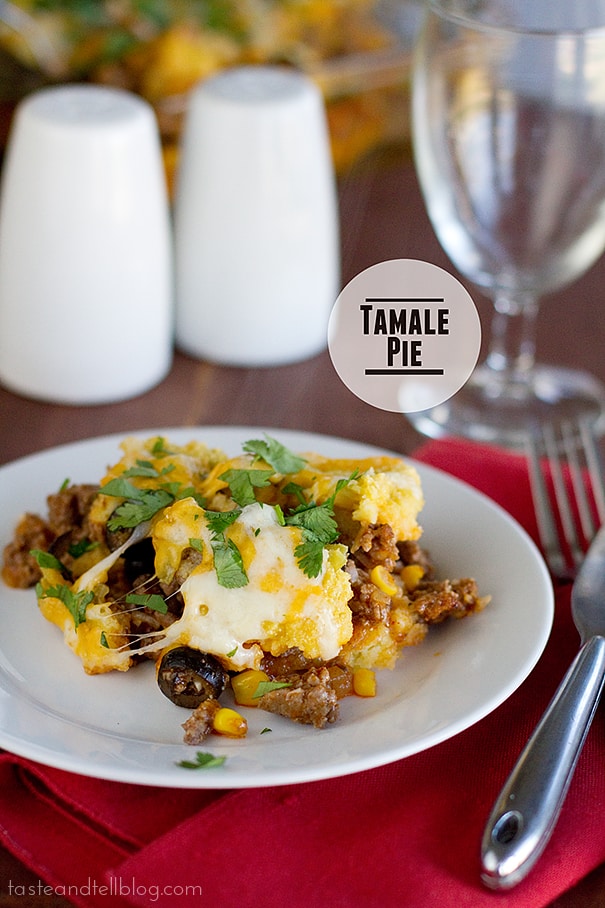 Photo Updated April 2013
I love Mexican food. I would probably have to say that it is my favorite. Growing up in New Mexico, it seemed like everything had a "kick" to it. One of the first things I remember noticing when I moved to Utah was the fact that there was extra mild salsa at the grocery store. Who would buy mild salsa, much less extra mild. I would add extra kick to everything if I could, but unfortunately, while Josh likes things spicy, he can't handle the extra kick that I like.
I was looking through some recipes last week, planning my menu for this week, and I ran across a recipe for Tamale Pie (that I had printed out in 2001 and have never made!!) I know it's not really authentic Mexican, but it sounded wonderful. I wasn't the only one who was craving Tamale Pie this week – I saw that Elise at Simply Recipes had also cooked up a Tamale Pie.
Since there are only 2 of us, I have been trying to adjust the quantity of our meals so that we don't end up with too many leftovers, because they usually end up getting thrown away. This original recipe fit in a 13×9 inch dish, but I played with the amounts a bit and it ended up perfectly.
I have to admit, I was a little worried about this one. I really didn't know if it was going to turn out very well, but once I had my first bite….yummy. This was probably my favorite meal this week. It wasn't the prettiest thing to look out, but it really was good. I can't believe that I have had this recipe printed out for so long and have never tried it!! I loved that I could eat mine with the jalapenos to add that extra kick, and Josh's without them was perfect for him. Not a spicy dish at all (the green chiles add the slightest heat) but it was really good. Yum!!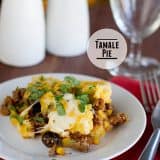 Tamale Pie
---
Prep Time: 15 minutes
Cook Time: 40 minutes
Total Time: 55 minutes
Yield: 4 servings 1x
Description
Recipe for tamale pie with beef filling and cornmeal topping
---
Scale
Ingredients
For Filling:
1 lb ground beef
1/2 medium onion, chopped
2 cloves garlic, chopped
10 oz enchilada sauce
1/2 c whole-kernel corn
1/4 c sliced olives
1 t salt
For Crust:
1 1/2 c cornmeal
1 c water
3/4 c evaporated milk
1 t salt
1/2 c (4 oz can) diced green chiles
1/2 c shredded colby jack cheese
sliced jalapenos (optional)
For Crust:
1 1/2 c cornmeal
1 c water
3/4 c evaporated milk
1 t salt
1/2 c (4 oz can) diced green chiles
1/2 c shredded colby jack cheese
sliced jalapenos (optional)
---
Instructions
For Filling:
Cook beef, onion and garlic in a large skillet until beef is browned; drain. Add enchilada sauce, corn, olives and salt.
For Crust:
Preheat oven to 425F. Grease 9×9 baking dish.
Combine cornmeal, water, evaporated milk and salt in a medium saucepan. Cook over medium-high heat, stirring frequently, 5 to 7 minutes, or until thickened. Stir in chiles. Reserve 1 cup of the cornmeal mixture; spread remaining corn meal mixture on bottom and up sides of the prepared baking dish.
Bake for 10 minutes. Cool slightly. Spoon beef filling into crust. Spread reserved cornmeal mixture on top. Bake for 15 to 20 minutes. Sprinkle with cheese. Bake for an additional 5 to 10 minutes, until cheese is melted. Garnish with jalapenos.
Recipe Notes:
adapted from cooking.com