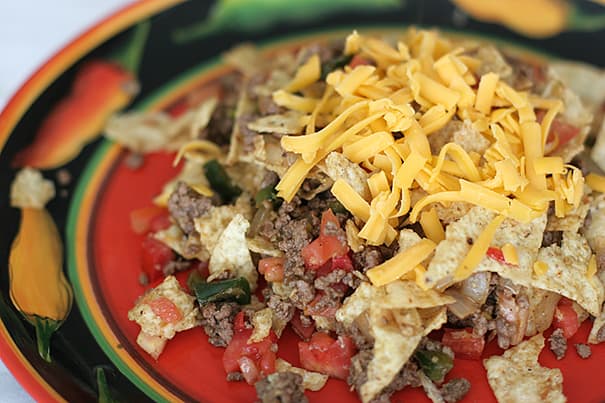 There are times when you want to challenge yourself in the kitchen – cooking with techniques and ingredients that you've never used before. But then there are times when you just want something familiar and comforting. This recipe is for those kind of nights. Growing up, we would have called this a version of taco salad, but I'll just call it good. Familiar flavors that combine together to make something easy, fast and delicious for dinner!
Beefy Tex-Mex Stir-Fry
slightly adapted from Every Day with Rachael Ray August 2008
Serves 4
2 tablespoons extra-virgin olive oil
1 poblano chile, seeded and finely chopped
1 onion, chopped
1 1/2 tablespoons chili powder
1 pound ground beef
1 tomato, finely chopped
2 cups crushed tortilla chips
salt and pepper
2 cups shredded cheddar cheese
In a large skillet, heat the olive oil over medium heat. Add the poblano, onion and chili powder and cook, stirring, until fragrant, about 4 minutes. Add the beef and cook, breaking up the meat, until the meat is just cooked through. Stir in the tomato and tortilla chips and season with salt and pepper.
Divide the mixture among 4 plates and top with the cheese.