An easy way to have the flavors of tamales on a weeknight, this Chicken Tamale Pie is super easy and packed with flavor.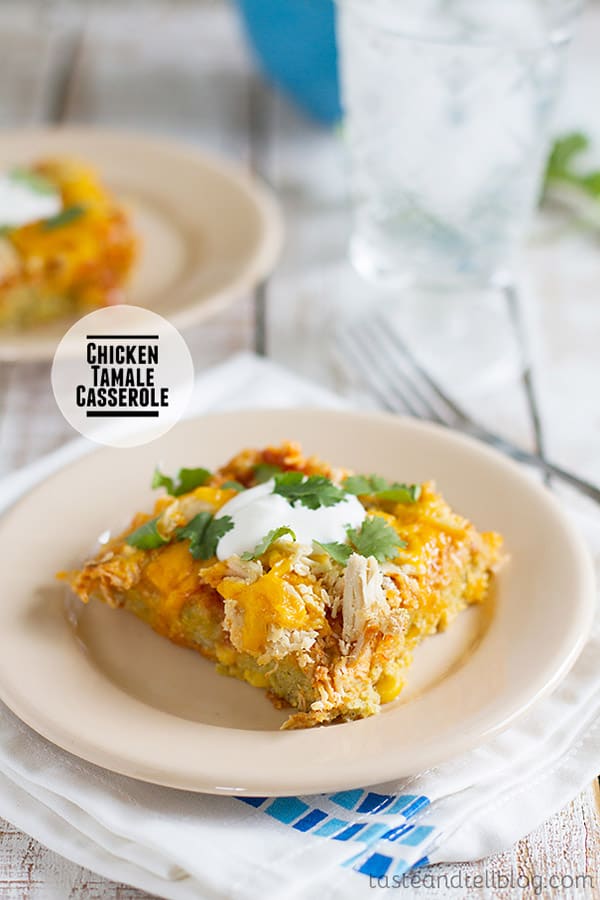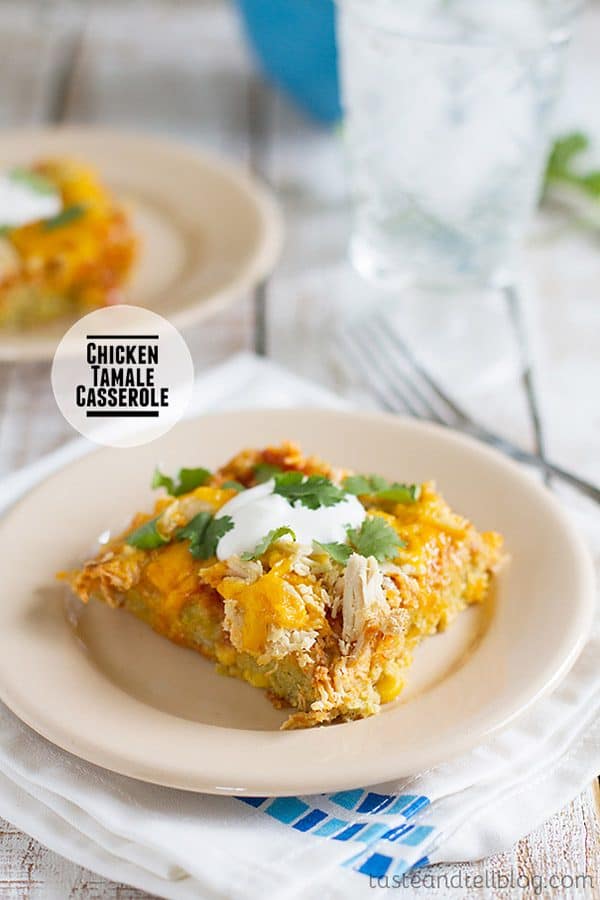 Originally posted November 24, 2008 – If you are looking for a new recipe to spice up Mexican night, you need to give this casserole a whirl. Super easy and family friendly, this is a great weeknight meal!
I grew up in New Mexico, so I have a natural love of Mexican food. In fact, when I first moved to Utah, I was appalled to see that they sold "extra mild" salsa in the grocery stores. So when I see a Mexican inspired recipe, I always want to jump right in and try it.
I made a tamale pie on my blog back in the beginning. Sadly, it's probably one of my worst pictures on my blog, but one of the posts that gets visited most regularly. I hate it when that happens!! (And it's funny that now that I go back and read that post, I mentioned the same thing about the extra mild salsa!!) This recipe isn't really a true tamale pie, mostly a quick way to get those same flavors you would get from a tamale pie or from tamales.

I really liked this – but the only downfall for me was that it was quite sweet. I'm guessing it was the corn muffin mix that I chose. It's funny, because I like my cornbread sweet, but I guess I don't like my tamale pie sweet!! But really, even the sweetness wouldn't stop me from making this again, especially since it's a quick, easy way to get that Mexican food fix!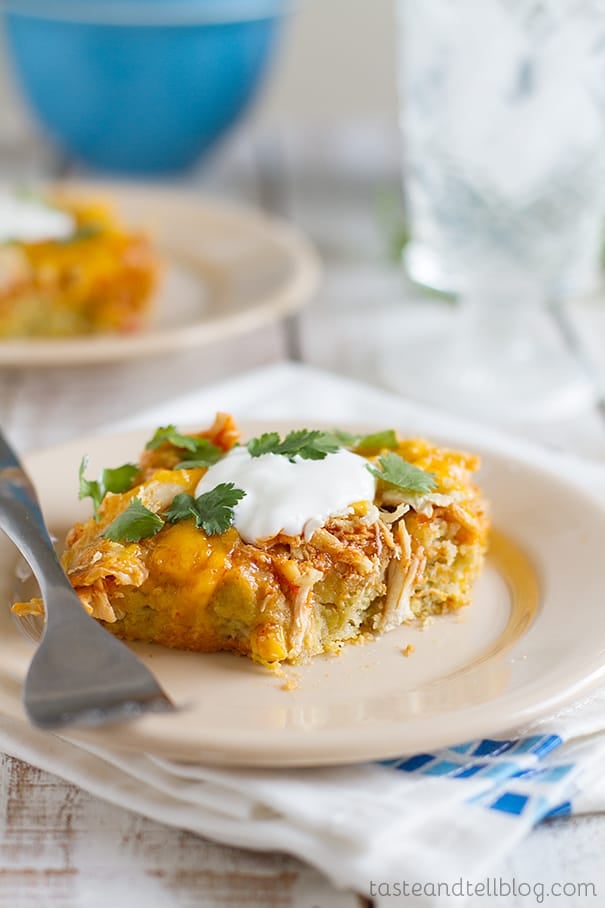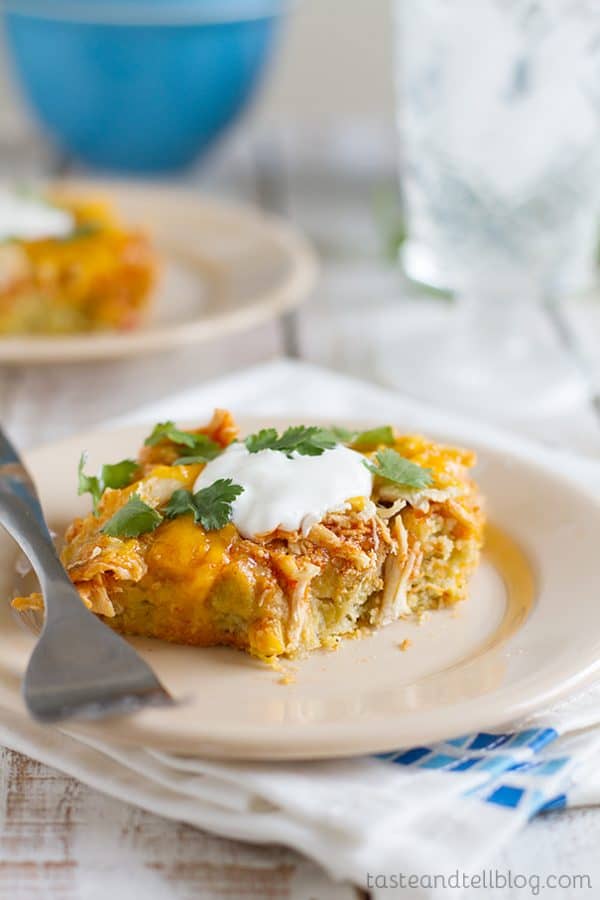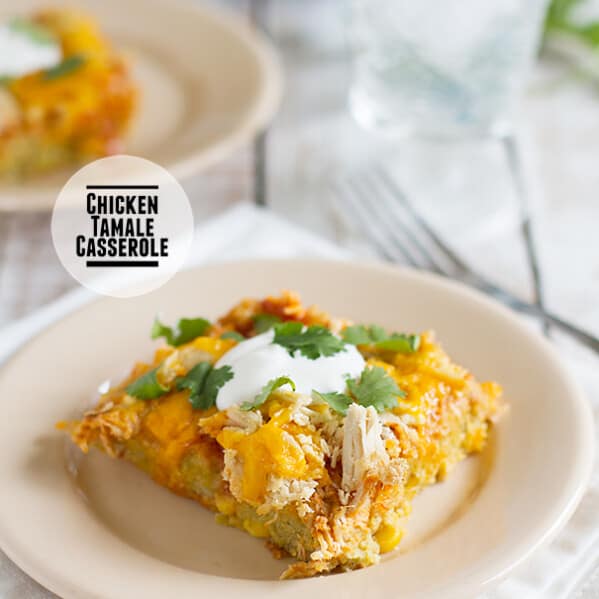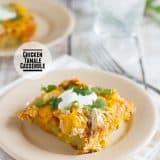 Chicken Tamale Pie
---
Prep Time: 15 minutes
Cook Time: 35 minutes
Total Time: 50 minutes
Yield: 8 servings 1x
Description
An easy way to have the flavors of tamales on a weeknight, this Chicken Tamale Pie is super easy and packed with flavor.
---
Scale
Ingredients
1 cup shredded cheddar cheese, divided
1/3 cup milk
2 eggs
1 teaspoon ground cumin
1/8 teaspoon ground chili powder
1 (14 3/4 ounce) can cream style corn
1 (8.5 ounce) box corn muffin mix
1 (4 ounce) can chopped green chilies
1 (10 ounce) can red enchilada sauce
2 cups shredded cooked chicken breast
1/2 cup sour cream (optional)
cilantro (optional)
---
Instructions
Preheat oven to 400°. Spray a 13×9-inch baking dish with cooking spray.
Combine 1/4 cup cheese and milk, eggs, cumin, chili powder, corn, corn muffin mix and green chiles in a large bowl, stirring just until moist. Pour mixture into the prepared dish.
Bake at 400° for 20 minutes or until set. Pierce entire surface liberally with a fork; pour enchilada sauce over top. Top with chicken; sprinkle with remaining 3/4 cup cheese. Continue to bake at 400° for 15 minutes or until cheese melts. Remove from oven; let stand 5 minutes. Cut into 8 pieces; top each serving with 1 tablespoon sour cream and cilantro, if desired.