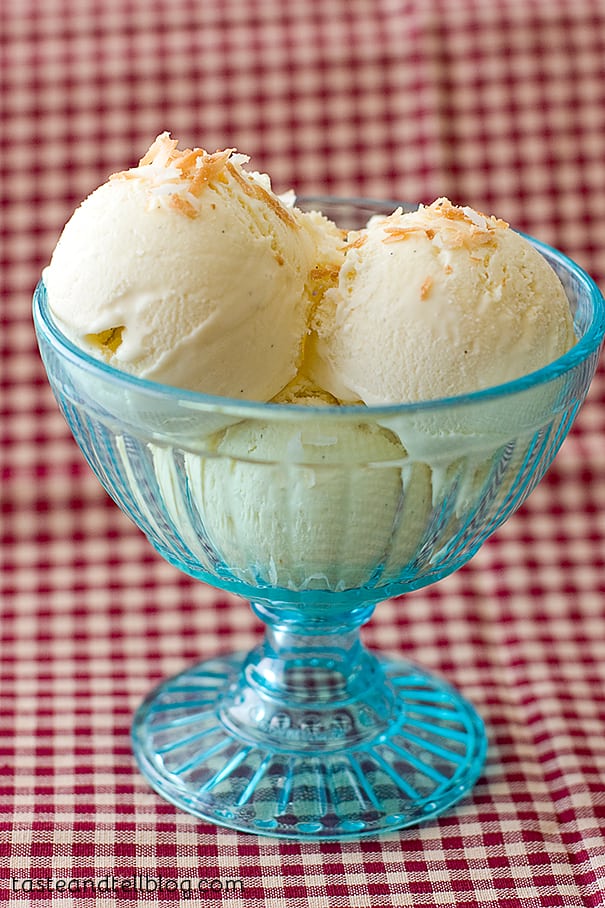 It's been one of those weeks. On Thursday afternoon, I was in playing with my daughter when I remembered that I hadn't made a recipe from this month's Cookbook of the Month yet. I rush into the kitchen and go to making the recipe I had chosen for this week – that was supposed to be posted on Friday. I start, and then realize I only have 4 eggs and I need 5. I did not want to have to go to the store, so I called a neighbor, (whom I had just had to call a few days earlier to borrow powdered sugar!), and begged for an egg. I throw on my shoes and run over to get the egg. I make the base, then stick everything in the fridge to get nice and cold.
I planned on getting up early yesterday morning to stick everything in the ice cream maker, but forgot about it until about 9 am. Into the ice cream maker, and then into the freezer. I always post the Cookbook of the Month recipes on Fridays, and I did have every intention to post this yesterday, but then the day got too busy. I was having some friends over for dinner, so dinner preparations and house cleaning took priority.
So I'm a day late posting, but I just had a big bowl of this ice cream for breakfast – and it was totally delicious. One of the best ice creams I have ever made. I just might have some for lunch as well!!
Recipe rating: 4.9 out of 5

Toasted Coconut Ice Cream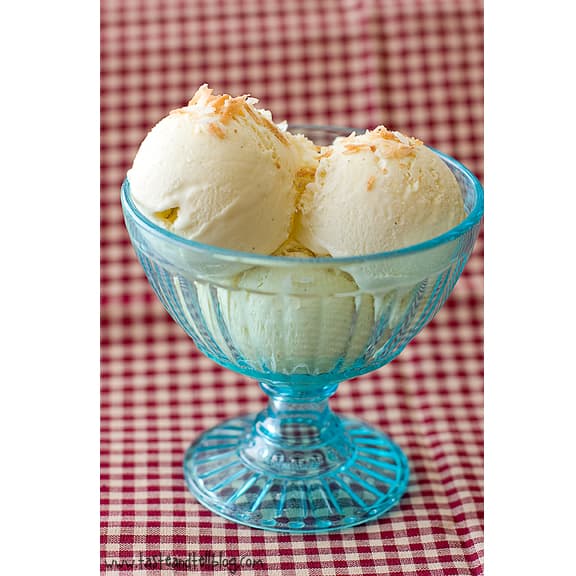 Toasted coconut is mixed in through vanilla ice cream for the ultimate tropical treat.
Ingredients
1 cup dried shredded coconut
1 cup whole milk
2 cups heavy cream
3/4 cup sugar
big pinch of salt
1 vanilla bean, split in half lengthwise
5 large egg yolks
1/2 teaspoon vanilla extract
Instructions
Preheat the oven to 350°F (175°C). Spread the coconut on a baking sheet and bake for 5 to 8 minutes, stirring it frequently so it toasts evenly. Remove it from the oven when it's nice and fragrant and golden brown.
In a medium saucepan, warm the milk, 1 cup of the heavy cream, sugar, and salt and add the toasted coconut. Use a paring knife and scrape all the vanilla seeds into the warm milk, then add the pod as well. Cover, remove from the heat, and let steep at room temperature for 1 hour.
Rewarm the coconut-infused mixture. Set a mesh strainer over another medium saucepan and strain the coconut-infused liquid through the strainer into the saucepan. Press down on the coconut very firmly with a flexible rubber spatula to extract as much of the flavor from it as possible. Remove the vanilla bean halves (rinse and reserve them for another use), and discard the coconut.
Pour the remaining 1 cup heavy cream into a large bowl and set the mesh strainer on top. In a separate medium bowl, whisk together the egg yolks. Slowly pour the warm coconut-infused mixture into the egg yolks, whisking constantly, then scrape the warmed egg yolks back into the saucepan.
Stir the mixture constantly over medium heat with a heatproof spatula, scraping the bottom as you stir, until the mixture thickens and coats the spatula. Pour the custard through the strainer and stir it into the cream. Mix in the vanilla or rum and stir over an ice bath until cool.
Chill the mixture thoroughly in the refrigerator, then freeze it in your ice cream maker according to the manufacturer's instructions.
------------------
From The Perfect Scoop
http://www.tasteandtellblog.com/cookbook-of-the-month-recipe-toasted-coconut-ice-cream/
Recipe from www.tasteandtellblog.com