True coconut lovers will appreciate these Coconut Snowball Cupcakes! Coconut cupcakes are filled with a coconut pastry cream and then frosted with a coconut buttercream. Top them off with toasted coconut for the ultimate coconut treat!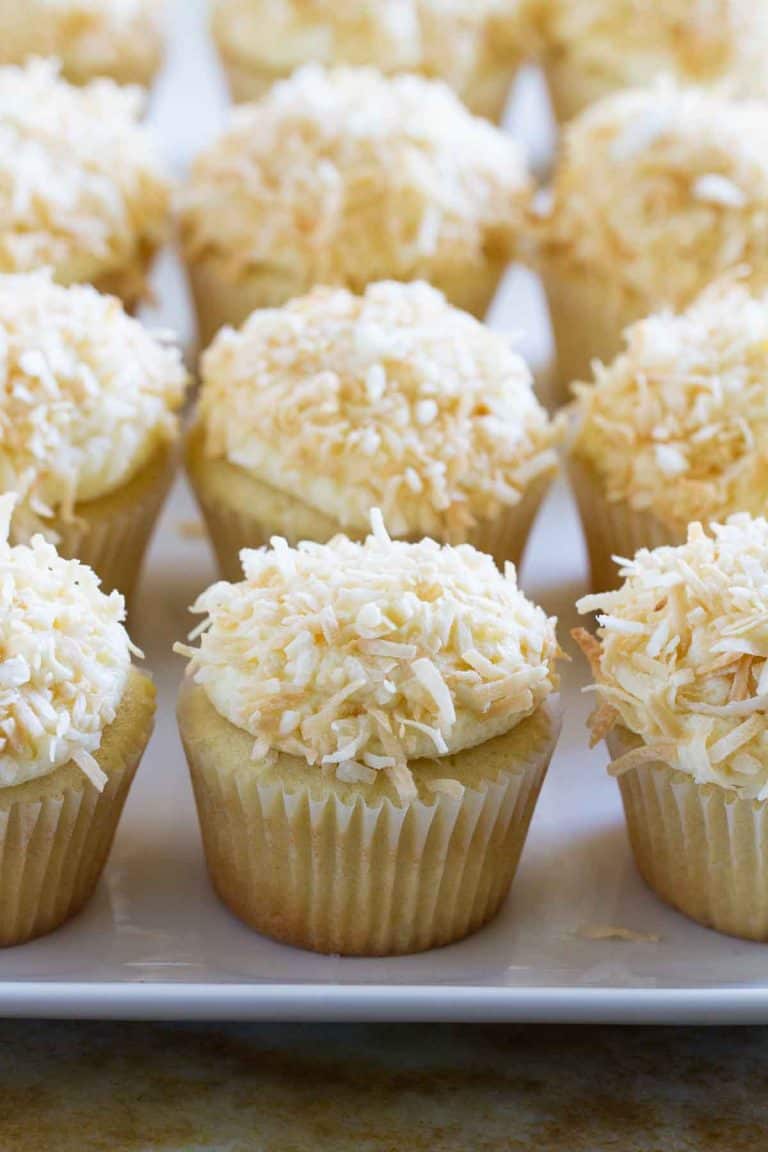 Originally posted July 20, 2009 – It's no secret that I'm a little bit coconut obsessed. So it goes without saying that these Coconut Snowball Cupcakes are the ultimate coconut recipe. Coconut cupcakes are filled with a coconut pastry cream, then topped off with a coconut buttercream and toasted coconut. Coconut overload!! I've made several different coconut cupcake recipes over the years, but these are the ultimate coconut cupcakes! These Coconut Snowball Cupcakes may be a little more labor intensive than some other cupcakes, but trust me – they are worth it!!
The original post from 2009 continues:
I really think that for the most part, my cooking is pretty "family friendly." Even though my daughter is not even eating solids yet, so I've only been feeding my husband and I for the last few years, we tend to like less pretentious, every day kind of food. Sure, I like to challenge myself now and again, but day to day, I tend to be drawn towards the kind of food I grew up on.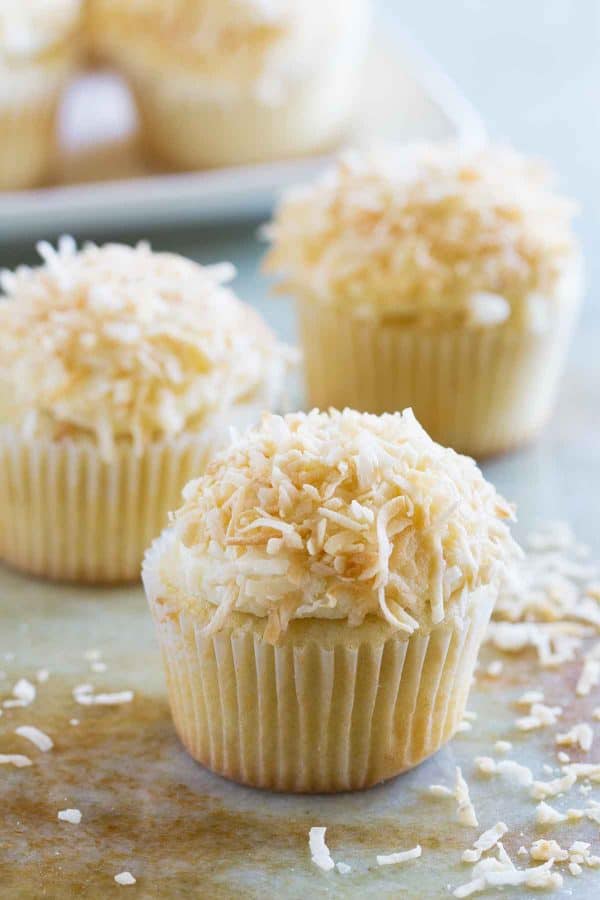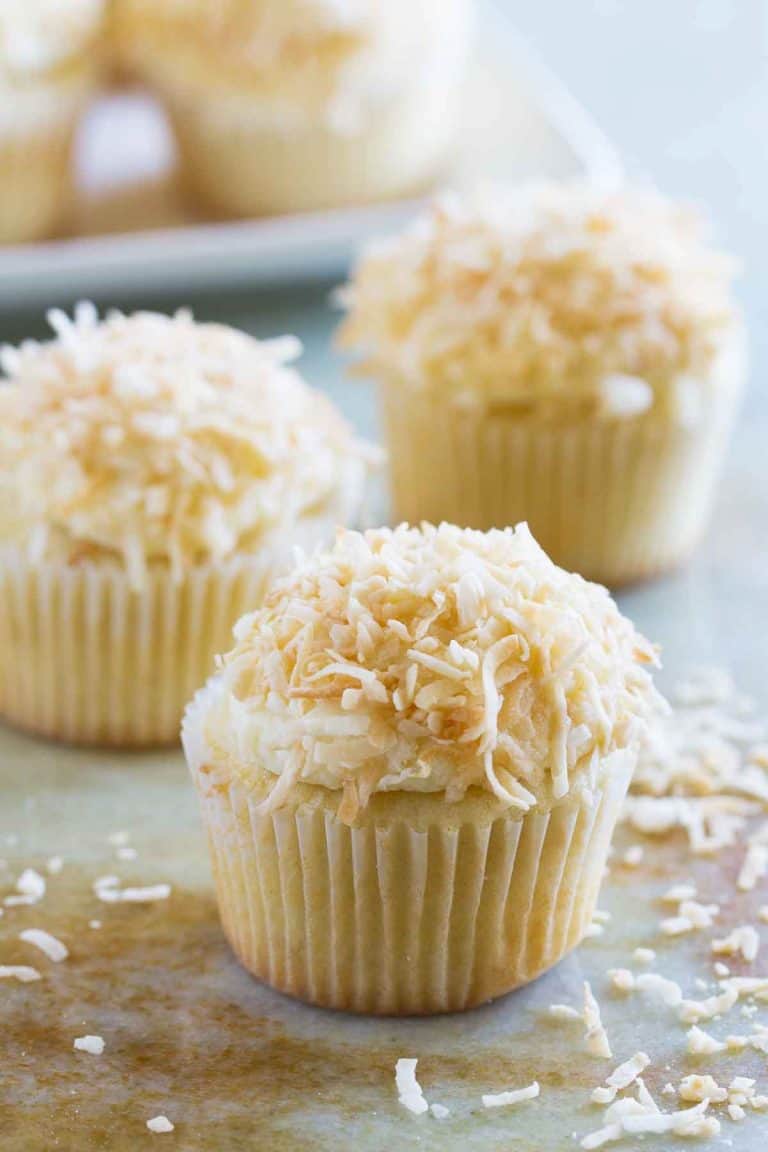 Well, a few months ago, we had an extended family get together to celebrate my grandparent's anniversary. My sisters, mom and I were asked to bring desserts. One of the desserts I brought were these cupcakes. I had been wanting to make them, and I was excited to have the opportunity to do so. At the end of the party, my cupcakes had hardly been touched. Granted, there were about a bazillion desserts there, but I still wondered what happened and why no one wanted my cupcakes.
I took them home, and the next night, my immediately family got together for family dinner. Since I had so many of these cupcakes, plus some of another cake I had made left over, I took them for dessert. I left early that night with a tired, crying baby, so I left behind all of my left over desserts. The next day, my mom told me how my dad had just raved about these cupcakes, and how every really liked them. I had eaten one (or two!) by this point and I loved them. So I wondered why no one wanted the cupcakes at the party.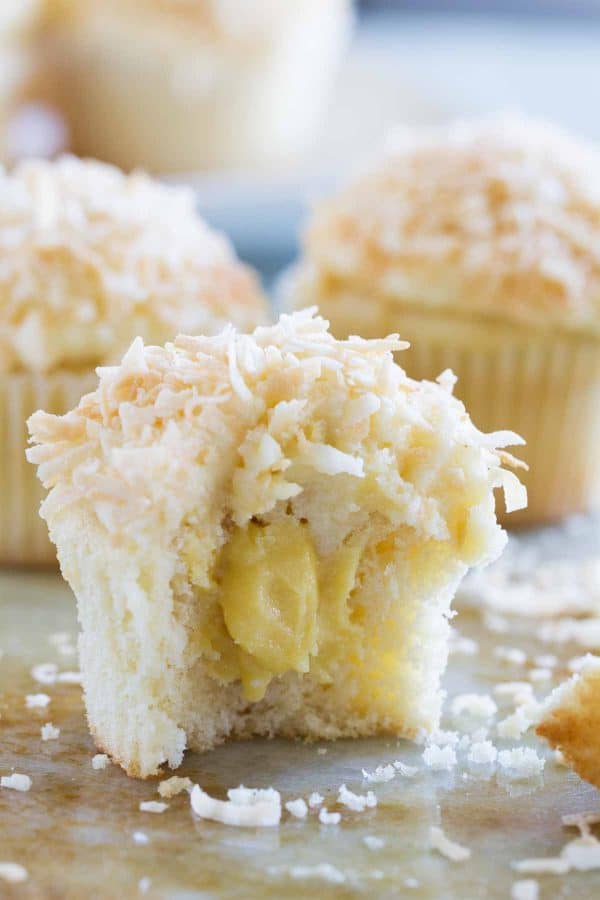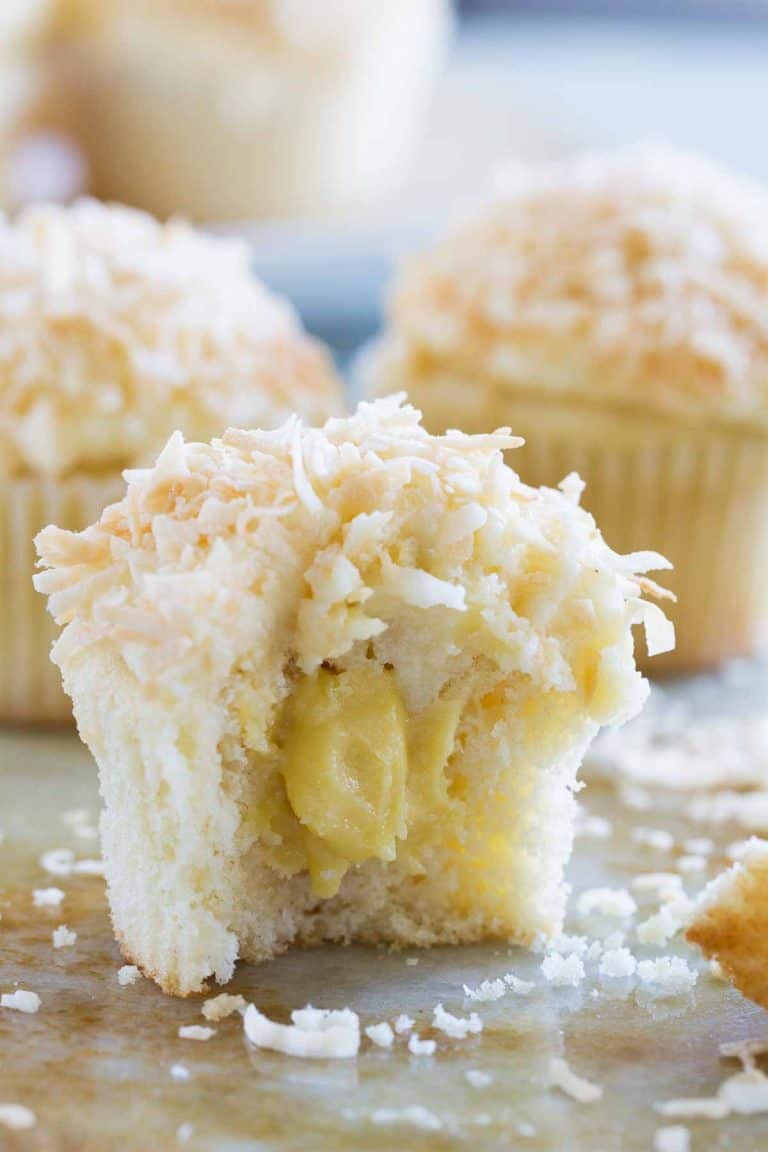 My mom came up with this answer. She said that she noticed that the kids all wanted cupcakes at the party, and the adults tended to go for cake. But there were some chocolate cupcakes, and those were the first to go. She thought that maybe these cupcakes were too sophisticated for the kids, and the adults were all too full on cake to try the cupcakes. I had a big laugh out of that, because I really don't see my food as sophisticated. So maybe if you have some adults to bring a dessert to, these would go over better with them than with the kids!!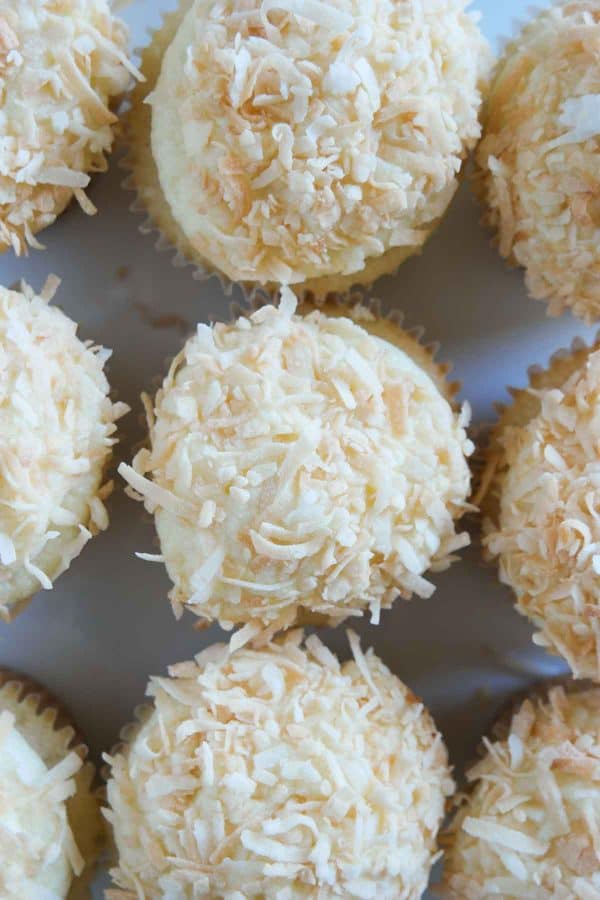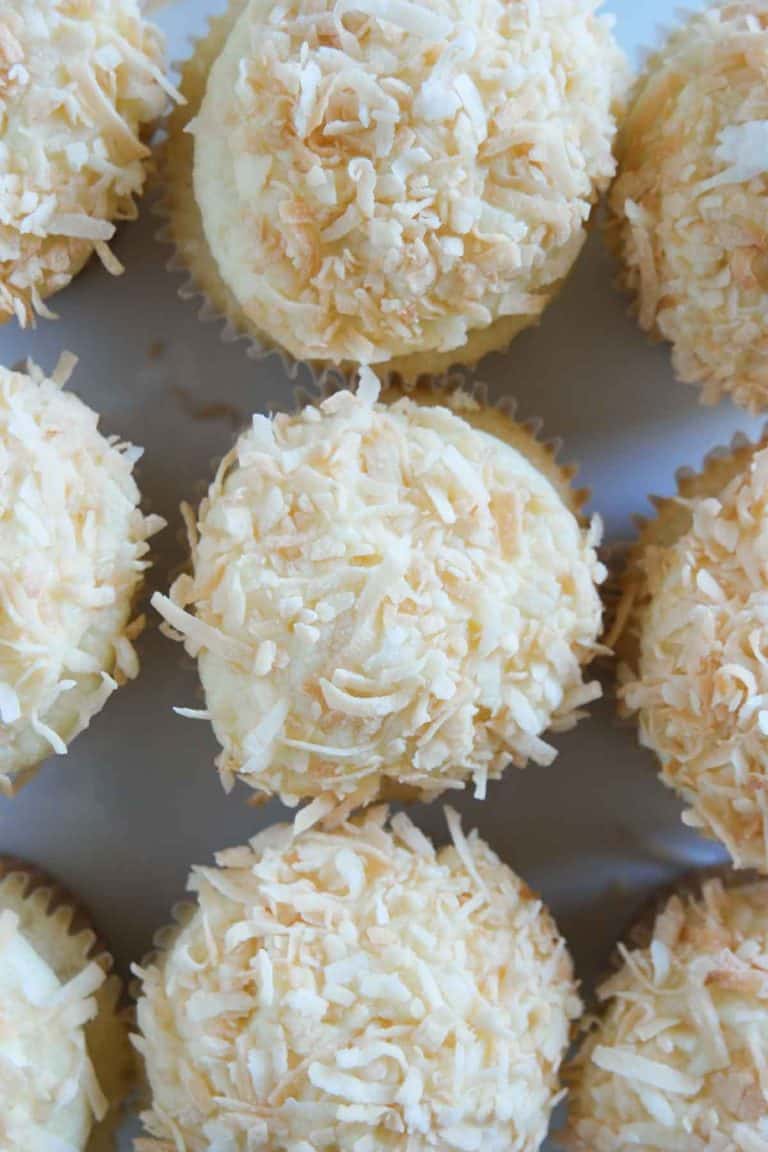 Like what you see here? Make sure you are following Taste and Tell for more recipes and ideas!
Facebook | Pinterest | Instagram | Twitter | Google+ | Weekly Newsletter | Feedly | Bloglovin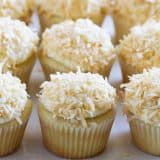 Coconut Snowball Cupcakes
---
Author:
Prep Time: 30 minutes
Cook Time: 75 minutes
Total Time: 165 minutes
Yield: 24 servings 1x
Category: Dessert
Description
True coconut lovers will appreciate these Coconut Snowball Cupcakes! Coconut cupcakes are filled with a coconut pastry cream and then frosted with a coconut buttercream. Top them off with toasted coconut for the ultimate coconut treat!
---
Scale
Ingredients
Cupcakes
2 cups cake flour
1/2 cup all-purpose flour
2 1/4 teaspoons baking powder*
1/4 teaspoon baking soda
1/4 teaspoon salt
6 tablespoons butter (softened)
1/2 cup vegetable shortening
1 1/2 cups granulated sugar*
1 teaspoon vanilla extract
1 large egg
1 cup ice water*
2 large egg whites
1/4 teaspoon cream of tartar
1/2 cup sweetened shredded coconut
Coconut Pastry Cream
2 cups half and half
1 cup sweetened shredded coconut
6 large egg yolks
1/2 cup granulated sugar
3 tablespoons all-purpose flour
1/4 teaspoon salt
1 teaspoon vanilla extract
Coconut Frosting
1 1/2 cups granulated sugar
1/3 cup all-purpose flour
1 1/2 cups milk
1/3 cup heavy cream
1 1/2 cups (12 oz) unsalted butter, (soft but cool, cut into pieces)
1 teaspoon vanilla extract
1/2 cup of the coconut pastry cream
1/2 cup shredded sweetened coconut (toasted)
---
Instructions
Make the cupcakes:
Preheat the oven to 325ºF*. Line 2 12-cup cupcake pans with paper liners.
Sift the cake flour, all-purpose flour, baking powder, baking soda and salt together into a large bowl. Set aside.
In the bowl of a stand mixture fitted with the paddle attachment, beat the butter and the shortening together until creamy, 3 to 4 minutes. Add the sugar and the vanilla and continue to beat on medium for 3 more minutes. Scrape the bowl, then add the egg and beat until combined. Turn the mixture to low and add 1/3 of the flour mixture, followed by half of the ice water, another 1/3 of the flour, the remaining water, then the remaining flour. Scrape down the bowl and mix a few more seconds on low to combine.
In a clean bowl, whisk the egg whites and the cream of tartar until soft peaks form. Gently fold the egg whites into the batter. Fold the coconut into the batter.
Fill the cupcake liners 2/3 full of the batter. Bake until a tester inserted in the center comes out clean, 20 to 25 minutes, rotating the pans half-way through the baking time.
Transfer the pans to a wire rack to cool for 20 minutes, then remove from the pans and allow to cool completely.
Make the coconut pastry cream:
Place a fine-mesh sieve over a medium bowl.
Bring the half and half to a simmer in a medium saucepan over low heat. Add the coconut then place a cover on the pan and simmer for 20 minutes to allow the coconut to steep. Strain and discard the coconut.
In a medium bowl, whisk the egg yolks with the sugar, flour and salt until the mixture is pale, about 1 minute. Whisk half of the warm half and half into the egg yolk mixture, then pour that into the saucepan with the remaining half and half. Cook over medium heat, stirring constantly, until thickened, about 6 minutes. Remove the pan from the heat and stir in the vanilla. Strain the cream through the sieve. Press a piece of plastic wrap over the surface of the cream and refrigerate for about 1 hour, or until completely cooled.
Make the coconut frosting:
In a medium, heavy saucepan, combine the sugar and the flour and whisk together. Add the milk and the cream and cook over medium heat, whisking occasionally, until it comes to a boil and thickens, about 20 minutes.
Transfer the mixture to the bowl of a stand mixer fitted with the paddle attachment. Beat the mixture on high speed until cool. Reduce the speed to low and add the butter, one piece at a time, and continue to mix until thoroughly incorporated. Increase the speed to medium-high and beat until the frosting is light and fluffy.
Add the vanilla and 1/2 cup of the cooled coconut pastry cream. Continue mixing until combined. (If the frosting is too soft, place in the refrigerator to chill slightly, then beat again until it is the right consistency.)
Assemble the cupcakes:
Cut a cone out of each of the cupcakes and fill with about 1 teaspoon of the coconut pastry cream. Replace the top of the cone.
Frost each of the cupcakes with the frosting, then dip the tops into the toasted coconut.
Recipe Notes:
*For high altitude for the cupcakes, I subtracted 1/2 teaspoon baking powder, subtracted 3 tablespoons of sugar, and added 2 tablespoons of ice water. I also increased the temperature by 25º.
barely adapted from Baked: New Frontiers in Baking
SHOP THIS POST:
Don't Miss These Other Coconut Recipes: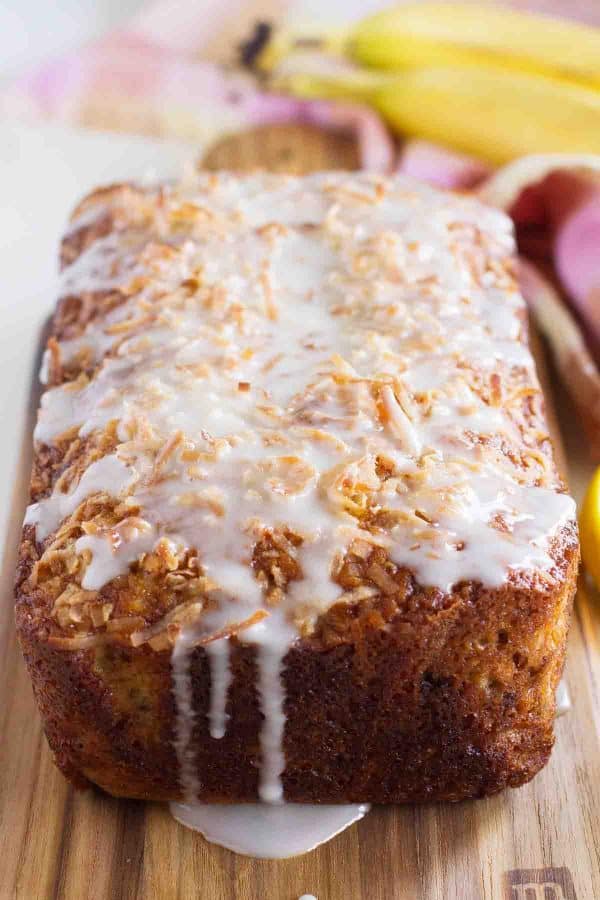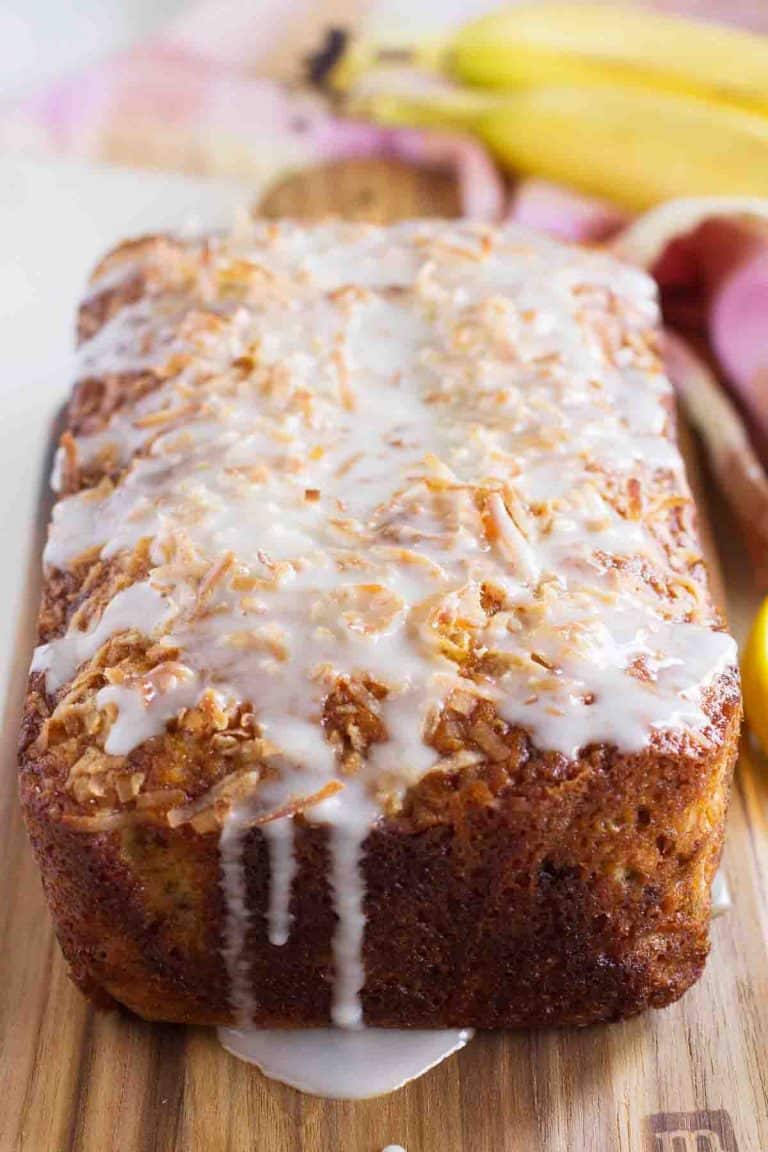 Citrus Glazed Coconut Banana Bread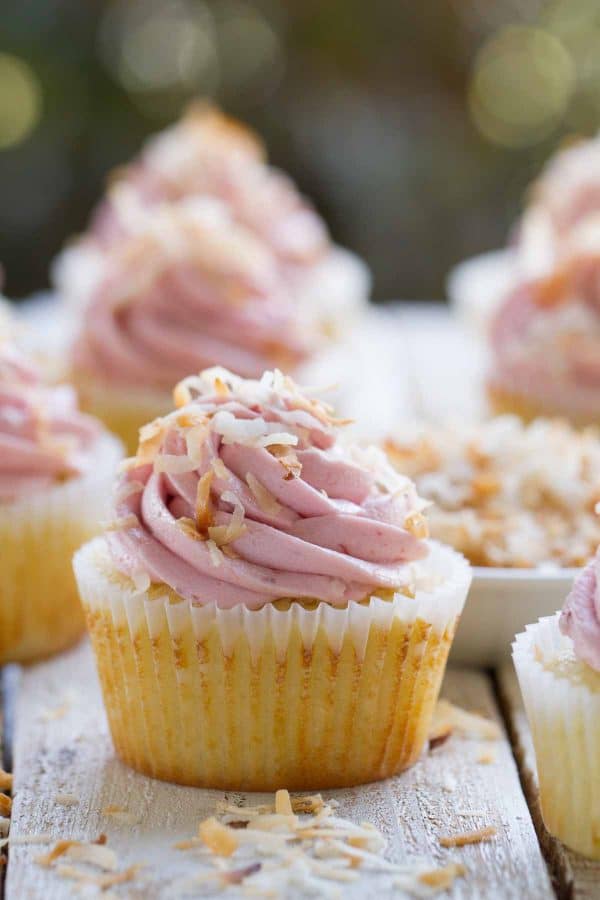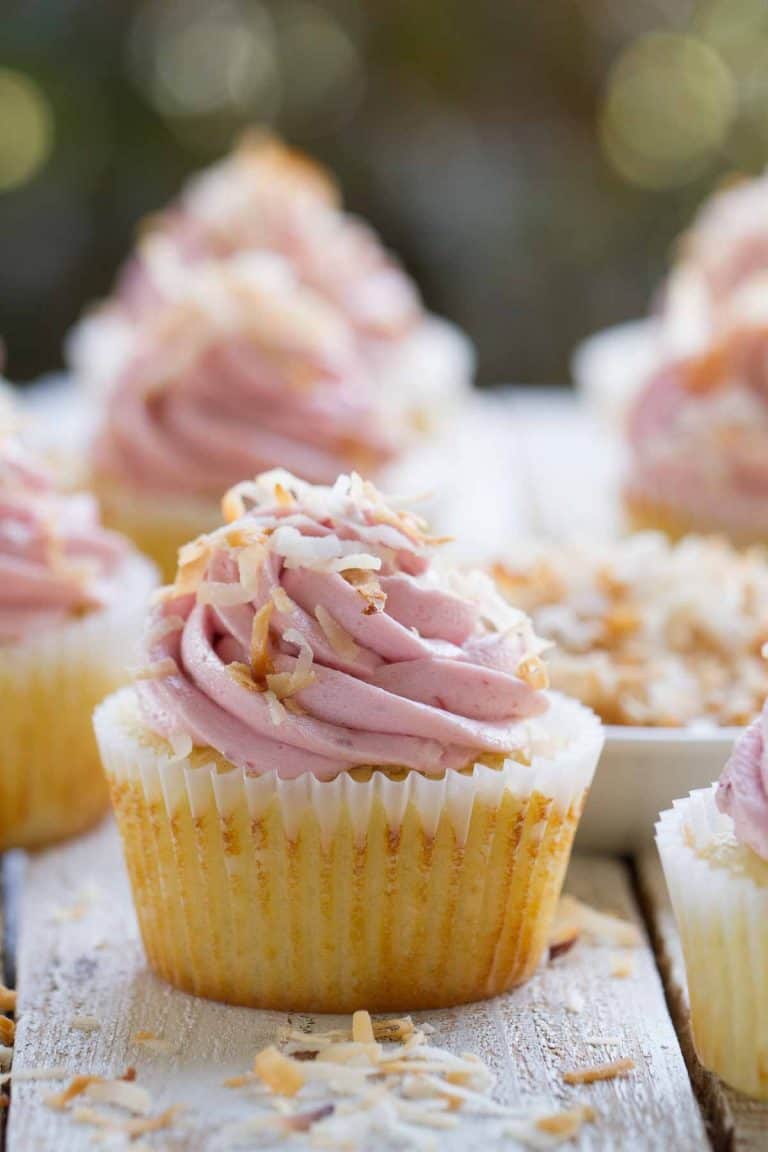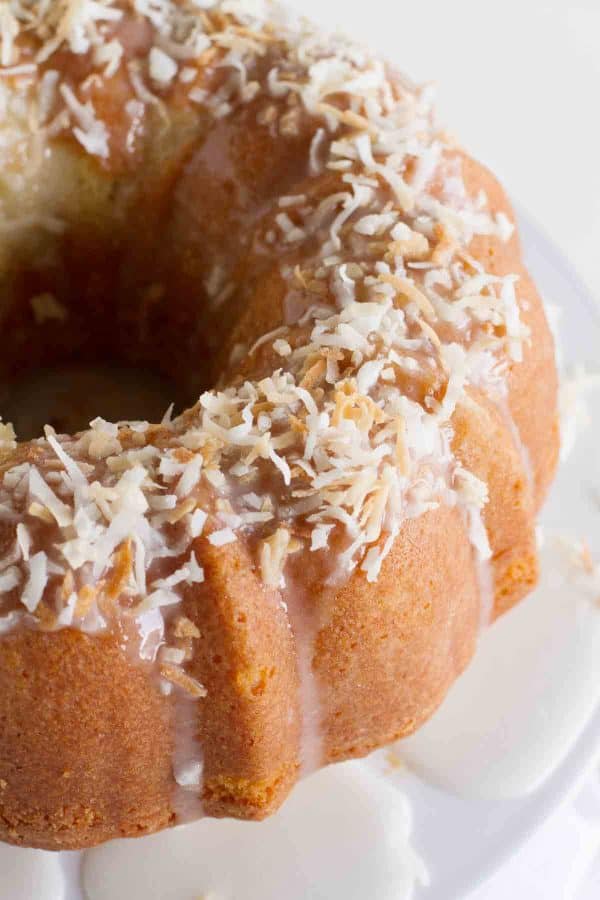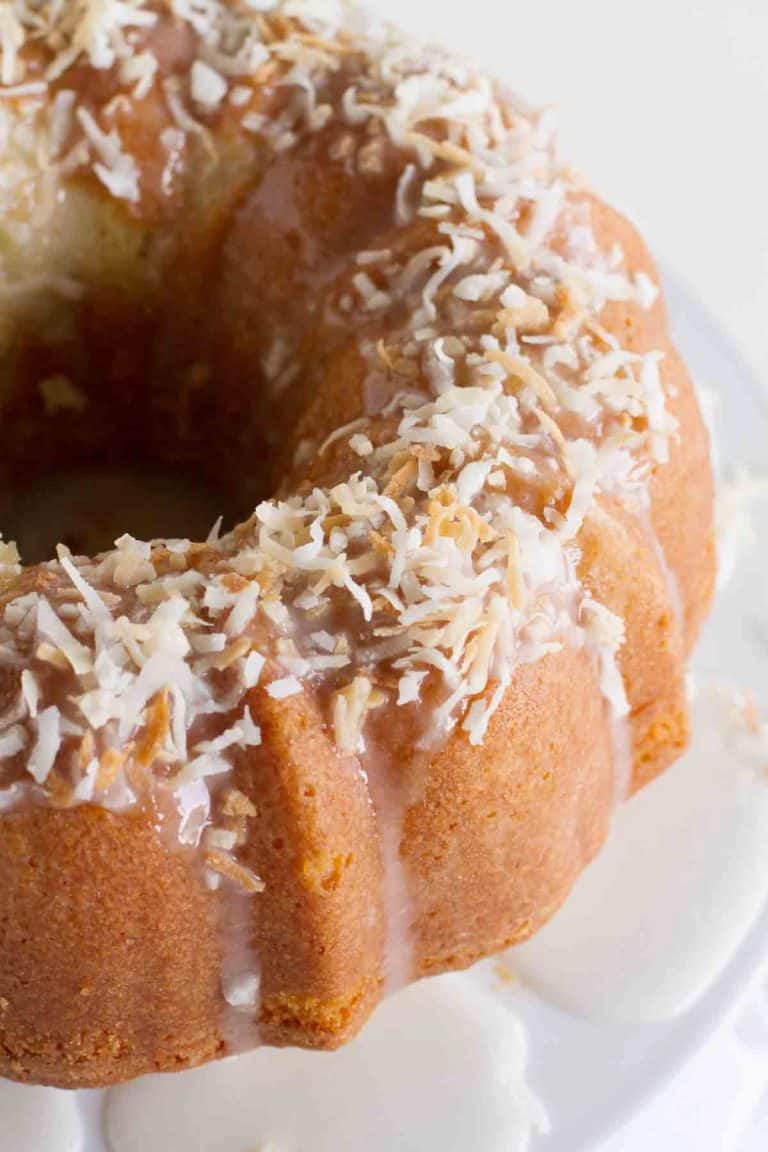 Around the Web:
Chewy Coconut Cookies from Just So Tasty
Samoa Bundt Cake from Spicy Southern Kitchen
Chocolate Coconut Brownies from Celebrating Sweets
Don't miss a thing! Follow me on Pinterest to see what I'm pinning!
Visit Taste and Tell's profile on Pinterest.