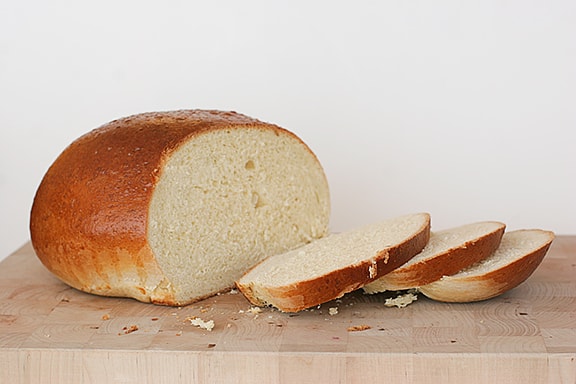 Want to share in some holiday fun?  Come over and share your favorite holiday traditions HERE and come share your Thanksgiving debates and enter to win a $500 visa card HERE!
One of my favorite questions from my Blogger Spotlight series is "What would you eat as your last supper? "  

And not surprisingly, many of the bloggers that I've spotlighted answer with one thing I know would be at my last supper – bread.  It sounds like there are a lot of carb lovers out there!!  
So when I picked up this month's Cookbook of the Month about Hawaiian food, I was really hoping there would be a recipe for Hawaiian Sweet Bread.  And I got lucky, because there was!!  I've never made Hawaiian Sweet Bread before, but I will admit that I'm always drawn to those King's Hawaiian Sweet Bread rolls at the grocery store!!
This recipe was a bit vague straight from the book, so I'm glad that I'm fairly comfortable with making bread.  There is only one thing I think is wrong with this recipe.  The full recipe makes 1 very large loaf of bread.  But I have found that the larger the loaf, the more dry the bread usually is – probably because of the time it takes to bake it.  So I wish I would have made this into rolls or divided it into 2 loaves.  But it was delicious!!  And not too sweet – I could totally use it to make sandwiches with.  I'm so glad I finally made some Hawaiian sweet bread at home!!
Recipe Rating:  4.25 out of 5
1 cup evaporated milk or light cream
1 teaspoon grated lemon peel
4 eggs, lightly beaten, plus 1 egg beaten for glaze
Mix milk, yeast and 1/2 teaspoon sugar.  Allow to stand until the mixture is bubbly.  
In a saucepan, warm the evaporated milk.  Add the butter, nutmeg, sugar and lemon peel.  Stir until the butter is melted.
Place the flour in a large mixing bowl.  Add the eggs, the yeast mixture and the salt.  Add enough of the evaporated milk mixture just to form a soft dough.  Knead for 15 minutes.  
Allow the loaf to rise to double it's size.  Punch it down and let it rise again.  Form into a round loaf and allow to rise one more time.  
Preheat the oven to 325F.  Mix the egg with 1 tablespoon of water and brush it on top of the loaf of bread.  
Bake in the preheated oven for about 50 minutes.