The perfect Hawaiian side dish, this Hawaiian Macaroni Salad is a creamy combination of pasta salad and potato salad.
This Hawaiian Pasta Salad is the perfect side dish for Shoyu Chicken or Huli Huli Chicken.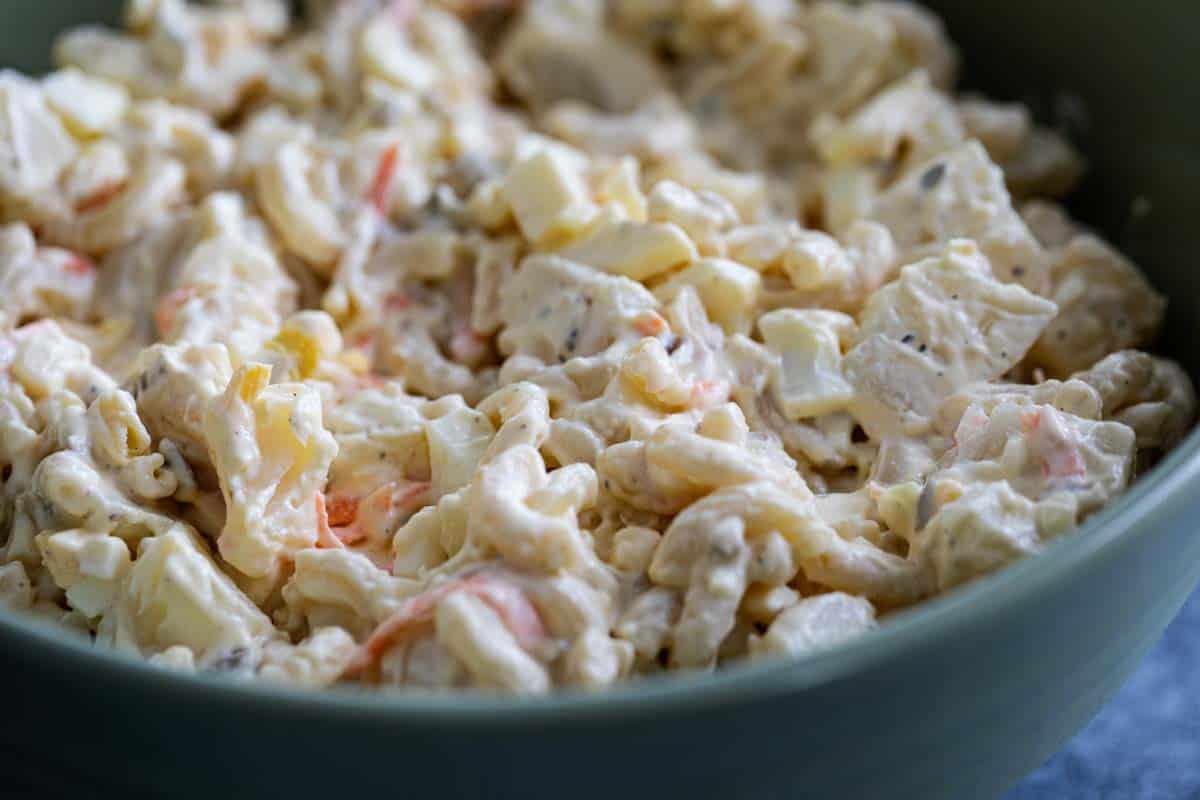 The Perfect Hawaiian Side Dish
As I was testing and retesting my Shoyu Chicken recipe, I found out that one thing was very important:
It must be served with Hawaiian Macaroni Salad.
Like I mentioned before, I've never been to Hawaii, and I cannot claim that I know everything about Hawaiian cuisine. But I can tell you one thing – this pasta salad is delicious.
Now, just like a lot of regional cuisine, I think that different people make this different ways. And no one way is the right way while the other way is the wrong way. Really, that's the beauty of food. Even if you add your own spin, as long as it is enjoyed, that's all that matters to me!
You can find this recipe the way I made it below, as well as some other suggestions or ideas.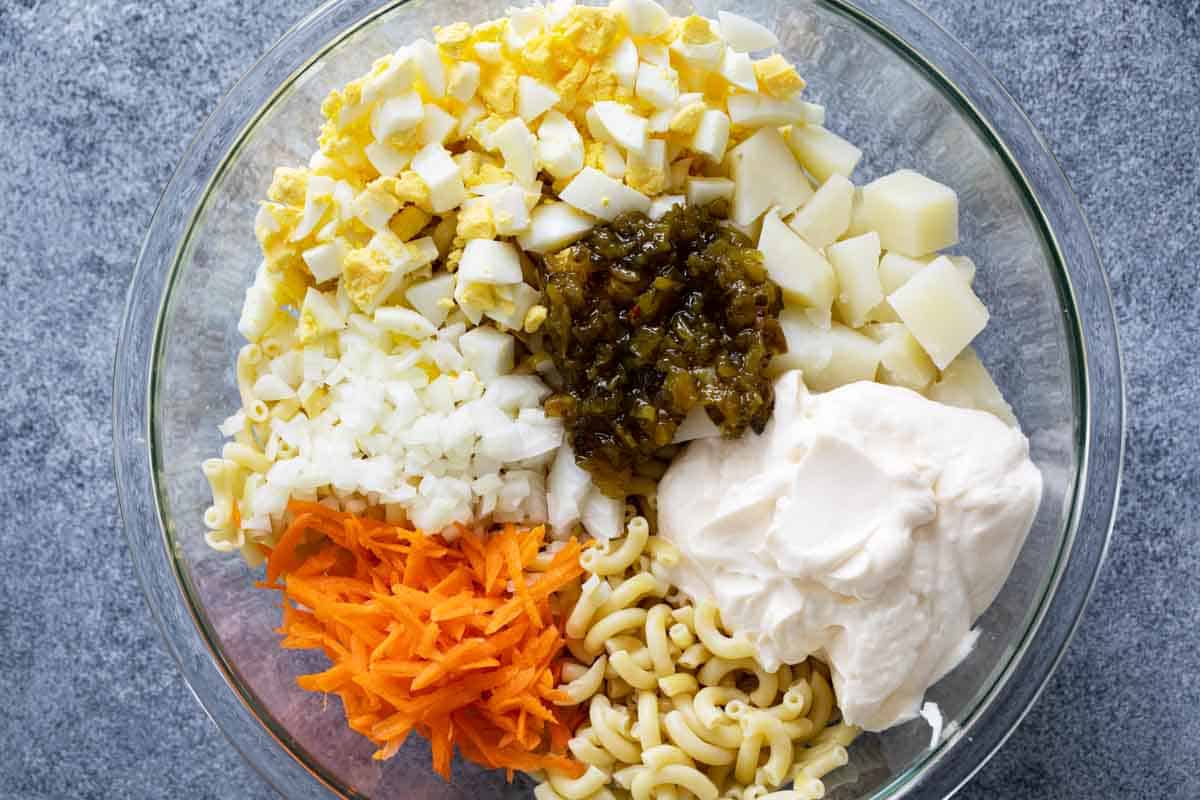 Ingredients
For this version of this macaroni salad, here is what I add:
Potatoes – Apparently, not everyone adds potatoes, but that is one of the things I loved the most about this version. It makes it a combination of a potato salad and a pasta salad. I used russet potatoes.
Pasta – It is a macaroni salad, so I'd say your best bet is to use macaroni. 🙂 Technically, you could use any short cut pasta, but I really do believe that macaroni works best here.
Hard Boiled Eggs – This is another ingredient that the more simplistic recipes leave out, but I wouldn't. This was one of my favorite ingredients in this salad.
Sweet Onion – You don't use a lot of onion, but you'll want to use a sweet onion. It is raw in the salad, so the mildness of the sweet onion works well.
Mayonnaise – If there is one thing I learned while reading up and researching on Hawaiian Macaroni Salad, it's that you must use Best Foods Mayonnaise. (And just for the record, it's Best Foods in the west, while the exact same mayo is Hellman's in the east.) It's all about the flavor of the mayonnaise (yes, there is a lot of it) and nothing else will be as good as Best Foods.
Sweet Pickle Relish – Now is when we start adding some of the "extra" ingredients that the super simple recipes don't use, and relish is one of them.
Grated Carrot – In all honesty, I don't know if the carrot really adds a lot of flavor, but I do love that it adds some color.
Sweet Pickle Juice – This is another added ingredient that you could leave out, but also one that I think really adds to the overall flavor.
Salt and Pepper – An all important ingredient for any recipe! Taste and season as needed.
Optional Add Ins
So this version already has a lot of additions that the more basic recipes won't have. But here are some other additions you might want to try.
Celery
A bit of sugar or brown sugar
A splash of teriyaki sauce
Frozen peas
Canned tuna fish
crab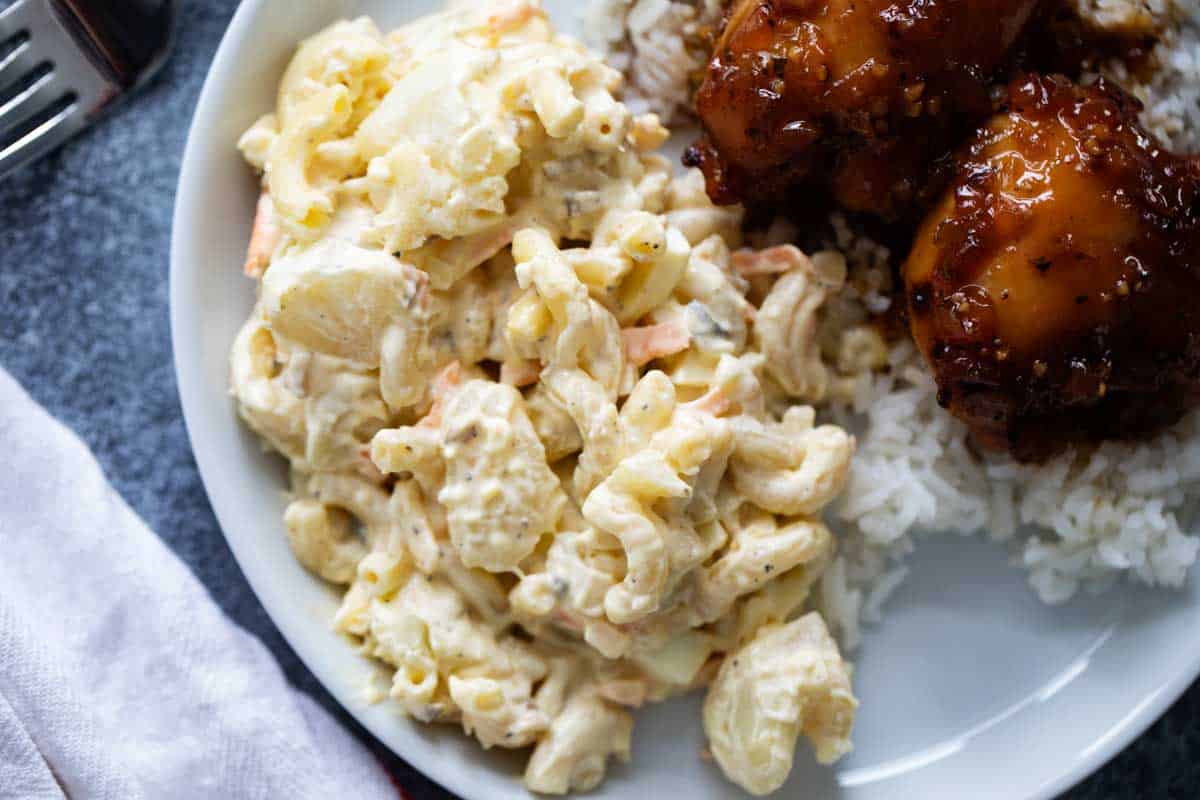 How to Make Hawaiian Macaroni Salad
Cut your potatoes and cook them until they are soft enough to pierce easily with a fork. You want to cut the potatoes into bite-sized pieces before boiling.
Cook the pasta in another pot until al dente and then drain.
Once both the potatoes and pasta are done, combine them both in a large bowl with the eggs, onion, 1 cup of the mayonnaise, the relish, carrot, and pickle juice.
Cover the bowl and refrigerate the salad for at least one hour. This is really important to give the potato salad time for the flavors to meld together.
When it's time to serve, stir in the remaining 1/2 cup of mayonnaise. A lot of the mayonnaise will soak into the potatoes and pasta as it is in the refrigerator, so this makes it so that your salad is nice and creamy.
Serve!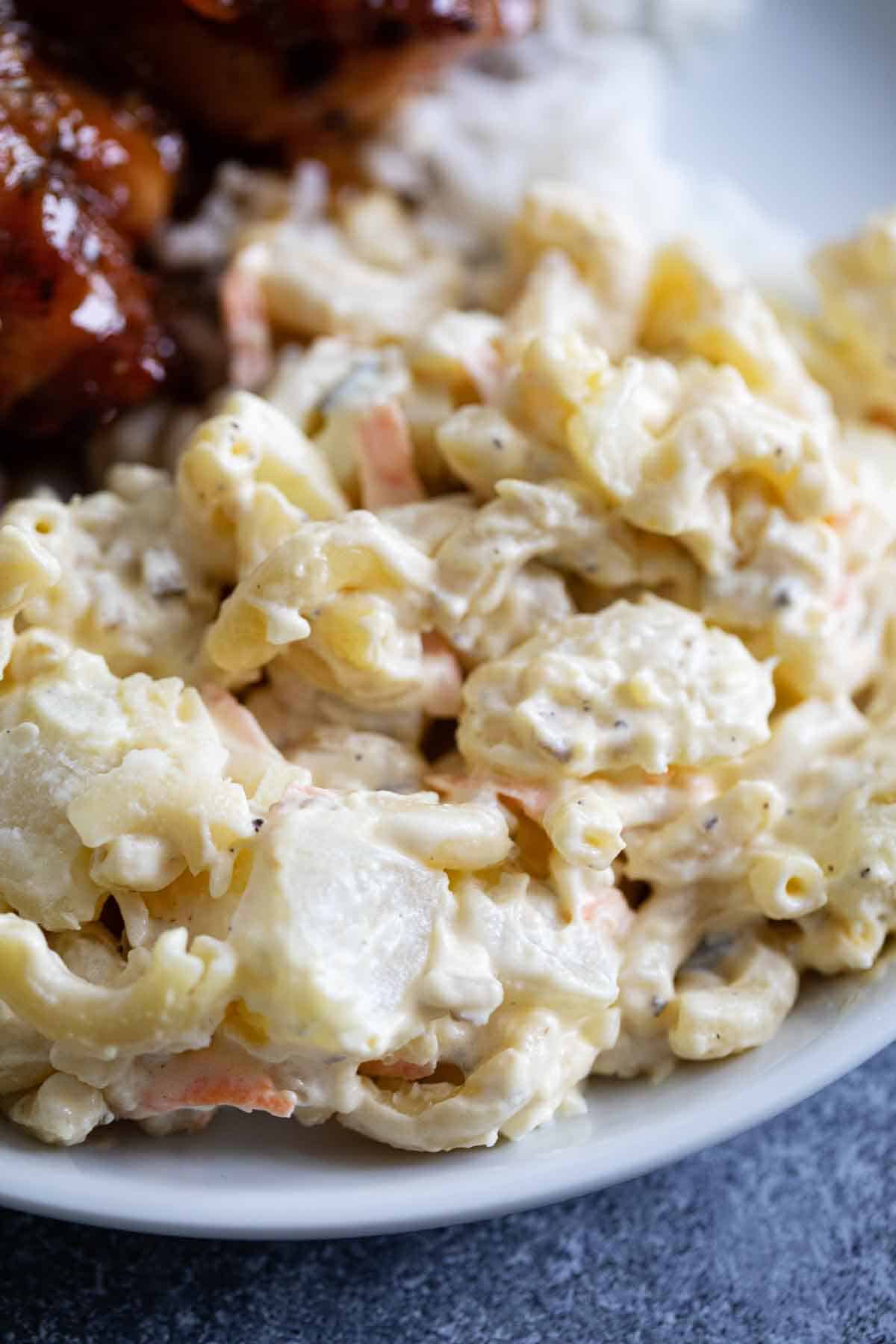 More Pasta Salads
Caesar Salad with Pasta
Artichoke Pasta Salad
Allison's Best Pasta Salad
Oriental Pasta Salad
Shrimp Pasta Salad
Sun Dried Tomato Pesto Pasta Salad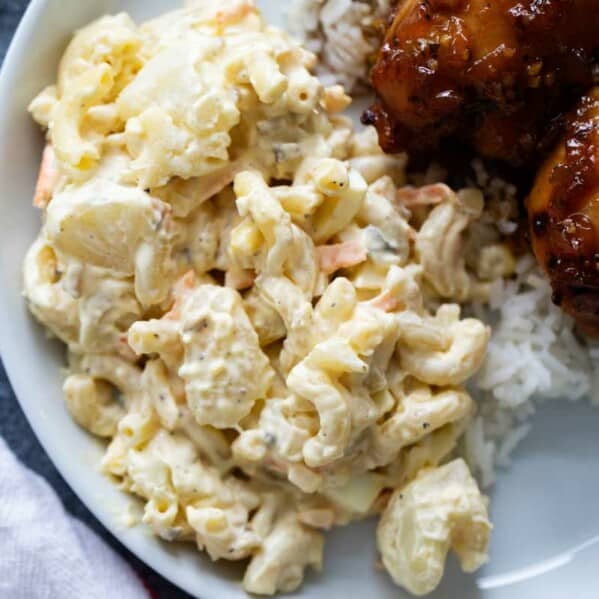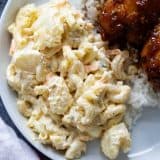 Hawaiian Macaroni Salad
---
Author:
Prep Time: 15 mins
Cook Time: 20 mins
Total Time: 35 minutes
Yield: 12 servings 1x
Category: Side Dish
Method: Stove Top
Cuisine: Hawaiian
Description
The perfect Hawaiian side dish, this Hawaiian Pasta Salad is a creamy combination of pasta salad and potato salad.
---
Scale
Ingredients
3 medium russet potatoes
8 oz dry macaroni pasta
4 hard boiled eggs, peeled and chopped
1/4 cup chopped sweet onion
1 1/2 cups Best Foods or Hellmann's mayonnaise, divided
1/4 cup sweet pickle relish
1/4 cup grated carrot
3 tablespoons sweet pickle juice
Salt and pepper
---
Instructions
Peel the potatoes and cut into 1-inch cubes. Place in a large pot and cover with water. Add about 1 tablespoon of kosher salt to the water and place over high heat.
Bring to a boil and cook until the potatoes are fork tender. Drain and reserve.
Meanwhile, bring another pot of salted water to a boil. Add the pasta and cook until al dente. Drain.
In a large bowl, combine the cooked potatoes and cooked macaroni.  Add the eggs, onion, 1 cup of the mayonnaise, the relish, carrot and pickle juice.
Toss until well combined. Season with salt and pepper.
Cover and refrigerate for at least 1 hour.
When you are ready to serve, stir in the remaining 1/2 cup of mayonnaise. Add more to taste, and add more salt and pepper, if needed.
Recipe Notes:
From Aloha Kitchen by Anna Kysar
Nutrition information provided as an estimate only. Various brands and products can change the counts. Any nutritional information should only be used as a general guideline.
Keywords: hawaiian macaroni salad, hawaiian mac salad, hawaiian macaroni salad recipe, hawaiian potato salad