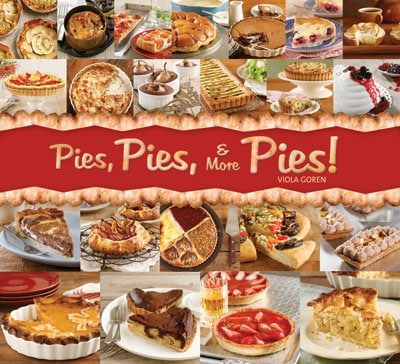 I think I have a little bit of OCD when it comes to reviewing a cookbook. I can't just flip through the pages and give my opinion. I can't just make one recipe and give my opinion. I have this funny idea in my head that I need to make at least 4 recipes from a cookbook to give it an honest review.
Well, I was finished with my 4 recipes from this book – Pies, Pies and More Pies by Viola Goren – a couple of weeks ago. The problem was that I only had pictures of 3 of the recipes. There was a little mishap with one of the pies, (story below), and that little bit of OCD kicked in, telling me I couldn't review this book until I could post 4 pictures. Yeah, I know I made 4 recipes, but now I felt like I needed at least 4 pictures! I finally found some time to make another recipe this past weekend, so I am finally posting my review of this book!
Cooking Times Listed in Recipes: no
I actually don't see cooking times in baking cookbooks most of the time. But this book isn't just full of sweet pies, it has a lot of savory pies as well. Because of that, total involvement times would have been nice.
Number of Photos: lots
Not every recipe has a photo, but more than half do. The photography is beautiful and inviting – and a few of the recipes I made, I chose because of the photos!
Difficulty Level of Recipes: medium
I put this one right in the middle. If you aren't a baker, you will probably struggle a bit with the recipes – especially with the crusts. These crusts are not easy to work with! But if you bake regularly, these should be pretty easy for you.
Availability of Ingredients: high
The ingredients are all basic ingredients that should be easy to be found anywhere. For many of the recipes, all I need are pantry staples!
Here's a sampling of what I made from the book!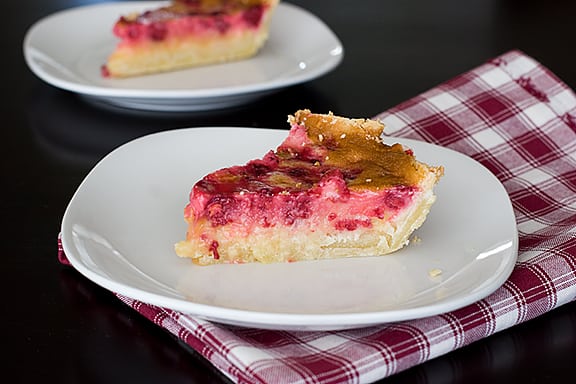 Raspberry Tart with Lemon Creme Brulee
Oh, I had high hopes for this one. Doesn't the title just sound fabulous? This was the first pie I made, and I had issues with it from the start. The crust was so hard to work with. It completely crumbled on me, so I ended up just piecing it into the pan. Then I went to bake the filling. The specified time passed, and it was still super runny. So I baked it longer, and longer, and finally gave up and thought that maybe it just needed some time in the fridge. Nope – hours later, it was still not set up. So what to do? Stick it in the freezer and eat it as a frozen pie the next day! It was good, but not what I was hoping for. Maybe it's because I made it in a pie pan instead of a tart pan. I don't know, but I wish it would have worked out!
Mississippi Mud Tart
This second recipe was the one that didn't make it into a photo. Which is a shame, because it was probably my favorite sweet pie that I made. Here's what happened. I had a family dinner, so I volunteered to bring dessert, knowing that I had some recipes from this book that I needed to make. I decided to make the pie above (which didn't make it over there since it wouldn't set up) and this Mississippi Mud Tart. Well, it says to serve it warm, so I decided to make the crust before, but make the filling and bake it at my mom's house. I did everything and put it into the oven. When the timer went off, I was busy with something, so my mom volunteered to take it out of the oven. But she didn't realize it was a tart pan, and I didn't think to tell her. The way she picked it up, the bottom ended up coming loose from the side and half of the pie fell right into the bottom of the oven!! We were able to save some of it, though, and we picked off of it. It wasn't pretty, so I didn't even attempt to take a picture. But it was rich and delicious. This one called out for a scoop of vanilla ice cream to be served along side. I did have problems with this crust, too, but I did love the final result!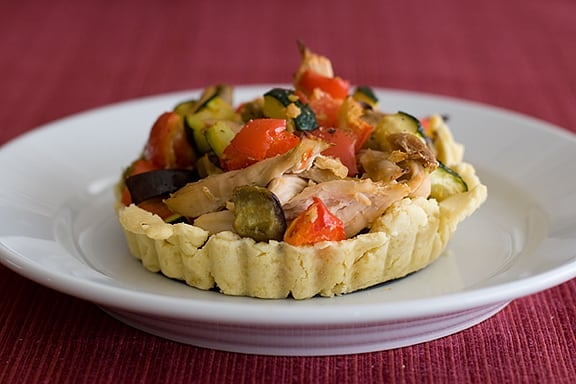 Freeform Chicken Pies
I chose this recipe simply because I had some leftover chicken on hand and it sounded like the perfect way to use it up! But once again, I had crust issues. You are supposed to take circles of dough and form a little basket for the filling, but all my dough did was crumble and break apart. I ended up trying to save them by putting them in mini tart pans, and that kind of worked. I'm not sure if it was so crumbly because it is an all butter crust, but there was no way this was going to form freeform baskets for me!! The crust did taste delicious, though! This was good overall, but felt like it was missing something – maybe a light sauce or gravy.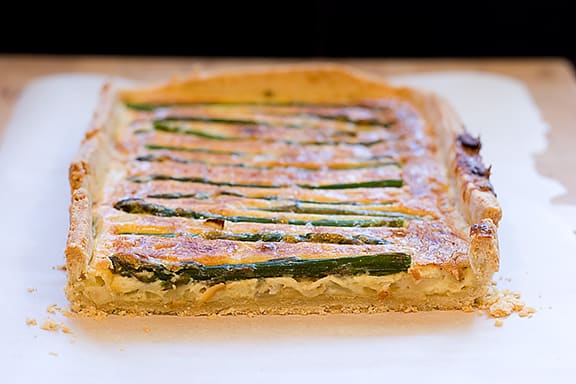 Asparagus, Olive and Parmesan Tart
Since I have been on an asparagus kick, I knew I wanted to make this one. I almost didn't, though, because it calls for a 14-inch rectangle tart pan, and I don't have one. I almost went out and bought one, but talked myself out of it because I don't need to be spending money on something like that right now. I finally decided to try it in a rectangle pyrex dish I have, and it actually ended up working perfectly! By this recipe, I think I got the crust down. I left it pretty thick, and I made sure to only refrigerate it exactly 1 hour before rolling it out. No more and no less. I don't know if that is what did it, but it worked! This was delicious. I left the olives out because my olives were not looking their best, but I don't know if the dish even needs them. This was my favorite recipe from the book! The recipe is listed below.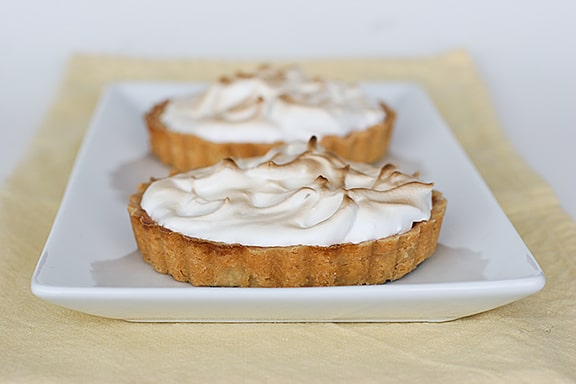 Lemon Meringue Tartlets
This is the final recipe that I finally made. My husband loves lemon meringue pie, so I made these especially for him. Since this was the fifth recipe, I think I had the crusts down by this recipe. I didn't have any problems with the crusts, and the filling was just fine as well. But the meringue – this is not my favorite meringue recipe. It was super, super sweet and started to burn in the oven before it even really had a chance to brown up. I think you could cut the sugar in half and it would still be plenty sweet. In fact, I could barely make it through one of these tarts because it was so overly sweet. The crust was delicious, though, and probably my favorite part of the whole tart.
Overall, I'm right in the middle with this book. It's a beautiful book with lots of tempting recipes, but I don't see it as my "go-to" pie cookbook because I had so many issues. I do love that it wasn't just sweet recipes, though. I also love that it's not just full of regular pie recipes that you find everywhere – there seem to be a lot of pretty original pies. I'm sure I'll be baking more from this book, but I can't say that it's my favorite.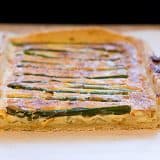 Asparagus, Parmesan and Olive Tart
---
Prep Time: 20 minutes
Cook Time: 1 hour
Total Time: 4 hours
Yield: 4 servings 1x
Description
A savory tart that is filled with asparagus, Parmesan and olives.
---
Scale
Ingredients
Pastry Dough
2 cups all-purpose flour, plus more for dusting
1/2 teaspoon salt
3 ounces Parmesan cheese, grated
5 ounces (1 1/4 sticks) unsalted butter, cold and cut into small pieces
1 large egg or two large egg yolks
3 tablespoons cold heavy whipping cream, milk or water
Filling
2 ounces (1/2 stick) unsalted butter
3 tablespoons extra-virgin olive oil
2 onions, cut into small cubes
8 ounces fresh asparagus, cut into 3 1/2 inch spears, blanched
salt and freshly ground pepper
8 ounces Parmesan cheese, grated
1/2 cup heavy whipping cream
2 large eggs
1/2 cup pitted Kalamata olives
---
Instructions
Prepare pastry: In an electric mixer or food processor, mix flour, salt, cheese and butter just until texture resembles bread crumbs. Add egg and cream, and mix just until dough forms. Shape into a thick disc, wrap with plastic wrap, and refrigerate 1 hour.
On a lightly floured surface, roll out chilled dough to about 1/4 inch thick and cut into a 6 1/2 x 16-inch rectangle. Wrap dough loosely around rolling pin and transfer to a 4 1/2 x 14-inch tart pan. Trim edges and freeze for 30 minutes.
Preheat oven to 340F. Line chilled tart shell with parchment paper or aluminum foil and fill with raw beans or baking weights. Bake until crust is dry and lightly golden, about 15 minutes. Remove paper and beans and bake until crust is golden and baked through, 10 to 15 minutes. Transfer to a wire rack to cool.
Reduce heat to 320F and prepare filling: In a medium frying pan, heat butter and oil over medium heat until butter melts. Add onions and cook gently until golden, about 10 minutes. Add asparagus, salt and pepper and saute for about 2 minutes. Remove from heat, mix in cheese, and set aside.
In a separate bowl, mix together cream and eggs until smooth. Gently mix in asparagus and transfer filling to baked tart shell, arranging asparagus as desired. Distribute olives on top and bake until filling sets, about 40 minutes. Transfer to wire rack to cool. Serve warm or at room temperature.
Recipe Notes:
Disclosure: I received a free copy for this review. No monetary compensation was offered or accepted. The opinions above are my own. Others experience may vary.